Ilamparthi tests Gukesh from Dusseldorf to Hamburg!
Gukesh is just 16 years old, but no one considers him as a young talent anymore. He is a full-blown top GM. His live rating is 2730 and he is currently world no.20. It would be appropriate to call Ilamparthi, a young talent. The boy is 13 years old. He is the current world under-14 champion and an IM with an Elo of 2423. Both Gukesh and Ilamparthi did really well in Dusseldorf at the WR Masters and Juniors respectively. It was now time for something fun on our train journey from Dusseldorf to Hamburg. Check out the this article to solve 10 tough positions posed by Ilamparthi to Gukesh!
After the WR Chess Masters came to an end, I had planned to travel from Dusseldorf to Hamburg to meet my friends and colleagues at the ChessBase office. It is a 3-hour train journey. At first I was going to travel alone. But soon I realized that 13-year-old Ilamparthi's next tournament is in Bad Wörishofen in Germany from 3rd of March. He had 3 days between WR Juniors and his next event. So I asked him if he would like to join me to Hamburg and stay at the ChessBase flat. The boy and his father gladly agreed. So from one, now we were now three.
Just a day before the WR Masters was coming to an end, Gukesh's father Rajinikanth mentioned to me that Gukesh has to attend the Asian Chess Federation awards in Dubai on 1st of March 2023 and so he has to reschedule his flight from 27th of February to 28th February. I asked him if he would like to go to Dubai from Hamburg, and he also agreed! From three we were now five. On the morning of 27th, just after breakfast, I met the strong German GM and Anish Giri's second Jan Gustafsson. He lives in Hamburg. When he got to know that five of us were going to his city, he too joined the 2.33 p.m. train from Dusseldorf to Hamburg! So now we were six! :)
India had two star performers at the WR Chess 2023 - Ilamparthi in the juniors, winning the classical event with 5.0/5 and the blitz event with 7.0/7 and D. Gukesh who finished 2nd at the WR Masters with 5.5/9 and being unbeaten in a world class field. Now the two were going to sit together for 3 hours in the train from Dusseldorf to Hamburg. Although there is not such a huge age difference between Ilamparthi and Gukesh, just 3 years separate the two, it chess terms Ilamparthi is the growing young talent (an IM with an Elo of 2423) and Gukesh is the well-established elite GM (GM with an Elo of 2718). I wanted to see how a chess conversation between them would look like. So I asked Ilamparthi if he could prepare 10 positions for Gukesh which the youngster had to solve blindfolded.
Now it has to be mentioned that Gukesh was playing with his friends - Vincent, Esipenko, Pragg and others until 7 a.m. in the morning and only had 4 hours of sleep. So definitely, he was not at his full steam, but then when have these youngsters let anything come between them and finding the best moves! And so on 27th of February, we got into the train and made ourselves comfortable. We got a space where 4 people could sit. Gukesh and Ilamparthi sat next to each other. I sat opposite them holding the camera! And the intense chess session began!

What I loved about this entire banter was how Ilamparthi was actually able to hold his own when discussing chess with Gukesh. Because once you start discussing with a world class GM, he is going to through variations at you. And at that point you have to counter him with moves to make the session fun and enjoyable! While Gukesh was an absolute beast at solving, Ilamparthi was this cool and calm customer who always knew how to refute the wrong moves suggested. It's an amazing video of roughly around 2 hours! But I am not going to publish it in this video! I am going to give you a chance to feel the same way as Gukesh did as Ilamparthi threw the positions at him. Below are the 10 positions. Try it out. Very soon I will publish the video along with the answers! Some of the positions have been found by Ilamparthi on his own, some by his trainer Shyam Sundar, and some are from his training camp at the WR Chess tournament with GM Elizabeth Paehtz.
10 positions that Ilamparthi prepared for Gukesh
Position 01
There are many positions where Ilamparthi would just say White to play. Was it to win, was it to draw? That was unclear. But it was done to make the test very much like a game where you only know it is your move and you have no idea whether you have to win or draw!
Position 2
Position 3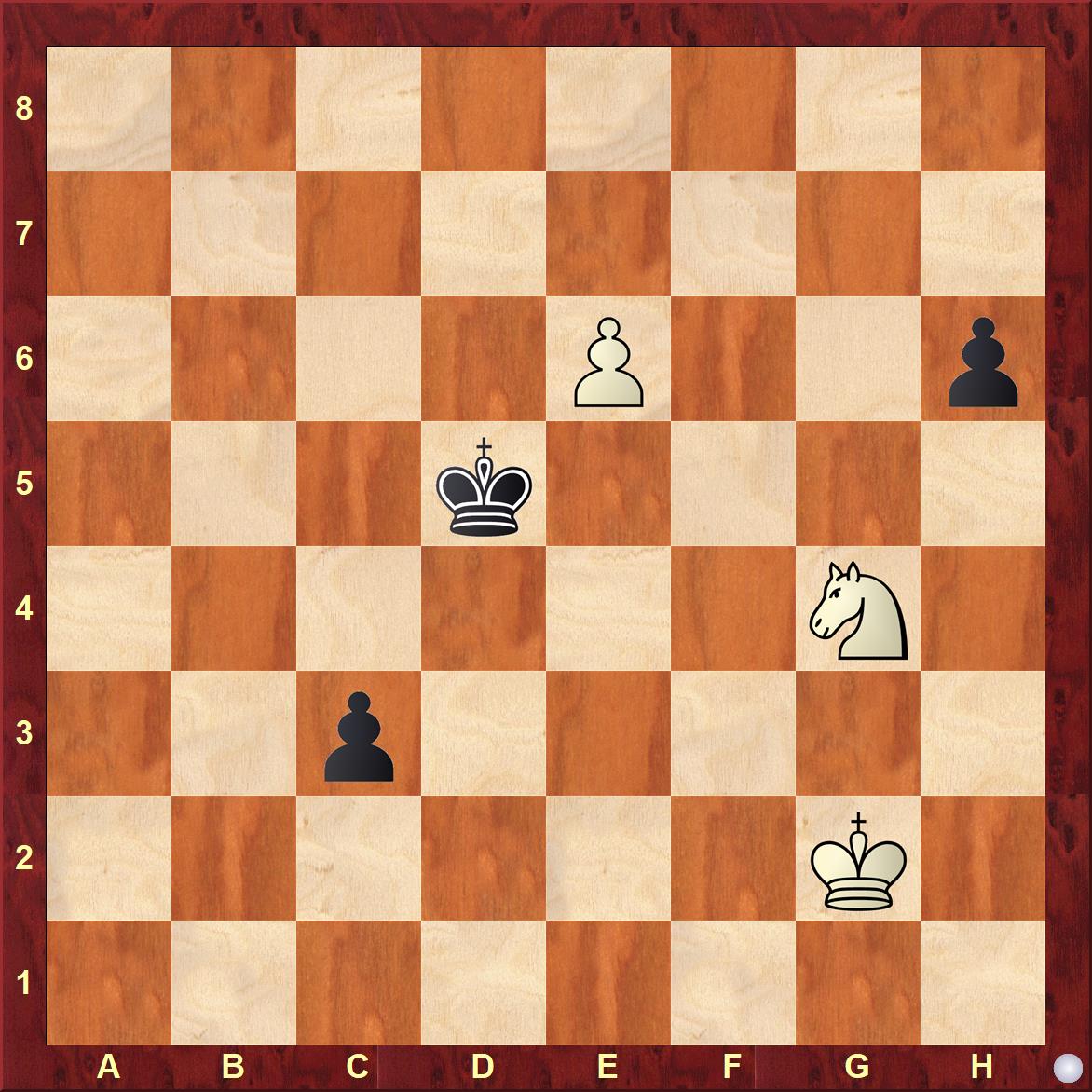 Position 4
Position 5
Position 6
Position 7
Position 8
Position 9
Position 10
After Ilamparthi "tortured" Gukesh for nearly two hours, it was time for Gukesh to return the favour! And so he gave Ilamparthi the below position saying that there are many players who have been trying to work on it for months and years and have still not found the answer. Ilamparthi replied, "I will solve it before we reach Hamburg!"
Gukesh's position to Ilamparthi
I checked with Ilamparthi on the next day if he had found the answer and the boy said he is very close! Let's see if he can solve it. You too can give it a go!
At night Ilamparthi's father Ravikumar cooked the food and I was lucky to get homemade Indian food!
Gukesh recorded a video on his win over Praggnanandhaa at the WR Chess Masters for the next issue of ChessBase Magazine (CBM). Ilamparthi is recording a video for ChessBase Magazine (CBM) on his road to becoming World under-14 champion and also a 60-minute Fritztrainer of sideline of the Sicilian (e4 c5 Nf3 d6 d4 cxd4 Nxd4 Nf6 Nc3 Bd7!? Stay tuned for more updates!
---