Gukesh becomes 2nd youngest GM in the history of chess at 12 years, 7 months and 17 days
In October 2017 Gukesh was a talented youngster with a rating of 2322 and no norms. In 16 months, he scored three IM norms, three GM norms, pumped up his rating to 2500 and became the second youngest GM in the history of the game. On 15th of January Gukesh achieved his final GM norm at the Delhi GM 2019 and with it became a GM at the age of 12 years, 7 months and 17 days. How did this youngster achieve it? On the surface it looks like an extremely smooth journey where Gukesh achieved one milestone after another. But when you delve deeper, you see tremendous amount of sacrifices, grit, determination and much more from not just the boy but his entire family. This article is a dedication to India's youngest GM, who is sure to make it big in the years to come. Thumbnail image | David Llada.
On 15th of January Gukesh achieved his final GM norm at the ninth round of the Delhi GM Open 2019. With this he achieved his GM title at the age of 12 years 7 months and 17 days, making him the youngest GM in Indian chess history and the second youngest GM in the world. He missed Karjakin's record of the youngest GM in the world by just 17 days!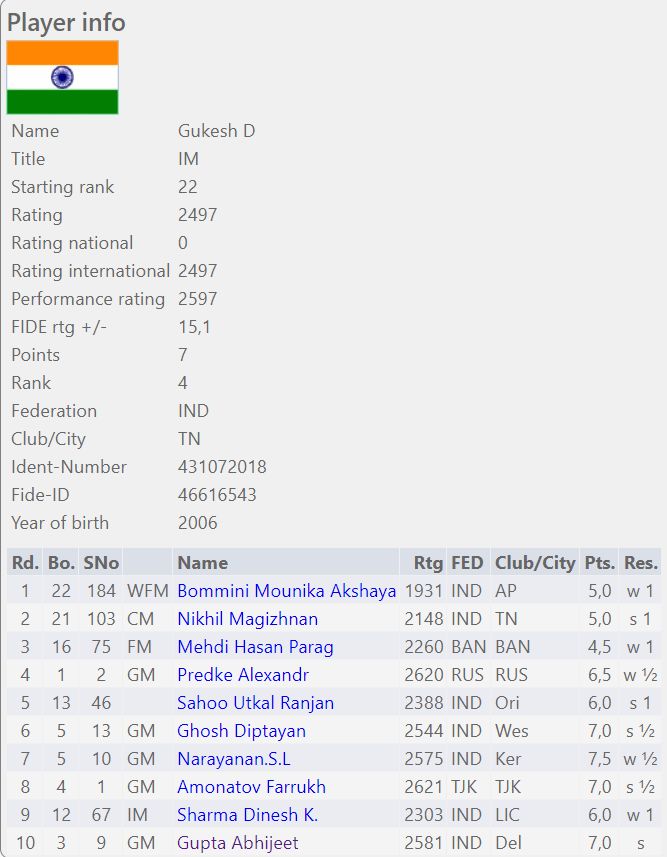 Gukesh's path to GM title has been short but filled with a lot of action. He scored his first IM norm in October 2017 when he had a rating of 2323. Within 16 months he is already a GM achieving three IM norms, three GM norms and an Elo of 2500! Looks easy, doesn't it? Before you pass any judgement, let's have a look at the table below:
Gukesh's performance in tournaments from October 2017 to January 2019
| | | | | | |
| --- | --- | --- | --- | --- | --- |
| S.No | Name of tournament | Period | No. of games | Rating gain | Norms |
| 1 | First Friday | Oct-17 | 9 | 39.4 | 1st IM norm |
| 2 | National under-11 | Dec-17 | 11 | -12.8 | |
| 3 | Bhopal GM 2017 | Dec-17 | 9 | 4 | |
| 4 | IIFLW Open | Jan-18 | 9 | -27 | |
| 5 | IIFLW Junior | Jan-18 | 9 | -2 | |
| 6 | Delhi GM 2018 | Jan-18 | 10 | -5 | |
| 7 | Moscow Open 2018 | Feb-18 | 9 | 40 | 2nd IM norm |
| 8 | Aeroflot Open 2018 | Mar-18 | 9 | 8 | |
| 9 | Capelle La Grande | Mar-18 | 9 | 33 | 3rd IM norm |
| 10 | Asian Youth under-12 | Apr-18 | 9 | 1 | |
| 11 | Bangkok Open | Apr-18 | 9 | 24 | 1st GM norm |
| 12 | Kolkata GM Open | May-18 | 9 | 5 | |
| 13 | Bhubaneshwar GM | Jun-18 | 9 | -4 | |
| 14 | White Rook | Jun-18 | 9 | 10 | |
| 15 | Alekhine Memorial | Jun-18 | 9 | -4 | |
| 16 | Paracin | Jul-18 | 9 | 3.5 | |
| 17 | Pardubice | Jul-18 | 9 | 4 | |
| 18 | Abu Dhabi Open | Aug-18 | 9 | 11.5 | |
| 19 | Abu Dhabi Juniors | Aug-18 | 9 | 2 | |
| 20 | Sants Open | Sep-18 | 10 | -1 | |
| 21 | Trieste Open | Sep-18 | 9 | 7 | |
| 22 | Closed GM Heraklion | Sep-18 | 9 | -3.5 | |
| 23 | Gujarat GM | Oct-18 | 9 | -7 | |
| 24 | Isle of Man | Oct-18 | 9 | 8 | |
| 25 | World Cadets under-12 | Nov-18 | 11 | 9 | |
| 26 | GM Round Robin Serbia | Dec-18 | 9 | 21.4 | 2nd GM norm |
| 27 | Sunway Sitges Open | Dec-18 | 9 | 9.5 | |
| 28 | Mumbai IIFLW Juniors | Jan-19 | 9 | 12.4 | |
| 29 | Mumbai IIFLW Open | Jan-19 | 9 | -12.4 | |
| 30 | Delhi GM 2019 | Jan-19 | 9 | 15 | 3rd GM norm |
| | | | 276 | 189 | |
Gukesh scored his first IM norm in October 2017 and his final GM norm in January 2019. In this period of 16 months, he gained 189 Elo points taking his rating from 2323 to 2512. While the rating gain and norms is amazing, what is even more impressive are the number of rated games that Gukesh has played. In 16 months, he has played 276 games. This comes to roughly 17 games per month! Which means that Gukesh played two tournaments every month in the last 16 months! Strong GMs are tired when they play 100 rated games in a year. Gukesh on the other hand has played nearly 207 games in a calendar year! This goes completely against conventional wisdom that you must relax in between the tournaments and have time to unwind. For Gukesh playing chess is unwinding. For him moving his pieces, thinking of plans is the best form of relaxation! From the above table you will also realize that Gukesh has had many unsuccessful events. Out of the 30 events he played in last 16 months, in ten of them he lost rating points. But the most important thing for Gukesh was the focus on his games, moves and improvement. This has helped him improve very quickly.
Just to give you an example of how much he loves chess, his mother Padma Kumari said in the latest interview:
"Gukesh and his father came back from the Sunway Sitges very tired. Their flight was delayed and instead of reaching in the morning, they reached home in the afternoon. Gukesh was going to participate in the ChessBase India online blitz on the same day which was held in the honour of Vishy Anand's 49th birthday. The tournament was going to begin at 8 p.m. and Gukesh asked me to wake him up three hours before the tournament. As he was very tired I woke him up one hour before the event. He was very angry at me. He quickly got ready, switched on his computer and played a few practice games before the tournament began. He told me not to disturb him. This was an unbelievable scene for me. It just showed me how much he loved chess."
Gukesh's father Rajinikanth is a doctor - an ENT surgeon. He is affiliated with a hospital in Chennai where he provides his services. Since Gukesh started to play in so many tournaments, it's his father who has accompanied him to most of them. His profession has taken a backseat. He hardly visits the hospital. The institution has been kind to him to keep him in their list of doctors, but he doesn't really earn much. This means that the onus is on the mother Padma Kumar to ensure that the Gukesh's trips are sponsored. Thanks to becoming an IM in March 2018 at the age of 11 years and 10 months, Gukesh received some backing from his school Velammal Institute who contributed to Rs.5 lakh and Microsense company who also contributed a similar amount. The moment this money was received Rajinikanth began planning next tournaments for Gukesh. That's the reason why Gukesh is a GM today. The family went all in. Whatever money they had they put it in chess, they took the risk and it paid off. Somehow Gukesh's story is very similar to that Magnus Carlsen and his family who left home and travelled for nearly a year in Europe to play one tournament after another when the boy was just 13 years old!
ChessBase India has been closely following Gukesh's every tournament and we take you chronologically through some of the biggest achievements of Gukesh's chess career till date.
First IM norm:
Gukesh achieved his first IM norm at the First Saturday tournament organized by Peter Long. In a must win situation in the last round, Gukesh scored the win, reached 7.0/9 and made his first IM norm. At that point Gukesh's rating was 2323 and he was 11 years and 5 months old.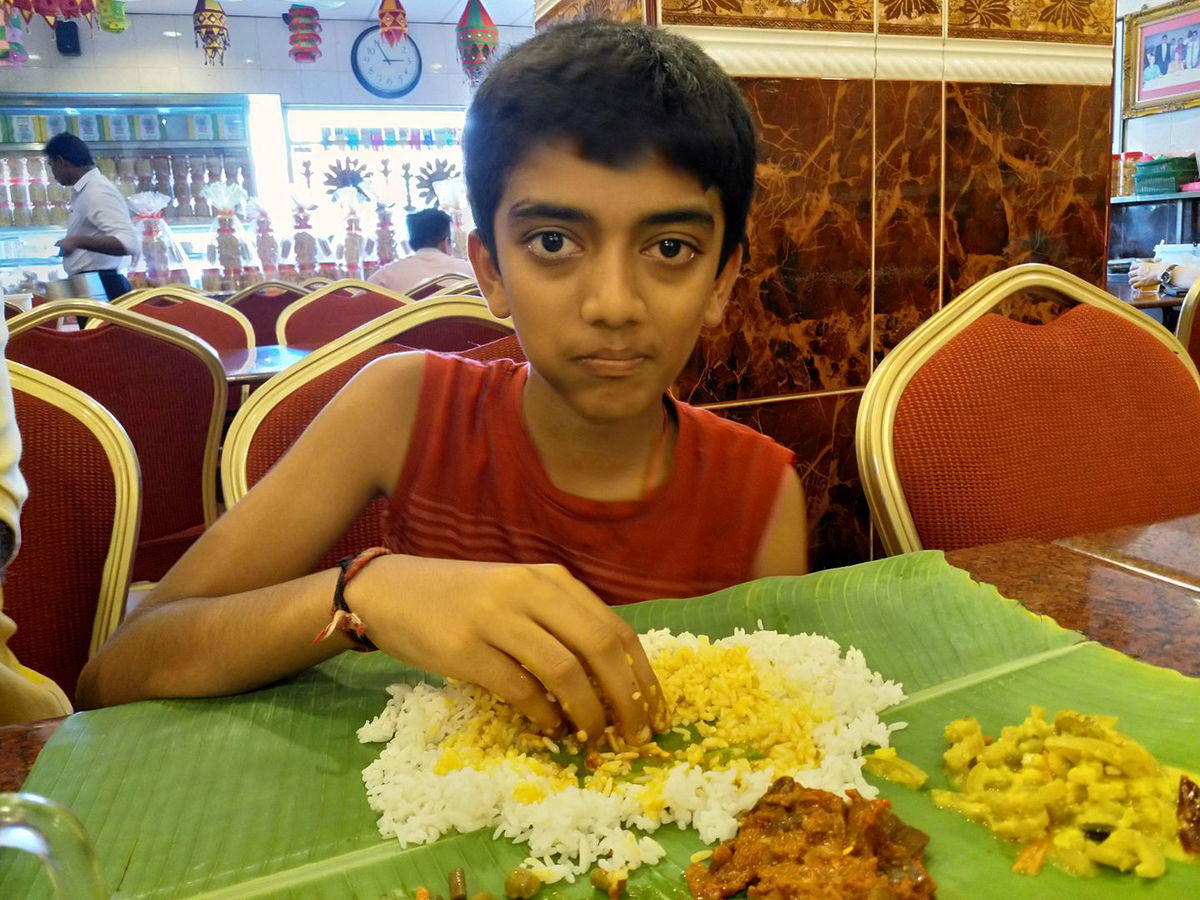 2nd IM norm:
Third IM norm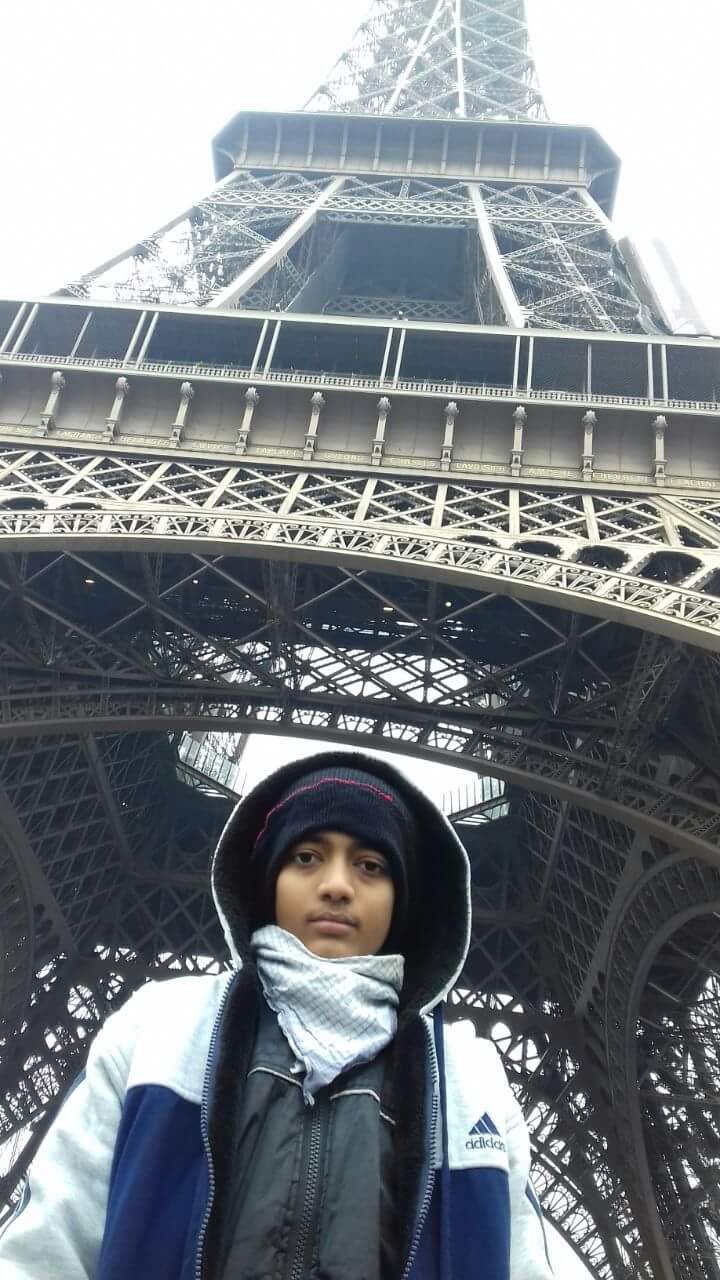 1st GM norm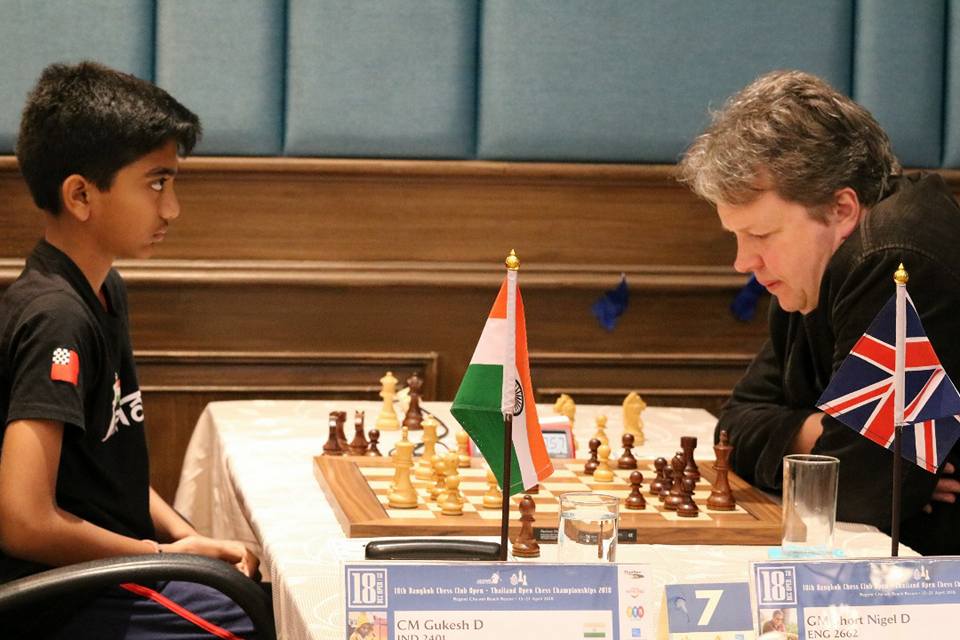 This is what happened:
But Gukesh made full use of this situation and beat his strong opponents in the subsequent rounds to achieve his first GM norm at the Bangkok Open.
After achieving his first GM norm, a tough period began for Gukesh where he played 14 tournaments, but couldn't achieve his second norm. In this period between May to November, he had the following achievements:
Gukesh's love for chess is quite apparent. But it is not limited to just playing. He loves anything and everything connected to the game. For example whenever I have asked Gukesh to send me his games with some annotations, he has done so within a couple of days. Here are two of his games from the World under-12 Championships 2018 where he became the champion with a score of 10.0/11.
Annotations by Gukesh:
Although Gukesh had won the White Rook event, Abu Dhabi Juniors and World under-12 championships, the GM norm was not coming. At the same time he had the remote possibility of breaking Karjakin's youngest GM record, if he achieved his GM title by 29th of December 2018. But there were only two tournaments left until the end of the year. How was Gukesh going to do it?
2nd GM norm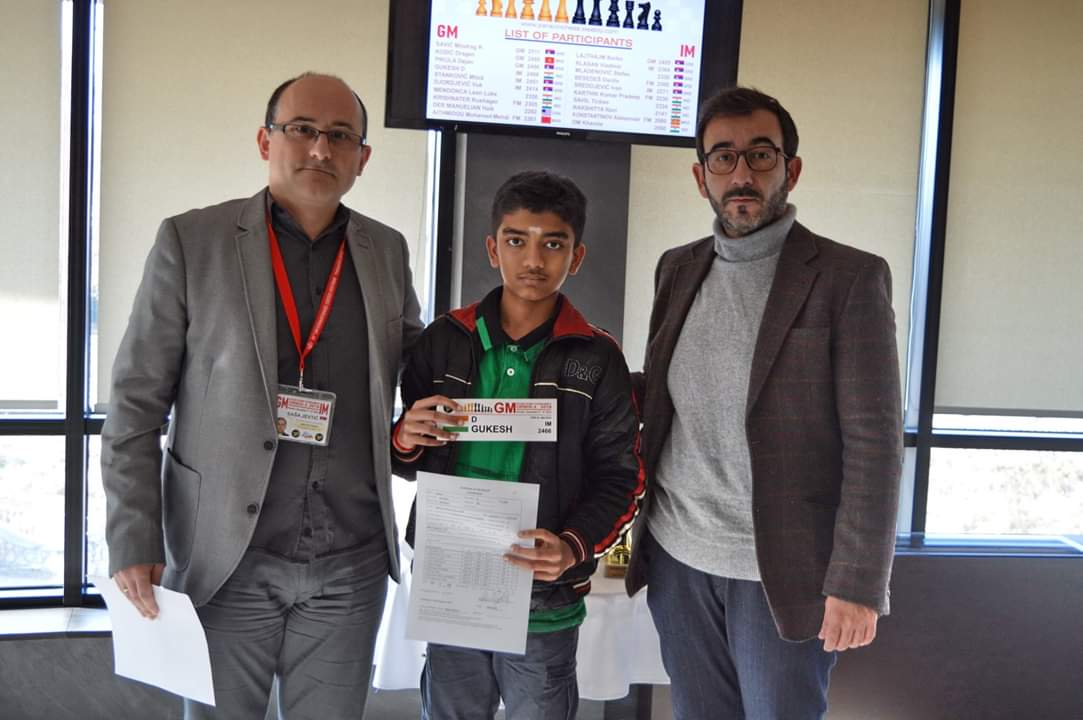 With a rating of 2490 and 2 GM norms, Gukesh was going to the Sunway Sitges Championship. He had a realistic chance of becoming the youngest GM in the world if he scored his final GM norm there. He missed it by a whisker, scoring half a point less. But he was not affected in a big way. Gukesh gave a calm interview to ChessBase India after the tournament and got ready for his next event - the Mumbai IIFLW 2018-19.
Just to show what a level headed person Rajinikanth, Gukesh's father is, here's his post after Gukesh was unable to break Karjakin's record:
"It's been a fantastic year for Gukesh. Honestly at the start of 2018, if someone would have predicted and told me that at the year end he will be close to 2500 and completed IM title and also has 2 GM norms in addition to Asian and World gold medals, I would have laughed it off. So it's that sort of miracle year. I am pretty happy with his efforts and results. Keep supporting him with all your blessings and prayers as I feel he wasn't destined for this record but who knows he has better things to target! Heartfelt thanks for all your support."
This has been one of the reasons why Gukesh does well. He has had absolutely no pressure from his parents. They do not interfere with his chess decisions. If there is a draw in a position and Gukesh overstretches and loses the game, his father is proud that Gukesh tried to play for a win and not that he missed the draw. It's this attitude that helps the young boy play freely.
At the IIFLW Championship 2018-19 Gukesh was unable to win the juniors section, nor was he able to achieve his GM norm in the open section. But he showed his claws, by beating the top seed in the open section Aleksandrov (2590).
3rd GM norm: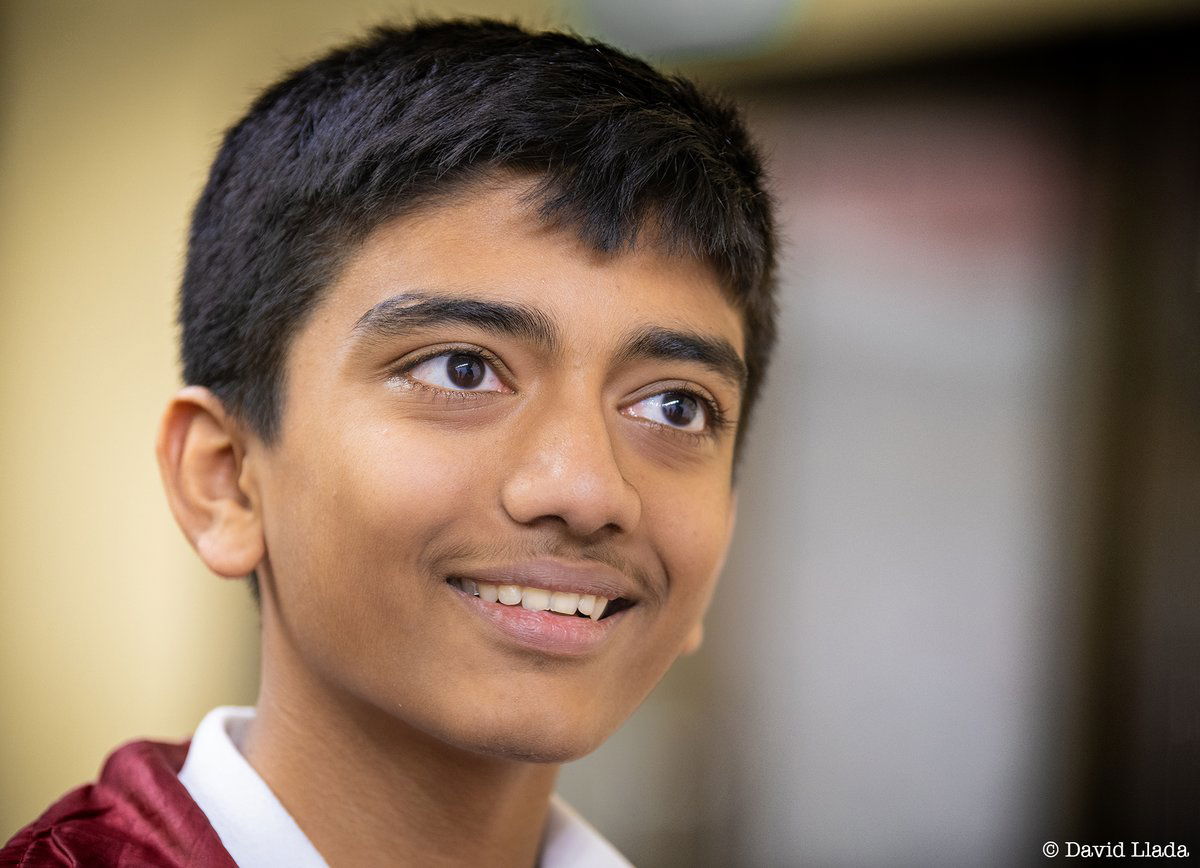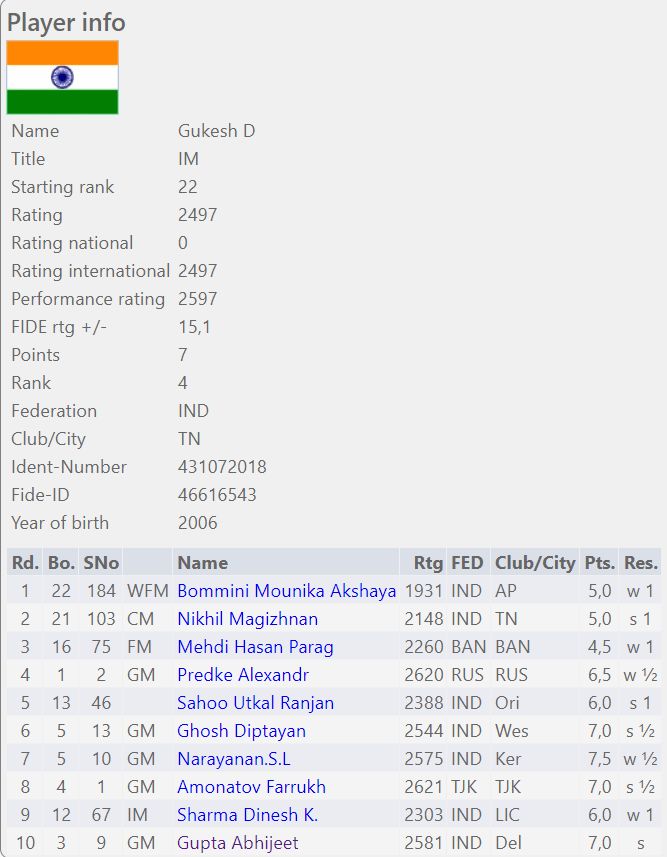 We asked Gukesh's current trainer GM Vishnu Prasanna as to what makes Gukesh special. He replied, " Gukesh surprised me early on with his strategic sense and unique strategic decisions. This is even more surprising considering how young he is. He is extremely good at calculating variations quickly and precisely. Most of all he has tremendously important qualities like willingness to learn, curiosity and a good temperament to handle pressure."
ChessBase India wishes India's youngest GM and the 60th GM of our country a great future ahead.
---