13-year-old World U-14 Champion Ilamparthi A R becomes India's latest International Master
The reigning World Under-14 Open champion, Ilamparthi A R became India's first International Master of the year on 14th February. In the sixth round of 21st Rochefort Chess Festival Masters 2023, the 13-year-old drew with GM Momchil Nikolov (BUL) to cross 2400 in the live ratings. The teenager scored his first IM-norm at Svetozar Gligoric Memorial Masters in July 2022. Then he clinched Gold at World Youth Under-14 Open which earned him his second IM-norm in September. In another two months, he scored his final IM-norm at Chessable Sunway Sitges Open 2022. We hope the boy becomes a Grandmaster soon as he mentioned after becoming World U-14 champion last year. Photo: Aditya Sur Roy
Three IM-norms and 2400+ in seven months
Ilamparthi A R made a great start to 2023. Despite starting with three losses at the Rilton Cup 2022-23, he won the next six games to finish with a score 6/9. In his second tournament of the year, he finished third at Velammal Republic Day Celebration Rapid Rating Open 2023. In his third tournament of the year at 21st Rochefort Chess Festival Masters 2023, he crossed 2400 in the live ratings to become India's latest International Master. To get an idea of the boy's poise, after becoming World Under-14 Open champion, he won Gold in Asian Under-18 Rapid 2022 in October and won his first Rapid Rating Open tournament in November 2022. Currently, Ilamparthi A R is participating in the WR Chess Juniors 2023 grand final stage in which he qualified tthrough online qualification tournament.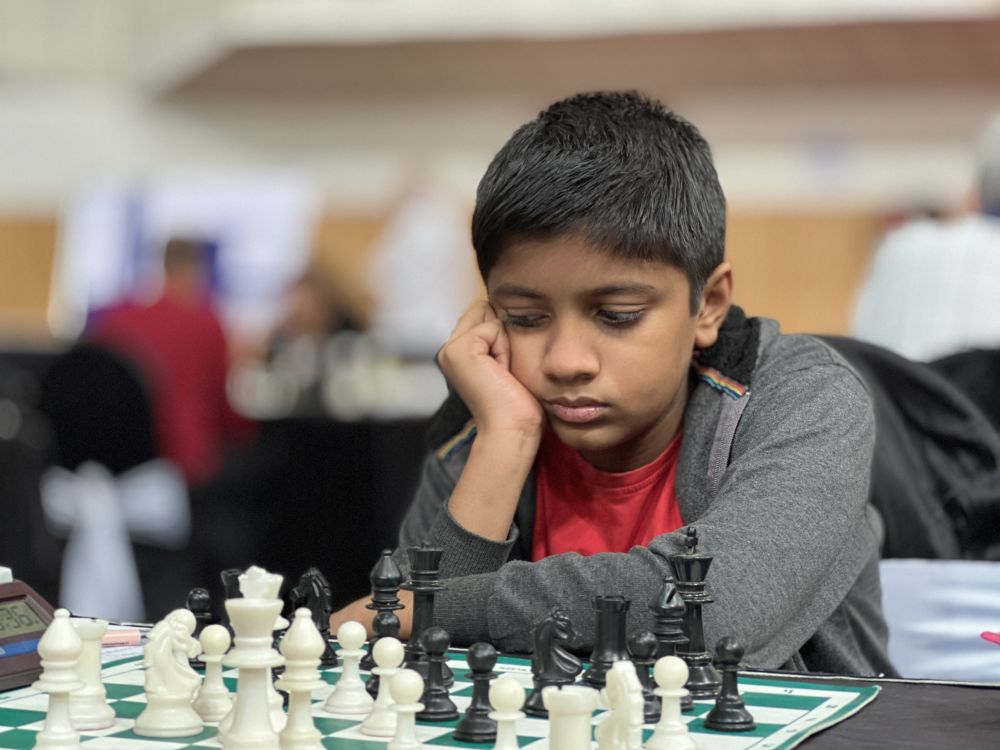 First IM-norm: Svetozar Gligoric Memorial Masters 2023
Ilamparthi A R earned his first IM-norm at Svetozar Gligoric Memorial Masters 2023 in July 2022. He scored 5.5/9, performed at 2450 and gained 136 Elo rating points to score his maiden IM-norm. He lost against the only GM he faced at this event and did not win against the three IMs he faced. He only drew with IM Srihari L R in the first round.
Kushagra - Ilamparthi, Round 6
18.Rf2 is inaccuracy. Ilamparthi (2153) found the correct continuation 18...Bxf3 19.Rxf3 Nxg2 20.Re2 Nd4 21.Rxg2 Nxf3 22.Nxf7 Rd4 23.Rf2 Rxc4 24.bxc4 Kxf7 25.Rxf3 g5. The resultant rook and many pawns endgame is winning for Black. This was his third consecutive victory of the event in the sixth round against then CM Kushagra Mohan (2359) who went on to become an IM in the next few months.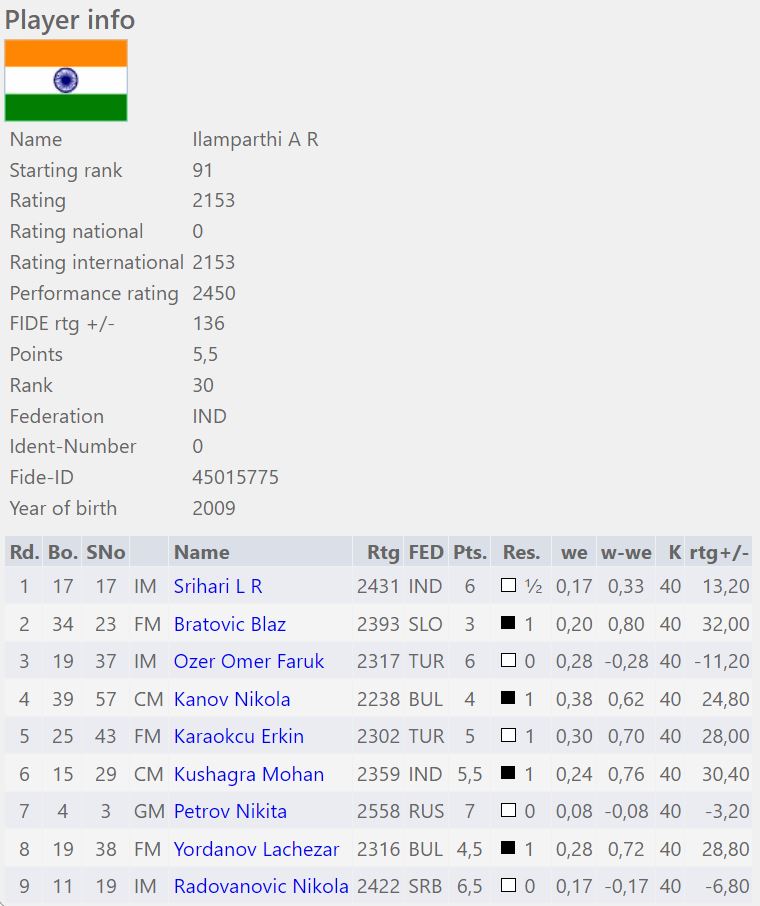 Second IM-norm: World Youth Under-14 Open 2022
In less than two months after scoring his maiden IM-norm, Ilamparthi A R became World Under-14 Open champion in Mamaia, Philippines. Winning the Gold medal earned him his second IM-norm. In the ninth round, he scored his sole victory against an IM at this event, Aldiyar Ansat (KAZ).
Filip
- Ilamparthi, Round 11
Position after 31.Rxa7
Find out the winning combination for Black which Ilamparthi executed in the game after 31.Rxa7.
Third IM-norm: Chessable Sunway Sitges Open 2022
Ilamparthi earned his final IM-norm in December 2022 at Chessable Sunway Sitges Open 2022. He drew with GM Bobby Cheng (AUS) and defeated IM Gerard Ayats Llobera (ESP). The 13-year-old scored his IM-norm in nine rounds, thus a last round walk over against GM Eltaj Safarli (AZE) did not affect his norm chances.
Ilamparthi - Gerard, Round 9
Ilamparthi showed fine positional understanding when his opponent went 20...Bd7. He seized his opportunity 21.a6! cxb5 22.Nxb5 Bxb5 23.axb7 Nxb7 24.cxb5 Nf6 and eventually the b5-pawn combined with the light square bishop converted his advantage into a win. Thus, Ilamparthi scored his final IM-norm after the ninth round.
Live rating 2400: 21st Rochefort Masters 2022
Ilamparthi A R (2385) became India's latest International Master when he drew his sixth round game against GM Momchil Nikolov (BUL). His live rating became 2401.6. After becoming an IM, he did not slow down, he drew with GM K Sasikiran (2619) in a 111-move long battle where the rook endgame lasted for 70 moves.
"He is a huge talent. He is very sincere and a hardworking kid. Sometimes he doesn't even realise that he has been working for hours and I literally have to ask him to get up and do a short walk. He is very much involved and passionate about chess. Another good thing is that he doesn't get distracted. Whenever he stays in my academy for longer duration, I don't need to worry much about his work ethics. I give him some work to do and he does it sincerely and when I'm away from town, he still keeps working on something or the other. Slowly we started to play turf cricket after 5-6 hours of intense session. He also does yoga in the mornings, a disciplined kid. His parents are also supportive and doesn't demand or expect too much from the child and I believe that's very important these days. Kids do play well when they aren't pressurized.
One more thing is that he goes to YouTube only to watch ChessBase India videos or chess related other videos. He's up-to-date in chess related stuffs."
Replay Ilamparthi's games
Videos
Links
Ilamparthi A R youtube playlist
---