Can Gukesh still become the youngest GM ever?
The Sunway Sitges that is currently taking place in Barcelona, Spain is the tournament which houses the biggest chess talents of India. You have Nihal Sarin, Praggnanandhaa, Gukesh, Raunak Sadhwani, Vaishali, and many more. Add to it the experience of Sasikiran and Soumya Swaminathan and this tournamentevent is definitely something that you should n't be missing out on. There's also the excitement of Gukesh becoming the youngest GM ever in the history of the game. So, how are our players faring at this tournament. Seven out of the ten rounds have come to an end and this is how things look.
A lot of big names of Indian chess are playing at the Sunway Sitges Chess Festival 2018. Seven rounds are over, let's have a look at how they are doing. Let's first begin with D. Gukesh as he has a chance to break Karjakin's record of the youngest GM ever if he achieves his third GM norm here and gains 10 Elo points.
A look into the FIDE Handbook shows the following:
Now currently Gukesh's average rating is 2449 (we have upgraded his first round opponent who was 2122 to 2200). If he faces a 2449 opponent in round nine, which keeps his average rating to 2449, he would require 6.5/9. This would mean that Gukesh requires to win both his games. The chances of Gukesh pushing his rating average above 2474 is very difficult. He would have to win round 8 game and then face one of the top three seeds Inarkiev (2693), Ivanchuk (2717) or Andreikin (2719). If he faces any one of the three in the ninth round then overall his rating average is pushed above 2474 and he would need 6.0/9 which is 1.5 points in the remaining two games.
One thing is pretty clear. If Gukesh wants to get his GM norm, beating GM Santos Latasa Jaime (2584) today is quite important. Mind you, this is not a 9-round event. There are 10 rounds, so Gukesh can also achieve his 10-round norm. These are the requirements as per FIDE Handbook: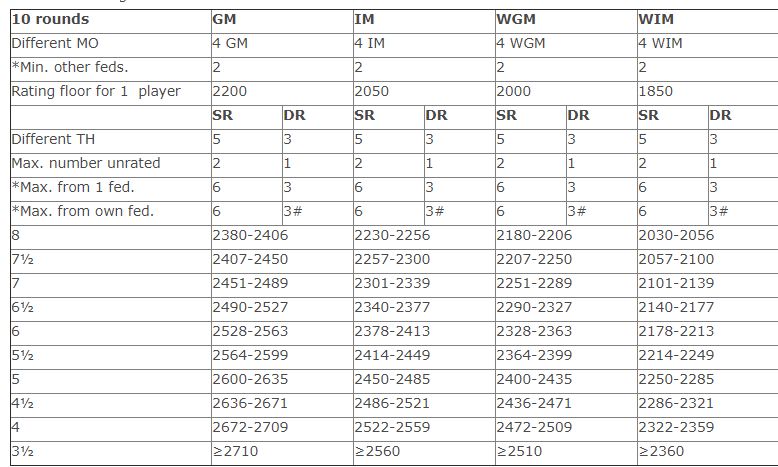 We at ChessBase India want to clarify one point for our readers. Repeatedly we have found the criticism that we are putting too much pressure on young talents because of our reports on whether they can break a certain record or not. Well, we believe that it is extremely important for the chess enthusiasts to be aware of whether Gukesh can break the record. This is not meant to put pressure on Gukesh, who is busy in his room trying to find ways to beat his Spanish opponent! We definitely hope that Gukesh can make it to the finish line with some great final round performances, but even if he can't, he definitely will be a super strong grandmaster in the time to come!
Look at his seventh round win against Nihal Sarin. Nihal played the exchange variation in the King's Indian Defence and it didn't seem as if Black could get much out of that endgame, but Sasi managed to put enough pressure for the 14-year-old opponent to crack. Check out the game:
Indian's Raunak Sadhwani had a tough rival in today's round, @GMSasikiran. However, with 4/6 he's still not far from the lead, and has a good chance to get a GM norm if he does not collapse... @ChessbaseIndia @Indianchess pic.twitter.com/vUO8xR9IFH

— Sunway Chess Open (@SunwayChessOpen) December 20, 2018
Here are Raunak's two wins over the two grandmasters:
One player who has been doing exceedingly well in the tournament is Krishna Teja. He has beaten two strong players and ChessBase India's Rupali Mullick, who is present at the Sunway Sitges, managed to do an interview with him:
There was a very incident in round 5 which was discussed in the above interview. In round 5 Krishna was facing GM Maxime Lagarde. After move 70 we got the following position:
Now on the 121st move Lagarde played his rook to c8 and gave a check. Krishna could have resigned the game. Instead he used his presence of mind and found out that if he puts his rook on d8 and then white takes it, it is checkmate but on 122nd move, which is one move after the 50th move! He called the arbiter and after some drama, the game was judged as a draw! What a save!
Indian performance until round 7:
| | | | | | | | | | | | | | | | | | | |
| --- | --- | --- | --- | --- | --- | --- | --- | --- | --- | --- | --- | --- | --- | --- | --- | --- | --- | --- |
| SNo | | Name | RtgI | RtgN | FED | 1 | 2 | 3 | 4 | 5 | 6 | 7 | 8 | 9 | Pts. | Rk. | Rp | Group |
| 4 | GM | Sasikiran Krishnan | 2673 | 0 | IND | 1 | 1 | 1 | ½ | ½ | 1 | 1 | | | 6,0 | 1 | 2769 | Group A |
| 16 | GM | Nihal Sarin | 2576 | 0 | IND | 1 | 1 | 1 | 1 | ½ | ½ | 0 | | | 5,0 | 9 | 2654 | Group A |
| 25 | GM | Praggnanandhaa R | 2530 | 0 | IND | ½ | 1 | 1 | 1 | ½ | ½ | ½ | | | 5,0 | 19 | 2540 | Group A |
| 35 | IM | Gukesh D | 2466 | 0 | IND | 1 | 1 | 0 | 1 | ½ | 0 | 1 | | | 4,5 | 32 | 2522 | Group A |
| 41 | IM | Sadhwani Raunak | 2434 | 0 | IND | 1 | 1 | 1 | 0 | 1 | 0 | ½ | | | 4,5 | 31 | 2548 | Group A |
| 42 | WGM | Soumya Swaminathan | 2428 | 0 | IND | 1 | 1 | 0 | ½ | 1 | 0 | ½ | | | 4,0 | 52 | 2384 | Group A |
| 45 | IM | Vardaan Nagpal | 2415 | 0 | IND | ½ | ½ | ½ | ½ | 1 | 0 | ½ | | | 3,5 | 98 | 2130 | Group A |
| 46 | IM | Raja Rithvik R | 2415 | 0 | IND | 1 | 1 | ½ | 0 | ½ | ½ | 1 | | | 4,5 | 37 | 2337 | Group A |
| 48 | IM | Arjun Kalyan | 2406 | 0 | IND | 1 | 1 | 0 | 0 | ½ | ½ | ½ | | | 3,5 | 92 | 2119 | Group A |
| 49 | CM | Rohith Krishna S | 2399 | 0 | IND | 1 | 0 | 0 | 1 | 1 | ½ | ½ | | | 4,0 | 60 | 2298 | Group A |
| 59 | IM | Roy Prantik | 2382 | 0 | IND | 1 | ½ | 0 | 1 | 0 | ½ | 1 | | | 4,0 | 48 | 2407 | Group A |
| 68 | IM | Krishna Teja N | 2340 | 0 | IND | 1 | 0 | 1 | 1 | ½ | 1 | ½ | | | 5,0 | 20 | 2564 | Group A |
| 73 | WGM | Vaishali R | 2329 | 0 | IND | 1 | 1 | 0 | 0 | 1 | ½ | 0 | | | 3,5 | 76 | 2372 | Group A |
| 74 | IM | Dhulipalla Bala Chandra Prasad | 2328 | 0 | IND | 1 | 0 | 1 | 0 | 1 | 0 | 1 | | | 4,0 | 54 | 2274 | Group A |
| 81 | WIM | Priyanka Nutakki | 2293 | 0 | IND | 1 | ½ | 0 | 1 | 0 | ½ | ½ | | | 3,5 | 84 | 2161 | Group A |
| 85 | CM | Mullick Raahil | 2276 | 0 | IND | 1 | 0 | 1 | 0 | 1 | 1 | 0 | | | 4,0 | 50 | 2258 | Group A |
| 86 | FM | Pranav Anand | 2274 | 0 | IND | 1 | 0 | 1 | ½ | 1 | ½ | 0 | | | 4,0 | 45 | 2337 | Group A |
| 90 | | Sreeshwan Maralakshikari | 2244 | 0 | IND | 1 | 0 | 1 | ½ | ½ | 0 | ½ | | | 3,5 | 78 | 2390 | Group A |
| 95 | CM | Bharath Subramaniyam H | 2234 | 0 | IND | 0 | 1 | 1 | 1 | ½ | ½ | 0 | | | 4,0 | 46 | 2389 | Group A |
| 96 | | Moksh Amit Doshi | 2233 | 0 | IND | 0 | 1 | 1 | ½ | ½ | ½ | 0 | | | 3,5 | 79 | 2305 | Group A |
| 106 | | Alok Sinha | 2187 | 0 | IND | 0 | 1 | 0 | 1 | 0 | 1 | 0 | | | 3,0 | 108 | 2210 | Group A |
| 108 | | Natarajan C | 2177 | 0 | IND | 0 | 1 | ½ | 0 | 0 | ½ | 1 | | | 3,0 | 113 | 2166 | Group A |
| 115 | CM | Dev Shah | 2159 | 0 | IND | 0 | 0 | 1 | ½ | 0 | ½ | 1 | | | 3,0 | 132 | 1969 | Group A |
| 116 | | Manu David Suthandram R | 2153 | 0 | IND | ½ | ½ | ½ | 0 | 1 | ½ | ½ | | | 3,5 | 81 | 2322 | Group A |
| 120 | | Ajay Karthikeyan | 2143 | 0 | IND | 0 | 1 | ½ | ½ | 1 | ½ | 0 | | | 3,5 | 80 | 2300 | Group A |
| 121 | | Rakshitta Ravi | 2141 | 0 | IND | 0 | ½ | ½ | ½ | 0 | 1 | ½ | | | 3,0 | 127 | 1943 | Group A |
| 139 | WFM | Cholleti Sahajasri | 2069 | 0 | IND | ½ | ½ | 0 | 0 | 1 | ½ | ½ | | | 3,0 | 103 | 2200 | Group A |
| 148 | | Shyam Prasad Reddy K | 2030 | 0 | IND | 0 | 1 | 0 | ½ | 1 | 1 | 0 | | | 3,5 | 96 | 2322 | Group A |
| 160 | | Aarav Dengla | 1955 | 0 | IND | 0 | 0 | ½ | ½ | 0 | 1 | 0 | | | 2,0 | 154 | 1992 | Group A |
| 164 | | Mahitosh Dey | 1931 | 0 | IND | 0 | 1 | ½ | ½ | ½ | 0 | ½ | | | 3,0 | 123 | 2137 | Group A |
| 167 | | Arjun C Krishnamachari | 1895 | 0 | IND | 0 | 1 | 0 | ½ | ½ | ½ | ½ | | | 3,0 | 129 | 2141 | Group A |
| 177 | | Ilamparthi A R | 1796 | 0 | IND | ½ | 0 | 1 | 0 | 1 | 0 | ½ | | | 3,0 | 118 | 2185 | Group A |
Standings after round 7:
| | | | | | | | | | | | | | | | | |
| --- | --- | --- | --- | --- | --- | --- | --- | --- | --- | --- | --- | --- | --- | --- | --- | --- |
| Rk. | SNo | | | Name | Typ | sex | Gr | FED | RtgI | RtgN | Club/City | Pts. | TB1 | TB2 | TB3 | Rp |
| 1 | 4 | | GM | Sasikiran Krishnan | | | | IND | 2673 | 0 | Oil and Natural Gas Corporation Ltd | 6,0 | 30,5 | 34,0 | 24,5 | 2769 |
| 2 | 27 | | GM | Alonso Rosell Alvar | | | 2550 | ESP | 2524 | 2514 | C.E. Gerunda | 6,0 | 30,5 | 33,5 | 26,0 | 2824 |
| 3 | 17 | | GM | Petrosyan Manuel | | | | ARM | 2565 | 0 | | 6,0 | 29,0 | 32,0 | 25,5 | 2777 |
| 4 | 1 | | GM | Andreikin Dmitry | | | | RUS | 2719 | 0 | | 5,5 | 27,5 | 30,5 | 23,0 | 2711 |
| 5 | 26 | | IM | Harutyunian Tigran K. | | | | ARM | 2528 | 0 | | 5,5 | 27,5 | 30,5 | 22,5 | 2679 |
| 6 | 8 | | GM | Indjic Aleksandar | | | | SRB | 2620 | 0 | | 5,5 | 27,0 | 30,5 | 23,5 | 2674 |
| 7 | 5 | | GM | Edouard Romain | | | | FRA | 2644 | 2614 | Club de Ajedrez Sestao | 5,5 | 26,5 | 29,0 | 22,0 | 2676 |
| 8 | 2 | | GM | Ivanchuk Vassily | | | | UKR | 2717 | 0 | | 5,5 | 23,0 | 26,0 | 18,5 | 2543 |
| 9 | 16 | | GM | Nihal Sarin | 16 | | | IND | 2576 | 0 | | 5,0 | 30,0 | 33,0 | 24,5 | 2654 |
| 10 | 7 | | GM | Adly Ahmed | | | | EGY | 2626 | 0 | | 5,0 | 29,0 | 33,0 | 22,0 | 2607 |
| 11 | 9 | | GM | Lagarde Maxime | | | 2616 | FRA | 2616 | 2588 | Barcelona C.E. | 5,0 | 28,5 | 32,5 | 21,5 | 2555 |
| 12 | 34 | | GM | Dragnev Valentin | H | | | AUT | 2483 | 0 | | 5,0 | 28,5 | 31,5 | 21,0 | 2617 |
| 13 | 6 | | GM | Vocaturo Daniele | | | | ITA | 2629 | 2622 | | 5,0 | 28,5 | 30,5 | 22,5 | 2600 |
| 14 | 12 | | GM | Liang Awonder | H16 | | | USA | 2589 | 0 | Wisconsin | 5,0 | 27,5 | 31,0 | 22,0 | 2614 |
| 15 | 3 | | GM | Inarkiev Ernesto | | | | RUS | 2693 | 0 | | 5,0 | 27,5 | 31,0 | 20,5 | 2573 |
| 16 | 11 | | GM | Romanov Evgeny | | | | RUS | 2614 | 0 | | 5,0 | 27,5 | 30,5 | 22,5 | 2568 |
| 17 | 28 | | GM | Santos Ruiz Miguel | | | | ESP | 2523 | 2506 | And | 5,0 | 27,5 | 30,0 | 21,5 | 2563 |
| 18 | 13 | | GM | Peralta Fernando | | | 2598 | ARG | 2584 | 2582 | Escola d'Escacs de Barcelona | 5,0 | 26,5 | 29,5 | 21,5 | 2545 |
| 19 | 25 | | GM | Praggnanandhaa R | H16 | | | IND | 2530 | 0 | | 5,0 | 26,5 | 28,0 | 21,5 | 2540 |
| 20 | 68 | | IM | Krishna Teja N | A | | | IND | 2340 | 0 | | 5,0 | 26,0 | 28,5 | 20,0 | 2564 |
Rupali Mullick, who is present at the event, took some very nice videos of Indian players relaxing after their grueling games. Here's one of them:
Follow the games live at 9 p.m. IST
---