Praggnanandhaa on the verge of winning V Géza Hetényi Memorial 2023
17-year-old R Praggnanandhaa continues his good form from Tech Mahindra Global Chess League. He crossed 2700 in the live ratings when he beat Parham Maghsoodloo in the second round on 12th July at V Géza Hetényi Memorial 2023. The teenager won the next two games before suffering his first loss against M Amin Tabatabaei. Immediately in the following round, he bounced back with a victory against Peter Prohaszka. The next two games ended in draws against Pavel Eljanov and Maxim Matlakov. Praggnanandhaa needs a draw in the last round against Poland no.2 Radoslaw Wojtaszek to become a clear champion. He is heading into the final round with a full point lead at 6/8 with a performance of 2859. Photos: Zoltan Fulop/Official site
Pragg continues his great momentum
R Praggnanandhaa has gained a strong momentum at the right time. The FIDE World Cup 2023 is just a few days away. So it is very important for him to continue this momentum and great form into one of the most important tournaments of the year. The inaugural edition of this Super GM Round-Robin tournament has a total prize fund of €10700. The top three prizes are €5000, €2500 and €1500 each respectively.
Sjugirov - Praggnanandhaa, Round 1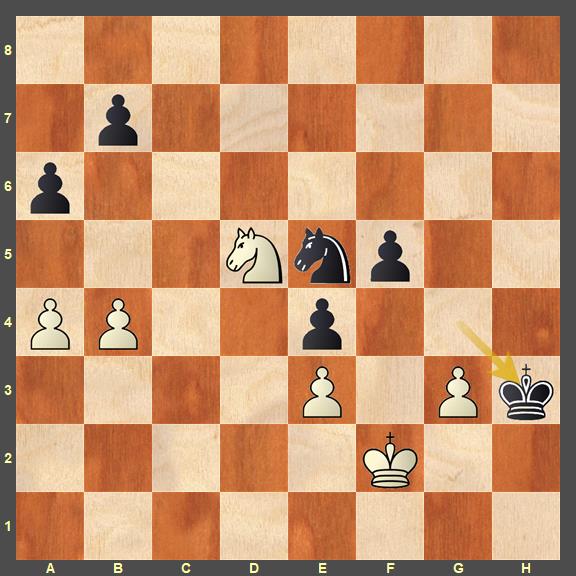 It was a tricky knight endgame where GM Sanan Sjugirov (2699) went wrong 48.Ne7?? Praggnanandhaa (2690) correctly capitalized on his opportunity 48...Nd3+ 49.Ke2 Kg4 50.b5 a5 51.Nc8 Nb2 52.Nd6 b6 53.Kf2 Nxa4 54.Nc4 Kh3 55.Nd6 Nc3 and it's over for White.
Praggnanandhaa - Parham, Round 2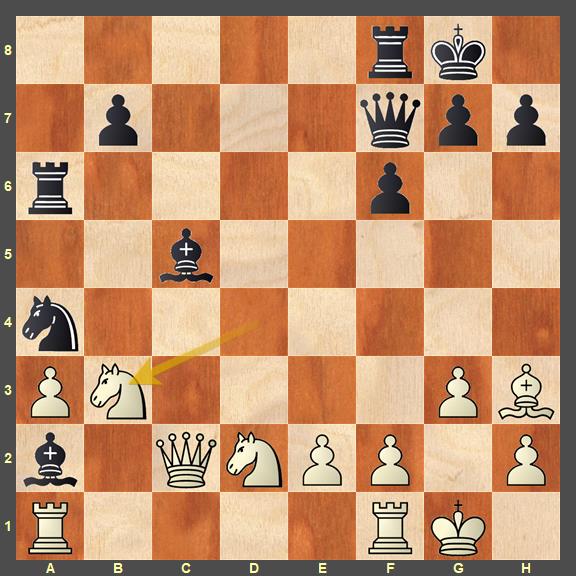 Praggnanandhaa (2690) played sublime chess to outplay Parham Maghsoodloo (IRI, 2719) and cross 2700 in the live ratings.
Kozak - Praggnanandhaa, Round 3
Queen endings are quite complex. Adam Kozak (HUN, 2571) went wrong with 56.Qc8?? allowing his opponent to invade with his queen and king 56...Qf4+ 57.Kg2 Kg5 58.Qd8+ f6 59.Qe8 Qd2+ 60.Kg1 Kf4 61.g5 Kg3 and checkmate is unstoppable.
Praggnanandhaa - Shevchenko, Round 4
Kirill Shevchenko (ROU, 2694) made a positional error 24...Rbc8?? 25.Bh3 Nf5 26.Bxf5 exf5 27.Qe7 dxc4 28.Nxc4 Qxe7 29.Rxe7 Rc7 30.Rc2 preparing to capture b6 30...Kg8 31.Ne1 Rb8 32.Nxb6 Rxc2 33.Nxd7 Rc7 34.Nxf6+ gxf6 35.Rxc7 and White won.
Prohaszka - Praggnanandhaa, Round 6
Praggnanandhaa decided to go for double rook vs queen endgame against Peter Prohaszka (HUN, 2585) 23...Rxc6! 24.Nxc6 Rxe3 25.Qxe3 Bc5 26.Rxc3 Bxe3+ 27.Rxe3 Qxc6 Black displayed fine technique and went on to win the game.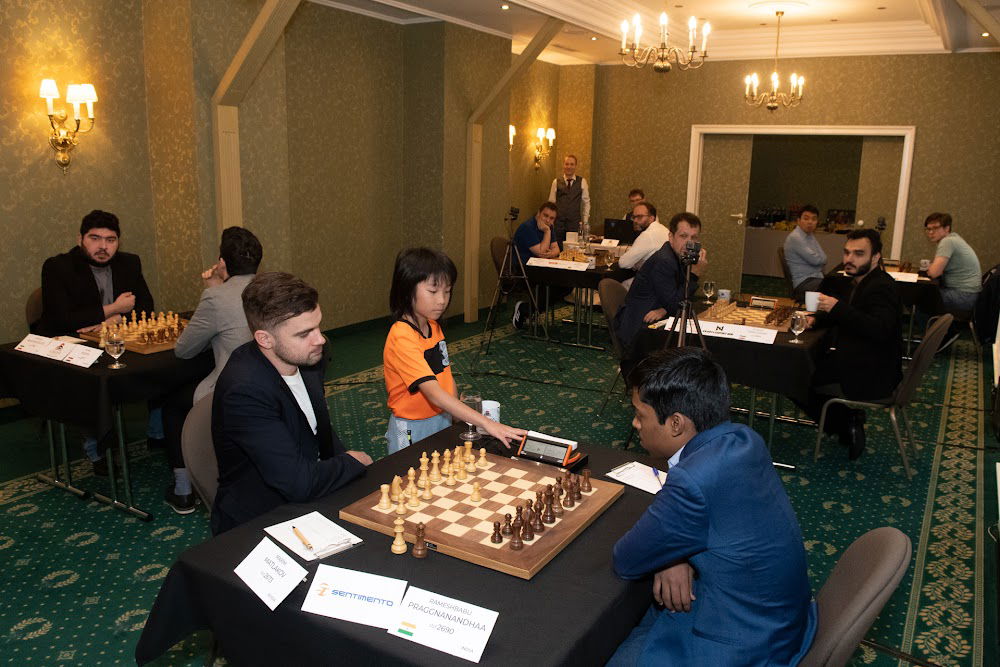 Photo Gallery
The inaugural edition of V Géza Hetényi Tournament is being organized by GM FT Attila Czebe at Danubius Hotel Astoria City Center in Budapest, Hungary from 11th to 18th July 2023. The time control is 90 minutes / 40 moves + 30 minutes for the rest of game + 30 seconds increment for each move.
Replay Round 1-8 games
Round 8 results
Bo.
No.
Rtg
Name
Result
Name
Rtg
No.
PGN
1
10
2585
GM
Prohaszka, Peter
½ - ½
GM
Eljanov, Pavel
2694
9
PGN
2
1
2673
GM
Matlakov, Maxim
½ - ½
GM
Praggnanandhaa, R
2690
8
PGN
3
2
2676
GM
Wojtaszek, Radoslaw
½ - ½
GM
Tabatabaei, M. Amin
2689
7
PGN
4
3
2699
GM
Sjugirov, Sanan
½ - ½
GM
Shevchenko, Kirill
2694
6
PGN
5
4
2719
GM
Maghsoodloo, Parham
0 - 1
GM
Kozak, Adam
2571
5
PGN
Standings after Round 8
| | | | | | | | | | | | |
| --- | --- | --- | --- | --- | --- | --- | --- | --- | --- | --- | --- |
| Rk. | SNo | | | Name | FED | Rtg | Club/City | Pts. | TB1 | TB2 | TB3 |
| 1 | 8 | | GM | Praggnanandhaa, R | IND | 2690 | India | 6 | 20,00 | 0 | 0 |
| 2 | 7 | | GM | Tabatabaei, M. Amin | IRI | 2689 | Iran | 5 | 18,25 | 0 | 0 |
| 3 | 3 | | GM | Sjugirov, Sanan | RUS | 2699 | Russia | 5 | 16,00 | 0 | 0 |
| 4 | 9 | | GM | Eljanov, Pavel | UKR | 2694 | Ukraine | 4,5 | 17,75 | 0 | 0 |
| 5 | 2 | | GM | Wojtaszek, Radoslaw | POL | 2676 | Poland | 4,5 | 17,50 | 0 | 0 |
| 6 | 1 | | GM | Matlakov, Maxim | RUS | 2673 | Russia | 4,5 | 15,25 | 0 | 0 |
| 7 | 4 | | GM | Maghsoodloo, Parham | IRI | 2719 | Iran | 3 | 12,75 | 0 | 0 |
| 8 | 6 | | GM | Shevchenko, Kirill | ROU | 2694 | Romania | 2,5 | 9,75 | 0 | 0 |
| 9 | 10 | | GM | Prohaszka, Peter | HUN | 2585 | Hungary | 2,5 | 9,50 | 0 | 0 |
| 10 | 5 | | GM | Kozak, Adam | HUN | 2571 | Hungary | 2,5 | 8,75 | 0 | 0 |
Links
---