Indian chess community on Praggnanandhaa crossing 2700 Elo at the age of 17 years
For most of us chess has two titles - IM at 2400 Elo, and GM at 2500 Elo. But for the select few who are extremely good at the sport, there is also an unofficial title - that of Super GM. You start being called a super GM in the world of chess, when you cross the Elo of 2700. That's what Praggnanandhaa managed to achieve on 12th of July when he beat Parham Maghsoodloo in the second round of the Geza Hetenyi Memorial 2023. In this article we tell you how Pragg managed to break the 2700 Elo barrier, the people who have been instrumental in him achieving it and also the reaction of the top players in Indian chess community.
Praggnanandhaa is now a super GM
R. Praggnanandhaa became the 8th Indian in the history of the sport to cross the elusive barrier of 2700 Elo in classical chess and become a super GM. Pragg did so by winning his first two round games against Sanan Sjugirov and Parham Maghsoodloo at the Geza Hetenyi Memorial in Budapest. From 2690 Pragg made a jump to 2700.5 after these 2 wins. But he didn't stop there. He beat Adam Kozak in round 3 and then Kiril Shevchenko in round 4 to reach 2709.
Pragg carried on his magical form throughout the event. He scored another win against Peter Prohaszka and although he lost to Amin Tabatabaei, after being outplayed in the opening, he scored three solid draws and won the event with a score of 6.5/9 and a solid one point gap over the field.
The 2700 Elo barrier was something that Pragg struggled to break for quite some time. When the pandemic struck, Pragg had a rating of 2602 and for the next two years could not play. However, when things opened up in mid-2021, Pragg faced quite a tough challenge to gain those 100 Elo points. Contrary to what Gukesh and Arjun achieved where they zoomed ahead towards the 2700 Elo mark, Pragg was slow and steady. He showed some powerful performances by winning the Reykjavik Open, the Paracin Open, winning the bronze medal on board 3 for team India at the Olympiad, winning the Asian Continental, getting the Arjuna Award and not to forget - beating Magnus Carlsen 5 times at the Champions Chess Tour. For many it was quite puzzling as to why in spite of showing such great performances Pragg was not crossing the 2700 Elo mark. Maybe it had a lot to do with the way in which Pragg chooses his tournaments. He prefers to play 1 tournament a month and has been doing so for over a couple of years now.
The Global Chess League in Dubai worked brilliantly for Pragg. He played on the prodigy for SG Alpine Warriors and was literally unbeatable. He raced to 7.5/8 and eventually ended with 8.5/10. Playing in the same team as Magnus Carlsen and performing so well would definitely have boosted Pragg's morale.
Another person who has been instrumental in Pragg's success is GM R.B. Ramesh. When we asked Ramesh the secret of Pragg's success, he mentions, "Pragg generally does not notice what is happening to his rating in the middle of a tournament. He tries to focus on playing one game at a time and give his best in every round. This approach I feel is extremely important for an upcoming player. It helps to focus on the job at hand and not get swayed by what happened in previous rounds in a negative manner. I have seen in person how this approach helps him recover quickly in the middle of a tournament." He further adds, "Tremendous self-belief, the amount of hard work he puts in is fantastic, ability to adapt to different playing styles, endgame technique, not taking losses too personally and his defensive skills - all of this has contributed to Pragg reaching where he is today."
Ramco group has been Pragg's main sponsors since he became an IM at age of 10. Their support has been instrumental in Pragg's growth as a player. Pragg is also under tenure of Indian Oil Corporation (IOCL) since last one year and will most likely become an employee once he turns 18. Another sponsor who has come on board is TI cycles, who has been supporting Pragg in his journey since last one year.
Top Indian GMs on Pragg crossing 2700
We wrote to many of the top players of Indian chess to give us their thoughts on what qualities of Pragg they thought helped him to reach 2700 Elo. We received answers from many of them including Vishy Anand.
Vishy Anand
"I have thought of Pragg as basically a 2700 player for a while in the sense that he competes quite well in tournaments against them. You know, beating Ding Liren and things like that. So mentally I think of him as 2700, but sometimes these things take some time to come together. Recently, his form has been very impressive. So maybe he is just in that phase. We saw this already in the tech Mahindra Global Chess League, and then he's had a very good start in Budapest and I'm very, very happy that he's with us in WACA and that he is across 2700. Nonetheless, this is live rating, I would like it to be a published rating, so I hope he continues to do well in this tournament and that the August 1st list he is officially there."
Sasikiran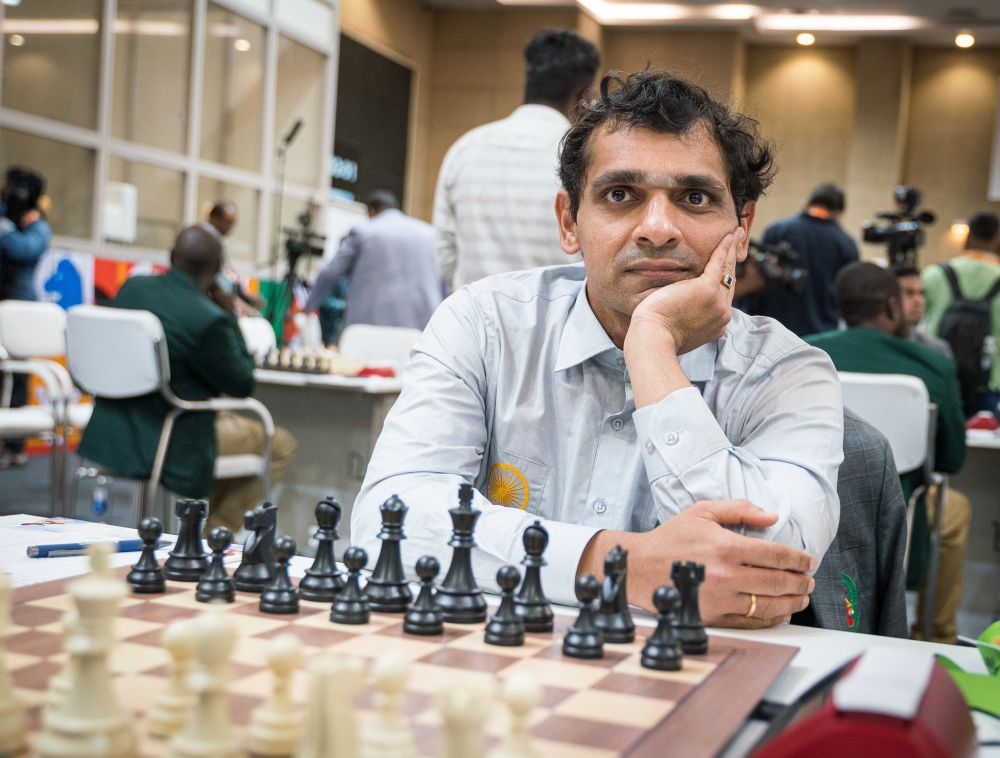 "I think it is his Never give up attitude that stands out. Especially in this regard his game against Pelletier from the last Olympiad which he won in the end. Such extra points eventually add up to the final medal tally."
Arjun Erigaisi
"Pragg's sense of objectivity is extraordinary,I believe that is one of his big strengths. Recently at the GCL Pragg and I went for a swim and we had a brief look at a position before going into the pool. Bit later while I completely forgot about the position, he had a lot of views on it. He was thinking about it all this time. I was really impressed!"
Adhiban
"To be honest, I have been waiting for this for a while already. I always felt he had the potential, I kept wondering what was stopping him and now I am very happy to see that he has crossed this milestone after which he can focus on bigger targets in his career! He is an incredible fighter who is not afraid of anyone and he has mastered many phases of the game. I think he will only keep getting stronger. I think our Indians kids have healthy competition between them and I believe our future is in good hands! I always have fun spending time with him and the only thing you have to put up with is the constant amount of horrible jokes he makes!"
Abhijeet Gupta
"Prag has been a Phenom for a while and I feel 2700 is just a number. He has a long way to go and considering the mentor he has in Vishy is simply amazing. To me the journey has just begun and I hope he makes it very very very very far so that I can say that I have beaten him multiple times in the past and also this year :)There is no weakness or strong point of Pragg because he is so humble and always ready to learn. 2. I remember once I was playing against him in the Isle of man and we played a long game around 6.5 hours and he still wanted to analyse which speaks for itself. I hope he advances with the speed of light and becomes the youngest world champion."
Sandipan Chanda
"While such an achiever obviously would be having several excellent qualities all combining together, what strikes me the most is his love for the game. A beautiful idea still brings the same smile to the 17-year-old Pragg that I imagine must have been for the 7-year-old Pragg. We played only once in KIIT International open in Bhubaneswar in 2016. I am happy to say that I managed to hold a draw with the white pieces, without facing too many problems. The game was mostly about me trying to pretend that I was playing for an advantage with the white pieces against a small boy. While the ten year old Pragg trying to pretend that he was showing some respect to the old man sitting opposite. After some unnecessary 20 moves in a completely drawn endgame, we shook hands and became friends. We never played again, we are still friends."
Padmini Rout
"It is very inspiring! I played Pragg when he was more younger but still very strong. I was outplayed. I feel Pragg's focus on chess is at a different level which makes him so strong among his other qualities."
Stany GA
"My experience with prag was mainly during Chennai Olympiad. As a chess player I liked his attitude during Olympiad. He had to play continuously Black's due to constant change in board orders and nobody noticed it till first half of the tournament but Pragg never complained and was a complete team player and still scored valuable points with black Prag is known for his PJs. If his chess level is 2700+, his PJ level is definitely above 3000 Elo. It's so bad that I can't remember a single one of it!"
Vantika Agrawal
"With the level of accuracy that Pragg plays, I was dead sure that he will cross the 2700 mark in no time. His endgame skills are phenomenal."
Shyam Sundar
"Yes, indeed it is an great achievement! Congratulations to Prag, his family, trainers and sponsors. I'm sure this will boost him even more to reach new heights. With legendary trainer Ramesh sir by his side, he will surely achieve more laurels. He also has the liberty and luxury to discuss any chess related stuffs at any point of the day in his home with his older sister Vaishali who's also a very strong player and a stone's throw away from becoming a GM! He's a hard working kid and he's getting matured with his play and attitude. I have known him since he was a very small boy. Hyperactive, Naughty and a Sweet kid! Look forward to seeing him frequently at the podium!"
Pranav Anand
"I am very happy for Pragg. It is a great moment for Indian chess. I have played him a couple a times the one thing which stood out for me was his fighting spirit. I wish him the very best for his coming tournaments."
Bhakti Kulkarni
"Huge congratulations to dear Prag and his family and the team of coaches for crossing the 2700 barrier! It's really great to see these kids crossing 2700 at this young age! Prag is a very hard working player with perseverance and determination. Winning the Prestigious Arjuna Awards at the age of 17 shows his calibre! I have attended many classes with Prag in WACA amd Ramesh Sir sessions, I remember in those classes Prag used to be extremely curious to learn and know the things, analyse the positions, finding the best moves from both the sides till he gets the answers. Prag has the never give up attitude so he doesnt loose his heart after defeats,infact he fights back really stronger to win. I wish Prag all the very Best for the Future!"
Magesh Chandran
"I unfortunately don't have too many stories with Pragg other than the fact that he trapped my rook to beat me in Charlotte just before he became a GM. I missed my golden chance to try to beat him there! I knew he would become unbeatable soon."
On a personal note:
Pragg has been someone whom we have followed very closely right since the early days of ChessBase India. In fact when Pragg was trying to break Karjakin's record of the youngest GM in the world of chess, it captured the fancy of the entire nation. I remember that even before we had done any livestreams, I tried my hand at it only because if Pragg won the game at the World Juniors 2017 (he was just 12 years old), he would have made a GM norm!
I remember my first interview with Pragg was back in 2016 at the Aeroflot open where the youngster had just scored his 2nd IM norm. He spoke very little in the interview. But look at Pragg now! He thinks about the questions, speaks about what he feels, and he has so much to say. He has transformed himself in a big way. While age did have a role to play here, I feel that the boy did so consciously. This overall fits in with Pragg's attitude of improving at almost everything that he finds important.
Pragg's rise to the top has co-incided with the growth of ChessBase India. Out of the top 4 videos on ChessBase India YouTube channel, 3 of them feature Pragg - Pragg vs Surya Ganguly, Pragg vs Anand and Pragg vs Nakamura. A big thanks to Pragg for all that he has achieved. It has been an absolute joy following his growth. And the good news is that he is just getting started. While Pragg generally facepalms whenever I remind him of his interview on becoming an IM and saying that his aim is 3000, I am not sure he should dismiss this out of hand! With the amount of talent he has, who knows, some day he might just make it there! :)
Related Links
Praggnanandhaa's video playlist on ChessBase India (349 videos and growing!)
The day when Sagar visited Pragg's home in Chennai
---