Praggnanandhaa clinches 15th Paracin Open with a 2789 performance, now World no.89
Praggnanandhaa scored an unbeaten 8/9 to win 15th Paracin Open 2022. He finished a half point ahead of the field. Just like his Kvika Reykjavik Open triumph earlier this year, here also the tie-breaks became a non-factor. IM Muthaiah Al scored an impressive 7/9. He was placed fourth according to tie-breaks. IM Pranav Venkatesh, GM Arjun Kalyan and IM Harshavardhan G B scored 6.5/9 each. They were placed fifth, seventh and eighth according to tie-breaks. FM Rohith Krishna S won the 18th Memorial Rapid with an unbeaten 8/9. IM Harikrishnan A Ra secured third place 7.5/9. IM Pranav, Vaibhav Jayant Raut and Aakash Sharadchandra Dalvi secured the top three places in the Blitz Open scoring 9.5/11 each. Photo: FM FT IA IO Sasa Jevtic
India dominates all three formats
GM Praggnanandhaa won the Classical event in Open A category. He won RSD 180000 (approx. ₹123325). Total prize fund in the Open A category was RSD 640000 (approx. ₹438489). The champion gained 12.5 Elo rating points, taking his live rating to 2660.5. He is now World no. 89.
Koustav - Praggnanandhaa, Round 5
What separates a very strong player from the rest is, the ability to seize opportunities even when the opponent made a tiny inaccuracy 15.fxe4 Nxe4 16.Nxe4 Bxe4 17.Rf4 f6 is an example of a better way to continue for White. However, 15.f4 created an opportunity for Black to jump his knight Nb4, having the idea to occupy the d3-square. Since the white queen is misplaced, White does not have 16.g4 as Black will sacrifice the knight and have no trouble bringing his queen and rook into the attack with little to no resistance. The game continued 16.Kh2 Nd3 17.Qc2 Ra6 and slowly Black dismantled White's position.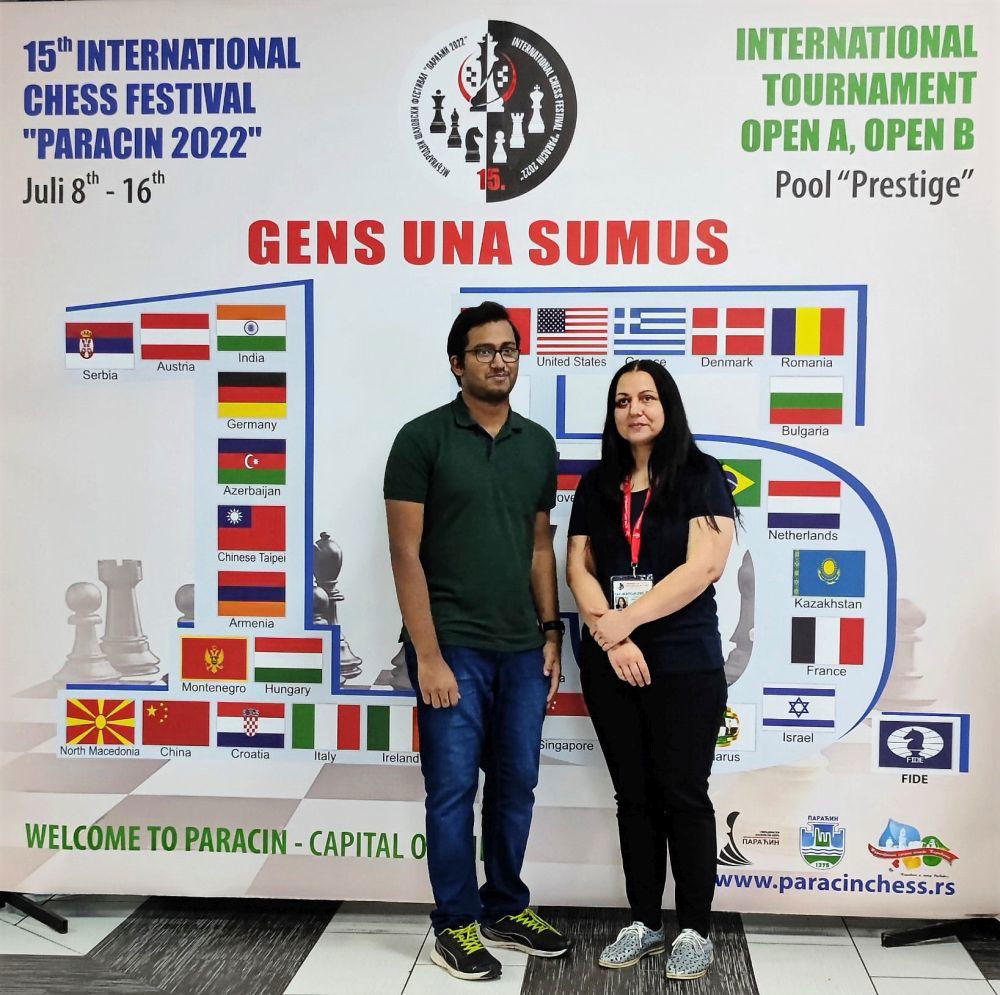 Rohith Krishna wins Rapid, Pranav clinches Blitz Open
FM Rohith Krishna S (1977) scored an unbeaten 8/9 and finished a half point ahead of the field to win 18th Memorial Rapid "Uros Dinic" Paracin. He also gained a massive 104 Elo rating points. IM Harikrishnan A Ra scored 7.5/9 to secure third place as per tie-breaks. Sanknet Chakravarty was the only untitled player to finish in top 10. He scored 7/9 and was placed sixth according to tie-breaks. Total prize fund for the Rapid Rating Open event was RSD 70000. Top three prizes were RSD 15000 and trophy, 12000 and 9000 each respectively. Rohith and Harikrishnan won approx. ₹10277 and ₹6166 each.
A total of 160 players including 5 GMs and 15 IMs took part in the Rapid Rating event from 23 countries across the world. The time control was 10 minutes + 5 seconds increment.
IM Pranav Venkatesh (2380), Vaibhav Jayant Raut (2094) and Aakash Sharadchandra Dalvi (1747) all three of them scored 9.5/11 each at 15th Paracin Blitz Open 2022. They were placed first, second and third respectively according to tie-breaks. The total prize fund was RSD 50000.
A total of 107 players including a GM and 5 IMs took part in the Blitz Open from 17 countries across the world. The time control for 11-round Swiss League Blitz Rating Open was 3 minutes + 2 seconds each.
A total of 160 players including 19 GMs, 18 IMs, 2 WGMs and 6 WIMs took part in Open A category from 23 countries across the world in this ten-day ten rounds Swiss League rating tournament. The tournament was organized by Ayuntamiento de Benasque (Municipality of Benasque) at Benasque Sport Pavillion, Benasque, Huesca in Spain from 6th to 15th July 2022. The time control of the tournament was 90 minutes + 30 seconds increment.
Replay all games
Final standings in Classical Open A
| | | | | | | | | | | | | |
| --- | --- | --- | --- | --- | --- | --- | --- | --- | --- | --- | --- | --- |
| Rk. | SNo | | | Name | FED | Rtg | Pts. | TB1 | TB2 | TB3 | K | rtg+/- |
| 1 | 2 | | GM | Praggnanandhaa R | IND | 2648 | 8,0 | 50,5 | 43,0 | 7 | 10 | 12,5 |
| 2 | 1 | | GM | Predke Alexandr | FID | 2688 | 7,5 | 49,5 | 38,5 | 6 | 10 | 3,5 |
| 3 | 14 | | IM | Suleymenov Alisher | KAZ | 2467 | 7,0 | 47,0 | 36,0 | 6 | 10 | 12,2 |
| 4 | 29 | | IM | Muthaiah Al | IND | 2401 | 7,0 | 43,0 | 33,0 | 7 | 10 | 14,6 |
| 5 | 7 | | IM | Pranav V | IND | 2512 | 6,5 | 47,0 | 35,5 | 5 | 10 | 9,1 |
| 6 | 19 | | FM | Nogerbek Kazybek | KAZ | 2437 | 6,5 | 46,5 | 35,0 | 5 | 10 | 13,3 |
| 7 | 9 | | GM | Arjun Kalyan | IND | 2499 | 6,5 | 45,5 | 34,5 | 5 | 10 | 6,9 |
| 8 | 30 | | IM | Harshavardhan G B | IND | 2397 | 6,5 | 45,5 | 32,5 | 5 | 10 | 9,8 |
| 9 | 42 | | IM | Ohanyan Emin | ARM | 2354 | 6,5 | 45,0 | 33,5 | 6 | 10 | 19,6 |
| 10 | 24 | | IM | Gan-Erdene Sugar | MGL | 2428 | 6,5 | 44,0 | 33,0 | 5 | 10 | 3,7 |
| 11 | 35 | | IM | Djordjevic Vuk | SRB | 2382 | 6,5 | 42,5 | 31,5 | 6 | 10 | 12,0 |
| 12 | 26 | | IM | Menezes Christoph | AUT | 2417 | 6,5 | 39,5 | 28,5 | 4 | 10 | -2,5 |
| 13 | 23 | | IM | Urazayev Arystanbek | KAZ | 2430 | 6,0 | 50,5 | 36,0 | 5 | 10 | 13,1 |
| 14 | 12 | | IM | Koustav Chatterjee | IND | 2485 | 6,0 | 49,5 | 34,5 | 5 | 10 | 1,9 |
| 15 | 4 | | IM | Makarian Rudik | RUS | 2533 | 6,0 | 47,0 | 34,0 | 4 | 10 | -1,6 |
| 16 | 57 | | FM | Han Yichen | NED | 2286 | 6,0 | 44,0 | 32,0 | 5 | 20 | 42,0 |
| 17 | 113 | | WFM | Kairbekova Amina | KAZ | 2133 | 6,0 | 43,0 | 30,0 | 4 | 40 | 161,2 |
| 18 | 8 | | GM | Gundavaa Bayarsaikhan | MGL | 2503 | 6,0 | 42,5 | 31,5 | 4 | 10 | -6,9 |
| 19 | 11 | | GM | Makhnev Denis | KAZ | 2492 | 6,0 | 42,0 | 32,5 | 5 | 10 | -3,8 |
| 20 | 34 | | IM | Anuj Shrivatri | IND | 2383 | 6,0 | 41,5 | 30,0 | 5 | 20 | 2,2 |
Final standings in Rapid
| | | | | | | | | | | | | | |
| --- | --- | --- | --- | --- | --- | --- | --- | --- | --- | --- | --- | --- | --- |
| Rk. | SNo | | | Name | sex | FED | Rtg | Pts. | TB1 | TB2 | TB3 | K | rtg+/- |
| 1 | 51 | | FM | Rohith Krishna S | | IND | 1977 | 8,0 | 46,5 | 42,5 | 7 | 20 | 104,0 |
| 2 | 2 | | GM | Santiago Yago De Moura | | BRA | 2470 | 7,5 | 46,0 | 37,0 | 7 | 20 | -15,2 |
| 3 | 33 | | IM | Harikrishnan.A.Ra | | IND | 2122 | 7,5 | 41,0 | 35,5 | 7 | 20 | 15,2 |
| 4 | 5 | | IM | Djordjevic Vuk | | SRB | 2400 | 7,0 | 48,5 | 35,5 | 6 | 20 | -17,4 |
| 5 | 49 | | FM | Zemlyanskii Ivan | | RUS | 1979 | 7,0 | 47,5 | 36,5 | 6 | 20 | 64,0 |
| 6 | 123 | | | Sanket Chakravarty | | IND | 1500 | 7,0 | 45,0 | 33,5 | 5 | 20 | 132,6 |
| 7 | 86 | | FM | Samant Aditya S | | IND | 1691 | 7,0 | 41,0 | 32,0 | 7 | 20 | 114,4 |
| 8 | 17 | | IM | Ohanyan Emin | | ARM | 2225 | 6,5 | 52,0 | 35,0 | 5 | 20 | -32,8 |
| 9 | 9 | | FM | Taspinar Yanki | | TUR | 2311 | 6,5 | 50,5 | 38,0 | 5 | 20 | -20,8 |
| 10 | 35 | | IM | Gan-Erdene Sugar | | MGL | 2109 | 6,5 | 49,5 | 37,5 | 6 | 20 | 41,6 |
| 11 | 85 | | IM | Aditya Mittal | | IND | 1695 | 6,5 | 46,0 | 31,5 | 5 | 20 | 103,6 |
| 12 | 8 | | FM | Nogerbek Kazybek | | KAZ | 2351 | 6,5 | 45,5 | 35,5 | 6 | 20 | -25,4 |
| 13 | 43 | | IM | Neelash Saha | | IND | 2035 | 6,5 | 45,5 | 34,5 | 6 | 20 | 25,6 |
| 14 | 50 | | IM | Srihari L R | | IND | 1977 | 6,5 | 45,5 | 31,5 | 5 | 20 | 23,8 |
| 15 | 94 | | | Utsab Chatterjee | | IND | 1643 | 6,5 | 44,5 | 33,0 | 6 | 20 | 126,8 |
Final standings in Blitz
| | | | | | | | | | | | | | |
| --- | --- | --- | --- | --- | --- | --- | --- | --- | --- | --- | --- | --- | --- |
| Rk. | SNo | | | Name | sex | FED | Rtg | Pts. | TB1 | TB2 | TB3 | K | rtg+/- |
| 1 | 2 | | IM | Pranav V | | IND | 2380 | 9,5 | 76,0 | 60,5 | 9 | 20 | 8,2 |
| 2 | 16 | | | Vaibhav Jayant Raut | | IND | 2094 | 9,5 | 75,5 | 55,5 | 8 | 20 | 58,6 |
| 3 | 50 | | | Aakash Sharadchandra Dalvi | | IND | 1747 | 9,5 | 74,5 | 58,0 | 8 | 20 | 139,0 |
| 4 | 13 | | FM | Rohith Krishna S | | IND | 2117 | 8,0 | 74,0 | 51,0 | 8 | 20 | -0,4 |
| 5 | 22 | | IM | Neelash Saha | | IND | 2035 | 8,0 | 68,5 | 48,0 | 8 | 20 | 12,6 |
| 6 | 33 | | | Sanket Chakravarty | | IND | 1917 | 8,0 | 65,5 | 50,0 | 8 | 20 | 89,8 |
| 7 | 14 | | CM | Cilek Bora | | TUR | 2116 | 8,0 | 65,0 | 48,0 | 8 | 20 | -8,4 |
| 8 | 5 | | IM | Harikrishnan.A.Ra | | IND | 2250 | 8,0 | 65,0 | 44,0 | 8 | 20 | -28,8 |
| 9 | 4 | | CM | Cvetanovic Uros | | SRB | 2306 | 7,5 | 75,0 | 48,0 | 7 | 20 | -44,2 |
| 10 | 1 | | GM | Pikula Dejan | | SRB | 2434 | 7,5 | 71,0 | 48,0 | 7 | 20 | -59,8 |
Links
---