Vishy Anand versus Gujarat
by Sagar Shah - 08/09/2019
The state of Gujarat has always supported sports in a big way. In a new development, Sanskardham Sports Academy, a state of the art sporting complex will be launched on 8th of September 2019. Chess is one of the twelve sports that will be supported by the academy. GM Vishy Anand is invited as the guest of honour and on 7th of September he indulged in a very unique match-up. He played against twenty young talents of Gujarat chess where the youngsters could consult with each other before making their move. In this article we not only bring you the impressions from the event, but also show you the game which was quite intense and Anand had to use quite a bit of technique to bring home the full point!
The players who were playing for Team Gujarat were:
1. Vishwa Vasnawala (2112), 2. Dhyana Patel (1814), 3. Aanya Agarwal (1446), 4. Aneri Kanjar (1351), 5. Kriti Shah (1340), 6. Suyogkumar Patel (1314), 7. Samarth Adalja (1282), 8. Priyam Chavda (1219), 9. Asudani Ruhani Raj (1184), 10. Raj Lakhlani (1136), 11. Kathan Thakkar (1126), 12. Jenisha Khattar (1022), 13. Dina Patel, 14. Shivem Kamdar, 15. Prajaval Goswami, 16. Prasann Goswami, 17. Jaswin Chaudhary, 18. Dev Modi, 19. Chintan Odedra and 20. Parth Zala.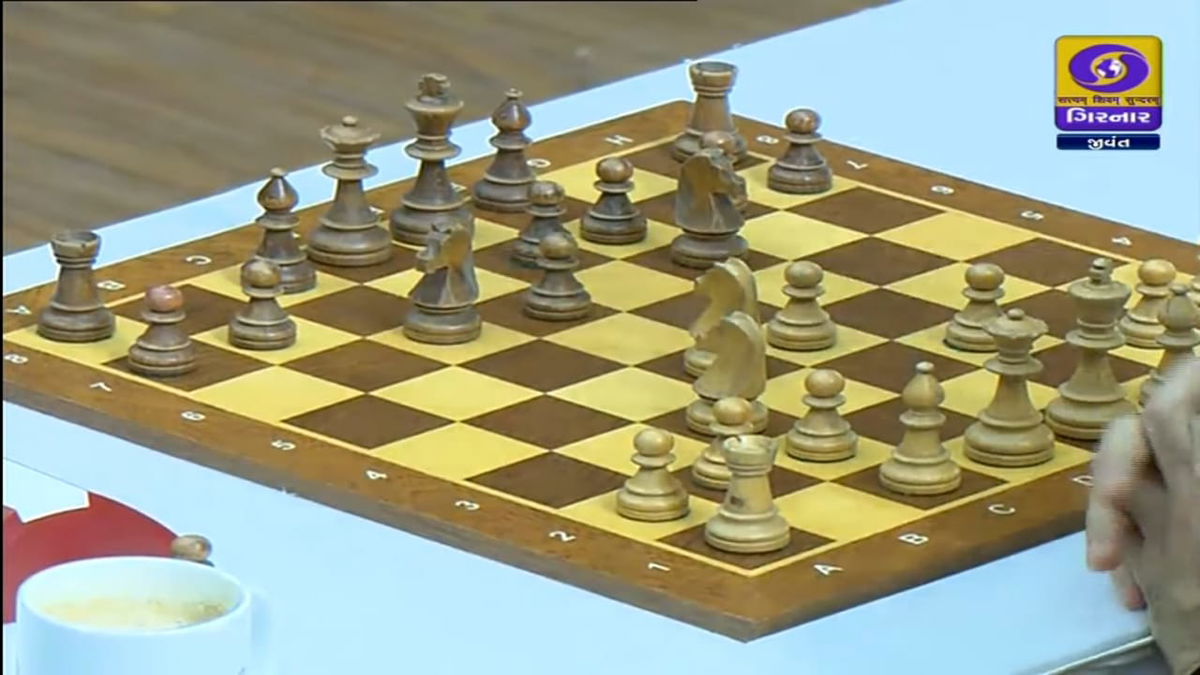 Speaking to ChessBase India, GM Tejas Bakre said, "It was a unique and a very memorable experience to interact and spend time with Anand. To interact during an ongoing game was very interesting and his sense of humour and wit while playing made the event quite a fun one. Also Aruna and he remembered my meeting with them when I was a young kid in Moscow 1998 (17 years old) where he had won the chess Oscar and I was invited to his function as I had won the world youth Olympic gold then."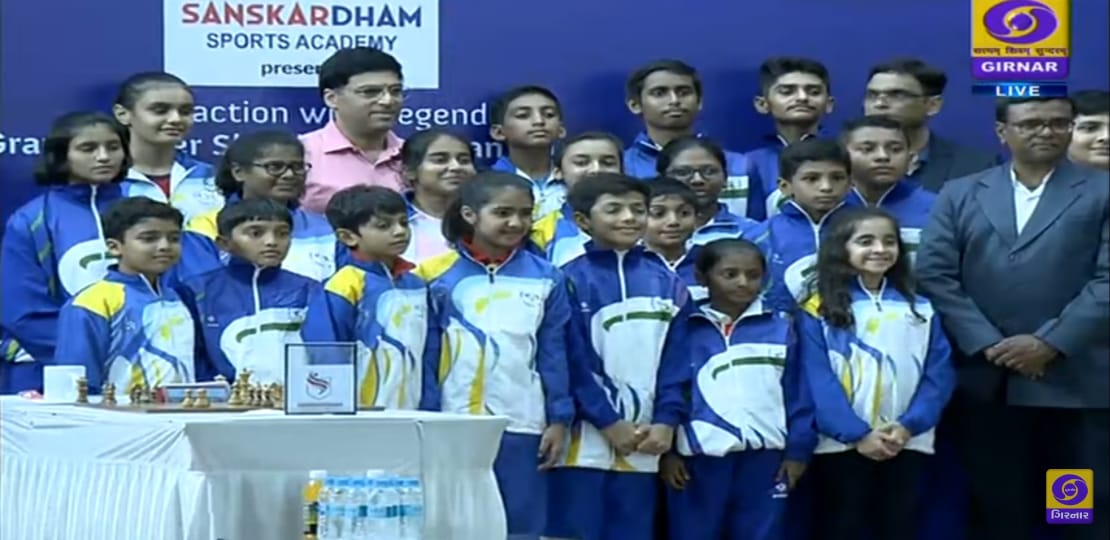 The game:
The time control of the game was Vishy Anand having 10 minutes, while the Gujarat youngsters had 20.
Vishy Anand vs 20 players from Gujarat
There is only one way for White to get an advantage here and that is 14.Bc4! which Anand found without too many difficulties.
Material on Sicilian Dragon in the ChessBase India shop:
Was a lovely experience. Interacting with the children and the school leadership. Its nice to see Sports play an important role in student development.Look forward to tomorrow's panel discussion #FitIndiaMovement https://t.co/BF4N6qD0BL

— Viswanathan Anand (@vishy64theking) September 7, 2019
The opening ceremony for the Sanskardham sports academy will take place on 8th of September 2019, which can viewed LIVE here at 12.30 p.m. Apart from the launch of the academy, it will also see the inauguration of Khel Mahakumbh, a panel discussion and also a pledge by various stakeholders towards the FIT India movement.
---
Related news
:
14-year-old Arvind Iyer is the winner of Surya Trophy Rapid Rating Open 2023

@ 05/03/2023 by Shahid Ahmed (en)
Himal Gusain dominates Surya Trophy Rating Open 2022

@ 22/01/2023 by Shahid Ahmed (en)
Anand speaks on the Indian youngsters, Olympiad 2022 and the FIDE elections

@ 04/08/2022 by Himank Ghosh (en)
उज्बेकिस्तान के ओर्टिक बने गुजरात इंटरनेशनल के विजेता,भारत के नीलोत्पल और अनुज भी शीर्ष 3 में

@ 08/04/2022 by Niklesh Jain (hi)
Nigmatov Ortik clinches 3rd Gujarat GM Open 2022, Neelotpal second and Anuj third

@ 08/04/2022 by Shahid Ahmed (en)
Neelotpal or Ortik - Who will win 3rd Gujarat GM Open?

@ 07/04/2022 by Shahid Ahmed (en)
3rd Gujarat GM Open R8: Neelotpal neutralizes Neuris, takes sole lead

@ 06/04/2022 by Shahid Ahmed (en)
गुजरात इंटरनेशनल : नीलोत्पल दास को एकल बढ़त

@ 05/04/2022 by Niklesh Jain (hi)
3rd Gujarat GM Open R7: Neelotpal, Ortik and Srihari in a three-way lead

@ 05/04/2022 by Shahid Ahmed (en)
3rd Gujarat GM Open R4: 58-year-old Anilkumar calls his opponent's bluff

@ 03/04/2022 by Shahid Ahmed (en)
3rd Gujarat GM Open R2-3: Anup Deshmukh scores a sublime victory

@ 02/04/2022 by Shahid Ahmed (en)
3rd Gujarat GM Open R1: Akshit Kacha swindles IM Shahil Dey

@ 01/04/2022 by Shahid Ahmed (en)
Billionaire Nikhil Kamath admits to beating Vishy Anand using unfair means

@ 14/06/2021 by Sagar Shah (en)
Vishy Anand and Vladimir Kramnik to play a four-game match of No-Castling Chess

@ 23/02/2021 by Sagar Shah (en)
एआईसीएफ़ के सलाहकार बोर्ड में शामिल होंगे आनंद

@ 09/01/2021 by Niklesh Jain (hi)
Vishy Anand turns 51 years old

@ 11/12/2020 by Sagar Shah (en)
Vishy Anand back home...finally!

@ 15/06/2020 by Susan Ninan (en)
जर्मनी से वतन भारत वापस लौटे विश्वनाथन आनंद

@ 01/06/2020 by Niklesh Jain (hi)
Vishy Anand beats Ian Nepomniachtchi in 17 moves | Online Nations Cup Day 3

@ 08/05/2020 by Sagar Shah (en)
Vishy Anand's art of building a fortress | Nations Cup 2020 Day 2

@ 07/05/2020 by Sagar Shah (en)
Attend the Vishy Anand ET Now webinar on 19th of April 2020 at 1.30 p.m.

@ 19/04/2020 by Sagar Shah (en)
"Hang in there and this will pass soon" - Vishy Anand

@ 02/04/2020 by Sagar Shah (en)
50 वर्ष के हुए आनंद ! भारत रत्न के है हकदार !

@ 11/12/2019 by Niklesh Jain (hi)
Mrudul Dehankar wins AICF Gujarat WGM

@ 20/11/2019 by Satanick Mukhuty (en)
मृदुल देहांकर बनी महिला ग्रांडमास्टर टूर्नामेंट विजेता

@ 20/11/2019 by Niklesh Jain (hi)
AICF Gujarat WGM: Aakanksha and Mrudul leads

@ 17/11/2019 by Satanick Mukhuty (en)
Six Indians in the hunt for norms at AICF Gujarat WGM Tournament

@ 13/11/2019 by Satanick Mukhuty (en)
रोजुम इवान ने जीता गुजरात इंटरनेशनल का खिताब

@ 03/10/2019 by Nitesh srivastava (hi)
Ivan Rozum wins 2nd Gujarat International Grandmaster Open

@ 30/09/2019 by Satanick Mukhuty (en)
Gujarat GM R09: IM Neelash Saha beats third Grandmaster in a row

@ 29/09/2019 by Satanick Mukhuty (en)
Gujarat GM R08: Ivan Rozum dashes ahead, Saptarshi Roy fights back

@ 28/09/2019 by Satanick Mukhuty (en)
Gujarat GM R07: Ivan Rozum elbows Saptarshi Roy out of the lead

@ 27/09/2019 by Satanick Mukhuty (en)
गुजरात इंटरनेशनल: रोजूम इवान, सप्तऋषि संयुक्त बढ़त पर

@ 26/09/2019 by Nitesh sriastava (hi)
Gujarat GM R05+06: Ivan Rozum and Saptarshi Roy take lead

@ 26/09/2019 by Satanick Mukhuty (en)
Gujarat GM R04: Rathnakaran K outwits Neelotpal Das in a double-edged Vienna

@ 25/09/2019 by Satanick Mukhuty (en)
Gujarat GM R02+03: Deepan Chakkravarthy slips down the rank list

@ 24/09/2019 by Satanick Mukhuty (en)
The 2nd Gujarat International Open begins in Ahmedabad

@ 23/09/2019 by Satanick Mukhuty (en)
IM Praveen Kumar wins 2nd RCPA Open 2019

@ 21/08/2019 by Shahid Ahmed (en)
Vishy Anand welcomes Nihal Sarin to the 2600 club!

@ 03/06/2019 by Sagar Shah (en)
The friendship and rivalry between India's first two GMs - Vishy Anand and Dibyendu Barua

@ 15/04/2019 by Rakesh Rao (en)
The solution to the mate in three problem given by Kramnik to Anand

@ 27/02/2019 by Sagar Shah (en)
The mate in 3 study which was given to Anand by Kramnik

@ 20/02/2019 by Sagar Shah (en)
Vintage Vishy - Why do we call him that?

@ 14/02/2019 by Sagar Shah (en)
What happened when Gukesh and Pragg visited Vishy Anand's home in Chennai

@ 07/02/2019 by Sagar Shah (en)
Anand on Wijk: "It's a bit like coming home"

@ 04/02/2019 by Aditya Pai (en)
Limited spots for two-day chess training workshop with Vishy Anand

@ 19/01/2019 by Sagar Shah (en)
World Rapid Championship: Anand closes in on the tournament leaders going into the final day

@ 28/12/2018 by Aditya Pai (en)
World Rapid Championship: Tough day for Carlsen

@ 27/12/2018 by Aditya Pai (en)
Indian grandmasters share Vishy Anand gems on his 49th birthday

@ 12/12/2018 by Sagar Shah (en)
Vishy Anand recaps Carlsen versus Caruana World Championship Match 2018

@ 01/12/2018 by Sagar Shah (en)
गुजरात इंटरनेशनल - मार्टिन नें जीता खिताब ,विघनेश उपविजेता !

@ 14/10/2018 by Niklesh Jain (hi)
गुजरात इंटरनेशनल - स्टेनी को विघनेश का झटका , गरबा के रंग में रंगे खिलाड़ी

@ 11/10/2018 by Niklesh Jain (hi)
Gujarat GM Open R8: Vignesh catches Stany in the lead!

@ 10/10/2018 by Aditya Pai (en)
Gujarat GM Open R6+7: Stany the unstoppable

@ 09/10/2018 by Aditya Pai (en)
गुजरात इंटरनेशनल - हर्षा बने ग्रांड मास्टर , स्टेनी को सयुंक्त बढ़त

@ 09/10/2018 by Niklesh Jain (hi)
Gujarat GM Open 2018 R5: GA Stany leads with Levon Babujian

@ 08/10/2018 by Aditya Pai (en)
Gujarat Open 2018 Round 3+4: Harsha Bharathakoti becomes India's 56th GM!

@ 07/10/2018 by Aditya Pai (en)
The Gujarat Open begins!

@ 07/10/2018 by Aditya Pai (en)
Batumi Chess Olympiad: India's chances of a podium finish diminish after a catastrophic ninth round

@ 04/10/2018 by Aditya Pai (en)
Batumi Chess Olympiad: Sasikiran helps India edge out Czech Republic, women suffer their first loss

@ 03/10/2018 by Aditya Pai (en)
Batumi Olympiad round 4: USA too strong for team India, women beat Poland

@ 28/09/2018 by Aditya Pai (en)
Live Games and Updates of Team india from Batumi Olympiad 2018

@ 24/09/2018 by ChessBase India (en)
I may take risk in chess, but it is completely unacceptable in finance - Vishy Anand

@ 23/09/2018 by Nongsha Angom (en)
Vishy Anand on the cover of Sports Illustrated India

@ 20/09/2018 by Sagar Shah (en)