Nigmatov Ortik clinches 3rd Gujarat GM Open 2022, Neelotpal second and Anuj third
IM Nigmatov Ortik (UZB) drew his final round game against GM Neelotpal Das. IM Anuj Shrivatri scored his sixth consecutive victory of the event and ended IM Srihari L R's unbeaten streak. Ortik, Neelotpal and Anuj scored 8.5/10 each. Ortik won 3rd Gujarat International GM Open 2022 due to better tie-break score, Neelotpal and Anuj were placed second and third respectively. Top three won ₹251000, ₹201000 and ₹150000 respectively along with a trophy each. The total prize fund of the tournament was ₹15,00,000. WIM Arpita Mukherjee is the best female performer of the event 7.5/10. Photo: Aditya Sur Roy
Anuj scores a double hat-trick, Vrashank impresses
14-year-old Vrashank Chouhan scored 7.0/10, gained a massive 213.6 Elo rating points. He is the best under-2000, under-15 and untitled performer of the event. He scored wins against GM Venkatesh M R who secured fourth place eventually and IM P Saravana Krishnan, drew with IM Diego Del Rey (ESP).
Nigmatov - Neelotpal: 0.5-0.5
The last round clash on the top board was between the tournament leaders GM Neelotpal Das (2409) and IM Nigmatov Ortik (UZB, 2445). It was evident from Neelotpal's play that he was playing for a win.
21...Rxf6 would have perhaps given Black more chances to launch an attack on the kingside. 21...gxf6 22.Bf7 Rd8 23.Nf3 Kg7 24.Bc4 Qe8 Black was unable to do what he actually wanted and the game meandered into a draw eventually.
Anuj - Srihari: 1-0
Both IM Anuj Shrivatri (2350) and IM Srihari L R (2400) were in fantastic form heading into the final round. Anuj was on a double hat-trick and Srihari was unbeaten till this game. In a perilous position, Black went for an incorrect break 23...f5.
Position after 23...f5
Now that the long diagonal is open and White has a dark-square bishop, 24.Bc1 became the obvious choice. 24...fxe4 25.Qg3 Nh6 26.f5 occupies the square and prevents Black from jumping his knight there. 26...Re5 27.Bb2 now Black cannot save the exchange Nxd5 28.Bxe5 dxe5 29.Rd1 Qf7 30.Rxd5 Qxh5 31.Rxe5. It was important for White to exchange the knights for two reason - White is ahead in material and having a knight which can jump to c3 and become dangerous is something White cannot afford. Rest was just a matter of time and technique, something Anuj converted into a full point without any difficulty.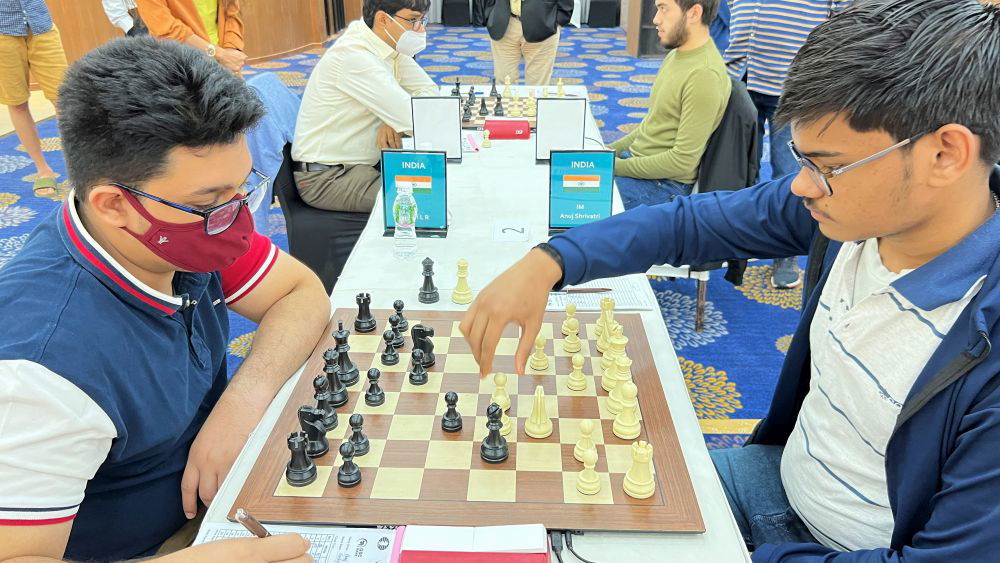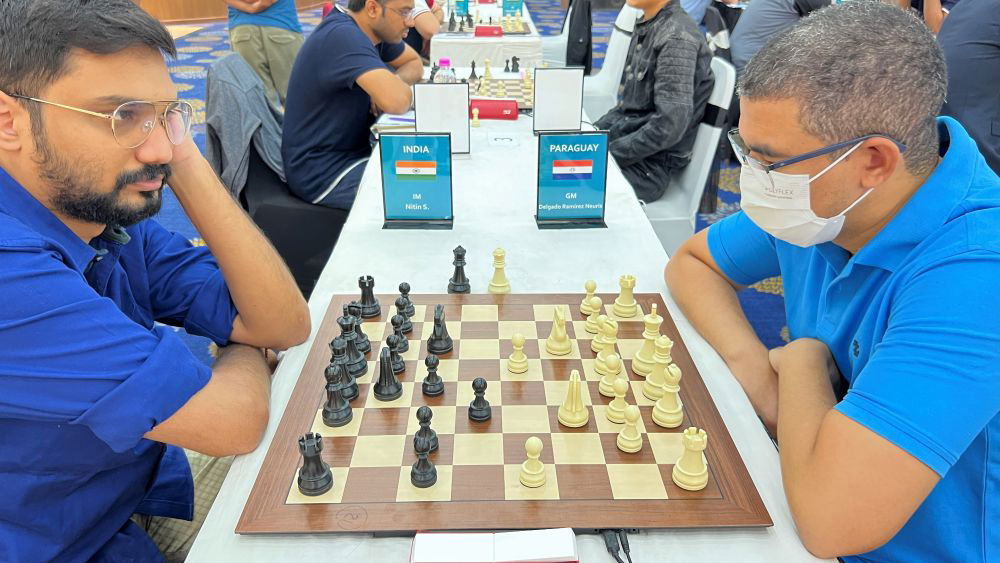 Boris - Mehar: 0-1
IM Mehar Chinna Reddy C H (2422) played the rook and many pawns endgame excellently against GM Boris Savchenko (2535). He capitalized on all of his chances.
50.Rxa6 Rxh4 51.Kc7 would have led to a draw. However, it seems like White was trying to push for a win, when there wasn't one.
White's final mistake was 50.Re1. Can you find the winning continuation for Black here?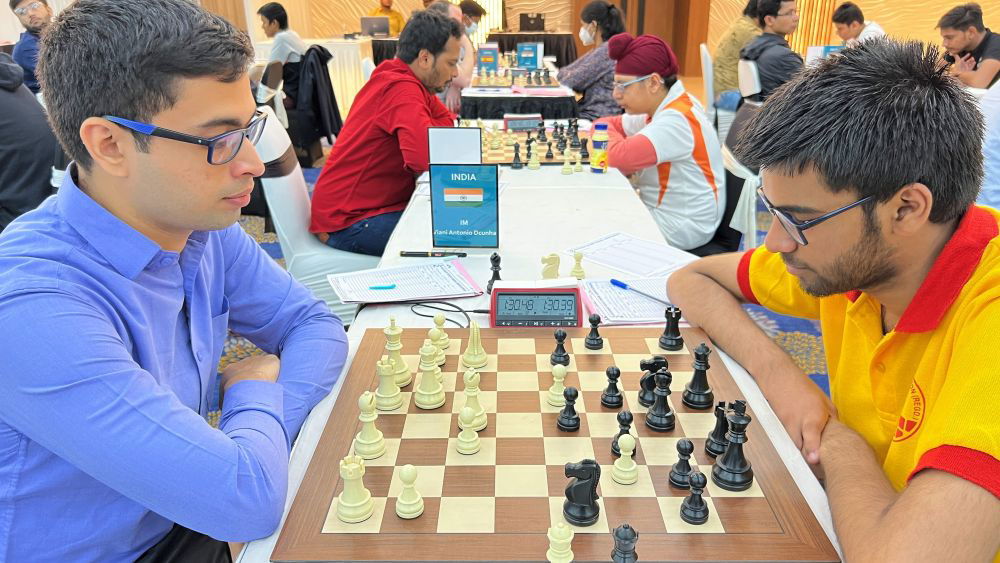 Photo Gallery
For more Round 10 and Prize distribution ceremony photos, please click at the respective links.
A total of 374 players including 14 GMs, 30 IMs and 3 WIM took part from 14 countries across the world including India. The tournament was organized by Gujarat State Chess Association from 31st March to 7th April 2022 at Karnavati Club, Ahmedabad. The ten-round Swiss league tournament had a time control of 90 minutes + 30 seconds increment from move no.1.
Replay Round 10 games
Round 10 results
Final standings
| | | | | | | | | | | | | | |
| --- | --- | --- | --- | --- | --- | --- | --- | --- | --- | --- | --- | --- | --- |
| Rk. | SNo | | Name | Typ | sex | Gr | FED | Rtg | Club/City | Pts. | TB1 | TB2 | TB3 |
| 1 | 14 | IM | Nigmatov Ortik | | | | UZB | 2445 | Uzbekistan | 8,5 | 63,5 | 69,0 | 57,50 |
| 2 | 22 | GM | Neelotpal Das | | | | IND | 2409 | India | 8,5 | 63,0 | 67,5 | 55,75 |
| 3 | 34 | IM | Anuj Shrivatri | | | | IND | 2350 | India | 8,5 | 56,5 | 61,5 | 53,00 |
| 4 | 5 | GM | Venkatesh M.R. | | | | IND | 2493 | India | 8,0 | 63,0 | 66,5 | 52,25 |
| 5 | 16 | IM | Abdisalimov Abdimalik | | | | UZB | 2435 | Uzbekistan | 8,0 | 62,5 | 68,5 | 53,75 |
| 6 | 20 | IM | Mehar Chinna Reddy C.H. | | | | IND | 2422 | India | 8,0 | 56,0 | 60,5 | 45,25 |
| 7 | 26 | IM | Srihari L R | | | | IND | 2400 | India | 7,5 | 64,5 | 69,5 | 47,50 |
| 8 | 1 | GM | Delgado Ramirez Neuris | | | | PAR | 2622 | Paraguay | 7,5 | 62,0 | 67,0 | 46,00 |
| 9 | 3 | GM | Stany G.A. | | | | IND | 2517 | India | 7,5 | 61,5 | 66,5 | 47,50 |
| 10 | 4 | GM | Harsha Bharathakoti | | | | IND | 2499 | India | 7,5 | 61,0 | 66,0 | 47,25 |
| 11 | 18 | IM | Nitin S. | | | | IND | 2427 | India | 7,5 | 61,0 | 65,5 | 45,50 |
| 12 | 40 | IM | Ratnakaran K. | | | | IND | 2316 | India | 7,5 | 60,5 | 64,0 | 45,75 |
| 13 | 11 | IM | Krishna C R G | | | | IND | 2466 | India | 7,5 | 59,5 | 64,5 | 45,25 |
| 14 | 17 | GM | Laxman R.R. | | | | IND | 2429 | India | 7,5 | 59,5 | 64,0 | 46,00 |
| 15 | 23 | IM | Gusain Himal | | | | IND | 2408 | India | 7,5 | 58,0 | 63,0 | 46,25 |
| 16 | 51 | WIM | Arpita Mukherjee | | w | | IND | 2260 | India | 7,5 | 58,0 | 62,5 | 45,25 |
| 17 | 13 | IM | Neelash Saha | | | | IND | 2445 | India | 7,5 | 57,0 | 62,0 | 44,25 |
| 18 | 24 | IM | Sammed Jaykumar Shete | | | | IND | 2408 | India | 7,5 | 55,0 | 59,5 | 43,75 |
| 19 | 8 | IM | Raahul V S | | | | IND | 2478 | India | 7,5 | 53,5 | 57,5 | 42,25 |
| 20 | 7 | GM | Chanda Sandipan | | | | IND | 2485 | India | 7,5 | 53,5 | 57,0 | 42,00 |
| 21 | 49 | FM | Aaryan Varshney | | | | IND | 2277 | India | 7,5 | 52,0 | 56,0 | 40,25 |
| 22 | 19 | GM | Hesham Abdelrahman | | | | EGY | 2424 | Egypt | 7,0 | 64,0 | 68,5 | 43,75 |
| 23 | 9 | GM | Mirzoev Azer | | | | AZE | 2476 | Azerbaijan | 7,0 | 62,5 | 65,5 | 41,75 |
| 24 | 2 | GM | Savchenko Boris | | | | RUS | 2535 | | 7,0 | 61,5 | 66,5 | 44,25 |
| 25 | 105 | | Vrashank Chouhan | U15 | | | IND | 1790 | India | 7,0 | 61,0 | 65,0 | 43,75 |
| 26 | 35 | | Ritviz Parab | | | | IND | 2349 | India | 7,0 | 59,0 | 64,0 | 42,25 |
| 27 | 77 | | Bhattacharyya Soham | | | | IND | 2004 | India | 7,0 | 58,5 | 63,0 | 41,75 |
| 28 | 38 | FM | Wagh Suyog | | | | IND | 2328 | India | 7,0 | 58,5 | 62,5 | 39,50 |
| 29 | 15 | IM | Vignesh N R | | | | IND | 2444 | India | 7,0 | 58,0 | 63,0 | 42,75 |
| 30 | 104 | AGM | Sahib Singh | U15 | | | IND | 1792 | India | 7,0 | 57,5 | 62,0 | 42,25 |
| 31 | 25 | IM | Shahil Dey | U15 | | | IND | 2400 | India | 7,0 | 57,0 | 60,0 | 40,50 |
| 32 | 32 | IM | Sidhant Mohapatra | | | | IND | 2359 | India | 7,0 | 56,5 | 61,0 | 40,75 |
| 33 | 37 | FM | Liyanage Ranindu Dilshan | | | | SRI | 2340 | Srilanka | 7,0 | 56,5 | 60,5 | 40,75 |
| 34 | 115 | | Krishnan Ritvik | U15 | | | IND | 1761 | India | 7,0 | 56,5 | 60,5 | 37,00 |
| 35 | 21 | IM | Audi Ameya | | | | IND | 2418 | India | 7,0 | 56,0 | 60,5 | 40,50 |
---