3rd Gujarat GM Open R1: Akshit Kacha swindles IM Shahil Dey
1367-rated Akshit Kacha completely turned his fate and beat IM Shahil Dey in the first round of 3rd Gujarat International GM Open 2022. The untitled teenager chose a sideline in the French Tarrasch and was losing for the better part of the game. However, in the endgame, Shahil miscalculated his chances with a passed pawn and lost material. The 3rd edition of Gujarat's strongest and most important tournament witnesses the participation of 374 players including 14 GMs, 30 IMs and 3 WIM from 14 countries across the world including India. The total prize fund of the tournament is ₹15,00,000. Round 2 starts today at 9:30 a.m. IST. Photo: Aditya Sur Roy
Smooth start for the top seeds
16-year-old Ujjawal Bansal and 11-year-old Vihaan Dumir held the reigning Asian Junior champion IM Raahul V S and WIM Sakshi Chitlange to a draw each respectively.
Sandipan - Ruchit: 1-0
GM Sandipan Chanda (2485) faced Dutch Defense, an opening which he plays himself as Black. He scored a beautiful combination against Ruchit D Acharya (1445).
It is evident that White is completely winning. Find out the winning combination for White after 25...Qe6.
Shahil - Akshit: 0-1
Akshit Kacha (1367) played a sideline 5...Nxd4 in the French Tarrasch. It gave IM Shahil Dey (2400) a decisive advantage. However, he was unable to capitalize it.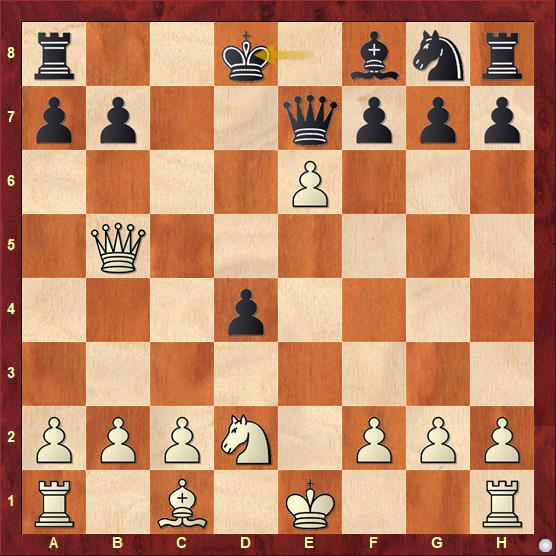 11.0-0 would have allowed White to seize his advantage. However, 11.Qd5+ Ke8 12.0-0 fxe6 13.Qxd4 was not bad either. White still had a significant upper hand. Eventually he blundered a chain exchange of queens which cost White material and eventually the game.
For more Inauguration Ceremony and Round 1 photos, please click at the respective links.
A total of 374 players including 14 GMs, 30 IMs and 3 WIM are taking part from 14 countries across the world including India. The tournament is organized by Gujarat State Chess Association from 31st March to 7th April 2022 at Karnavati Club, Ahmedabad. The ten-round Swiss league tournament has a time control of 90 minutes + 30 seconds increment from move no.1.
Replay Round 1 games
Round 1 results
Round 2 pairings
---