3rd Gujarat GM Open R8: Neelotpal neutralizes Neuris, takes sole lead
GM Neelotpal Das beat Paraguay no.1 GM Neuris Delgado Ramirez to grab sole lead at the conclusion of Round 8 at 3rd Gujarat International GM Open 2022. He is now a half point ahead of the field 7.5/8. IM Srihari L R drew his game with IM Ortik Nigmatov (UZB). Both of them along with GM Stany G A and IM Abdisalimov Abdimalik (UZB) are at 7.0/8 each. IM Anuj Shrivatri, WIM Arpita Mukherjee and FM Kashish Manoj Jain scored big victories over GM Hesham Abdelrahman (EGY), GM Adham Fawzy (EGY) and GM Mikel Huerga Leache (ESP) respectively. Round 9 starts today at 10:00 a.m. IST. Photo: Aditya Sur Roy
Anuj, Arpita and Kashish are the GM slayers
IM C R G Krishna drew with GM Laxman R R. Ritviz Parab and Sahib Singh beat IM Romesh Weerawardane (SRI) and IM Suvrajit Saha respectively. Santu Mondal, CM Daakshin Arun, Adireddy Arjun and Chidvilash Sai Surapaneni drew with an IM each. Srithan Saypuri drew with WIM Sakshi Chitlange.
Neelotpal - Neuris: 1-0
GM Neelotpal Das (2409) made a short work of Paraguay no.1 GM Neuris Delgado Ramirez (2622).
15...Bh6 just loses a couple of valuable tempi for Black. 16.Bxh6 Rxh6 20.Qg5 Rh8 21.Nd5 Bxd5 only worsened things further 22.Rxd5 and White's attack flows freely. Soon Black lost an exchange and the position became completely lost.
Anuj - Hesham: 1-0
IM Anuj Shrivatri (2350) outplayed GM Hesham Abdelrahman (EGY, 2424).
White's position looks absolutely pleasant after 22.Bd3. It would take a computer like precision for Black to save the game. 22...Bd7 23.gxf5 gxf5 opening the g-file turned out to be a bad idea. 23...Nxg5 first 24.fxg5 and then gxf5 would have given Black some fighting chances. Anuj converted his advantage without any difficulty.
Adham - Arpita: 1-0
WIM Arpita Mukherjee (2260) had a good pawn mass at the center of the board against GM Adham Fawzy (EGY, 2490).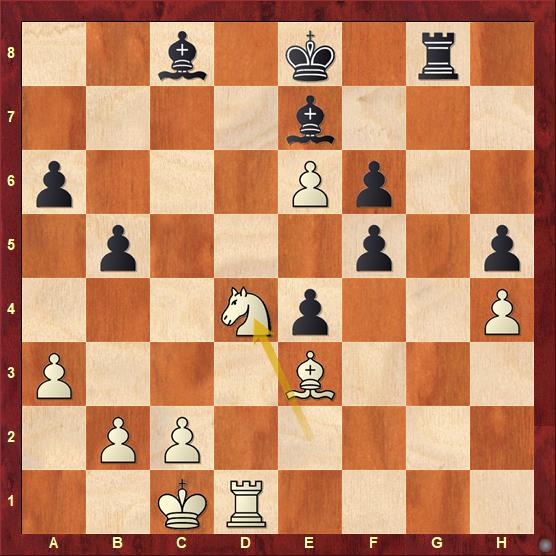 30.Nf4 could have prevented Black from rolling the pawns down the board with ease. 30.Nd4 allowed Black to free up the position Bc5 31.Nxf5 Bxe3+ 32.Nxe3 Bxe6 gave Black a decisive advantage. Adham eventually got an opportunity to force a draw via perpetual check 49.Nd5+. However, he missed it due to being down in time.
Mikel - Kashish: 0-1
A mutual error caused by time scramble allowed FM Kashish Manoj Jain (2162) to beat GM Mikel Huerga Leache (2471).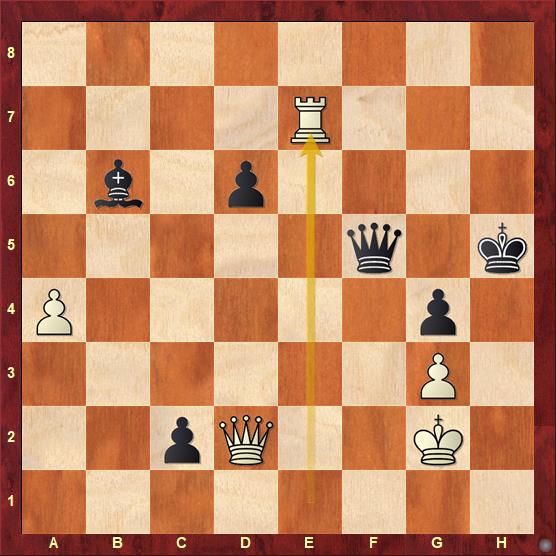 54...Kxh5?? was a mistake by Black which his opponent was unable to spot. 55.Rh1+ Kg6 56.Qh6+ Kf7 57.Rf1 and it's over for Black. Instead, White made a bigger mistake 55.Rxe7?? Kashish pounced on his opportunity 55...Qf3+ 56.Kh2 Qf2+ 57.Qxf2 Bxf2 58.Kg2 c1Q White resigned.
For more Round 8 photos, please click here.
A total of 374 players including 14 GMs, 30 IMs and 3 WIM are taking part from 14 countries across the world including India. The tournament is organized by Gujarat State Chess Association from 31st March to 7th April 2022 at Karnavati Club, Ahmedabad. The ten-round Swiss league tournament has a time control of 90 minutes + 30 seconds increment from move no.1.
Replay Round 8 games
Round 8 results
Round 9 pairings
---