Gujarat GM R02+03: Deepan Chakkravarthy slips down the rank list
Grandmaster Deepan Chakkravarthy squandered a sure win against 2088 rated Anadkat Kartavya to slip down the rank-list after the second day of Gujarat International Open 2019 here in Ahmedabad. At the end of three rounds of the tournament, as many as seventeen players are tied atop the leaderboard with perfect scores of 3.0/3 points each. Particularly notable among them has been the performance of Pranav Shetty (2124) who defeated Grandmaster Himanshu Sharma (2408) in round three to register his third consecutive victory, in the fourth round he is up against Maxim Lugovskoy and it remains to be seen if he can hold his own against the Russian Grandmaster as well. In this report we bring you the games, analyses, and much more from rounds two and three of the event.
Deepan falters at the start of day two!
The second day of the ongoing Gujarat International Grandmaster Open had double rounds. In round two of the first half of day, Grandmasters Deepan Chakkravarthy and Ziaur Rahman were surprisingly held to draws by their lower rated opponents Anadkat Kartavya and Rathneesh R respectively. Deepan threw away multiple opportunities to win his game with the black pieces and even ended up being worse at one point but after a 61-move long battle ultimately the point was split.
Anadkat Kartavya - Deepan Chakkravarthy, Round 2
White need not really worry about Black's g5-g4 push. After something like 13.d4 cxd4 14.cxd4 g4 15.Nh2 Nxd4 16.Nb3 Nxb3 17.axb3 Qc7 18.Nxg4 he is clearly equalising. But what happened in the game with 13...Qc7 14.Qe2 O-O-O 15.Nf1 Kb8 16.Ng3 Rdg8 looked dangerous, Black was ready to launch a deadly onslaught on the white king.
Well, the best way would have been 44...Rb3 45.Kd2 b5 46.Rf6 Rxa3 after which Black's pawns on the queenside simply become unstoppable (check the annotation below for further details) and White is doomed without counterplay. Even 44...Nf3 45. Rh3 Rd2+ 46. Kc1 Rxf2 would have been a decent continuation but 44...b5? was way too passive and granted White the activity he needed. Next, 45.Rh8 Nf3 was played and 46.Rd8+ Ke6 47.Rh6+ Kf5 48.Rf8+ Kg5 49.Rb6 Rd2+ 50.Kc1 Rxd3 51.Rxb5 followed, this was not difficult for White to hold anymore.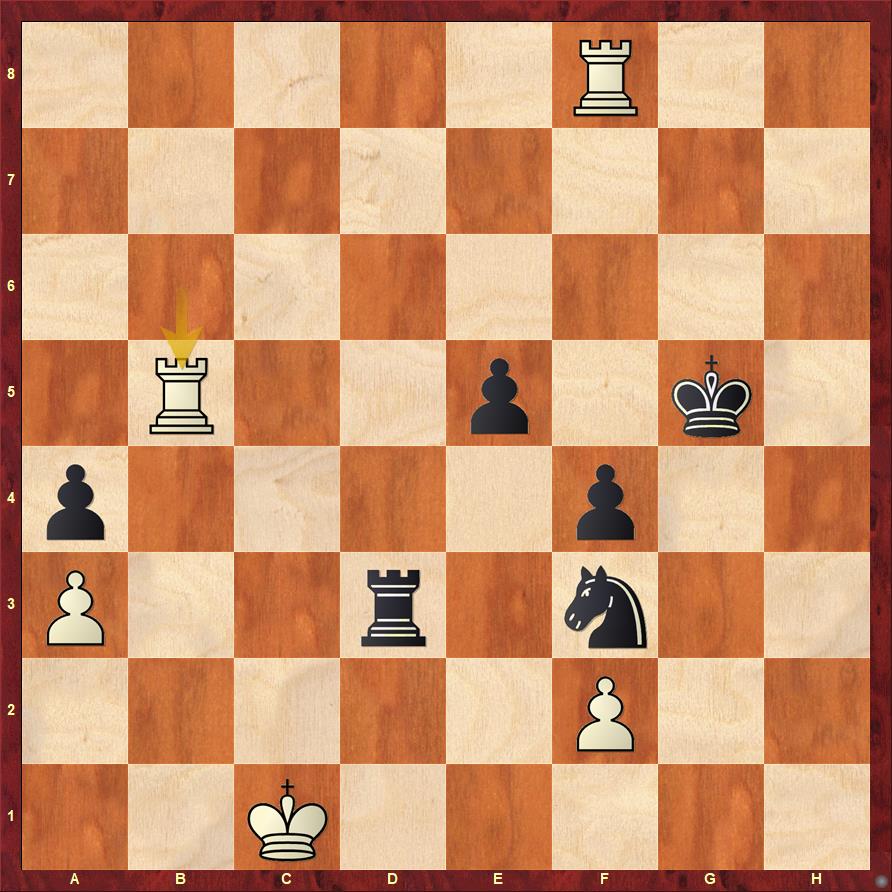 The full game with detailed annotations is given below:
Results of second round
Results of third round
Standings after round three (17 players are tied on the top with 3.0/3 points each)
| | | | | | | | | | |
| --- | --- | --- | --- | --- | --- | --- | --- | --- | --- |
| Rk. | SNo | | | Name | sex | FED | Rtg | Club/City | TB1 |
| 1 | 1 | | GM | Rozum Ivan | | RUS | 2596 | Russia | 3,0 |
| | 3 | | GM | Chanda Sandipan | | IND | 2529 | WB | 3,0 |
| | 5 | | GM | Saptarshi Roy | | IND | 2480 | WB | 3,0 |
| | 7 | | IM | Nguyen Van Huy | | VIE | 2454 | Vietnam | 3,0 |
| | 9 | | IM | Das Sayantan | | IND | 2434 | WB | 3,0 |
| | 10 | | GM | Neelotpal Das | | IND | 2433 | WB | 3,0 |
| | 11 | | GM | Lugovskoy Maxim | | RUS | 2422 | Russia | 3,0 |
| | 14 | | GM | Karthikeyan P. | | IND | 2408 | TN | 3,0 |
| | 16 | | GM | Hesham Abdelrahman | | EGY | 2396 | Egypt | 3,0 |
| | 21 | | FM | Siddharth Jagadeesh | | SGP | 2362 | Singapore | 3,0 |
| | 22 | | IM | Nitin S. | | IND | 2361 | TN | 3,0 |
| | 25 | | IM | Neelash Saha | | IND | 2334 | WB | 3,0 |
| | 27 | | IM | Rathnakaran K. | | IND | 2325 | Ker | 3,0 |
| | 28 | | | Pranav V | | IND | 2308 | TN | 3,0 |
| | 29 | | | Bharat Kumar Reddy Poluri | | IND | 2304 | AP | 3,0 |
| | 52 | | | Pranav Shetty | | IND | 2124 | Mah | 3,0 |
| | 79 | | CM | Liyanage Ranindu Dilshan | | SRI | 1956 | Sri Lanka | 3,0 |
---