Gujarat GM R09: IM Neelash Saha beats third Grandmaster in a row
International Master Neelash Saha is absolutely on fire, in the penultimate round of the 2nd Gujarat International Open he defeated GM Deepan Chakkravarthy to register his third victory against a Grandmaster in a row. Saptarshi Roy also won his round nine encounter to remain in strong contention for the title prize, while Ivan Rozum agreed to a quick draw in just 15 moves in his encounter against Rodrigo Vasquez Schroeder. Going into the final round of the event Ivan is still the sole leader with 8.0/9 points but Saptarshi and Neelash follow him closely just half a point behind with 7.5/9 each. Sayantan Das, Sandipan Chanda, and Manush Shah have also climbed up the leaderboard by winning their respective games in the ninth round and now have every chance at overtaking the leaders in the last day of the tournament.
Grandmaster Deepan Chakkravarthy had the white pieces against Neelash Saha in the penultimate round of 2nd Gujarat International Open 2019. Deepan began the game with his oft-used Reti opening but after the third move transposed into the Torre attack instead. On move 12 he started a provocative flank expansion on the kingside at the risk of keeping his own king in the middle of the board, a few inaccuracies thereafter enabled his opponent to break open through the center and launch a winning attack with a hyperactive queen.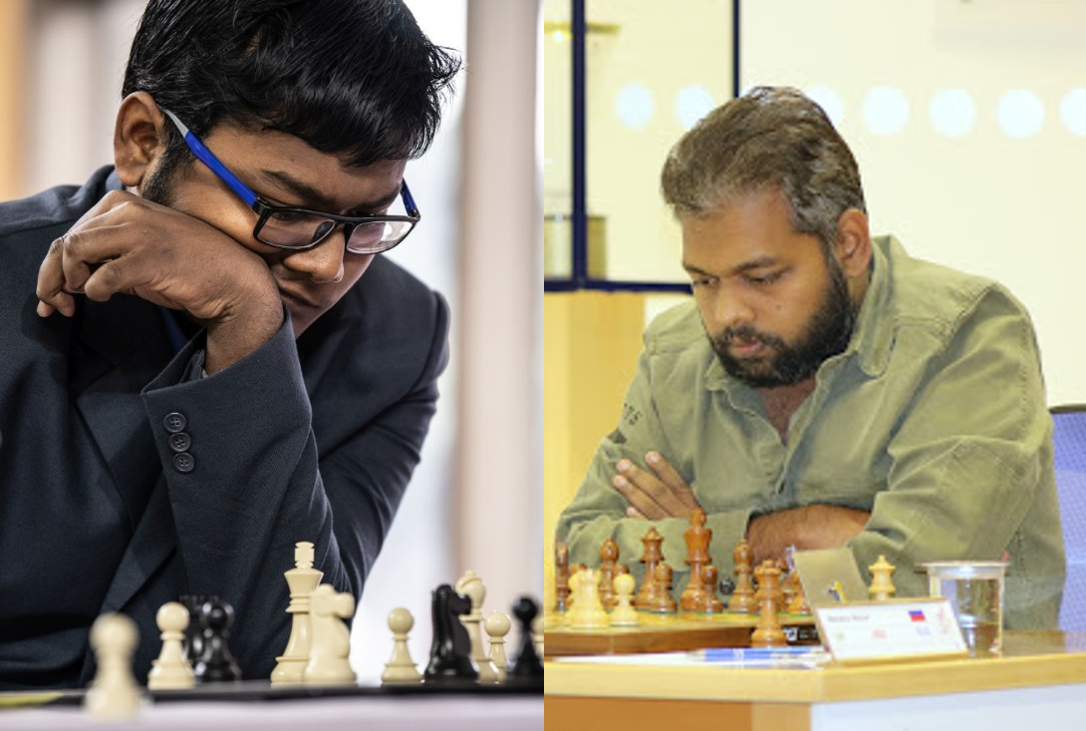 Deepan Chakkravarthy - Neelash Saha, Round 9
Deepan should have taken measures here to prevent Black's expansion in the center with d6 and d5, and then he should have been fine. A continuation like 15.dxc5 bxc5 16.e4 Nc6 17.Nc4 Rad8 18.Rd6 for instance, gives White decent chances. But in the game 15.Ne5 was played and this allowed Black the necessary counterplay after 15... d6 16.Nd3 Nd7 17 Ne4 d5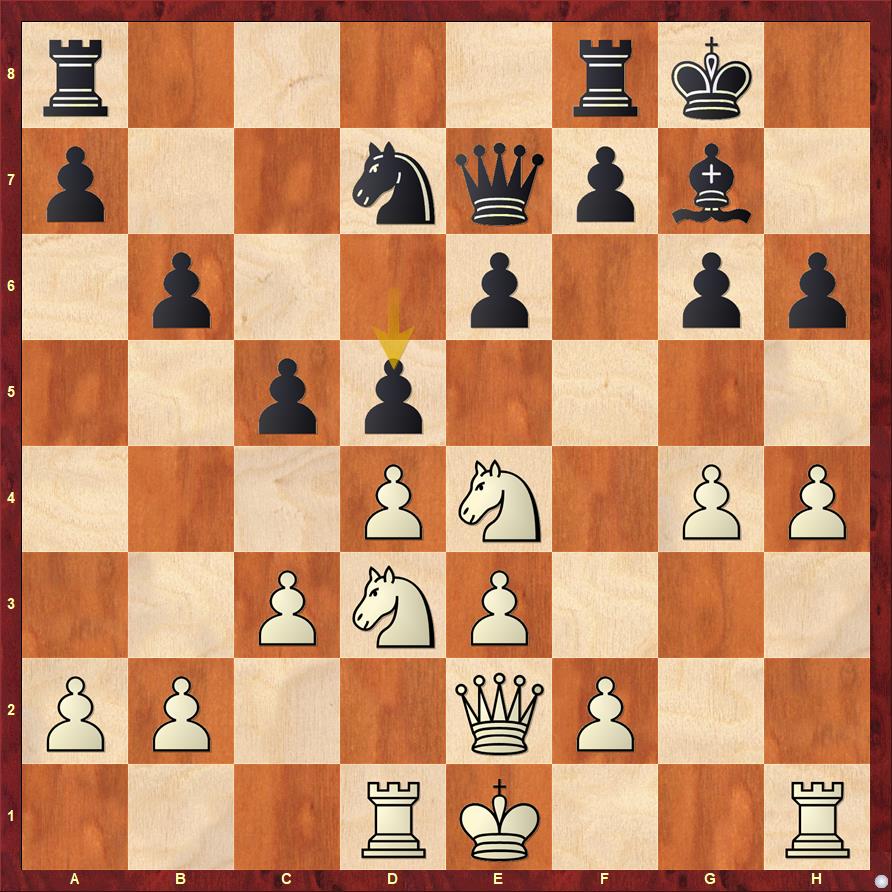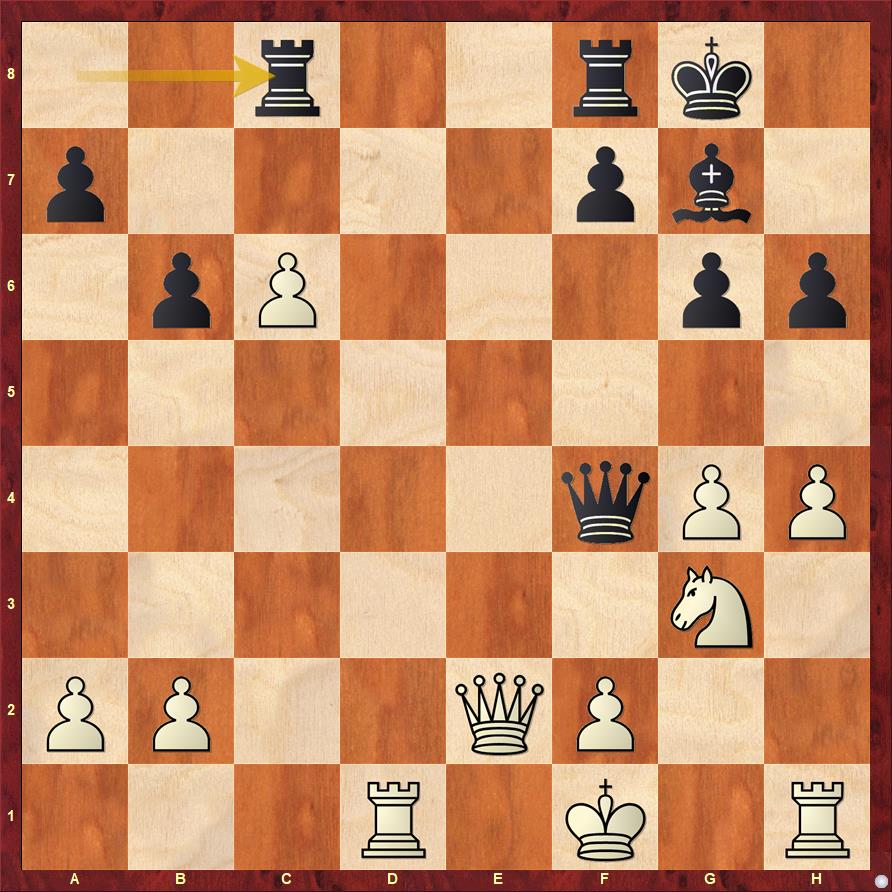 In the game 26.Qc2 was played and next 26...Qf3 27.c7 Rxc7 28.Qxc7 Qxd1+ 29.Kg2 Qd5+ followed with the queen wreaking havoc in the open board. The right move to keep this under check would have been 26. Kg2 giving up the c6 pawn right away and taking control of the crucial f3 square. After 26... Rfe8 27.Qd2 Qc4 28.Qd7 Qxc6+ 29.Qxc6 Rxc6 30.Rd2 White gets a decent endgame.
Saptarshi Roy beats Himanshu Sharma to stay at the heels of the sole leader!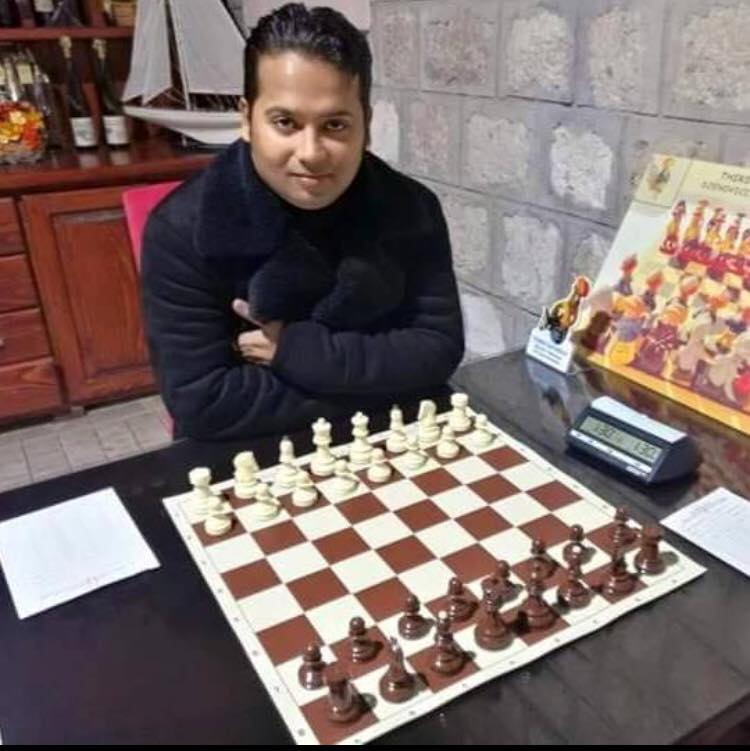 Results of round nine
Standings after round nine
| | | | | | | | | | | | | | | |
| --- | --- | --- | --- | --- | --- | --- | --- | --- | --- | --- | --- | --- | --- | --- |
| Rk. | SNo | | | Name | sex | FED | Rtg | Club/City | Pts. | TB1 | TB2 | TB3 | TB4 | TB5 |
| 1 | 1 | | GM | Rozum Ivan | | RUS | 2596 | Russia | 8,0 | 0,0 | 52,5 | 57,5 | 50,50 | 7 |
| 2 | 5 | | GM | Saptarshi Roy | | IND | 2480 | WB | 7,5 | 0,0 | 50,0 | 54,5 | 43,00 | 7 |
| 3 | 25 | | IM | Neelash Saha | | IND | 2334 | WB | 7,5 | 0,0 | 44,5 | 48,0 | 39,00 | 7 |
| 4 | 9 | | IM | Das Sayantan | | IND | 2434 | WB | 7,0 | 0,0 | 49,5 | 53,5 | 39,75 | 5 |
| 5 | 6 | | GM | Vasquez Schroeder Rodrigo | | CHI | 2476 | Chile | 7,0 | 0,0 | 48,5 | 51,0 | 38,75 | 5 |
| 6 | 24 | | FM | Manush Shah | | IND | 2352 | Guj | 7,0 | 0,0 | 47,0 | 51,5 | 37,50 | 7 |
| 7 | 3 | | GM | Chanda Sandipan | | IND | 2529 | WB | 7,0 | 0,0 | 45,5 | 49,5 | 36,50 | 5 |
| 8 | 16 | | GM | Hesham Abdelrahman | | EGY | 2396 | Egypt | 6,5 | 0,0 | 48,5 | 53,0 | 35,00 | 6 |
| 9 | 11 | | GM | Lugovskoy Maxim | | RUS | 2422 | Russia | 6,5 | 0,0 | 48,5 | 53,0 | 34,00 | 6 |
| 10 | 13 | | GM | Himanshu Sharma | | IND | 2408 | IT | 6,5 | 0,0 | 48,0 | 51,0 | 35,00 | 6 |
Pairings for the final round
Complete results and standings

---