Ivan Rozum wins 2nd Gujarat International Grandmaster Open
The Russian Grandmaster Ivan Rozum quickly drew his final round game against IM Neelash Saha to finish clear first with an unbeaten score of 8.5/10 points and win the 2nd Gujarat International Open 2019. Rodrigo Vasquez Schroeder, Neelash Saha, and Sandipan Chanda finished just half a point behind with 8.0/10 each and were declared second, third, and fourth respectively based on tie-breaks. Both Sandipan and Rodrigo remained unbeaten in the event and won their last round encounters to ensure a strong finish. In this final report we bring to you the highlights of all the interesting moments from the final day of the event, the games and analyses, and more.
Ivan's solid but steady performance paid off!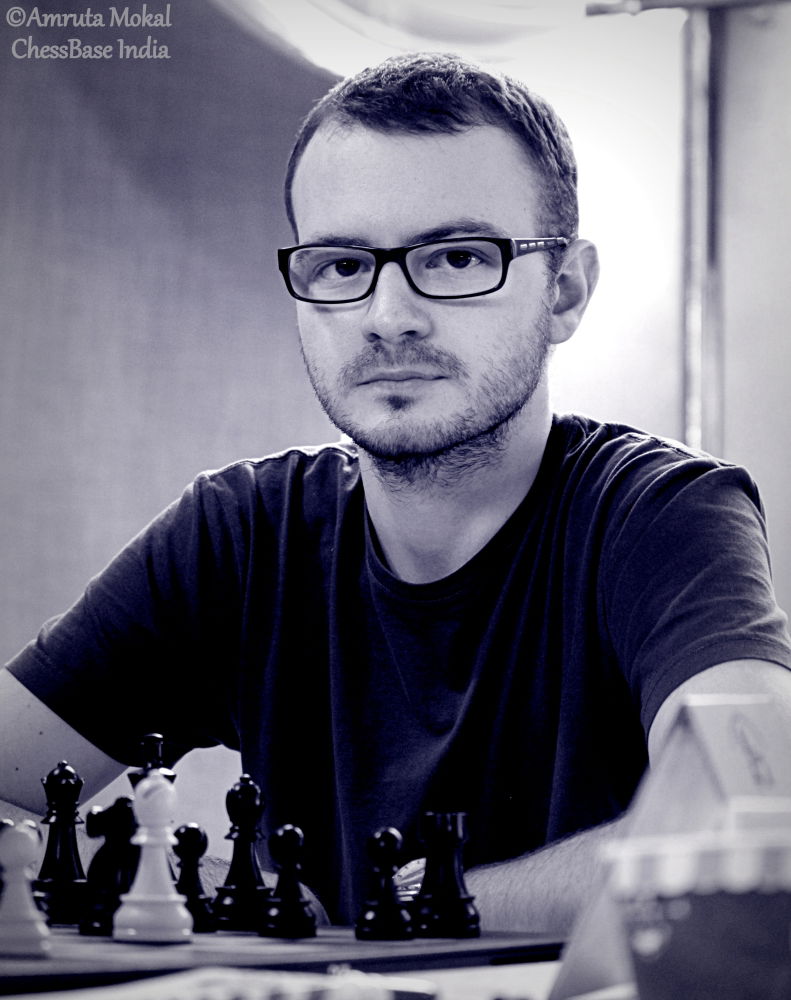 Ivan Rozum adopted a no risk policy in the last two rounds of the event drawing both his games against Rodrigo Vasquez Schroeder and Neelash Saha by agreement in less than twenty moves. Well, one can hardly criticize him, for he finished clear first and became the champion anyway, and returned home richer by Rs. 2,00,000. Ivan remained unbeaten throughout the event, winning seven out of the total ten games with an impressive performance rating of 2607.
Sandipan Chanda returns with two strong victories
His match-up against Grandmaster Saptarshi Roy in the final round of the event was much anticipated, especially because the latter was in excellent form. But Sandipan played some very solid chess and when his opponent blundered, seized the opportunity with both hands. The following was the critical moment in their game.
Sandipan Chanda - Saptarshi Roy, Round 10
Saptarshi erred here by playing the move 19...h6 here and giving up the exchange on c8. A much better continuation would have been 19...Rc5 20.Bxf6 Rxf6 21.Bxh7+ Kh8. Yes, White does win a pawn here but Black gets better activity and the pair of bishops as compensation. In the game, White was simply better after 20.Bxf6 Bxf6 21.Bxc8 Qxc8 and Sandipan hardly had any difficulty capitalizing on his material superiority.
In the encounter against Sayantan, Rodrigo was able to create a strong kingside attack and punish his opponents slow play. The game followed the fianchetto variation of the King's Indian defense and was finished in a mere 35 moves where the Chilean found a crushing mating attack against the black king. The full game is given below for you to enjoy:
Results of the final round
Final standings
| | | | | | | | | | | | | | | |
| --- | --- | --- | --- | --- | --- | --- | --- | --- | --- | --- | --- | --- | --- | --- |
| Rk. | SNo | | | Name | sex | FED | Rtg | Club/City | Pts. | TB1 | TB2 | TB3 | TB4 | TB5 |
| 1 | 1 | | GM | Rozum Ivan | | RUS | 2596 | Russia | 8,5 | 0,0 | 64,0 | 69,0 | 57,50 | 7 |
| 2 | 6 | | GM | Vasquez Schroeder Rodrigo | | CHI | 2476 | Chile | 8,0 | 0,0 | 59,5 | 62,5 | 49,25 | 6 |
| 3 | 25 | | IM | Neelash Saha | | IND | 2334 | WB | 8,0 | 0,0 | 58,5 | 62,5 | 47,75 | 7 |
| 4 | 3 | | GM | Chanda Sandipan | | IND | 2529 | WB | 8,0 | 0,0 | 57,0 | 61,5 | 47,25 | 6 |
| 5 | 5 | | GM | Saptarshi Roy | | IND | 2480 | WB | 7,5 | 0,0 | 64,0 | 69,5 | 49,00 | 7 |
| 6 | 11 | | GM | Lugovskoy Maxim | | RUS | 2422 | Russia | 7,5 | 0,0 | 60,0 | 65,0 | 44,50 | 7 |
| 7 | 13 | | GM | Himanshu Sharma | | IND | 2408 | IT | 7,5 | 0,0 | 59,5 | 63,5 | 46,00 | 7 |
| 8 | 14 | | GM | Karthikeyan P. | | IND | 2408 | ICF | 7,5 | 0,0 | 59,0 | 64,0 | 46,75 | 5 |
| 9 | 8 | | GM | Laxman R.R. | | IND | 2437 | ICF | 7,5 | 0,0 | 48,5 | 52,0 | 38,50 | 7 |
| 10 | 9 | | IM | Das Sayantan | | IND | 2434 | WB | 7,0 | 0,0 | 61,5 | 65,5 | 42,50 | 5 |
Complete results and standings
---