Gujarat GM Open R6+7: Stany the unstoppable
IM Stany GA of Karnataka is simply on a roll at the 1st Gujarat International Grandmaster Open. On day five, he won both of his games and took sole lead in the tournament. In round six, he defeated his co-leader GM Levon Babujian and in the seventh round, he brought down the top seed of the tournament, GM Martyn Kravtsiv. With two rounds to go, Stany is already a full point ahead of his nearest rival and is now a very strong favourite to take the title prize. Some other Indian youngsters also scored important upsets on the fifth day. In round six, Pranav V managed to beat GM Lalith Babu in merely 29 moves. One round later, West Bengal's Srijit Paul completely dominated GM Samvel Ter-Sahakyan on board 11. An illustrated report
Stany is on a roll!
At the conclusion of the seventh round of the 1st Gujarat International Grandmaster Open, Indian youngsters have established dominion over the tournament. First off, IM Stany GA took a full point's lead over the rest of the field after scoring his seventh straight win of the event in the evening round of day five. In the seventh round, Stany defeated the top seed of the tournament, GM Martyn Kravtsiv.
Stany was already the sole leader going into the seventh round and the onus to win the game was on Kravtsiv if he wanted to overtake Stany on the leaderboard. And he was well on his way as he got Stany into a passive position.
Trying to bail out, Stany offered a pawn but Kravtsiv declined to grab it. After the game, Stany pointed out that his opponent also missed some tactics after declining this pawn sacrifice. Due to this, Kravtsiv landed in an inferior position and gave up a piece. Once a piece up, Stany hardly gave his opponent any chance and scored a convincing win in 52 moves.
In round six, after his fifth-round win over Vitaly Sivuk, Stany had benefitted from an over-pressing opponent – GM Levon Babujian – and had taken the sole lead in the tournament. The two had shared the tournament lead going into the round.
A sharp version of the Sicilian Scheveningen was on the board. Stany had castled on the queenside and had flung his kingside pawns forward. Babujian, on the other hand, got his play going on the queen's wing. On his 22nd move, Babujian made the position a mess with a piece sacrifice on b2. When he haze had cleared, the Armenian Grandmaster had three pawns for a piece. Also, Stany's king was completely exposed and was vulnerable to a mating attack.
After the sham sacrifice, 22…Nxb2, play proceeded with 23.Qxb2 Qxg3. And after 23.Nb3 Qxf3 24.Qc1 Qb7 25.Rd1 0-0, white won a full piece.
Here, white simply exchanged everything on c5 and remained a piece ahead. Black's three pawns gave him enough compensation to hold to a draw but Babujian wanted more. On several occasions, he declined a piece repetition and eventually ended up in a much inferior position.
At some point, Stany ended up in a bit of time trouble. But despite this, he won a pawn soon afterwards and his 'a' pawn eventually rolled far up the board to decide matters. Babujian fought tooth and nail to complicate matters but the position was beyond saving. On move 60, Babujian decided to throw in the towel.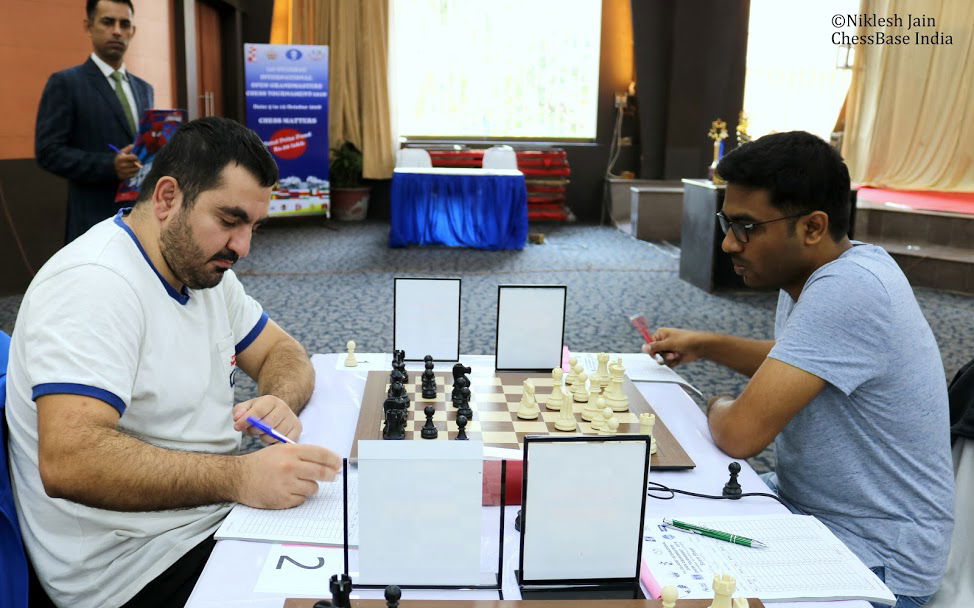 Harsha Bharathkoti was another Indian youngster who was doing extremely well at the event. In the last six rounds, he had won all except one of his games and had also completed the requirements for his Grandmaster title. In the seventh round, unfortunately, he suffered his first loss against Vitaly Bernadsky.
Harsha had the black pieces in a Ruy Lopez that had eventually transposed into an Italian Opening. For the most part of the game, the position had remained fairly level. A mass trade of pieces out of the opening had drifted the game into an endgame pretty soon. Bernadsky tried some tricks by rolling his 'a' pawn down the board but Harsha had it under control.
However, around move 44, Harsha began to crack. Bernadsky's 'a' pawn had suddenly begun to look dangerous. Since this was beyond move 40, it isn't unlikely that time trouble could have affected Harsha's play. About a dozen moves later, Harsha was forced to give up a piece to grab white's far advanced rook pawn. The game went on for about five more moves before Harsha decided to resign.
Just one round ago, in round six, Harsha had scored his fifth win of the event against GM Vadim Malakhatko of Belgium.
The Leningrad Dutch that Harsha had essayed in the game had led to an inferior position for the Indian, eventually. However, Harsha managed to restore equilibrium. An interesting moment came on the 36th move when Malakhatko allowed his opponent a strong bishop sacrifice.
On his last move, white had played 37.Qd3. Had he simply exchanged on d5, the position would have remained equal. But after 37…Bxh4, white was in a bit of trouble. The computer thinks that white's best bet was in accepting the offered bishop but Malakhatko simply collapsed here and gave his queen for a rook and a minor piece with 38.Nxd5 Qxd3 and 39.Nxc7. Harsha was in complete control of the position after this and went on to win on the 61st move.
Meanwhile, on board 3, another young Indian lad, IM Vighnesh NR of Tamil Nadu convincingly defeated GM Farrukh Amonatov in round 7 to hop into the four-way tie for the second place.
Vignesh, who had the white pieces in the game, opted for the 6.h3 variation against his opponent's Sicilian Najdorf. Out of the opening, Vignesh got the thematic attack on the kingside and some mistakes by his opponent also helped him in reaching a better position.
Amonatov managed to exchange several pieces around move 25 but the white pawns – on both the kingside and the centre – looked particularly threatening. After the final pair of minor pieces was traded off five moves later, white had already reached a clearly winning position. The game went on for nine more moves before Amonatov resigned.
Another upset was seen on the 11th board in round 7. Srijit Paul of West Bengal brought down the Samvel Ter-Sahakyan, the eighth seed of the tournament. This again was a Sicilian Najdorf but here, white chose to go with the 6.Be2 variation, unlike in the Vignesh-Amonativ game.
Srijit, who had the white pieces, got an advantage quite early in the game. Making the most of the better placement of his pieces and his space advantage, he skillfully maneuvred his rooks and knight to translate his positional edge into a two pawn material lead. It took 71 long moves but Srijit made it, in the end.
After his loss in the previous round, GM Lalith Babu struggled with his form in the sixth round as well. In his game against Pranav Vijay, the reigning National rapid champion landed in trouble very early. In a Colle System, Pranav got a nice space advantage after Lalith Babu gave up his dark-squared bishop for the white knight on e5.
Further, Pranav got the opportunity to launch a strong attack on the enemy king after Lalith Babu chose to castle on the queenside. Some of black's queenside pawns had already moved from their home squares and this allowed Pranav to rip open black's king shelter without much trouble.
Here, after 18.e6 Qxe6 19.Nxc5 Qd6 20.Na6+ Kb8, white was eventually able to tear off all lines of defence by rushing in with b4 and c5. Once c5 was on the board, it was curtains. Lalith Babu limped on for a few more moves before resigning on move 29.
Standings
| | | | | | | | | | | | | | | | |
| --- | --- | --- | --- | --- | --- | --- | --- | --- | --- | --- | --- | --- | --- | --- | --- |
| Rk. | SNo | | | Name | Typ | sex | FED | Rtg | Club/City | Pts. | TB1 | TB2 | TB3 | TB4 | TB5 |
| 1 | 12 | | IM | Stany G.A. | | | IND | 2502 | KAR | 7,0 | 0,0 | 34,0 | 30,5 | 34,00 | 7 |
| 2 | 9 | | GM | Sivuk Vitaly | | | UKR | 2545 | UKR | 6,0 | 0,0 | 34,5 | 31,0 | 26,00 | 6 |
| 3 | 20 | | IM | Vignesh N R | | | IND | 2447 | TN | 6,0 | 0,0 | 32,0 | 28,5 | 26,25 | 5 |
| 4 | 7 | | GM | Bernadskiy Vitaliy | | | UKR | 2547 | UKR | 6,0 | 0,0 | 31,5 | 28,0 | 26,75 | 5 |
| 5 | 10 | | IM | Karthik Venkataraman | | | IND | 2525 | AP | 6,0 | 0,0 | 28,5 | 26,5 | 24,25 | 5 |
| 6 | 17 | | GM | Babujian Levon | | | ARM | 2456 | ARM | 5,5 | 0,0 | 34,5 | 31,5 | 25,25 | 5 |
| 7 | 1 | | GM | Kravtsiv Martyn | | | UKR | 2654 | UKR | 5,5 | 0,0 | 33,5 | 30,0 | 23,75 | 5 |
| 8 | 14 | | GM | Neverov Valeriy | | | UKR | 2488 | UKR | 5,5 | 0,0 | 33,0 | 29,0 | 24,75 | 5 |
| 9 | 13 | | IM | Harsha Bharathakoti | | | IND | 2492 | TEL | 5,5 | 0,0 | 32,5 | 29,0 | 24,25 | 5 |
| 10 | 3 | | GM | Predke Alexandr | | | RUS | 2615 | RUS | 5,5 | 0,0 | 32,0 | 29,5 | 25,00 | 4 |
Links
---