Gujarat GM R08: Ivan Rozum dashes ahead, Saptarshi Roy fights back
Top seed Ivan Rozum has taken a full point lead over the rest of the field after defeating FM Manush Shah in the eighth round of the ongoing 2nd Gujarat International Grandmaster Open here in Ahmedabad. Saptarshi Roy too recovered well after his last round's setback to beat IM Denis Eraschenkov with the black pieces. IM Neelash Saha also kept up his good form as he got the better of GM Maxim Lugovskoy and squeezed out a victory after a 76-move long battle. All in all, after the completion of eight rounds, Ivan Rozum sits atop the leaderboard with an unbeaten 7.5/8 points. While Saptarshi Roy, Rodrigo Vasquez Schroeder, Himanshu Sharma, and Neelash Saha follow him a point behind with 6.5/8 each.
Saptarshi Roy comes out better in a double-edged melee!
Grandmaster Saptarshi Roy is a player who revels in complex, dynamic positions. In round eight of the 2nd Gujarat International Open he reinforced his reputation by outwitting his strong Russian adversary, IM Denis Eraschenkov, in a highly charged double-edged position. Saptarshi had the black pieces and ended up in a slightly worse position out of the Chigorin variation of queen's pawn opening. But the sharp nature of the game ensured that he had the psychological edge.
Denis Eraschenkov - Saptarshi Roy, Round 8
The position is clearly very sharp. Black is trying to launch an attack on the kingside with Rg6 followed by Qh2 and even Bf3/Bh3 if possible; on the other hand White's forces are focussed on the queenside. The better move here, instead of 26.Bxa6, would have been 26.Qb6 with the strong threat of going Qc7 next. This would have gotten Black in some serious trouble. However, after 26.Bxa6 b5 27. a4 Rg6 in the game, the position retained its double-edged nature but was roughly equal.
29.Kf1? allowed Black to infiltrate into White's camp effectively with 29...Qxg3 30.R5c2 d4 31.Ne2 Bxe2+ 32.Rxe2 Nd5 33.Qa3 Nxf4 and here White was completely lost. The right move would have been the calm defensive retreat 29.Qc2! Now, after 29...cxb5 30.Bxb5 Bh5 31.Kf1 White manages to hold on. After Qb6 was missed on move 26, Black's attack on the other side of the board quickened, thus on move 29 it became important for White to take a step back and defend with the crucial 29.Qc2! The full game with detailed analysis of these critical points is presented below: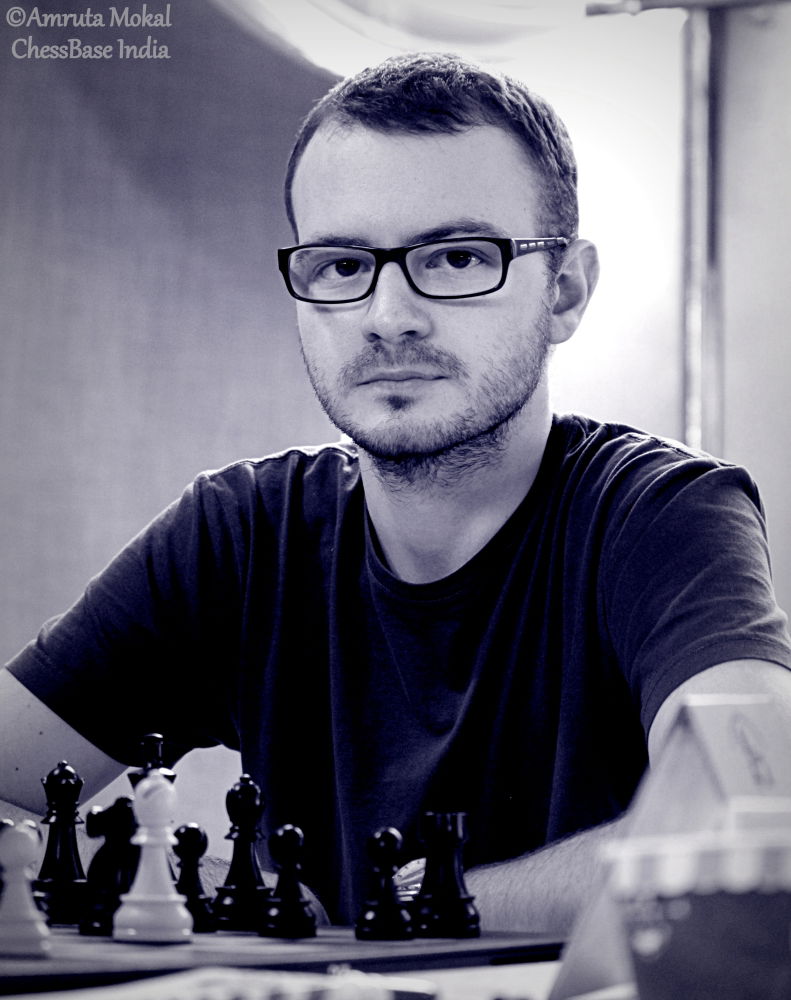 Results of round eight
Standings after round eight
| | | | | | | | | | |
| --- | --- | --- | --- | --- | --- | --- | --- | --- | --- |
| Rk. | SNo | | | Name | sex | FED | Rtg | Club/City | TB1 |
| 1 | 1 | | GM | Rozum Ivan | | RUS | 2596 | Russia | 7,5 |
| 2 | 5 | | GM | Saptarshi Roy | | IND | 2480 | WB | 6,5 |
| | 6 | | GM | Vasquez Schroeder Rodrigo | | CHI | 2476 | Chile | 6,5 |
| | 13 | | GM | Himanshu Sharma | | IND | 2408 | IT | 6,5 |
| | 25 | | IM | Neelash Saha | | IND | 2334 | WB | 6,5 |
| 6 | 2 | | GM | Deepan Chakkravarthy J. | | IND | 2539 | ICF | 6,0 |
| | 3 | | GM | Chanda Sandipan | | IND | 2529 | WB | 6,0 |
| | 7 | | IM | Nguyen Van Huy | | VIE | 2454 | Vietnam | 6,0 |
| | 9 | | IM | Das Sayantan | | IND | 2434 | WB | 6,0 |
| | 14 | | GM | Karthikeyan P. | | IND | 2408 | ICF | 6,0 |
| | 19 | | GM | Manik Mikulas | | SVK | 2375 | Slovakia | 6,0 |
| | 20 | | IM | Konguvel Ponnuswamy | | IND | 2374 | PSPB | 6,0 |
| | 24 | | FM | Manush Shah | | IND | 2352 | Guj | 6,0 |
| | 26 | | | Sahoo Utkal Ranjan | | IND | 2329 | Odi | 6,0 |
| | 34 | | IM | Abu Sufian Shakil | | BAN | 2255 | Bangladesh | 6,0 |
Complete results and standings
---