Gujarat GM R07: Ivan Rozum elbows Saptarshi Roy out of the lead
Ivan Rozum defeated Saptarshi Roy with the black pieces in the seventh round of Gujarat International Grandmaster Open to take sole lead with 6.5/7 points. Rodrigo Vasquez Schroeder, Himanshu Sharma, and Manush Shah follow him closely just half a point behind with 6.0/7 points each. On the other hand, Grandmaster Saptarshi Roy has slipped down the rank-list to the fifth place after his latest loss and now shares 5.5/7 along with eleven other players. The two players who pulled off the biggest shocker in round seven were FM Manush Shah and IM Neelash Saha, both of whom defeated their higher rated Grandmaster opponents, namely Ziaur Rahman and Neelotpal Das.

Ivan's minor pieces prove superior to Saptarshi's queen!
Saptarshi had the White pieces in his round seven encounter against Ivan. The game began with a Caro-Kann and followed the 4...Nd7 variation. On move 22 the Indian player took the bold decision to sacrifice his dark-squared bishop in order to bring the Russian's king out in the open. This apparently sparked off a series of interesting complications where Ivan in turn gave up his queen for three minor pieces!
Saptarshi Roy - Ivan Rozum, Round 7
The move 25.Rf3 pressurizing the f6 bishop looks logical but the possibility that Saptarshi missed here was 25...Qxe4! after which 26.Bxe4 Bxe4 27.Re3 Bg6 follows and Black gets excellent activity for the queen. This indeed happened in the game and White quickly cumbled thereafter. The better continuation here would have been 25.Qh6+! Ke7 and now 26. Rf3 e5 27. Ng3 Rg8 28.Be4
Analysis board
Black has to play 28...Qxe4 in the above position because something like 28...Qc7 fails tactically to 29.Nf5+ Ke8 30.Bxb7 owing to presence of the royal fork on d6. But 28...Qxe4 29.Nxe4 Bxe4 30.Rg3 Nc5 gives Black a fair amount of activity in compensation for the queen and somehow here White has the equality unlike what happened in the game.
The position on the left shows what could have happened in the game if White played the better move 25.Qh6+ and the position on the right shows what actually happened in the game. In both continuations Black gives up his queen for three minor pieces and has some compensation but somehow the position on the right is better for black while that on the left is dynamically balanced. Of course, navigating through these complexities over-the-board is extremely difficult. In the game the black minor pieces completely dominated the board.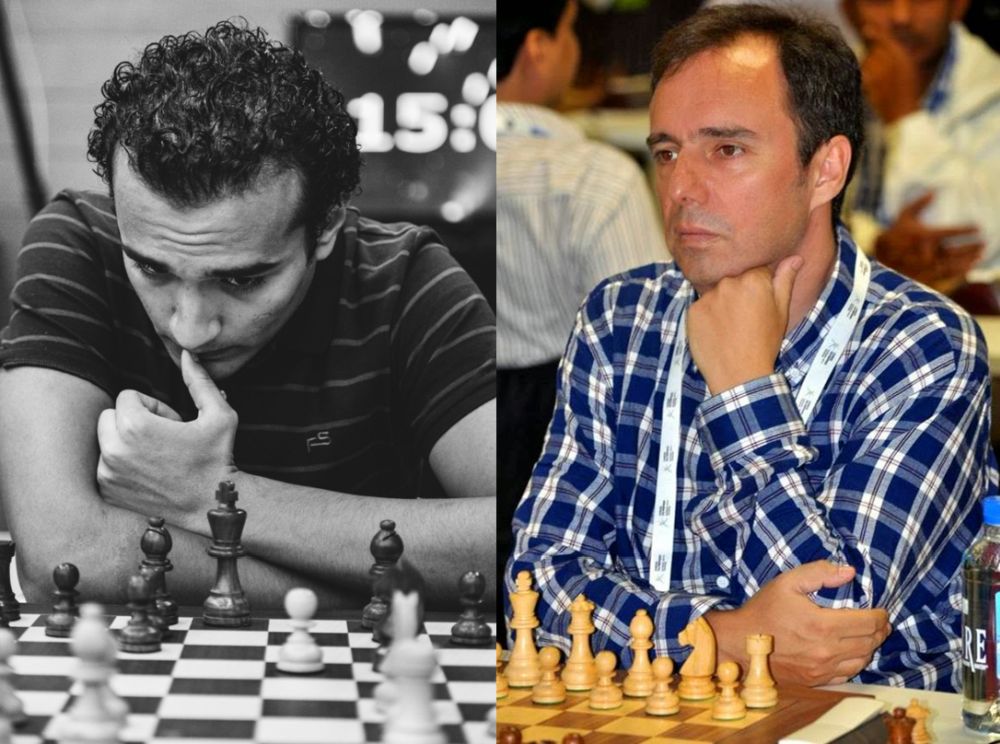 Results of round seven
Standings after round seven
| | | | | | | | | | |
| --- | --- | --- | --- | --- | --- | --- | --- | --- | --- |
| Rk. | SNo | | | Name | sex | FED | Rtg | Club/City | TB1 |
| 1 | 1 | | GM | Rozum Ivan | | RUS | 2596 | Russia | 6,5 |
| 2 | 6 | | GM | Vasquez Schroeder Rodrigo | | CHI | 2476 | Chile | 6,0 |
| | 13 | | GM | Himanshu Sharma | | IND | 2408 | Har | 6,0 |
| | 24 | | FM | Manush Shah | | IND | 2352 | Guj | 6,0 |
| 5 | 3 | | GM | Chanda Sandipan | | IND | 2529 | WB | 5,5 |
| | 5 | | GM | Saptarshi Roy | | IND | 2480 | WB | 5,5 |
| | 7 | | IM | Nguyen Van Huy | | VIE | 2454 | Vietnam | 5,5 |
| | 9 | | IM | Das Sayantan | | IND | 2434 | WB | 5,5 |
| | 11 | | GM | Lugovskoy Maxim | | RUS | 2422 | Russia | 5,5 |
| | 14 | | GM | Karthikeyan P. | | IND | 2408 | TN | 5,5 |
| | 17 | | IM | Eraschenkov Denis | | RUS | 2390 | Russia | 5,5 |
| | 19 | | GM | Manik Mikulas | | SVK | 2375 | Slovakia | 5,5 |
| | 20 | | IM | Konguvel Ponnuswamy | | IND | 2374 | TN | 5,5 |
| | 25 | | IM | Neelash Saha | | IND | 2334 | WB | 5,5 |
| | 26 | | | Sahoo Utkal Ranjan | | IND | 2329 | Odi | 5,5 |
| 16 | 2 | | GM | Deepan Chakkravarthy J. | | IND | 2539 | TN | 5,0 |
Complete results and standings
---