Six Indians in the hunt for norms at AICF Gujarat WGM Tournament
The AICF International Women Grand Master Round Robin Chess Tournament 2019 is taking place from the 11th to 18th of November in the Navrangpura sports club near Sardar Patel Stadium, Ahmedabad. Organized by the Gujarat Chess Association under the auspices of All India Chess Federation, the event features six Indian and six International players in all. A total of Rs.10 Lakh has been instated as the prize fund and moreover this is a lucrative norm making opportunity for all the participants. Four rounds of the tournament are already over. In this report we bring you the current standings, photos, games, and much more.
The All India Chess Federation continues to invest in women's chess and provide opportunities to the young female talents of our country so that they can make their WIM/WGM norms easily. To this end, the AICF Gujarat WGM tournament is being held in the Navrangpura sports club, Ahmedabad from 11th to 18th of November. It is a strong 12-player round-robin tournament following a time control of 90 minutes for the entire game plus 30-second increment per move from move one, and the interesting part is that six Indian players are competing alongside six foreigners. The rating average of the 12 players is 2179. In order to make a WGM norm, the players would need roughly around 8.5 to 9 points out of 11. For a WIM norm 6.5 to 7 points would be sufficient. The Elo ratings of few of the Indian players have dropped substantially post their selection in this event and this is one of the main reasons why they would have to score so many points to get their norms.
The six Indian talents fighting it out are Mrudul Dehankar (2114), Priyanka K (2067), A. Harshini (2020), Tanishka Kotia (1909), Pratyusha Bodda (2285), and Aakanksha Hagawane (2227). While the six international strong women's players are Ana Gavasheli (2240), Luong Phuong Han (2259), Altan-Ulzii Enkhtul (2237), Nguyen Thi Mai Hu (2270), Sarvinoz Kurbonboeva (2266), and Olga Babiy (2249). Indian players are widely considered to be underrated, so it is generally always interesting to see how they fair when pitted against their foreign counterparts. As expected, in rounds one and two the Indians already pulled off two major upsets. Priyanka K started off by beating Altan-Ulzii Enkhtul of Mongolia with black pieces who is more than 150 points higher rated than her, and in the very next round Harshini A bridged a rating gap of no less than 220 Elo points to come out on the top of the Georgian WIM Ana Gavasheli. Akanksha Hagwane and Mrudul Dehankar have so far been the best performing Indian players, both of them have scored 3.0/4 each and are just half a point behind Olga Babiy of Ukraine who has emerged as the sole leader with 3.5/4 after four rounds.
Standings of the players after four rounds
| | | | | |
| --- | --- | --- | --- | --- |
| 1 | Babiy, Olga | UKR | 2249 | 3.5/4 |
| 2 | Aakanksha Hagawane | IND | 2227 | 3.0/4 |
| | Mrudul Dehankar | IND | 2114 | 3.0/4 |
| 4 | Luong, Phuong Hanh | VIE | 2259 | 2.5/4 |
| | Pratyusha, Bodda | IND | 2285 | 2.5/4 |
| | Priyanka, K | IND | 2067 | 2.5/4 |
| | Nguyen, Thi Mai Hung | VIE | 2270 | 2.5/4 |
| 8 | Harshini A | IND | 2020 | 1.5/4 |
| | Gavasheli, Ana | GEO | 2240 | 1.5/4 |
| 10 | Kurbonboeva, Sarvinoz | UZB | 2266 | 1.0/4 |
| 11 | Tanishka Kotia | IND | 1909 | 0.5/4 |
| 12 | Enkhtuul, Altan-Ulzii | MGL | 2237 | 0.0/4 |
Organized by the Gujarat Chess Association under the aegis of All India Chess Federation, the tournament will be disbursing a total prize fund of Rs.10,00,000 (Rupees 10 Lakh only) with an impressive first prize of Rs. 1,60,000.
And the playing schedule is as follows:
Photo Gallery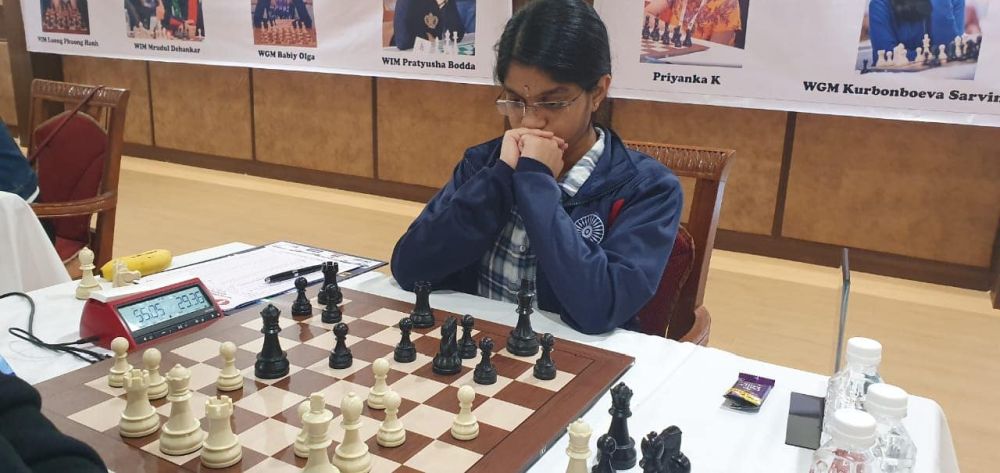 Important games from the latest round
Mrudul Dehankar defeated Tanishka Kotia in the fourth round of the event but it turned out to be a wild topsy-turvy game where both sides had winning chances at different times. The game opened with an unusual Sicilian variation and Mrudul got an advantage with White early on when Tanishka blunderd with 11...Nd5. Things went in White's favour for quite some time until 20.Bd4 was played and suddenly the tables were turned. However, Tanishka simply failed to capitalize the opportunity she got and slowly misplayed the ending that arose, blundering on move 29. Thus, Mrudul was finally able to activate his king and seize the victory after 40 moves.
Altan-Ulzii Enkhtul has been having a tough time in this event as she lost her fourth consecutive game against Akanksha Hagawane. This was a Scandinavian defense where the Indian outplayed her opponent right out of the opening.
Pratyusha Bodda enjoyed a comfortable edge throughout her encounter against Ana Gavasheli. She had two minor pieces for Ana's rook but the Georgian showed tremendous grit pushing on and bettering her position for more than eighty moves. The Indian finally blundered on move 89 and resigned soon after.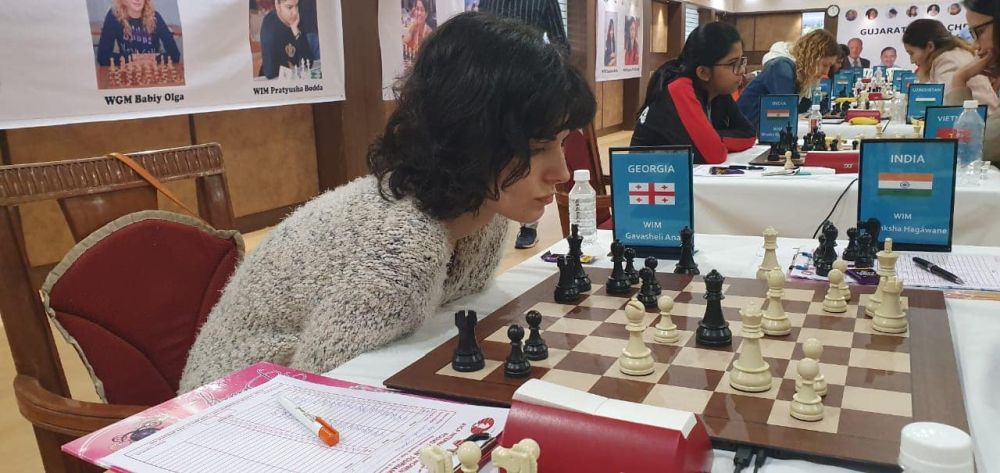 Results of all rounds so far
Round 1
Bo.
No.
Rtg
Name
Result
Name
Rtg
No.
1
1
2227
Aakanksha Hagawane
1/2 - 1/2
Gavasheli Ana
2240
12
2
2
2259
Loung Phuong Hanh
1 - 0
Mrudul Dehankar
2114
11
3
3
2266
Kurbonboeva Sarvinoz
0 - 1
Babiy Olga
2249
10
4
4
2237
Enththuul Altan Ulzii
0 - 1
Priyanka K
2067
9
5
5
1909
Tanishka Kotia
1/2 - 1/2
Pratyusha Bodda
2285
8
6
6
2270
Nguyel Thi Mai
1 - 0
Harshini A
2020
7
Round 2
Bo.
No.
Rtg
Name
Result
Name
Rtg
No.
1
12
2240
Gavasheli Ana
0 - 1
Harshini A
2020
7
2
8
2285
Pratyusha Bodda
1 - 0
Nguyel Thi Mai
2270
6
3
9
2067
Priyanka K
1 - 0
Tanishka Kotia
1909
5
4
10
2249
Babiy Olga
1 - 0
Enththuul Altan Ulzii
2237
4
5
11
2114
Mrudul Dehankar
1 - 0
Kurbonboeva Sarvinoz
2266
3
6
1
2227
Aakanksha Hagawane
1/2 - 1/2
Loung Phuong Hanh
2259
2
Round 3
Bo.
No.
Rtg
Name
Result
Name
Rtg
No.
1
2
2259
Loung Phuong Hanh
1 - 0
Gavasheli Ana
2240
12
2
3
2266
Kurbonboeva Sarvinoz
0 - 1
Aakanksha Hagawane
2227
1
3
4
2237
Enththuul Altan Ulzii
0 - 1
Mrudul Dehankar
2114
11
4
5
1909
Tanishka Kotia
0 - 1
Babiy Olga
2249
10
5
6
2270
Nguyel Thi Mai
1 - 0
Priyanka K
2067
9
6
7
2020
Harshini A
0 - 1
Pratyusha Bodda
2285
8
Round 4
Bo.
No.
Rtg
Name
Result
Name
Rtg
No.
1
12
2240
Gavasheli Ana
1 - 0
Pratyusha Bodda
2285
8
2
9
2067
Priyanka K
1/2 - 1/2
Harshini A
2020
7
3
10
2249
Babiy Olga
1/2 -1/2
Nguyel Thi Mai
2270
6
4
11
2114
Mrudul Dehankar
1 - 0
Tanishka Kotia
1909
5
5
1
2227
Aakanksha Hagawane
1 - 0
Enththuul Altan Ulzii
2237
4
6
2
2259
Loung Phuong Hanh
0 - 1
Kurbonboeva Sarvinoz
2266
3
---