Mrudul Dehankar wins AICF Gujarat WGM
Mrudul Dehankar, the 15-year-old talent from Nagpur, played a sparkling game in the last round of AICF International Women Grandmaster Round Robin Tournament to wrest the lead from Aakanksha Hagawane and finish a full point ahead of the rest of the field with 8.0/11 points. After eleven rounds three players, namely Nguyen Thi Mai Hung, Olga Babiy, and Aakanksha scored 7.0/11 each and were placed second, third, and fourth respectively on the basis of tie-breaks. In this article we look into Mrudul's final round game in detail and also give you the results and standings of all the players.
Mrudul's French destruction on the final day!
The French defense is well-known to be a very solid and resilient opening choice for Black but it can also lead to some extremely passive positions if not treated properly. In the final round encounter of AICF WGM Round Robin between Mrudul Dehankar and Aakanksha Hagawane we saw exactly this happen. The latter with black pieces went for the French but struggled throughout the game to generate counterplay. Mrudul started off with the unusual and aggressive 2.f4 variation and went ahead to play some excellent bit of attacking chess, while Aakanksha could barely complete her development and failed to pose any threats whatsoever. What actually went wrong? Well, in this report we answer just that and try to understand some of the ideas in which Black's game could have been improved. So without further ado, let's dive in!
Mrudul Dehankar - Aakanksha Hagawane, Round 11
Well, the simple 9...fxe5 would have been better here than what happened in the game as after 10.Nxe5 Nxe5 11.fxe5 the e-file remains closed and White still has to work hard to make progress. But the really best way perhaps would have been 9...Nh6! the idea is after 10.exf6 gxf6 11.Qe2 Kd8 12.Bh3 Kc7 13.O-O Ne7 14.Kh1 Rg8 15.a4 Nef5 (see diagram below) Black not only takes his king to safety on the queenside but also stirs up good counterplay.
Analysis Board
However in the game 9...Be7 really dimmed the prospects. Even visually 10.exf6 Bxf6 11.Qe2 Nge7 12.Bh3 Nd8 looked awful. It was from here that Mrudul slowly started to take control of the game.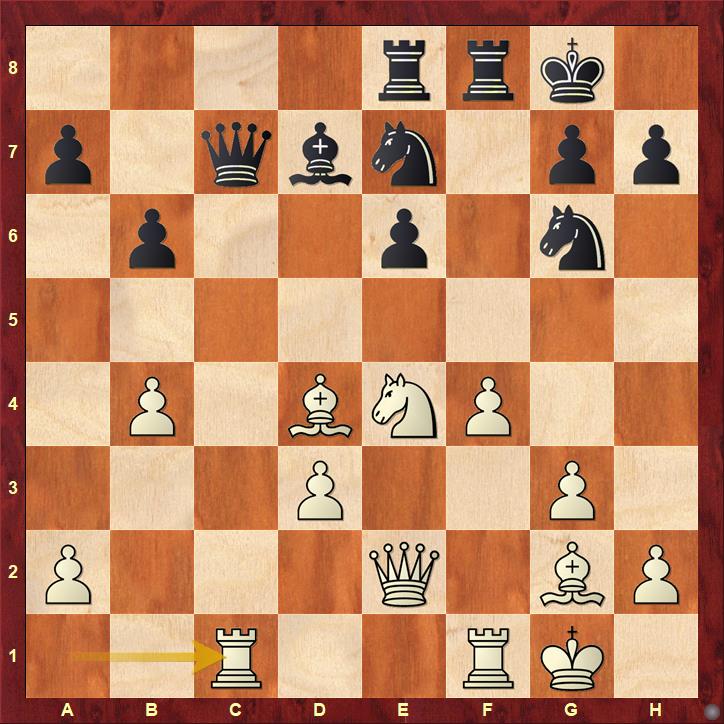 Results of all players in the last round
| | | | | | | | | | | | | | |
| --- | --- | --- | --- | --- | --- | --- | --- | --- | --- | --- | --- | --- | --- |
| Bo. | No. | FED | Rtg | | | Name | Result | | Name | | FED | Rtg | No. |
| 1 | 6 | VIE | 2270 | | WGM | Nguyel Thi Mai | 1 - 0 | WIM | Gavasheli Ana | | GEO | 2240 | 12 |
| 2 | 7 | IND | 2020 | | WFM | Harshini A | 1 - 0 | WFM | Tanishka Kotia | | IND | 1909 | 5 |
| 3 | 8 | IND | 2285 | | WIM | Pratyusha Bodda | ½ - ½ | WGM | Enththuul Altan Ulzii | | MGL | 2237 | 4 |
| 4 | 9 | IND | 2067 | | | Priyanka K | 1 - 0 | WGM | Kurbonboeva Sarvinoz | | UZB | 2266 | 3 |
| 5 | 10 | UKR | 2249 | | WGM | Babiy Olga | 1 - 0 | WIM | Loung Phuong Hanh | | VIE | 2259 | 2 |
| 6 | 11 | IND | 2114 | | WIM | Mrudul Dehankar | 1 - 0 | WIM | Aakanksha Hagawane | | IND | 2227 | 1 |
Final Rankings after eleven rounds
| | | | | | | | | | | | | |
| --- | --- | --- | --- | --- | --- | --- | --- | --- | --- | --- | --- | --- |
| Rk. | SNo | | | Name | FED | RtgI | Pts. | TB1 | TB2 | TB3 | K | rtg+/- |
| 1 | 11 | | WIM | Mrudul Dehankar | IND | 2114 | 8,0 | 0,0 | 39,00 | 7 | 0 | 0,0 |
| 2 | 6 | | WGM | Nguyel Thi Mai | VIE | 2270 | 7,0 | 1,0 | 36,25 | 4 | 0 | 0,0 |
| 3 | 10 | | WGM | Babiy Olga | UKR | 2249 | 7,0 | 1,0 | 35,75 | 5 | 0 | 0,0 |
| 4 | 1 | | WIM | Aakanksha Hagawane | IND | 2227 | 7,0 | 1,0 | 33,25 | 4 | 0 | 0,0 |
| 5 | 2 | | WIM | Loung Phuong Hanh | VIE | 2259 | 6,5 | 0,0 | 33,75 | 5 | 0 | 0,0 |
| 6 | 8 | | WIM | Pratyusha Bodda | IND | 2285 | 5,5 | 1,0 | 28,50 | 4 | 0 | 0,0 |
| 7 | 9 | | | Priyanka K | IND | 2067 | 5,5 | 0,0 | 27,25 | 4 | 0 | 0,0 |
| 8 | 12 | | WIM | Gavasheli Ana | GEO | 2240 | 5,0 | 0,0 | 26,25 | 4 | 0 | 0,0 |
| 9 | 4 | | WGM | Enththuul Altan Ulzii | MGL | 2237 | 4,5 | 1,0 | 20,50 | 3 | 0 | 0,0 |
| 10 | 7 | | WFM | Harshini A | IND | 2020 | 4,5 | 0,0 | 21,75 | 3 | 0 | 0,0 |
| 11 | 3 | | WGM | Kurbonboeva Sarvinoz | UZB | 2266 | 4,0 | 0,0 | 17,50 | 3 | 0 | 0,0 |
| 12 | 5 | | WFM | Tanishka Kotia | IND | 1909 | 1,5 | 0,0 | 8,75 | 0 | 0 | 0,0 |
---