Vishy Anand's art of building a fortress | Nations Cup 2020 Day 2
by Sagar Shah - 07/05/2020
Even the best of players come under pressure every now and then. But when it comes to active defense there are very few who can rival the Madras Tiger. Vishy Anand had his back to the wall in the fourth game of the Online Nations Cup 2020 against China's Ding Liren. But Anand found a brilliant resource and built up a fortress that was quite a sight to behold. India isn't doing so well in the event and is currently on the last spot with 1.0/8. However, there have been some really nice games. In this article we see Anand's art of building a fortress, Vidit's simple miss against Aronian, and the Armenian's brilliance to come back and beat the Nashik lad.
Anand - the master of fortresses!
Let's go back four years in time. The year was 2016 and it was the Tal Memorial. Vishy Anand was playing with the black pieces against Evgeny Tomashevsky. We reached the following position:
Tomashevsky vs Anand, Tal Memorial 2016
It is clear that White is slightly better. Black has an isolated pawn on d5 and it is of the same colour as his bishop on d7. The question to you - how would you defend this position as Black? Well, guess what Anand did, and that too without taking any real time on the clock. He first played his knight to d6 and then put it on f5 and exchanged the knights! This left him with a same coloured bishop endgame and the white king standing on a dominating position on d4.
He first went a5, gaining some space on the queenside. He, then played his pawn to b6 and the next one on f6. In this way all the dark squares in the position were controlled. He transferred his bishop to b7 and then waited for White to do something. In all of this it was clear that Vishy knew that the resulting endgame was a fortress and he played his moves with great confidence. You can check the entire game analysis here, discussion on Facebook with some great players like Nigel Short, Peter Heine Nielsen, Jaan Ehlvest about the above position and my video on YouTube.
Coming back to Online Nations Cup 2020. Vishy Anand was playing against Ding Liren and after a standard QGD he landed in a difficult position.
Ding Liren vs Vishy Anand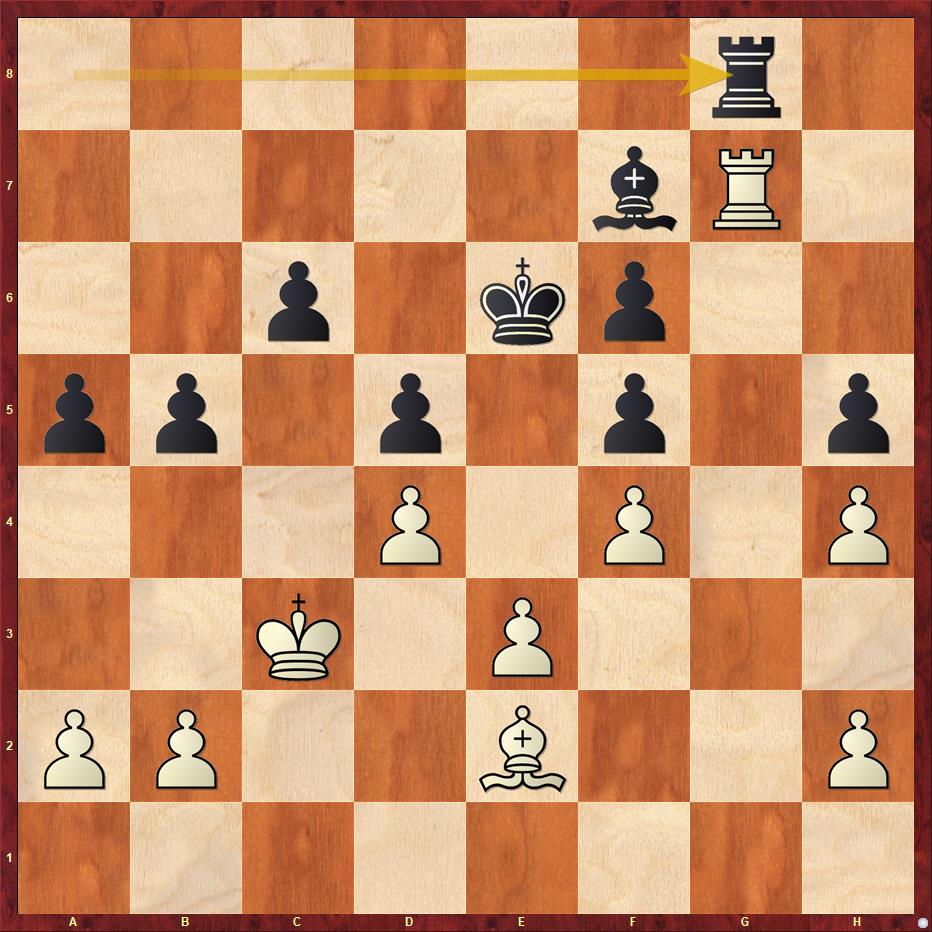 Vishy played the classy move ...Rg8! It came as quite a surprise to Ding Liren. All the while White is trying to win the h5 pawn and now Anand simply gives it to him on a platter. Rxg8 Bxg8 Bxh5. White is a pawn up, but Vishy simply offered his bishop in exchange with ...Bf7. The pawn ending is clearly drawn, so Ding Liren retreated his bishop to d1.
Scenario one: White plays a4
Scenario two: Play b4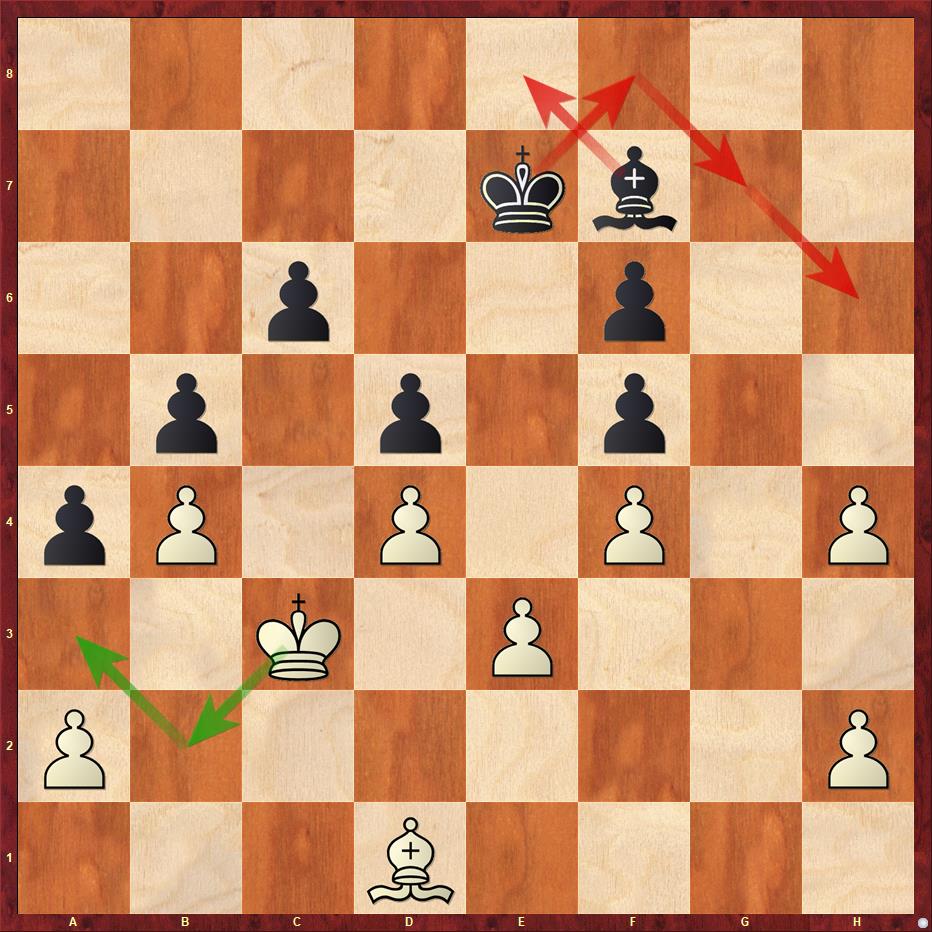 This is what Ding Liren did in the game. But this blocks the entire queenside. White has only one trick in the position - to get his king to a3 and sacrifice his bishop on a4. However, when the king comes to a3, Black places his bishop on e8 and Bxa4 doesn't work as after bxa4 Kxa4 c5+! Black is better! Hence the position after b4 and a4 is also a fortress.
Anand's ...Rg8 once again reminds us of what a genius he is! Also the fact that he is always looking for active defensive solutions and not passive ones.
Vidit's miss and Aronian's brilliant idea!
Vidit Gujrathi is currently on 0/3. But he played some very good chess against Levon Aronian and was very close to beating him. The critical position was reached after Rxc5.
Aronian vs Vidit, Round 3
Vidit just recaptured on c5 instinctively with ...Rxc5. Instead he should have played ...d3! This move not just pins the c5 rook but also attacks the rook on c2. After R2c3 Rxc5 Rxc5 Rc8 Be3 It seems like White has everything under control. But Black takes on c5 with Rxc5 Bxc5 and now comes the killer blow...
After missing this chance, the game was simply heading towards a draw, but Vidit lost his sense of danger.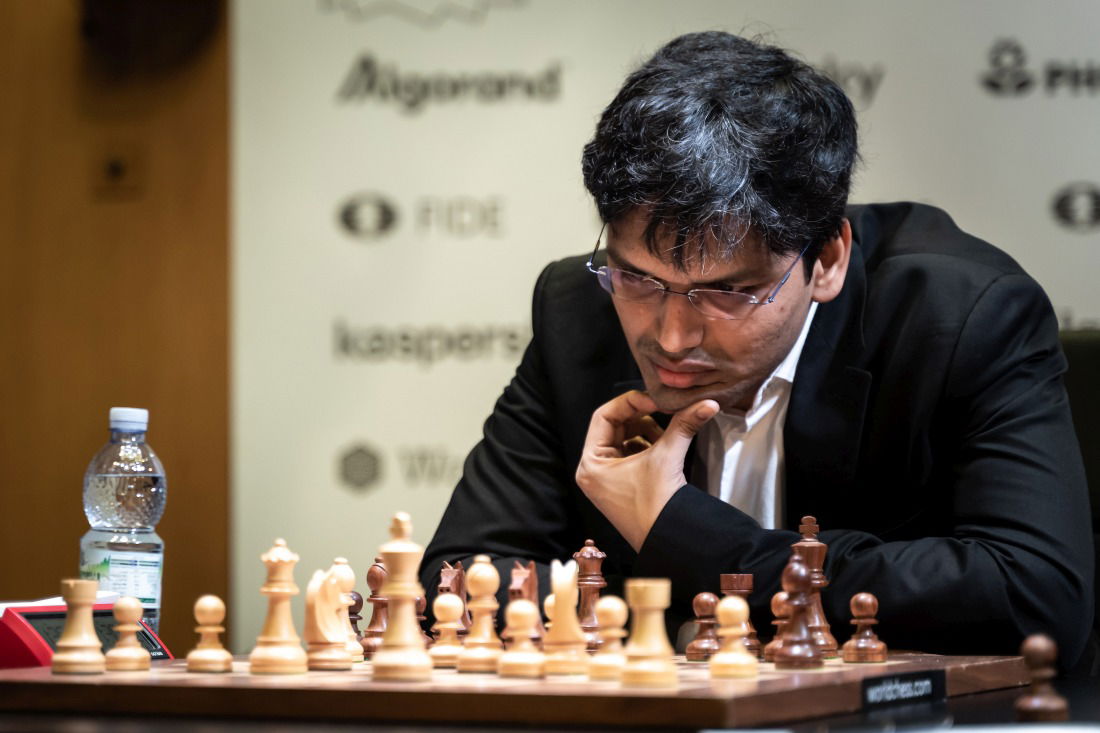 The FIDE chess. com online nations cup has been no fun for Indian fans. We have lost three out of the four matches . And although Indian team is only on one point out of eight, it is interesting to note that in three of their matches they had excellent chances to win. It was only against the Chinese team in round four that we were completely outplayed. With six rounds to go there is still everything to play for. And India doesn't have to finish first, even fourth place will propel them to the super finals on May 10th! Day three will be crucial as India takes on Russia in round five and USA in round six.
---
Related news
:
Anand speaks on the Indian youngsters, Olympiad 2022 and the FIDE elections

@ 04/08/2022 by Himank Ghosh (en)
Billionaire Nikhil Kamath admits to beating Vishy Anand using unfair means

@ 14/06/2021 by Sagar Shah (en)
एशियन U14 नेशंस कप - भारत नें जीता स्वर्ण पदक

@ 02/04/2021 by Niklesh Jain (hi)
Vishy Anand and Vladimir Kramnik to play a four-game match of No-Castling Chess

@ 23/02/2021 by Sagar Shah (en)
एआईसीएफ़ के सलाहकार बोर्ड में शामिल होंगे आनंद

@ 09/01/2021 by Niklesh Jain (hi)
Vishy Anand turns 51 years old

@ 11/12/2020 by Sagar Shah (en)
दिखा नारीशक्ति का दम "एशियन चैम्पियन बने हम "

@ 25/10/2020 by Niklesh Jain (hi)
Asian Online Nations: Indian Women clinch Gold, Men win Silver

@ 25/10/2020 by Shahid Ahmed (en)
धमाकेदार अंदाज से भारत एशियन कप के फाइनल मे

@ 24/10/2020 by Niklesh Jain (hi)
Asian Nations Online: Indian Men and Women are through to the Finals

@ 24/10/2020 by Shahid Ahmed (en)
Asian Nations Online: Indian Men and Women rush to the Semi-Finals

@ 23/10/2020 by Shahid Ahmed (en)
भारत एशियन नेशंस कप के सेमी फाइनल में पहुंचा

@ 23/10/2020 by Niklesh Jain (hi)
Asian Online Nations Cup Quarter-Finals: Men against Mongolia, women versus Kyrgyzstan

@ 23/10/2020 by Sagar Shah (en)
एशियन नेशंस कप क्वाटर फाइनल - भारत है तैयार

@ 22/10/2020 by Niklesh Jain (hi)
एशियन नेशंस कप - भारत क्वाटर फाइनल मे पहुंचा

@ 19/10/2020 by Niklesh Jain (hi)
Asian Nations Online R7-9: Indian Women top the Preliminary stage

@ 19/10/2020 by Shahid Ahmed (en)
Asian Nations Online R7-9: Nihal saves Team India

@ 18/10/2020 by Shahid Ahmed (en)
एशियन नेशंस कप: महिला टीम नें लगाई जीत की हैट्रिक

@ 18/10/2020 by Niklesh Jain (hi)
Asian Nations Online R4-6: Indian Women make a hat-trick

@ 17/10/2020 by Shahid Ahmed (en)
Asian Nations Online R4-6: Sasikiran anchors through the storm

@ 16/10/2020 by Shahid Ahmed (en)
एशियन कप - इन्डोनेशिया ,म्यांमार से खेलेगा भारत

@ 15/10/2020 by Niklesh Jain (hi)
Asian Nations Online R1-3: Indian Women have a difficult start

@ 11/10/2020 by Shahid Ahmed (en)
Asian Nations Online R1-3: Indian Men make a good start

@ 10/10/2020 by Shahid Ahmed (en)
एशियन नेशन्स कप - भारत का अभियान आज से शुरू

@ 10/10/2020 by Niklesh Jain (hi)
Team India is the favorite at the Asian Online Nations Cup 2020

@ 09/10/2020 by Shahid Ahmed (en)
Vishy Anand back home...finally!

@ 15/06/2020 by Susan Ninan (en)
जर्मनी से वतन भारत वापस लौटे विश्वनाथन आनंद

@ 01/06/2020 by Niklesh Jain (hi)
फबियानों करूआना : सर्वश्रेष्ठ नेशन्स कप खिलाड़ी

@ 12/05/2020 by Niklesh Jain (hi)
चीन बना फीडे ऑनलाइन नेशन्स कप का विजेता

@ 11/05/2020 by Niklesh Jain (hi)
फीडे नेशन्स कप:R:9&10 - चीन और अमेरिका फ़ाइनल में ,भारत को खूब खली आनंद की कमी

@ 10/05/2020 by Niklesh Jain (hi)
Learn from India no.1, 2 and 3: Vishy, Vidit and Hari

@ 09/05/2020 by Sagar Shah (en)
फीडे नेशन्स कप :R-7&8 भारत की मिली पहली जीत

@ 09/05/2020 by Niklesh Jain (hi)
फीडे नेशन्स कप:R-5&6: आनंद की दहाड़ पर फिर भी नहीं जीते हम

@ 08/05/2020 by Niklesh Jain (hi)
Vishy Anand beats Ian Nepomniachtchi in 17 moves | Online Nations Cup Day 3

@ 08/05/2020 by Sagar Shah (en)
फीडे नेशन्स कप:R 3 & 4 : यूरोप और चीन से हारा भारत

@ 07/05/2020 by Niklesh Jain (hi)
फीडे नेशन्स कप:राउंड 1 & 2:अमेरिका से बराबरी तो रेस्ट ऑफ द वर्ल्ड से हारा भारत

@ 06/05/2020 by Niklesh Jain (hi)
A tough first day for team India at the Online Nations Cup 2020

@ 06/05/2020 by Sagar Shah (en)
फीडे नेशन्स कप :D1:अमेरिका और रेस्ट ऑफ वर्ल्ड से खेलेगा भारत मुक़ाबला

@ 05/05/2020 by Niklesh Jain (hi)
India will take on USA and ROW on day one of the Online Nations Cup

@ 05/05/2020 by Sagar Shah (en)
फीडे ऑनलाइन नेशन्स कप - विश्वनाथन आनंद के नेत्तृत्व में खेलगी मजबूत भारतीय टीम

@ 24/04/2020 by Niklesh Jain (hi)
Indian team at Nations Cup = Anand, Vidit, Hari, Beast, Humpy and Harika

@ 24/04/2020 by Sagar Shah (en)
Online Nations cup will see Vishy Anand back in action from 5th to the 10th of May

@ 21/04/2020 by Sagar Shah (en)
Attend the Vishy Anand ET Now webinar on 19th of April 2020 at 1.30 p.m.

@ 19/04/2020 by Sagar Shah (en)
"Hang in there and this will pass soon" - Vishy Anand

@ 02/04/2020 by Sagar Shah (en)
50 वर्ष के हुए आनंद ! भारत रत्न के है हकदार !

@ 11/12/2019 by Niklesh Jain (hi)
Vishy Anand versus Gujarat

@ 08/09/2019 by Sagar Shah (en)
Vishy Anand welcomes Nihal Sarin to the 2600 club!

@ 03/06/2019 by Sagar Shah (en)
The friendship and rivalry between India's first two GMs - Vishy Anand and Dibyendu Barua

@ 15/04/2019 by Rakesh Rao (en)
The solution to the mate in three problem given by Kramnik to Anand

@ 27/02/2019 by Sagar Shah (en)
The mate in 3 study which was given to Anand by Kramnik

@ 20/02/2019 by Sagar Shah (en)
Vintage Vishy - Why do we call him that?

@ 14/02/2019 by Sagar Shah (en)
What happened when Gukesh and Pragg visited Vishy Anand's home in Chennai

@ 07/02/2019 by Sagar Shah (en)
Anand on Wijk: "It's a bit like coming home"

@ 04/02/2019 by Aditya Pai (en)
Limited spots for two-day chess training workshop with Vishy Anand

@ 19/01/2019 by Sagar Shah (en)
World Rapid Championship: Anand closes in on the tournament leaders going into the final day

@ 28/12/2018 by Aditya Pai (en)
World Rapid Championship: Tough day for Carlsen

@ 27/12/2018 by Aditya Pai (en)
Indian grandmasters share Vishy Anand gems on his 49th birthday

@ 12/12/2018 by Sagar Shah (en)
Vishy Anand recaps Carlsen versus Caruana World Championship Match 2018

@ 01/12/2018 by Sagar Shah (en)
Batumi Chess Olympiad: India's chances of a podium finish diminish after a catastrophic ninth round

@ 04/10/2018 by Aditya Pai (en)
Batumi Chess Olympiad: Sasikiran helps India edge out Czech Republic, women suffer their first loss

@ 03/10/2018 by Aditya Pai (en)
Batumi Olympiad round 4: USA too strong for team India, women beat Poland

@ 28/09/2018 by Aditya Pai (en)
Live Games and Updates of Team india from Batumi Olympiad 2018

@ 24/09/2018 by ChessBase India (en)
I may take risk in chess, but it is completely unacceptable in finance - Vishy Anand

@ 23/09/2018 by Nongsha Angom (en)
Vishy Anand on the cover of Sports Illustrated India

@ 20/09/2018 by Sagar Shah (en)