Asian Nations Online R4-6: Indian Women make a hat-trick
Indian Women made a strong show on the second day of Asian Online Nations Cup as they won all three matches between Round 4 and 6. Team India defeated Myanmar 0.5-3.5, whitewashed Singapore 4-0 and beat Indonesia 1-3 convincingly. Vaishali played fantastic and won all three games. Captain Mary Ann also led steadily by winning both of her games. Bhakti lost her second game in the event after a tactical error. Nandhidhaa managed to survive a danger and salvage a draw. Padmini is also doing well in the tournament. Only in Round 6 she misplayed in the opening and got into trouble but managed to swerve all threats and walk away with a victory. Team India is currently at the second spot with 10.0/12 after Philippines whom they will face on Monday 19th October from 11:30 a.m. IST. Photo: Various sources
Indian Women make a strong comeback
Team India made a strong comeback and won all three matches between Round 4 and Round 6. Vaishali won all three of her games without any difficulty. Bhakti continues to find her form as once again she stumbled, this time against Medina in Round 6. Padmini made some difficult choices in Round 6 but she had fervor on her side and things eventually worked out in her favor. Nandhidha survived a difficult position in Round 4 and managed to salvage a draw. Mary Ann continued to lead from the front as she won both her games comfortably and she is now at 100% score.
Round 4: Myanmar - India 0.5-3.5
Vaishali beat Hsu Lwin on time in a seemingly equal Double Bishop endgame. Although she gained advantage in the middlegame using tactics, but couldn't convert it into a substantial advantage.
May - Vaishali
Find out why 19.Nd7 is a mistake.
Bhakti won her game with ease against Hsett Lwin May as the Mongol left her piece hanging before misplaying completely in the middle game. Padmini made a greek gift sacrifice and scored a clinical victory against Soe Ohnmar in just 26 moves when her opponent ran out of time in a completely lost position. Nandhidhaa was in a completely lost position but somehow she managed to salvage a draw.
Nandhidhaa - Nan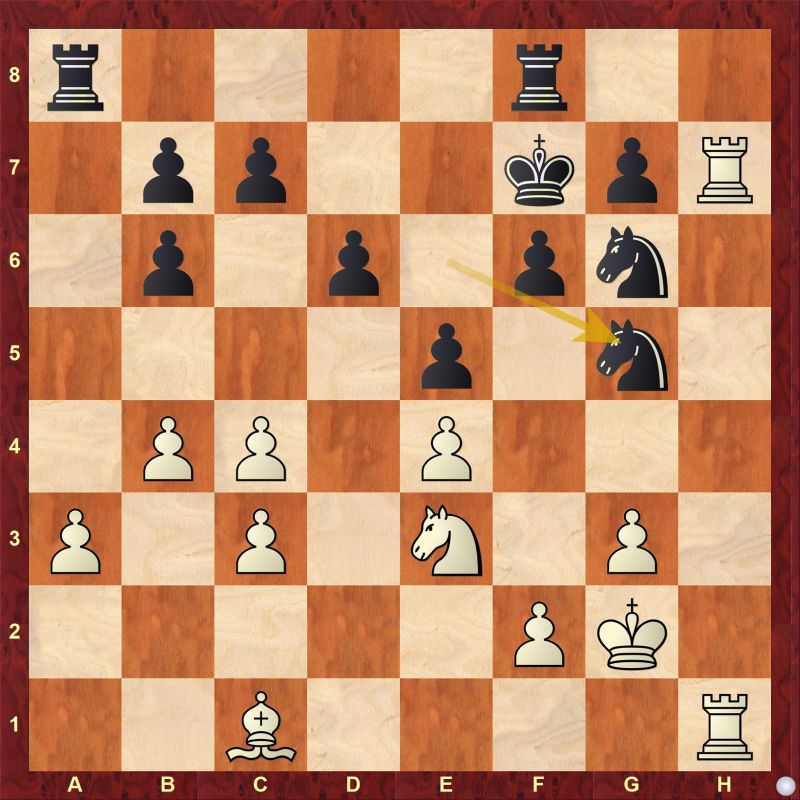 With just 100 seconds left on the clock, white played the natural 37.R7h2 which turned out to be not the best move in this position. What was the better continuation for white?

Round 5: India - Singapore 4-0
Vaishali scored a fine victory after her opponent WGM Qianyun Gong miscalculated a tactic which backfired her and she lost a pawn in the process. She made a bigger tactical error later which cost her a lot of material and the game. Padmini took every chance she was presented and decimated her opponent WFM Yang Hazel Liu with a brave play. Nandhidhaa took advantage of her opponent Kun Fang's passive play and struck her tactically when she made a mistake. Mary Ann beat her opponent by playing correctly in the endgame and eventually Xiu Ning Charlene made a tactical error and lost a piece and the game. Thus all four women won their respective game comfortably and whitewashed Singapore 4-0.
Round 6: Indonesia - India 1-3
IM Irine Kharisma Sukandar made an incorrect sacrifice to expose Vaishali's kingside open. However the Indonesian found no compensation for it and arrived at a completely lost position.
Irine - Vaishali
Of course 26...Qxg7 would be a blunder because of 27.Rg3. So Vaishali continued the game with 27...Kxg7 and white had no compensation. White should have played 27.Nc6 directly instead of playing it after the sacrifice.
Bhakti continues to have a tough tournament as she lost her second game of the event. At critical juncture, the reigning National Women's champion made an incorrect exchange followed by a tactical error which gave her opponent IM Medina Warda Aulia, a decisive advantage.
Bhakti - Aulia
What is the correct way to take on c5 for white?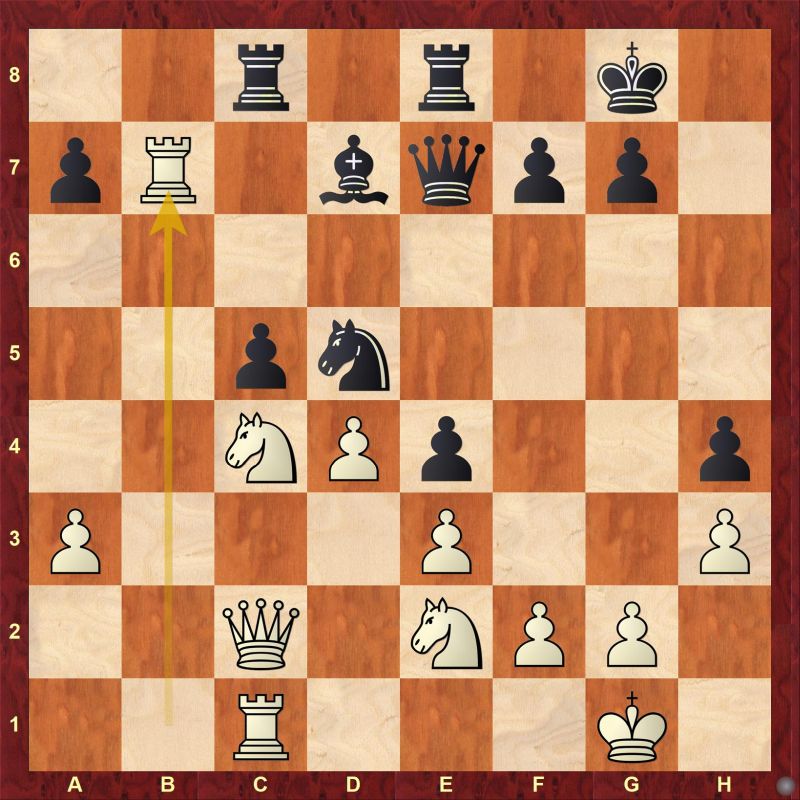 Find out why 23.Rb7 is a blunder and what white could have played instead.
Padmini got in trouble early in the game when she decided to recapture with the king. Although there was nothing definite and her opponent WIM Chelsie Monica decided not to take a risk.
Chelsie - Padmini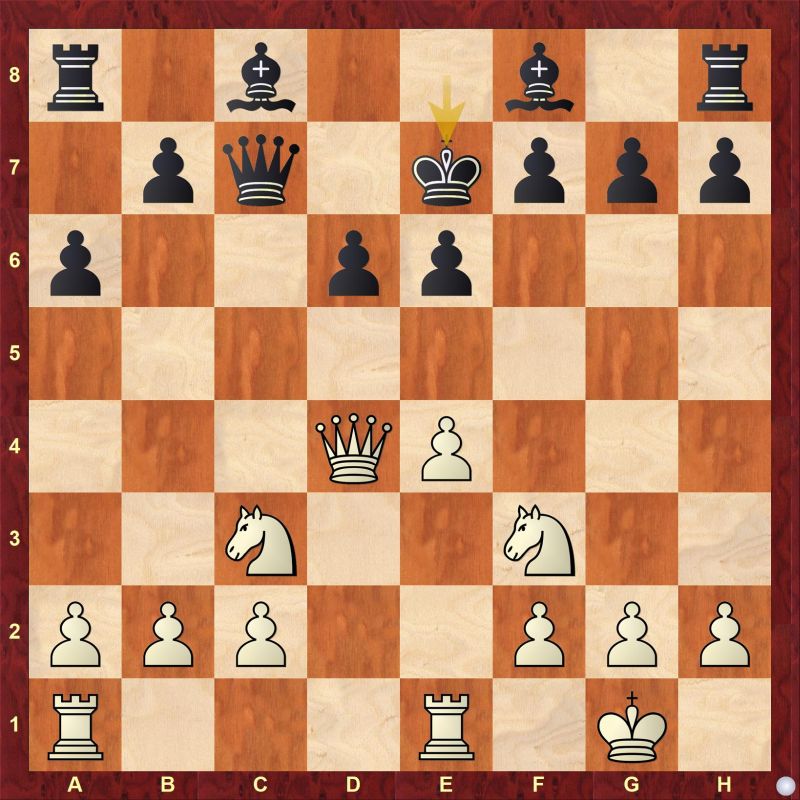 11...Qxe7 would have been probably less dangerous. What is the first thought comes to your mind when you see the position? If it is 12.Nd5+ then you have the same thought as mine. Although there is nothing concrete, but to defeat a player of the calibre of Padmini, her opponent needed to do something extraordinary which is 12.Nd5+. White continued with a timid 12.Nh4 and all momentous opportunity evaporated.
White is presented another opportunity after 13...Qc5. Can you spot it?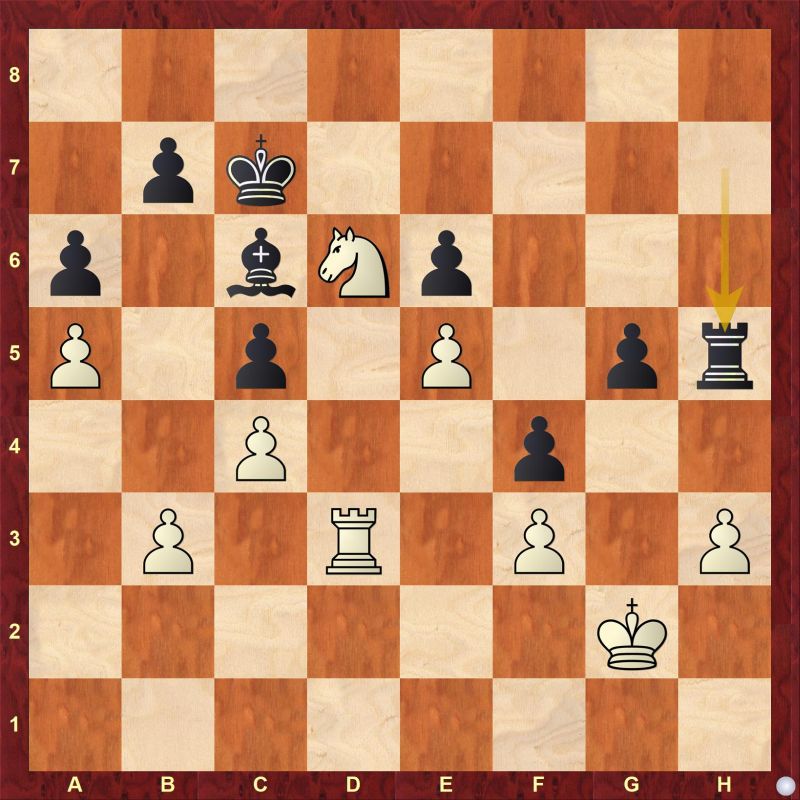 The final opportunity came after 41...Rh5. What is the best continuation for white? Eventually white allowed black to get g4 at an inopportune moment and Padmini walked away with the victory. It was just not Chelsie's day.
Mary Ann won her game with ease with a solid play against WIM Dita Karenza.
Women's Round 7 - 9 will take place on Monday 19th October from 11:30 a.m. IST onwards. On Sunday 18th October, Indian Men's team will resume their tournament in Round 7.
Replay the Live stream
Replay Round 4-6 games of Team India
Standings after Round 6
| | | | | | | | | | | |
| --- | --- | --- | --- | --- | --- | --- | --- | --- | --- | --- |
| Rk. | SNo | | Team | Games | + | = | - | TB1 | TB2 | TB3 |
| 1 | 7 | | Philippines | 6 | 5 | 0 | 1 | 10 | 19,5 | 0 |
| 2 | 1 | | India | 6 | 5 | 0 | 1 | 10 | 18,5 | 0 |
| 3 | 6 | | Iran | 6 | 5 | 0 | 1 | 10 | 17,0 | 0 |
| 4 | 8 | | Mongolia | 6 | 4 | 1 | 1 | 9 | 18,0 | 0 |
| 5 | 3 | | Kazakhstan | 6 | 4 | 1 | 1 | 9 | 17,0 | 0 |
| 6 | 5 | | Vietnam | 6 | 4 | 0 | 2 | 8 | 17,0 | 0 |
| 7 | 15 | | Kyrgyzstan | 6 | 4 | 0 | 2 | 8 | 14,0 | 0 |
| 8 | 2 | | Indonesia | 6 | 4 | 0 | 2 | 8 | 13,5 | 0 |
| 9 | 11 | | Singapore | 6 | 4 | 0 | 2 | 8 | 12,5 | 0 |
| 10 | 18 | | Sri Lanka | 6 | 3 | 1 | 2 | 7 | 14,5 | 0 |
Links
---