Asian Nations Online R7-9: Indian Women top the Preliminary stage
Indian Women finished at the top of the Preliminary stage with 16.0/18, three points ahead of the next team Philippines. Once again they made a hat-trick by beating Philippines, Kazakhstan and Vietnam. The first win against Philippines was a convincing one 3-1, however the next two victories were in narrowest of margins with 2.5-1.5. Nandhidhaa got her rhythm back as she played more to her attacking style, Padmini scored important points despite missing two wins today and Mary Ann continues her consistent form. Only Bhakti needs to recuperate her form and Vaishali needs to start afresh again because she did not have the best of days today. They will now face Kyrgyzstan on Friday 23rd October in the Quarter-finals in a duel from 11:30 a.m. IST. Photo: Shahid Ahmed and IA Gopakumar Sudhakaran
Mary Ann, Padmini and Nandhidhaa keep it steady
Team India scored another hat-trick to finish at the top of the preliminary stage 16.0/18. They will now face Kyrgyzstan in the Quarter-finals in a duel on Friday 23rd October 2020. Indian women started the final day of the preliminary stage by beating Philippines 3-1, then the won against Kazakhstan and Vietnam by narrowest margin of 2.5-1.5 to advance to the next stage. Vaishali had a difficult day, as she started with a short draw, lost the next round by making a blunder in the opening and won the last round in an equal endgame. Padmini drew a winning game first then she won the next and in the final game of the day she drew once again despite getting a very good position. Nandhidhaa won both of her game convincingly and so did captain Mary Ann. Bhakti is still search of her form as she barely managed to salvage a draw in one game and lost the other.
Round 7: India - Philippines 3-1
Vaishali Made a short draw in just 17 moves against WGM Janelle May Frayna. She played aggressively out of the opening but Frayna equalized comfortably.
Vaishali - Frayna
White played 10.g4 threatening maybe g5 but there was a better continuation. Find out what it was.
Padmini got a winning position after her opponent WFM Shania Mae Mendoza misplayed in a seemingly equal Queen and Rook ending.
Shania - Padmini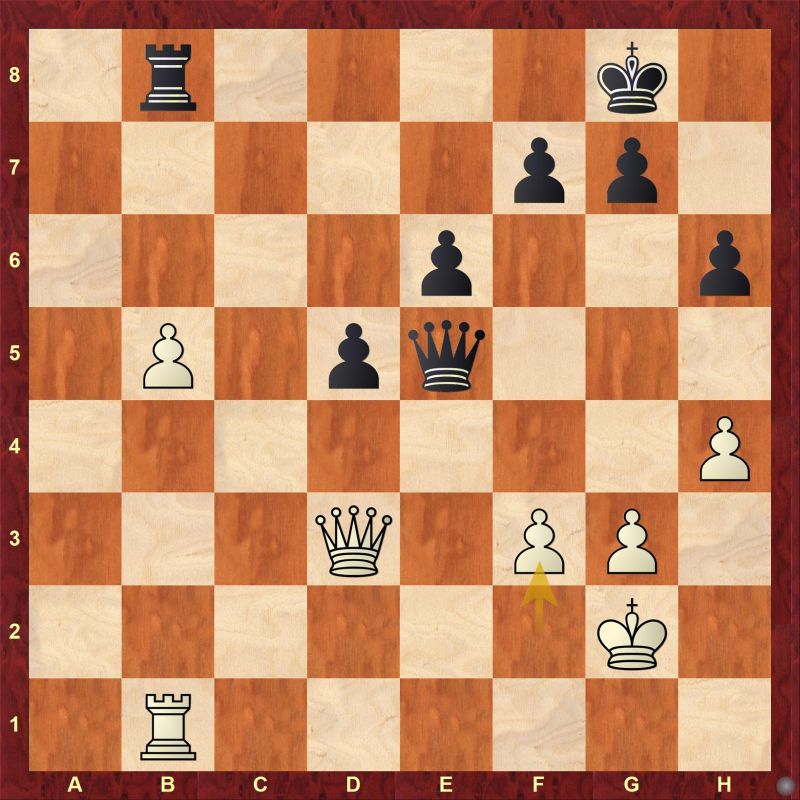 White's first mistake in the endgame was 31.f3. It of course exposes the king and makes the second rank a new virtual back rank which is certainly not good. Find out what white should have done instead.
33.Qc5 definitely makes the white king vulnerable to all tactical possibilities. Perhaps giving a check with 33.Qc8+ and retreating back to c2 would have been safer for white.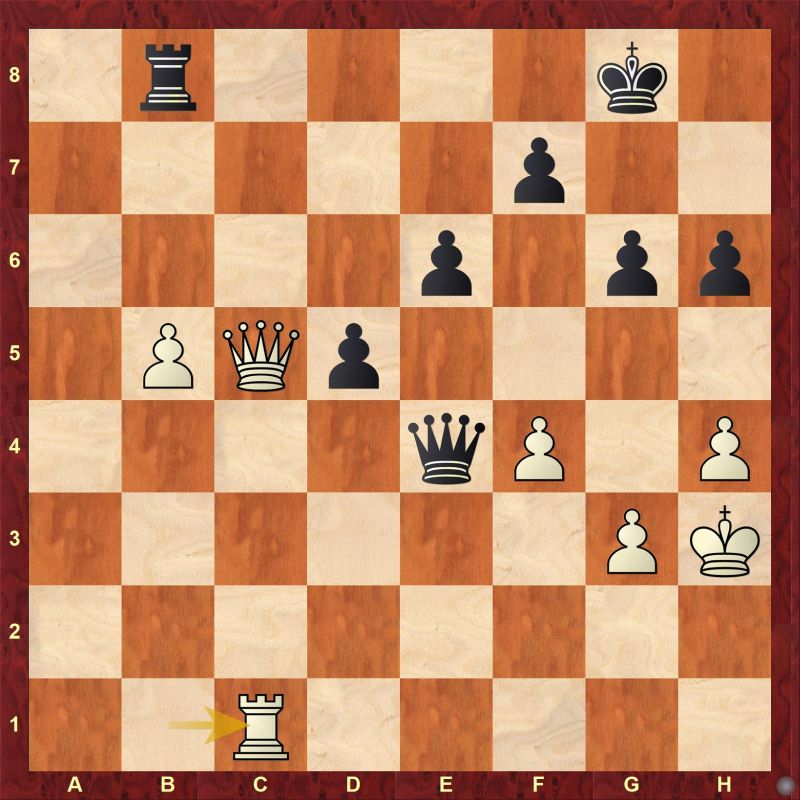 Should black play Qd3 immediately or first give a check and then play Qd3? Find out the key difference between them.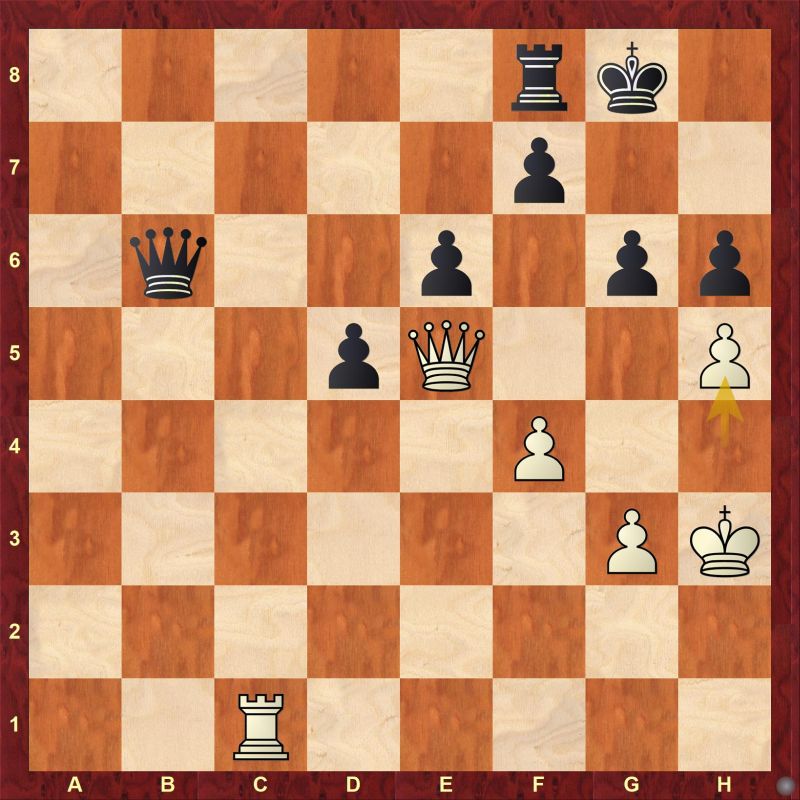 Now that the passed b-pawn is off the board, the win should be easier for black right? Well not exactly. Should black take the h5-pawn here or not? Black made the same mistake which white made earlier and played 40...f6 making the black king susceptible to variety of threats. Eventually the game ended up in a draw in another 15 moves.
Nandhidhaa played aggressively and it paid off. WIM Bernadette Galas faltered early in the middle game.
Nandhidhaa - Galas
In an already difficult position, black made a huge mistake of playing 18...Nde5. Find out why it is a mistake. Nandhidhaa punished her opponent correctly and had the game won in 25 moves. The rest was just a matter of eventuality.
How do you understand when a player is in form? When the complex decisions are taken with ease and correctly. WIM Kylen Joy Mordido had no chance against no chance the in-form Mary Ann.
Mordido - Mary Ann
How should black respond to 20.f4 ? It is certainly not a bad move but black has to make the right decision.
It is evident that black has complete control over the position, so how should black recapture on e5 to maintain her dominance?
Round 8: Kazakhstan - India 1.5-2.5
Vaishali blundered (could be a mouse slip too) in the ninth move of the opening against FM Bibisara Assaubayeva and she was completely lost by the tenth move of the game.
Vaishali - Assaubayeva
Well 9...Ra7 is a point of no return. Considering how Assaubayeva is wreaking havoc in online events, it is obvious that she wouldn't let go of this opportunity and she didn't.
Bhakti once again had a hard time against WGM Gulmira Dauletova. She barely managed to salvage a draw from a completely lost position.
Bhakti - Gulmira
Black has a space advantage on the queenside. How can black increase her advantage after 18.exf4 ?
With over 20 seconds left on the clock Gulmira blundered in a completely winning position by playing 44...Nd4, allowing Bhakti to salvage a draw. What was the winning continuation for black instead?
Nandhidhaa played solid and WFM Meruert Kamalidenova without a great difficulty. Nandhidhaa made a tiny error in the game which her opponent failed to capitalize only to make a mistake herself later to lose the game.
Nandhidhaa - Meruert
Find out why 36.Ke3 is a mistake and how black should capitalize on it.
Black tried too hard with 49...Kb6 which caused her the game. What was the better continuation?

Round 9: India - Vietnam 2.5-1.5
Vaishali beat WGM Thi Kim Phung Vo in a seemingly equal Knight ending after the Vietnamese blundered in a difficult position.
Vaishali - Kim
It is evident that white is at an advantage due to black's poorly placed knight and white's advanced king. What is the first step to ensure white's victory after 46...Kg6 ?
Black has to make a difficult decision here. Where to move the knight - b7 or f7?
Bhakti's off-form continues as she misplayed in the opening, giving her opponent WGM Nguyen Thi Mai Hung advantage early in the middle game.
Bhakti - Mai
Find out the winning combination for white after 28...Qb4
Padmini got fantastic position in the middle game but she was unable to squeeze a full point out of it. Of course it was not easy.
Padmini - Thanh
White almost got a dream position and it is a surprise that this did not turn out to be a win.
Mary Ann played absolutely solid and pounced at the opportunity when her opponent WIM Hong Anh Nguyen presented.
Mary Ann - Hong
Black was already dominating the position, white making a blunder with 38.Qf4 only accentuated it.
Indian Women will face Kyrgyzstan in the Quarter-Finals on Friday 23rd October from 11:30 a.m. IST onwards. While Kyrgyzstan is not a formidable foe for the Indian Women, but one should not look past a team and look too far ahead. Indian Men's team will resume their tournament in Round also play Quarter-Finals on the same day at the same time against Mongolia.
Key elements for Team India to win a Gold
Indian Women's team is performing fantastic and the result shows as the team finished at the top of the preliminary stage. However there are still some chink in armor which can be repaired over the next three days.
1. Vaishali played well throughout the event so far but today she did not have a good day. So she will have to start from the beginning all over again.
2. Bhakti needs to get her form back. So far we haven't seen what she is capable of doing.
3. Padmini remained unbeaten so far and scored all important points but she needs to give less chances to her opponents for a comeback.
4. Nandhidhaa definitely got her rhythm back, she needs to play more to her natural style.
5. Mary Ann does not need to change anything, she needs to keep doing whatever she is doing because it is working perfectly.
Replay the Live stream
Replay Round 7-9 games of Team India
Standings after Round 9
Links
---