Asian Nations Online: Indian Men and Women are through to the Finals
Indian Men and Women are aiming for Gold as they are looking the strongest they have ever been in the entire event. Adhiban is back in his form, so is Sethuraman. Only Sasikiran suffered the sole defeat among the Indian in the entire Semi-Final. Indian Men beat Kazakhstan 5.5-2.5 and Indian Women beat Mongolia 7.5-0.5 in the Semi-Finals. The Women's team scored the exact same score as Quarter-Finals, only their first and second Duel scores got interchanged. The Men's team will face Australia and Women's team will be up against Indonesia in the Finals tomorrow on Sunday 25th October from 11:30 a.m. IST onwards. While the Women have already beaten their final opponent in the preliminaries by 3-1, the Men's team needs to get even as they drew with Australia 2-2 earlier. Photo: Various sources
Indian Men and Women hunt for the Gold
'The Beast' is back in his form as Adhiban scored two important victories including the sole victory in the first battle of the Semi-Final Duel against Kazakhstan. That helped team India win the first battle. Nihal drew the first game after his opponent missed a winning combination but the young lad made a strong comeback by getting an advantage out of the opening. Sethuraman drew the winning game in his first battle but won the next one convincingly after his opponent created an easy target for him. Sasikiran had a difficult day as he was held to draw by perpetual in the first game but he lost the second one by making a tactical error. Meanwhile the Indian Women's team continues their impressive run as Vaishali, Padmini and Nandhidhaa won both of their games. Only Mary Ann was held to a draw after missing a sure win in the endgame. Bhakti also played solid and picked up an important victory to make sure Indian Women whitewash Mongolia 4-0.
Men SF - Duel 1: India - Kazakhstan 2.5-1.5
Adhiban played solid, scored the only victory of the first battle in the duel for the team. Just the moment it seemed like the game is heading towards a draw, his opponent GM Rinat Jumabayev blundered his queen in one move.
Adhiban - Jumabayev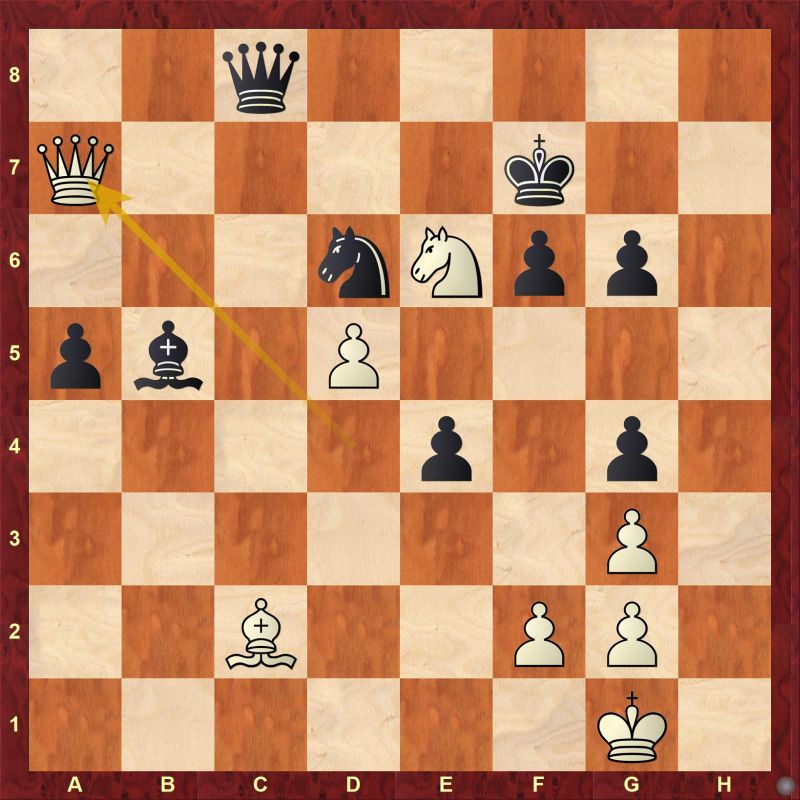 It is true that the position is tricky and black had just over 20 seconds to find the only move that saves black after 45.Qa7+. Can you find it?
Nihal made a tactical oversight, luckily he got away as his opponent GM Rustam Khusnutdinov despite having almost ten minutes left on the clock couldn't find the combination which would have given him a material and subsequently decisive advantage.
Khusnutdinov - Nihal
Find out why 21...Qg6 is a blunder and what black could have done instead. The game continued with 22.Qxg6 hxg6 23.Nxd6. So what did exactly white miss?
Sethuraman dominated the majority of the middle game against GM Anuar Ismagambetov. He even had his opponent's knight trapped and could have captured it on numerous occasion but he missed them all and the game fizzled out to a draw.
Sethuraman - Ismagambetov
The a2-knight is trapped. How can white make sure to capture it for free? The best opportunity white had to gain the knight for free was after 26...Qf7
Sasikiran was held to a draw by perpetual check by IM Denis Makhnev in 27 moves.
Duel 2: Kazakhstan - India 1-3
In the second Duel, Adhiban wrecked his opponent in just 29 moves after Jumabayev made an unforced error in a seemingly equal position.
Jumabayev - Adhiban
White just needed to play 25.bxc4 and everything would have been fine. But 25.Qxc4 invited Nd2 and then white made a bigger mistake with 26.Qc1. Find out why it is a game losing blunder.
Nihal made a good recovery by punishing his opponent for making a mistake in the opening. Khusnutdinov's uneven play allowed Nihal to be in firm control and liquidate into a winning endgame.
Nihal - Khusnutdinov
The position is incredibly difficult for black to save the game.
Sethuraman managed to convert his advantage into a full point. However this time he gave his opponent a chance to comeback, fortunately he did not notice and Sethuraman scored an important victory.
Ismagambetov - Sethuraman
18.h3 creates an easy target for black. What's the first thing that comes to your mind?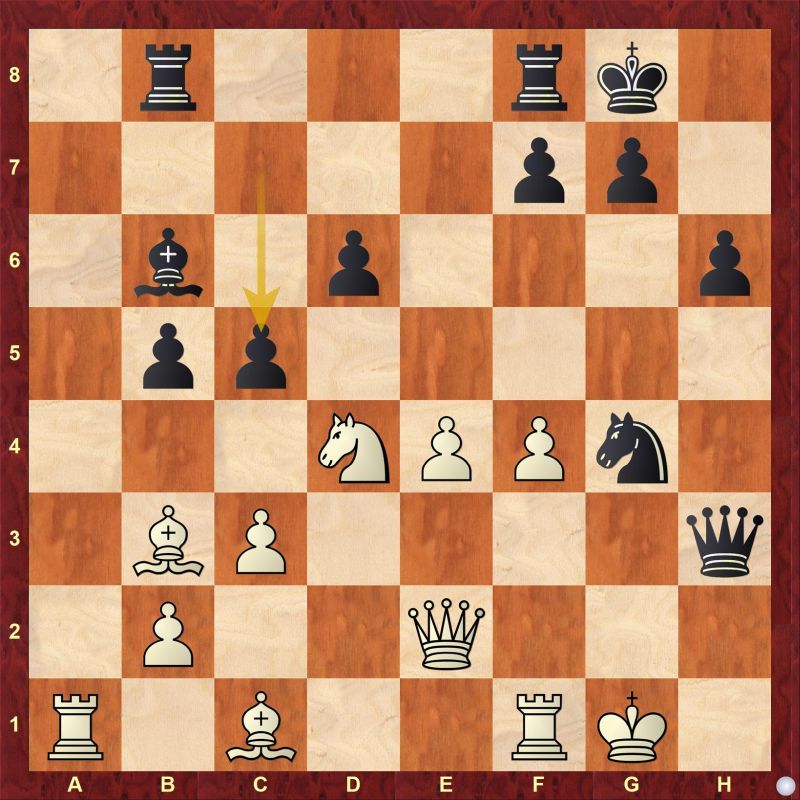 23...c5 gives white a chance to get back in the game. How? White missed the only opportunity to turn things around and played 24.Bd1 instead.
Sasikiran lost his first game of the event against IM Denis Makhnev as he made a tactical error with less than a minute left on the clock.
Sasikiran - Makhnev
White needed to recapture with the c-pawn and the position would've been fine but 31.exd5 allows black to pickup the d5-pawn because of tactics.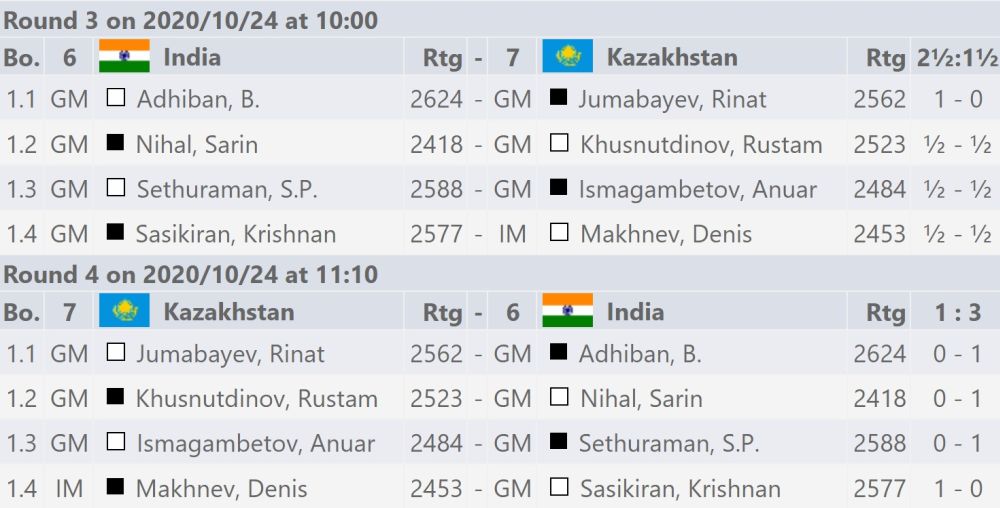 Women SF - Duel 1: India - Mongolia 3.5-0.5
Indian Women dominated Mongolia as they had similar score against Mongolia like they had against Kazakhstan yesterday in the Quarter-Finals, only the Duel scores got interchanged in both battles. Vaishali got an advantage early in the opening against IM Batkhuyag Munguntuul. However she allowed the Mongol to get back in the game later.
Vaishali - Munguntuul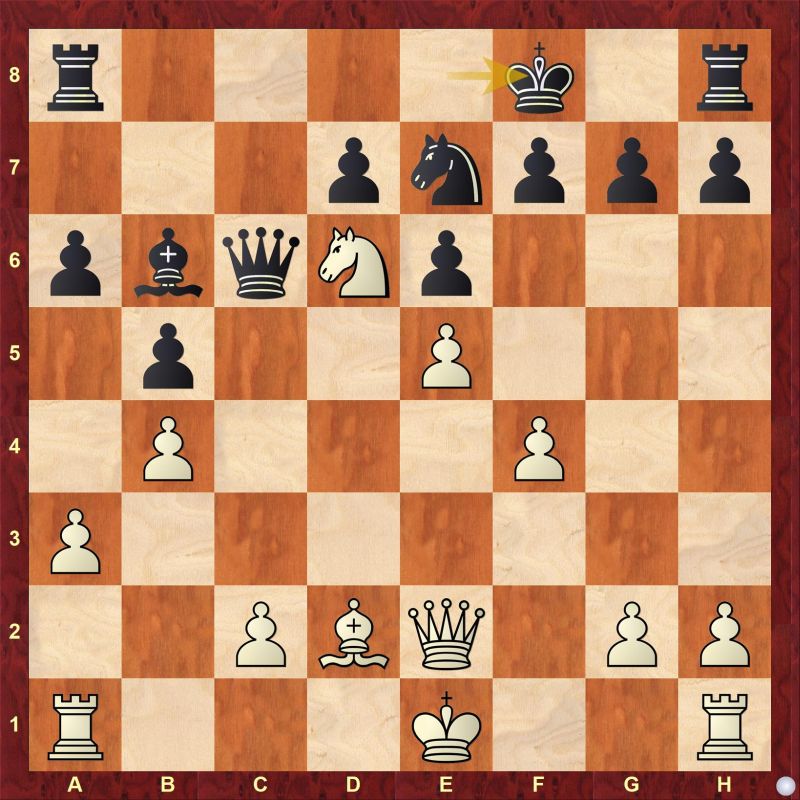 One would expect white to cruise towards victory after getting such a fantastic position out of the opening. However things quickly went south when Vaishali went to grab a poisoned pawn.
Black is completely winning here but you have to find the correct continuation after 27.Rf1. With having over 50 seconds left on the clock, Munguntuul needed to find the best continuation but she could not.
Padmini beat her opponent WIM Bayarjargal Bayarmaa in time in an already winning position. Nandhidhaa beat WFM Boldbaatar Altantuya after the latter made positional mistake. WFM Davaakhuu Munkhzul held Mary Ann to a draw, however Mary Ann was winning completely on two different occasion - once in the middle game and the next one in the final part of the endgame.
Davakhuu - Mary Ann
Find out the best continuation for black after 16.Ng3. The game went on with 16...Be6 which was not the best move.
The more definite chance in the game was after 51.Kg3. Find out the winning continuation for black.
Duel 2: Mongolia - India 0-4
Vaishali won the second battle against Munguntuul with ease as this time she gave no chance to her opponent.
Bhakti scored a solid victory over Bayarjargal.
Padmini scored a clinical win against Boldbaatar.
Nandhidhaa got a decisive advantage early in the opening as her opponent Davaakhu blundered on the eighth move of the game.
Indian Men will face Australia and Indian Women will face Indonesia in the Finals tomorrow Sunday 25th October from 11:30 a.m. IST onwards.
Replay the Live stream
Replay Semi-Final Duels of Indian Men
Replay Semi-Final Duels of Indian Women
Links
---