Asian Nations Online R1-3: Indian Men make a good start
Starting as the top seed in any tournament means having the proverbial target on the back. It goes without saying that expectations also become high. Team India started their Asian Online Nations Cup with a rather shaky start. They won against New Zealand and Iraq in Round 1 and 3 respectively, however they made a draw with Kyrgyzstan in Round 2 as Adhiban and Sethuraman suffered unexpected losses. Sethu's game was appealed by team India and we are awaiting the result of the fairplay committee. With Nihal Sarin yet to play in the tournament, one can only fathom that Team India will only rise up from the next round. Indian Women's team starts their campaign tomorrow, Sunday from 11:30 a.m. IST. Photo: Various sources
Kyrgyzstan holds India to a draw in Round 2
Team India being rating favorite was expected to win all their first three rounds and finish the day with 6.0/6 but unfortunately fate had something else in store for them. They whitewashed New Zealand 4-0 but drew with Kyrgyzstan 2-2 as Adhiban and Sethuraman suffered two losses. In the third round, they had no trouble doing another whitewash of 4-0 to the minnows Iraq. This draw in Round 2 won't affect India's chances of qualifying as there are still six rounds left and they need to finish in top eight to advance to the knockout stages which should not be a difficult task.
Round 1: India - New Zealand 4-0
Round 1 went as much as expected. Team India had no trouble scoring a 4-0. Adhiban picked up a comfortable win on board no.1 against FM Ben Hague.
Adhiban - Hague
Black misplayed the opening and blundered a pawn which eventually cost him the game. If you given a chance to attack, Adhiban will launch one which is evident from the diagram above with 14.h4
Ganguly scored a fine victory against FM John Duneas. However he could have finished things off a bit early.
Duneas - Ganguly
Can black play 31...Bxd4 ? The game continued with 31...f5
Sethuraman checkmated his opponent Michael D Sole in 38 moves.
Sasikiran scored a miniature victory in just 24 moves finishing off Josia Vickers with a Boden's mate.
Vickers - Sasikiran
Find out the finish for black after 22.Bb6
Round 2: Kyrgyzstan - India 2-2
Despite having a decent advantage, Adhiban blundered in time trouble and lost the game in just 31 moves against IM Semetey Tologontegin.
Tologontegin - Adhiban
How should black respond to 24.exf7+ ? With 17 seconds left on the clock, Adhiban decided to take it with 24...Rxf7
With only 21 seconds left on the clock, Adhiban blundered with 25...Rf6. Find out what was the beetter continuation for black here.
Ganguly's beautiful combination helped to win the game in a 23-move miniature against IM Mikhail Markov.
Ganguly - Markov
Find out the winning combination for white after 20...h6.
Sethuraman went wrong early in the Modern Defence aaginst Abdyjapar and it became difficult for him to make a comeback.
Abdyjapar - Sethuraman
It is evident that things did not go well for black early in the opening. However the Indian team has made an appeal to the fairplay team here and we are awaiting the result for the same. If Sethuraman's opponent is caught using unfair means then the result will be reversed and India will win not only this game, but also the match against Kyrgyzstan.
Ruslan Sezdbekov made an unsound exchange sacrifice against Sasikiran in Ruy Lopez Anti-Marshall system.
Sasikiran - Sezdbekov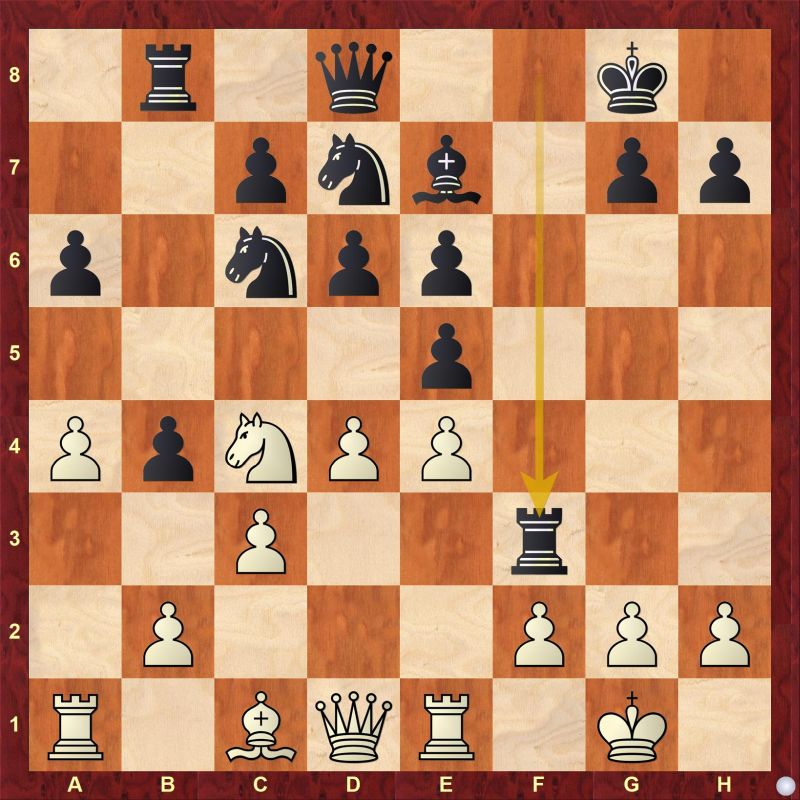 Of course 14...Rxf3 doesn't work as black does not have his resources ready to follow through. Black could not extract enough compensation for the exchange and lost the game in another 19 moves.
Round 3: India - Iraq 4-0
The Beast was obviously ready to avenge his loss in the previous round, so he went for the Exchange Slav.
fireheart92 - Dr_crypt
Black has made a grave positional mistake with 15...Bxc5. Find out what he should have played instead.
Hussein managed to keep an equal position till the endgame where he made a couple of mistakes which cost him the entire game against Ganguly.
Hussien47 - suryaganguly
Find out the best continuation for black after 31.Nf5
Sethuraman was also determined to win after losing the previous round. He played solid and pounced at the opportunity when his opponent Layth presented it.
Sethu0025 - Dralilayth
Find out why 31...d3 is a mistake.
Sasikiran scored a solid victory with the black pieces against Abdulsattar.

Men's Round 4 - 6 will take place on Friday 16th October from 11:30 a.m. IST onwards. Tomorrow Sunday 11th October, Indian Women's team will begin their campaign against Syria in Round 1.
Replay the Live stream
Standings after Round 3
| | | | | | | | | | | |
| --- | --- | --- | --- | --- | --- | --- | --- | --- | --- | --- |
| Rk. | SNo | | Team | Games | + | = | - | TB1 | TB2 | TB3 |
| 1 | 4 | | Philippines | 3 | 3 | 0 | 0 | 6 | 11,0 | 0 |
| 2 | 9 | | Mongolia | 3 | 3 | 0 | 0 | 6 | 10,5 | 0 |
| 3 | 2 | | Kazakhstan | 3 | 3 | 0 | 0 | 6 | 10,5 | 0 |
| 4 | 3 | | Iran | 3 | 3 | 0 | 0 | 6 | 10,0 | 0 |
| 5 | 8 | | Indonesia | 3 | 2 | 1 | 0 | 5 | 10,0 | 0 |
| 6 | 1 | | India | 3 | 2 | 1 | 0 | 5 | 10,0 | 0 |
| 7 | 5 | | Bangladesh | 3 | 2 | 1 | 0 | 5 | 9,5 | 0 |
| 8 | 6 | | Australia | 3 | 2 | 0 | 1 | 4 | 8,5 | 0 |
| 9 | 26 | | Sri Lanka | 3 | 2 | 0 | 1 | 4 | 7,5 | 0 |
| 10 | 19 | | Thailand | 3 | 2 | 0 | 1 | 4 | 7,5 | 0 |
Links
---