Asian Online Nations: Indian Women clinch Gold, Men win Silver
Indian Women looked strong from the beginning of the tournament and they finished strong by beating Indonesia emphatically 6-2 to clinch the Gold. Both Padmini and Nandhiddaa were absolutely fantastic in the knockout stage as they scored 6.0/6 each respectively, Bhakti contributed an important 3.5/4 and Vaishali scored 4.5/6. Captain Mary Ann made two important draws and made all the right decisions. Indian Men's team couldn't overcome the Australia challenge throughout the event as they lost the first Duel by minimum margin 2.5-1.5 and drew the second 2-2, resulting in settling for the Silver. Catch all the action of the final day in this report. Photo: Various sources
Indian Women remain unbeaten at the Knockout stage
Indian Women displayed a total domination as they defeated Indonesia 3-1 in each of the duels taking the final score 6-2 in the Finals of Asian Nations Online Cup. They absolutely deserved and won the Gold. Both Padmini and Nandhidhaa played fantastic in the knockout stage as they won all six of their games. Bhakti also pitched in great with 3.5/4 and Vaishali scored 4.0/6. Mary Ann played only two but she made two important draws. Men's team had a disappointing as they couldn't beat Australia in the entire event. They lost the first Duel by 2.5-1.5 and drew the next 2-2, thus they lost the Final by 4.5-3.5
The winning captain WGM Mary Ann Gomes shared, "I am relieved to tell you the truth. When it comes to the team, it's more actually creditable to them because they made it very easy for me. All of them were ready to play at any point... I think most of the credit goes to them. They made things much easier for me... I don't have much experience when it comes to being the captain but I was very lucky to get a very good team."
On rotating players and strategy Mary said, "Of all the team championships I have played, one of the things I have seen is many times it happens that, if someone's playing very well, we just keep making them play. When someone has very less games and when you want them to play for some reason, it becomes a little for them. Because everyone is like completely in tournament mode and that person is like at the starting point. So I wanted everyone to more or less keep playing so that they are more or less ready at any point to play if there were some issue especially with the problems with internet and stuff."
Women Final - Duel 1: India - Indonesia 3-1
Vaishali was winning for the majority of the game, but she fumbled in the time pressure and had to settle for a draw by perpetual check.
Vaishali - Irine
With a little less than 15 seconds on the clock, Gold on the line and pressure of playing in Asian Nations Cup Finals, Vaishali couldn't find the best continuation here which is perhaps one of the best opportunity white had in the entire game. Can you find it?
Padmini at one point was in a difficult position against IM Medina Warda Aulia. But her opponent's incorrect play allowed Padmini to get back in the game and score the full point.
Aulia - Padmini
White is ready to launch on attack on black's kingside. 24...c5 only helps white. Find out the best continuation for white.
White could have still kept things in her favor, but 26.Ngxh6+ is a blunder as there is nothing definite and black can easily defend the position which happened in the game. 26.Qxd8 Bxd8 27.h5 was a better continuation for white.
Nandhidhaa played absolutely solid and dominated her opponent WIM Chelsie Monica Sihite right out of the opening.
Nandhidhaa - Chelsie
It is evident that white has a decisive advantage here. Find out the best continuation for white.
Mary Ann had a completely winning endgame with two extra pawns in a Rook, Knight and few pawns endgame against WIM Dita Karenz but somehow she lost one and doubled another pawn which caused the position to liquidate into an equal drawish endgame.
Dita - Mary Ann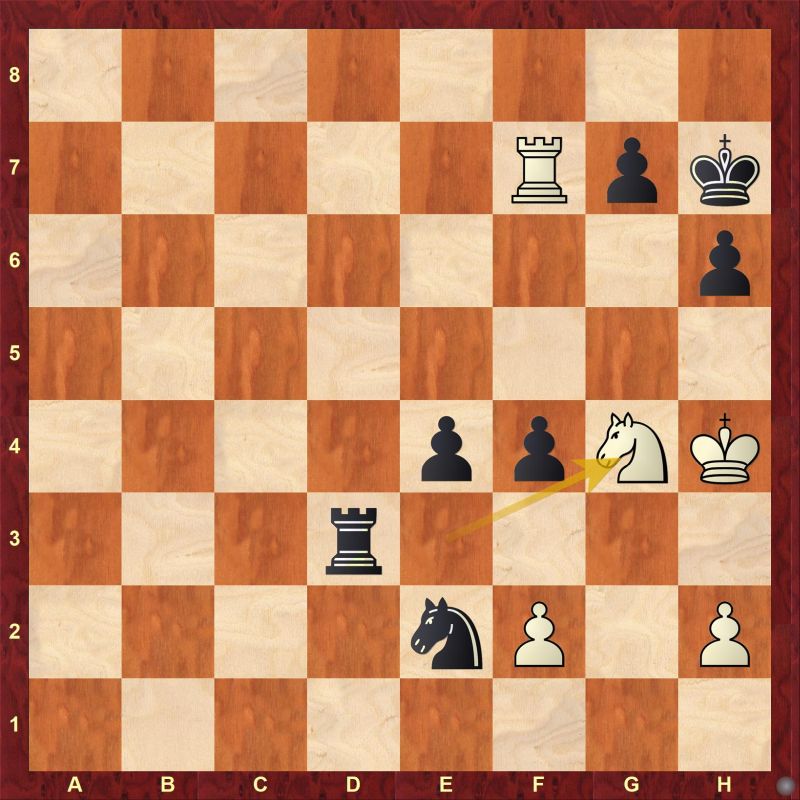 With less 25 seconds left on the clock, black continued with 46...Kg8 and she lost the e4-pawn in the next five moves.
Duel 2: Indonesia - India 1-3
Vaishali misplayed early in the opening and arrived at a minus position against IM Irine Kharisma Sukandar. It only became difficult for her to equalize as the game progressed and finally she succumbed to defeat after 46 moves.
Bhakti had a rollercoaster of a game against Aulia. Despite getting an advantage early in the middle game, she allowed Aulia to get back in the late midd
Bhakti - Aulia
White is in complete control after 16.Nfd6
Perhaps the best chance black had in the game was after 33.Rd1. Can you find what black should have played here? The game went on with 33...Qg4 and black managed to defend.
Padmini played solid and beat her opponent Chelsie without giving any chance in a prolonged battle which went on for 83 moves.
Nandhidhaa continued her attacking display and won by checkmate again, this time against Dita.
Men Final - Duel 1: Australia - India 2.5-1.5
The game between Adhiban and GM Anton Smirnov seemed to have headed towards a draw. However Smirnov presented made a mistake in the endgame which opened a new window of opportunity for Adhiban but he missed it.
Smirnov - Adhiban
The game continued with 24...e4 but what was the better continuation for black here?
Once again the game seemed to be headed towards a draw but black blundered here with 38...Kf6. Find out why it is a blunder and what black could have played instead.
Nihal had an uneventful draw with GM Temur Kuybokarov. However he had a chance to make things interesting but he took a safer route.
Nihal - Kuybokarov
The game went on with 35.Rxh8. However there was a better and interesting continuation for white here. Can you find it?
GM Max Illingworth played fantastic and beat Sethuraman.
Sasikiran scored a solid win over IM James Morris.
Duel 2: India - Australia 2-2
India needed a 3-1 win to the Duel and the Finals or a 2.5-1.5 win to force tie-breaks but unfortunately could only manage a 2-2 draw. Adhiban made a draw against Smirnov despite being better for the majority of the game.
Adhiban - Smirnov
White's last hope of pressing for a win is by keeping the Rook alive with 26.Rb1 or if you have to exchange then via d6-square with 26.Rd6 but 26.Rxd8 almost abandons all hope for a victory.
Nihal made a positional error which his opponent pounced on and scored a victory.
Kuybokarov - Nihal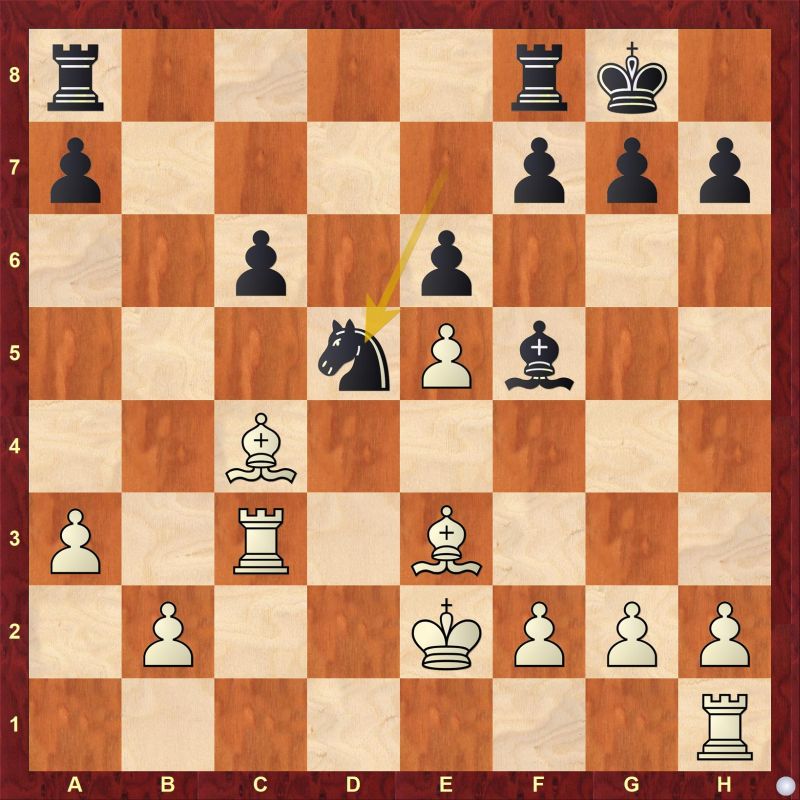 15...Nd5 is a positional mistake. Find out why and what black could have played instead.
Surya scored a solid victory against Illingworth and Sasikiran made a short draw in 22 moves against GM Ly Moulthun
Tweets by Indian Women's team
Tweets by Indian Men's team
Replay the Live stream
Replay Final Duels of Indian Women
Replay Final Duels of Indian Men
Links
---