Asian Nations Online R4-6: Sasikiran anchors through the storm
Indian men did not have a good day as Adhiban, Sethuraman and Ganguly all three fell victim to tactical errors in time pressure. Team India drew with Indonesia and Kazakhstan in Round 4 and 6 respectively. The only win came against Jordan in Round 5. Nihal Sarin made a strong debut at the event and delivered a fantastic 2.5/3. However one must applaud Sasikiran's stellar performance as he anchored through the turbulence by winning all his games and standing at the helm with 6.0/6. Indian Men will resume their final three rounds of the preliminary stage on Sunday, while Indian Women's team resumes their campaign with Round 4 tomorrow, Saturday from 11:30 a.m. IST. Photo: Amruta Mokal
Indonesia and Kazakhstan hold India to a draw in Round 4 and 6
Team India had a tough second day at the preliminary stage of Asian Nations Online Cup. Adhiban had a tough day at the office as he started with a solid draw but the next round he barely managed to salvage a draw from a completely lost position and then he lost the sixth round by making a tactical error. Nihal played solid in all three games. He held Indonesia no.1 Megaranto to a draw in Round 4 and won the next two games comfortably. Sethuraman played only one game today and he lost it after making a tactical error. Captain Ganguly played two games, after winning his Round 5 game with ease, he made a tactical error in Round 6 and lost his first game of the event. Sasikiran is the only player who has played six games and he has won them all. The 'Indian Wall' is once again proving his moniker and anchoring the team through the preliminary stage with his stellar performance.
Round 4: Indonesia - India 2-2
IM Yoseph Theolifus Taher held Adhiban to an uneventful draw as the Indonesian played solid in Maroczy Bind and did not give any chances throughout the game. Nihal played bravely against Indonesia no.1 GM Susanto Megaranto.
Nihal - Megaranto
28.Kxh3 is good but slightly better and safer was 28.Rdc1
The game continued with 32.Qe4 followed by 33.Rh1, find out what was the better plan for white instead.
White played 42.Bd2 followed by 43.Bc2 and 44.Bxa4 which allowed black to get back in the game and equalize. What was the correct plan for white here?
Sethuraman's woes in the tournament continues as he blundered a piece in time trouble against IM Novendra Priasmoro in an already difficult position.
Priasmoro - Sethuraman
Black made a grave mistake of playing 39...Rf8. It's not that the game is over immediately but position deteriorates by a lot. Find out what black should have played here.
The final mistake in the game was 44...Bd5 and the game was over after 45.Rxe5. What could have black played instead?
Sethuraman checkmated his opponent Michael D Sole in 38 moves.
Sasikiran played solid in the Ruy Lopez Breyer to score a much needed victory for team India. However, early in the game he got an opportunity to gain huge advantage which he did not take.
Sasikiran - Agus
Black's last move 17...c6 is incorrect. It creates a window of opportunity for white to gain the upper hand. How?
White is completely in control of the position after 30.Nc4 and it became just a matter of time before he converted it into a victory.
Round 5: India - Jordan 3.5-0.5
Adhiban uncharacteristically was running low on time and he blundered in a completely equal Rook and two minor piece endgame.
Adhiban - Mansour
White just needs to exchange his knights and settle for a draw as that's the maximum white can get here. But the game went on with 29.Rc2 which is a blunder and allowed black to have decisive advantage, except black was unable to seize the opportunity.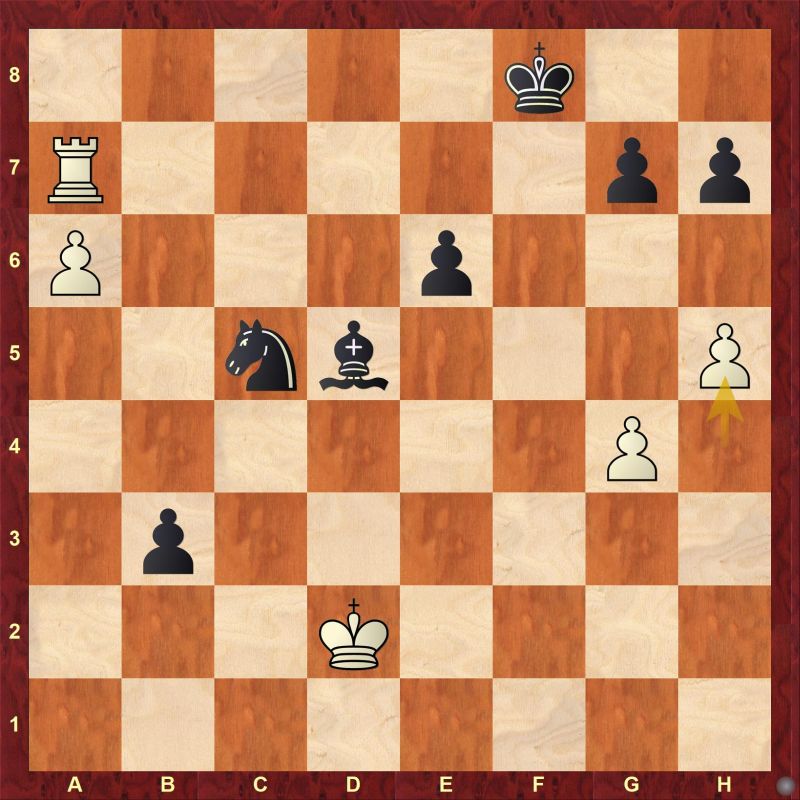 Find out the winning continuation for black after 39.h5
Nihal, Ganguly and Sasikiran all three scored comfortable victories against their respective opponents. However, Marwan Aboudi had a seemingly equal endgame against Sasikiran.
Marwan - Sasikiran
White blundered in the game with 47.f5. Instead if white had decided to play 47.Ne3+ he could have probably saved the game.
Round 6: Kazakhstan - India 2-2
Once again Adhiban faltered in time trouble and blundered a piece.
Jumabayev - Adhiban
Black's last move 30...Qg5 is a blunder. Find out what black should have played to maintain the balance.
Nihal as expected played solid and pounced at the opportunity whenever his opponent presented.
Nihal - Khusnutdinov
In an already minus position, black made things worse for himself with 27...Rc8. Nihal did not hesitate to play 28.Rxc8 Rxc8 28.Bxd5 and then black made further mistake of playing 28...Rc2 which allowed the young speedster to blitz out 29.Rxh7+ and rush towards victory.
Team India's woes continued as Captain Ganguly fell against GM Anuar Ismagambetov as he made a tactical error in time trouble.
Ismagambetov - Ganguly
Find out why 30...Qc5 is a blunder and what he should have done instead.
Sasikiran scored another important victory for the team to make sure India does not lose against Kazakhstan.
Sasikiran - Makhnev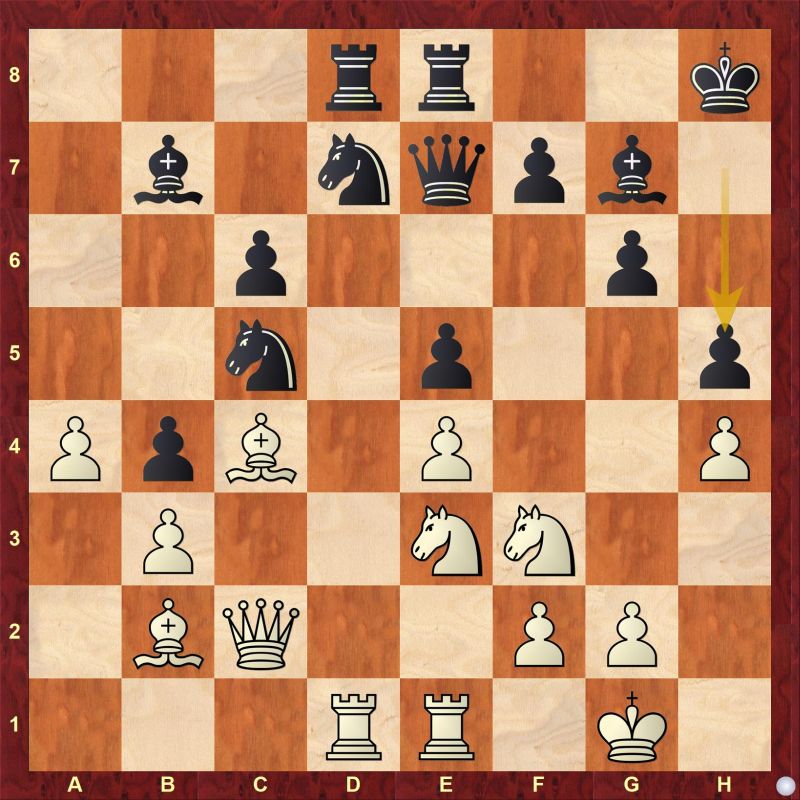 There is an interesting continuation here for white, try to find it. The game continued with 28.Re2
Find out if 43.axb7 is winning for white.
Men's Round 7 - 9 will take place on Sunday 18th October from 11:30 a.m. IST onwards. Tomorrow Saturday 17th October, Indian Women's team will resume their campaign against Myanmar in Round 4.
Replay the Live stream
Replay Round 4-6 games of Team India
Standings after Round 6
| | | | | | | | | | | |
| --- | --- | --- | --- | --- | --- | --- | --- | --- | --- | --- |
| Rk. | SNo | | Team | Games | + | = | - | TB1 | TB2 | TB3 |
| 1 | 3 | | Iran | 6 | 5 | 1 | 0 | 11 | 18,0 | 0 |
| 2 | 6 | | Australia | 6 | 5 | 0 | 1 | 10 | 17,5 | 0 |
| 3 | 2 | | Kazakhstan | 6 | 4 | 2 | 0 | 10 | 17,0 | 0 |
| 4 | 1 | | India | 6 | 3 | 3 | 0 | 9 | 17,5 | 0 |
| 5 | 10 | | Kyrgyzstan | 6 | 4 | 1 | 1 | 9 | 15,0 | 0 |
| 6 | 8 | | Indonesia | 6 | 3 | 2 | 1 | 8 | 17,0 | 0 |
| 7 | 9 | | Mongolia | 6 | 4 | 0 | 2 | 8 | 16,5 | 0 |
| 8 | 4 | | Philippines | 6 | 4 | 0 | 2 | 8 | 16,0 | 0 |
| 9 | 12 | | Japan | 6 | 3 | 2 | 1 | 8 | 14,5 | 0 |
| 10 | 18 | | Nepal | 6 | 4 | 0 | 2 | 8 | 13,5 | 0 |
Links
---