A tough first day for team India at the Online Nations Cup 2020
The FIDE chess. com online nations cup 2020 has kicked off and day one was day of misses for team India. With Humpy scoring a crucial win against USA, India had chances to take down their much fancied opponents. However, Vidit was outplayed by Caruana in a very complex endgame of two bishops vs knight. The match with USA ended in a 2-2 draw. Against Rest of the World in the second round India had great chances thanks to both Harikrishna and Humpy having decisive advantage. But Firouzja tricked Hari and Mariya Muzychuk managed to wriggle out against Humpy. Adhiban lost to Cori Jorge which gave India a defeat with a score 1.5-2.5. We are now in fourth place with 1.0/4. Full report by IM Sagar Shah.
Round 1: India holds USA 2-2
In round 1 of the FIDE chess. com online nations cup Team India was pitted against USA. Although India is the fifth seeds a lot can be expected of them as each of the player on the team is experienced and has played at the top level for quite some time now. Vishy Anand was pitted against Nakamura on the top board, while Vidit Gujrathi was up against Fabiano Caruana. Harikrishna took on Dominguez on board three while Humpy faced Anna Zatonskish.
Zatonskih vs Humpy, Round 1
The right move was ...Qg5! Humpy was naturally afraid that Rd8+ Kg7 Rxa8 would lose the bishop, but here Black has the powerful move ...Nh5+ Kf3 Qf4+ Ke2 Ng3+ when White loses her queen. After ...Kg7 in the game the position was drawish but Zatonskih went wrong and Humpy won.
Caruana vs Vidit, Round 1
Earlier, before the advent of tablebases, it was assumed that this position was a draw. However, the tablebases proved that two bishops always triumph over the knight. The only problem that could be faced is the 50-move rule when the defending side puts up a staunch defence. However, nothing of that sort happened as Vidit was unable to find the best moves with very little time on his clock. Caruana managed to not just round up the knight but also mate the black king in the next 20 moves!
Anand with the white pieces was able to put some pressure on Nakamura but in the end it was not enough for the full point. The game was drawn.
Harikrishna played very aggressively against Dominguez, but the Cuban, who now represents USA, was solid as ever and managed to hold the draw. Team India drew the game against USA with a score of 2:2.
The other match between Europe and Russia also ended in a draw with Aronian losing his game to Artemiev and Duda winning against Andreikin. The only decisive match of the round was China's clinical win over Rest of the world. Hou Yifan, who for the past two years has been taking some time apart from competitive chess, didn't disappoint in her return to the Chinese national team, and won a fine game against Mariya Muzychuk despite playing with the back pieces.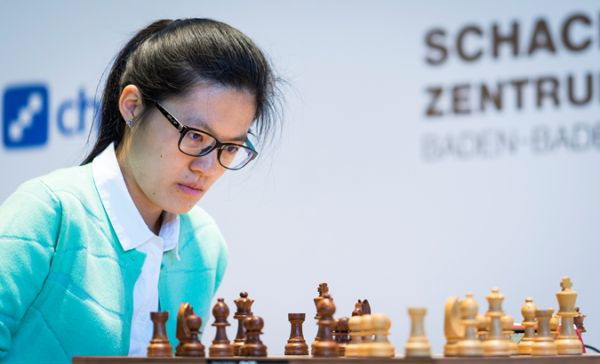 Round 2: India loses to Rest of the World 1.5-2.5
Indians were the favourites going into their game against Rest of the World. Anand took on Radjabov, Vidit was rested, which meant that Harikrishna was up against Alireza Firouzja. Adhiban faced Cori Jorge and Humpy would battle it out with Mariya Muzychuk. In spite of Anand having a bad position, it seemed like India would pull through to a win because Harikrishna had a dominating position against Firouzja while Humpy was completely winning against Muzychuk. Adhiban was also around equal against Cori Jorge. Things changed for the better for team India when in a completely dominating position Radjabov inexplicably went for a drawing line.
Radjabov vs Anand, Round 2
Anand in desperation had moved his pawn to f5. Now a calm move like Bf3 gives White a clear advantage. In fact it would have been quite difficult for Vishy to hold this game. However, Radjabov moved his queen to h5 which just allowed Black to take fxe4 and then all that White could do was give a perpetual with Qf7+ Kh7 Qg6+ and a draw.
Anand's draw meant that India had a chance to beat Rest of the World 3-1. But Humpy missed a golden opportunity to finish off the game. She couldn't really be blamed for it as the line that she played was very complex and confusing and her opponent had a miraculous way to escape which was not at all easy to see from far.
Humpy vs Muzhychuk, Round 2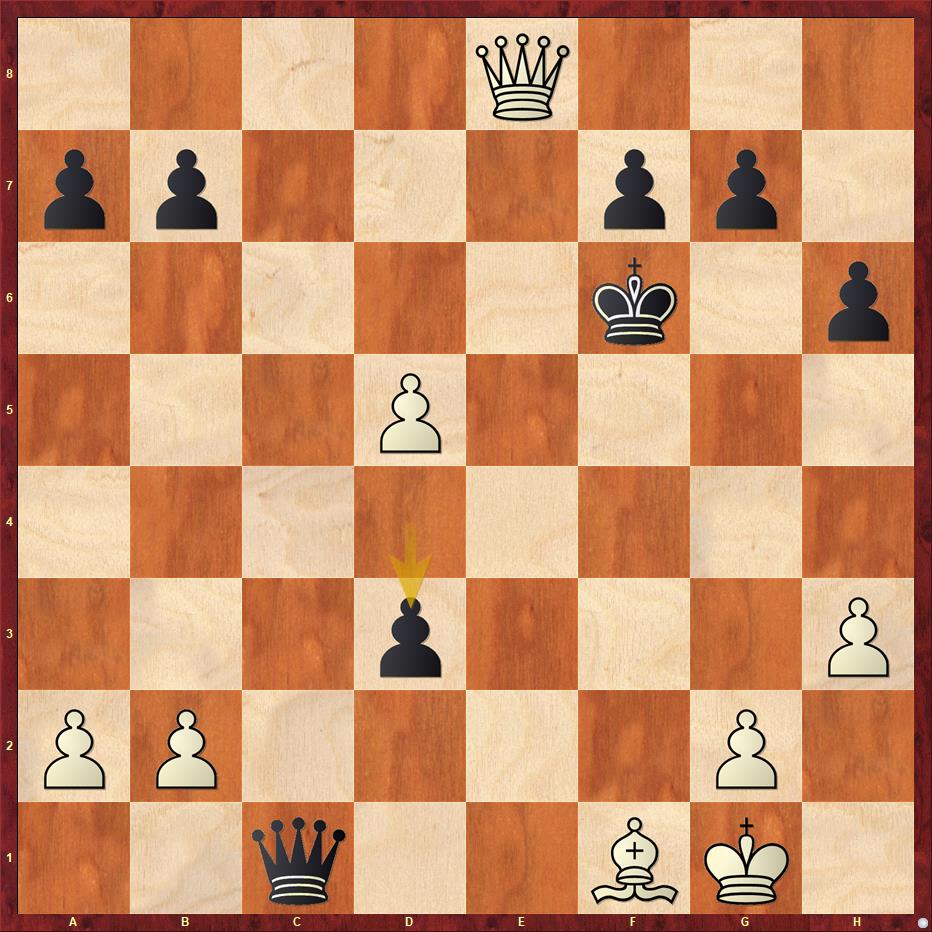 Such a mistake in assessment in a rapid game is completely possible and Humpy shouldn't be too hard on herself for this miss. In the annotations below you can find the easiest way for White to win in the first diagram.
Things went downhill even further when Alireza Firouzja showed his tenacity and tactical prowess to hold Harikrishna to a draw. In a bishop endgame with an extra pawn Harikrishna would have easily won the game in classical time control. But in rapid format he wasn't very comfortable and he erred a couple of times, which was enough for Firouzja to make a comeback.
Harikrishna vs Firouzja, round 2
Hari is a pawn up and Firouzja has attacked the pawn on a4. White can just defend it with b3, but Hari was afraid of some kind of a fortress after Be6 with the idea of c4. It doesn't work as White can move his king from d2 to c3 and have everything under control. The way Hari played wasn't bad and we reach the next critical position:
The best way for White to win here is to play Bf3 followed by activating his king and getting it to the queenside. Hari played Kf3? when after Ba4! the ever alert Firouzja was in a shouting distance of a draw. The game finally did end in both players splitting the point.
The scores were level at 1.5-1.5 with Adhiban fighting it out against Jorge Cori. The beast went wrong in an equal position and Cori won his game. This meant that India had lost the match to Rest of the World. Quite a disappointing loss, but more so because India clearly had chances to outwit their opponents.
The Chinese squad repeated result against Europe: two draws in the top boards, and two victories in the lower boards. Yu Yangyi scored his second consecutive victory, defeating the Dutch Anish Giri. This time, the current Women's World Champion Ju Wenjun took the place of Hou Yifan defending the fourth board, and wrapped the result of her team with a victory over Nana Dzagnidze. "Many of our players are friends and they train together. For us, it is also an honor and a pleasure to be in the national team," stated Ju Wenjun once the games were over.
USA managed to beat Russia 3-1. Fabiano Caruana again decided his game with very fine endgame play against Vladislav Artemiev. Wesley So drew against Dmitry Andreikin, and Irina Krush held the dangerous Aleksandra Goryachkina to a draw. In the remaining game, Hikaru Nakamura got a clear edge against Ian Nepomniachtchi and it seemed clear that he was playing for two results only: a defeat was out of the question. Hikaru could have offered a draw that would have sealed the victory for the team, but with good criteria, he decided to play on and ended up getting the whole point. This defeat was a serious blow for the Russians, who had previously drew the first-round match against Europe. While their team is missing some of their top guns, like Grischuk, Dubov, or Lagno, Russia is still the third seed in the competition and is supposed to be a serious contender for the victory.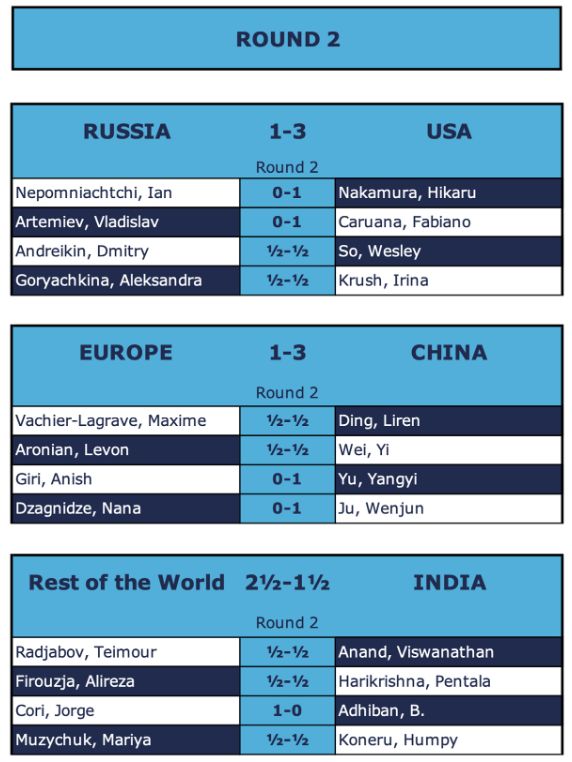 ---