Lucena in Lockdown #7: IM Sreeshwan Maralashikari
We are joined by one of Indian chess's most adorable yet fierce personalities: 14-year-old IM Sreeshwan Maralakshikari! The boy is always looking at the bright side of everything, and has a phenomenal work routine that packs everything a chess player might need for a tournament game. He describes what he is working on, and how Anand influenced his play style with just one game! Read on for some wise words by the boy on how to stay calm in the Coronavirus situation with a simple mental trick, and ignoring all the issues one faces and focusing on your routine. Also, read on for a note on how bright talents like Sreeshwan were fueled by the chess community, along with the other contributions. Enjoy!
Interview with IM Sreeshwan Maralakshikari by Avathanshu Bhat
"How are you coping during the current Coronavirus outbreak at home?"
"Honestly, I am just treating it as a part of life that cannot be helped but can definitely be fought. Chess players need to take advantage of this opportunity and use it.
"I am spending my time mostly reading chess books; I find it difficult to put them down! Currently, I am going through Practical Chess Beauty and Alekhine's games. I get up late around 9:30 – 10:00… unless I have class, in which case I get up 45 minutes earlier to prepare for the day. I really love playing ChessBase India online tournaments these days. Just the idea of playing alongside the likes of Aravindh Chidambaram, Raunak Sadhwani, Diptayan Ghosh and countless more is exciting. And hey, for most of them my friend Aditya Mittal is there! Then at the end, I download the games, analyse what went well and what didn't, refine my opening repertoire, and lastly cool down with some tactics."
"Wow! And how long does this all take?"
"Oh, 8-9 hours is usually how long I go for, without needing a lengthy break!"
"That is incredible. And what about the rest of the time?"
"Well, that's tough to say. I have a cricket ball which I use to play catch with my family, and otherwise watch some movies (preferably in Telugu) on TV. I'm not into all the social media stuff, but I do frequently call friends and relatives and ask how they are doing. Of course, spending time with my family is great, but we choose not to do that with movies or TV. Instead we talk to each other, about each other, face to face with nothing else to distract us. It is much more fun, although I would honestly just be happier doing more chess! Also, I have an interest in playing tennis, and I want to be out on the lawn once lockdown ends!"
"How do you think this situation is affecting chess players?"
"Personally, I am of a mixed mindset. It is terrible for all serious chess players, simply because the tournaments are lacking. It is impossible to replicate the same feel via online tournaments, and for that I am sad. On the other hand, I absolutely love these online tournaments! It is very fun for me to play, and I overlook any cheaters and lag that I face. I actually like playing online better than on the board for only one reason…"
"…which is?"
"Pre-move! [laughs] But seriously, I have gotten so used to it that I am worried I'll do it on the board the next time I play! It's a great experience although my parents don't think it is as beneficial. I still enjoy it!
Sreeshwan is of course a brilliant calculator. His rating of 2408 at the age of 13 years is a testament to this fact. But sometimes, he thinks too quick and makes pre-moves on the chess board as well. Not physically, but in his mind. Check out this video to know what I mean:
"Another major part of my time is spent on openings. I am actually concatenating something brand new, which I've never tried before. I tried out in an online tournament a couple of times and… it failed miserably! So, these days I'm trying to find ways in which I can improve my line. I used to be a very aggressive player, but I slowly picked up the habit of playing more positional chess. I find that always riling up pieces for an attack is not a good idea, and instead waiting for the opponent to get trapped in long, complex calculation always proves which player is really better at the game. The person from who I learned this was definitely Viswanathan Anand. I remember a game, the details are a little hazy, but it was Anand vs Joel Lautier, and he had played a phenomenal Bg6 move, where he left a free queen as a bait. I thought that was really neat, and I enjoyed his other best games. When this lockdown ends I am really interested in going on a tournament spree. And while I'm at it, finally eat some tasty paneer!"
While you're here, check out Sreeshwan's best game below; truly impressive! Note the conclusions made at the end of the game for future reference! A wonderful practice that should be kept for every game.
---
"Who did you want to win in the Candidates?"
"Contrary to what a lot of people think, I am on Team MVL here. He has been trying very hard in every tournament, but something goes wrong, and it always flops for him. After a point, I was sad to see him like that, and I feel this is his chance. If he plays well, he could very well top the Candidates. That is what I hope, and what I would love to see!
"My coaching has also been quite serious lately. GM Alexander Goloschapov is my coach, and I attended two camps recently. One was a mixed camp where a lot of people of many different rating categories were all there. The second one was dedicated more to IM's and there were around 10-12 others including me. They are taking place on Zoom, and the experience is okay. Occasional network hiccups, background noise, and some other things take me away from focus, but there's nothing that can be done. Everyone's dealing with the same thing, so I'm not too worried. The best thing to do is to live the way you normally would have; to live life to the fullest! I am spending my time just like normal, consciously subverting my brain from the situation. I'll usually keep updated and follow the news, but I'll pretend and sort of 'trick' my brain into downplaying it all. It works well, and I rarely lose motivation during my chess practice. I think it is best stay at the middle of the spectrum; you shouldn't actually underestimate it, nor should you be scared and lose hope or things like that. Treat it with caution and indifference, follow the guidelines with care, and you should be completely fine. Anyways, if you are a serious chess player, then you already have a lot on your hands to worry about apart from the Coronavirus!"
On 17th April 2019, a little over a year ago, this article was published, when Sreeshwan had 2 IM Norms and needed just one more for his IM title. Unfortunately at the time, he was financially unable to travel abroad and soon his chess would have been jeopardized, leaving the chess world devoid of an exceptional player. In a wholesome moment, the chess community helped him out via donations, and now a year later, Sreeshwan is an IM with a rating of 2408, a serious competitive chess player, with new prospects looking bright for the boy. His chess is now more promising and relatively less worrying for his family.
This isn't the first time that the ChessBase India community joined hands to help out those in need. When Odisha was flooded, the chess community was there, when the Kerala floods arrived we raised money with help of youngsters like Nihal Sarin. When the Pulwama Attacks came, the chess community did its part in raising over 1 lakh rupees for the families of the martyrs. Over 5 lakh rupees was raised to make the National Blind A possible for the players way back in 2018. And of course, we cannot forget all that we are doing constantly during this time. As of 10th of April, 3.5 lakh was raised through player entries for the ChessBase India Online Blitz events and fundraiser, aside from the daily live streams by IM Sagar Shah in the mornings, whose donations go the PM Care fund. These are a few of the countless other generous contributions made to individual budding chess players in need, just like Sreeshwan, done by the ChessBase India Foundation and many others. It really goes to show how there can be so many players with a talent for the game, yet cannot make it into the spotlight for variables they cannot control. Which is why it is always moving to see a community come together and help out that kid follow his passion, and possibly even set his future career. It is an investment of goodwill, sympathy and trust that the contribution changes a person's whole life for the better.
The analogy always goes 'give a man a fish and it will feed him for a day. Teach him to fish and it will stay for a lifetime.' What's missing here, as outlined by Trevor Noah, is 'and giving him a fishing rod would be very helpful too,' which applies to the reason for all the donations.
Know more about Sreeshwan:
Sunway Sitges 2018: 12-year-old Sreeshwan beats Vassily Ivanchuk!
Talent test with 13-year-old Sreeshwan Maralakshikari
13-year-old Sreeshwan Maralakshikari is now an International Master
About the author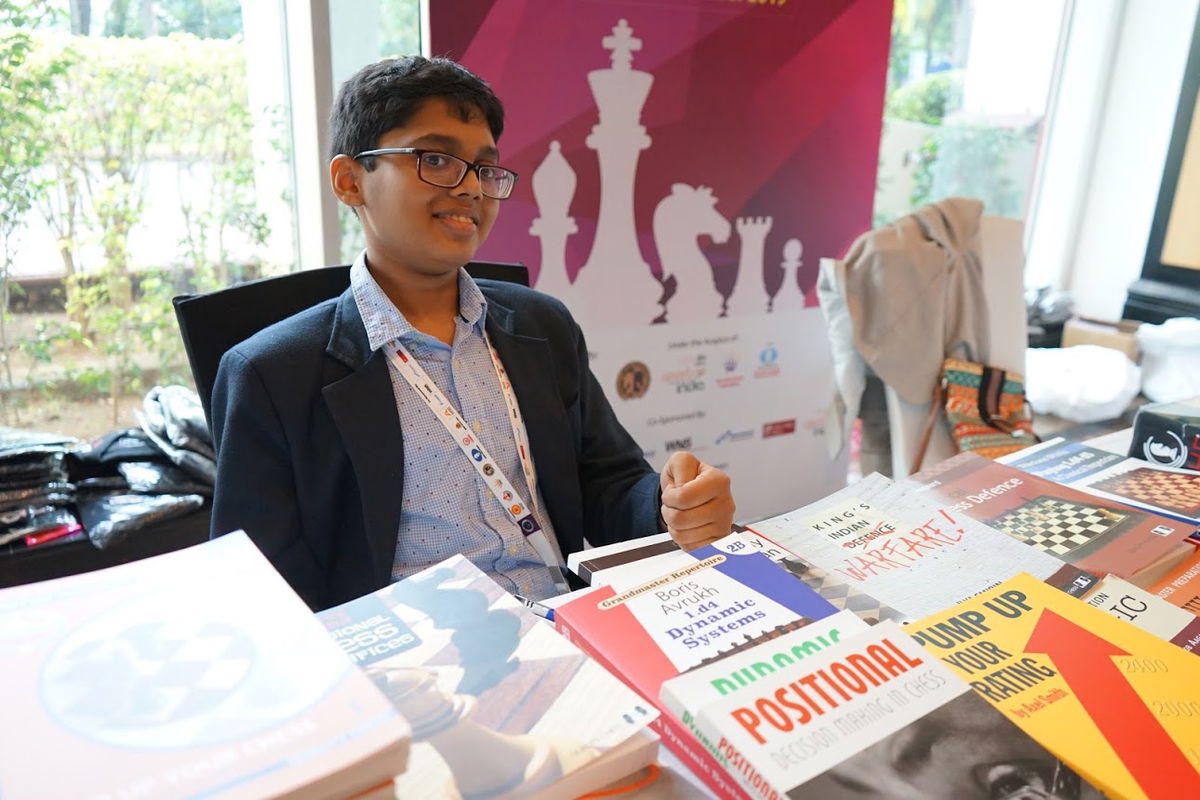 Avathanshu Bhat is one of the youngest and finest journalists of Indian chess. He is 15 years old now, but wrote his first article when he was just 11. He is also the head of ChessBase India Juniors and the manager of ChessBase India Elite Pass.
---