CBIJ #07: The Triumphant Winners of National U-13
This week's edition of CBIJ, (ChessBase India Juniors) brings to you the latest coverage in the juniors world. Praggnanandhaa finally becomes India's youngest and the world's second youngest Grandmaster at 12 years 10 months and 13 days. The all important national under-13 was held in Ahmedabad Gujarat a few weeks ago. This article features interviews with the winners of Nationals U-13, Aaryan Varshney and WFM Dhyana Patel. Find out the winners of the Trivia. In our editor's pick, Avathanshu Bhat speaks about the various NO's of chess! Don't miss out this exciting edition of CBIJ!
National U-13:
The National U-13 was a grand event this year! The winners were Aaryan Varshney in the boys section and WFM Dhyana Patel. Their accomplishments are truly great, and so, we decided to ask the two of them similar questions to compare the replies. Below are two interviews of Aaryan Varsney and WFM Dhyana Patel!
Aaryan Varshney:
Aaryan Varshney, the National U-13 champion, is a quiet, if not shy, boy. His enthusiastic dad accompanies him to all his tournaments, and helps him with his preparation. His other hobbies range from badminton to drawing.
Here is Aaryan's best game from the under-13 nationals against Pranav V with annotations by the young lad.
WFM Dhyana Patel:

Dhyana Patel went through a difficult fight at the Nationals U-13. In between, the tournament became a little turbulent for her, and she faced some rough losses. But as they say, when the going gets tough, the tough get going! She fought back with great determination and made an amazing comeback to secure the prize. Find out more about this multi-talented girl in the interview below!
Avathanshu Bhat (AB): Congratulations! You have won the prestigious Nationals U-13 girls. How was this for you?
Dhyana Patel (DP): I think it was fabulous because I was very much sure that I am going to win it. Also, it was very nice to know that I am Gujarat's first girl to be a national champion.
AB: Were you expecting this win?
DP: There was a little dilemma about it but then I believed in myself and I was confident to win it
AB: You have already tasted success before when you got your WFM title and other laurels internationally. How special was this for you?
DP: WFM title was special as it made me more famous and even gave me more courage to see higher and higher dreams.
AB: Gujarat chess has been doing a noble job in promoting chess. What do you have to say abut that?
DP: Sports Authority of Gujarat, PSP Project and Gujarat chess Association, and even our dynamic secretary Bhavesh Patel have encouraged and, supported me a lot.
AB: Who is your favourite chess player? Why?
DP: Viswanathan Anand because our respected Prime Minister organised a world record in Ahmedabad and Anand came to play in it. I got inspired by it and started playing chess.
AB: Could you please tell me more about your family, school, friends? What are their roles in shaping up your chess journey?
DP: Family of course has a very important role because my Nani always encourages and prays a lot for me. My school Nirma Vidya Vihar's management has done a great effort behind me and allowed me to take leaves. Many of my friend give notes to me when I remain absent in school. When I was a beginner in chess nobody noticed my talent except few people like Shivam, Saumil and Vishal. Because of these people my game has improved a lot.

AB: You like dancing, travel, music and photography. Which do you like the most?
DP: The thing which I like the most is dancing.

AB: How do you manage to spare time for such activities?
DP: I have got a specialist who arranges my schedule very nicely. By the way, that specialist is my mom!

AB: What would you have become if not a chess player?
DP: Because I admire my mom a lot I might have become a designer like her.

AB: Why do you love chess?
DP: I love chess because it increases my decision making power and sharpens my mind.
AB: Lastly, what message would you give to the chess community?
DP: Chess is all about patience and our goals cannot be achieved in a short span of time. One should aim for long term goals as better results are achieved in it and hard work is the key to success.
Here is one of Dhyana's best games against Savitha Shri from the under-13 nationals:
R. Praggnanandhaa's 'Grandmaster' achievement: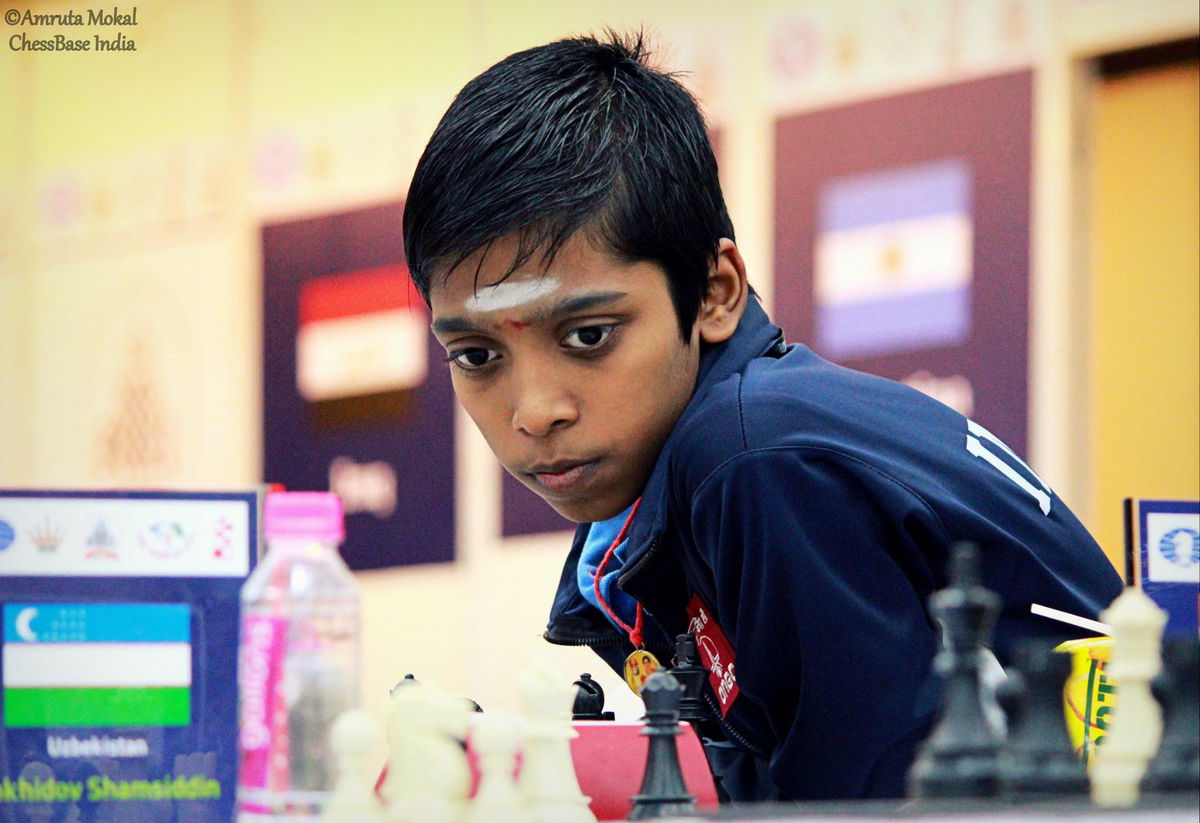 Praggnanandhaa made it to Grandmaster a few days ago, at the Gredine Open in Italy. He has been battling for the title since over a year now. How elated he must have been, emerging victorious after a bitter struggle.
I still remember Praggnanandhaa at the Nationals U-11 in 2015 in Pondicherry. Here is part of the article I wrote on my blog (excuse the factual mistake, he did not win that tournament, it was Raunak Sadhwani who won it):
I was upset when Praggnanandhaa made a few draws at the start because the last time, he had been flawless. But he made a great come back and was crowned the champion. I met him just before the last round, which was a crucial round but he was totally chilled out and he was playing with his friends, something that I admire. I must tell you that there is a lot to learn from my friend! All I can say is that 'simplicity at its best'!
It is such a great attitude of his, shrugging losses like they were nothing. Even when it was clear he wouldn't be able to make his GM norm in time to become the world's youngest Grandmaster, he continued on a tournament spree and went on like nothing happened. It is something really worth admiring!
Trivia:
LAST ANSWER: Last time, we asked this question: What is your best experience with an Arbiter? The winner is: Siddharth Balaji Sridharan who wrote about his experience with IA R.Anantharam. How one of India's best arbiters inspired him to not only excel at chess but also at education. You can read what he wrote by checking the comments section of this article.
We also asked this question in another article: Do you prefer cash prizes or trophies? It was a hard decision to make but in the end, we like the answer given by Devanshi Rathi: "I feel that I prefer trophies over cash prizes. Cash prizes are quickly used up but trophies stay with you for a long time. That feeling of lifting a gigantic trophy makes me feel elated and it seems as if I have won the UEFA Champions league trophy or something. Moreover, it gives a real sense of accomplishment. Besides, there are other ways to earn cash by doing a job and appearing for events. However, there is no way that you can earn a trophy if it is not winning a tournament."
Good job! Sidharth and Devanshi. Please write to chessbaseindiajuniors@gmail.com to claim your prize!
Editor's Pick - The Various No's of Chess
Aside from rules and restrictions, I think there are a lot of things that people do which shouldn't be done. All of us must have done one of these at least once in our chess life. These no's just add to frustration and make the game unpleasant. Here are a list of no's that should be put to an end:
10. Not being fair with the rules
When your eyes trick you to make it look like opponents finger touched a piece, you instantly began to call the arbiter for something that may not even have happened. It is OK to take your stand when it comes to rules, but very wrong to bend them for your benefit!
9. Arguing with arbiter's decision even when it's final
Everyone knows that once Arbiter's decision is made, it is final. Yet, some people argue with them, trying to make them see their side of it. One must respect the decision they have made and not criticize them for it.
8. Eating (and noisily) during the game.
Of course, it is very important to be healthy and energetic for the round, but this does not mean that you carry entire packets of food with you into the hall!
7. Toying with players by making two queens, rooks etc.
It personally makes me very angry when I see someone torturing the other person by promoting all the pawns. Please finish the game like a gentleman; you don't need nine queens to checkmate your opponent!
6. Purposefully coming late for the round.
Just taking your time, getting some tea, coffee, resting and then going in when there is one minute left for walkover time to come in effect.
5. Grinning and occasionally talking with the person on the next board
Once the game starts, it's supposed to be like as if you have no contact with anyone else except the opponent and the arbiter. Yet, there are instances when two best friends are next to each other and won't rest for the entire game ahead. It's frankly annoying!
4. Not appearing to the last round of the tournament
It may seem like a good excuse if a tournament has been going badly or not worth continuing. The tournaments are being organized for the sole reason that players play chess. You've got your own board, chair and opponent and all you have to do is play. There is always a certain respect given to the players. Therefore it is only right that one must respect the tournament, not to mention the opponent and arrive at the board.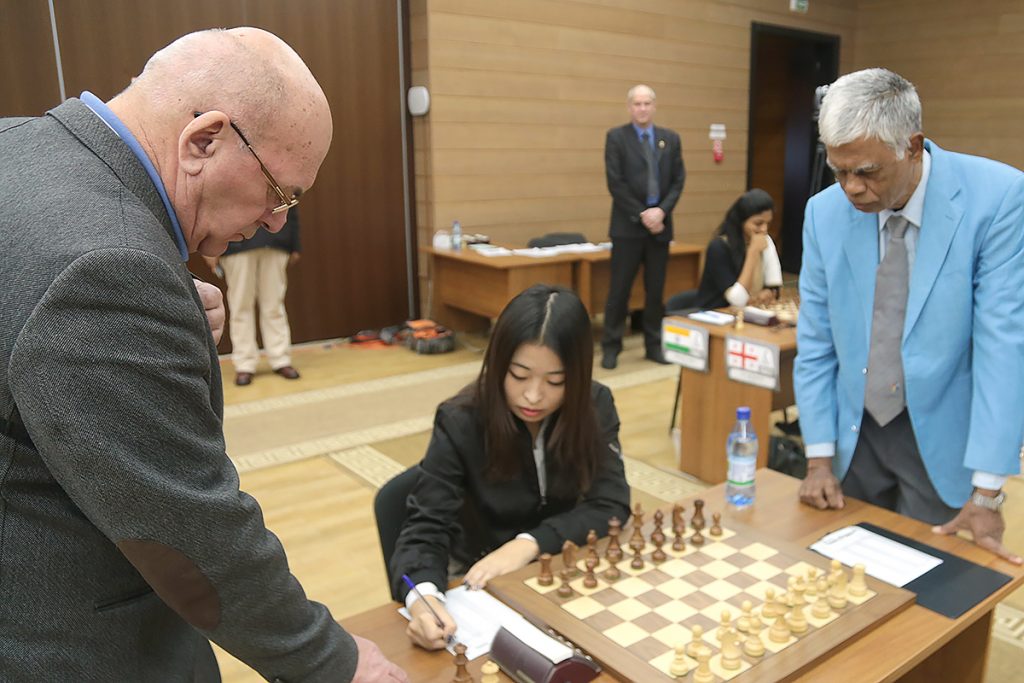 3. Sitting and waiting for a long time on the losing side before a checkmate.
It's always happened, you got into a completely lost position at the very start of the game. Then you see you still have an hour left on your clock and decide to wait it out, taking the life out of the guy opposite. Please don't make another guy suffer because of your mistake!
2. Not shaking hands before and after the game
This is possibly the least gentlemanly thing a person can do: acting like they're too good for anything and not worth the time. This attitude is one of the worst any chess player can possibly have.
1. Treating the opponent like an enemy for life.
There is a reason in every sport, not just in chess, that you acknowledge the other player at the end of the game. To keep in mind that hey, this is just a game and to be friendly once it's over. It is just wrong to take it to heart that the other person is an enemy. After all, it is that same person you rely on for your Buch-holz!
About the author:
Avathanshu Bhat has been writing about chess for well over a year now. He has published innumerable articles on ChessBase India and his reports have been well received by the audience. He is the editor-in-chief of ChessBase India Juniors. His main intention is to bring the best junior players of our country into the limelight with his writings. Here is some of the work he has done in the past:
G. Akash wins the Grand Hyderabad affair
10-year-old boy's deep calculation (50,000+ hits on Youtube)
12-year-old chessentrepreneur Avathanshu Bhat
Hemant Sharma becomes International Master
Champion from Chudamani - IM Sidhant Mohapatra
Blindfold simul by Timur Gareyev
---