How a bunch of Indians went to Spain and gained 4359 Elo points!
Chess gives you an ability to travel across the globe. There are tournaments held all over the world and one of the perks of being a chess player is that you can visit them and also play your favourite sport. But everything is not so rosy! Planning an international trip is never easy. There are always financial constraints, but even if you were to overcome them there are logistical issues, right from visas, to tickets to accommodations to paying the entry fee. It's exactly to do away with all such problems we introduced the concept of the ChessBase India Power tour! Apart from ensuring the logistical support, Ankit Dalal, who heads ChessBase India Power, accompanied the players from India to Barcelona and stayed with them for 50 days - the entire duration of the trip! What was his experience as a tour manager and how did he manage to ensure that Indian players came back with a rich haul of 4359 Elo points? Let's find out!
In March 2018, ChessBase India Power conceived an ambitious plan. The plan was to take a tour of players from India to Barcelona in Spain and play in five tournaments. These were the tournaments that were planned:
1. Montcada Open: 25th June to 3rd July 2018
2. Barbera Del Valles Open: 4th July to 12 July 2018
3. Sant Marti Open: 13th July to 21st July
4. Sitges Open: 22nd July to 29th July
5. Badalona Open: 1st August to 9th August
But this was not the end of the story! The plan got even more ambitious. Apart from just making sure that all the logistics (visas, flight, accommodation etc.) were in place, ChessBase India Power also decided that they would be sending a person as the tour manager! This was done to ensure that young kids whose parents couldn't take time off from their work schedule could still send their children to the tournaments without having to worry about their off the board requirements. At the same time the cost was instantly cut into half because the cost of parent's accommodation and travel and food was saved!
On paper this looked like an exciting plan. But to put it into motion was not easy. There was no better person as the tour manager than the head of ChessBase India Power Ankit Dalal. He was going to travel with the group. On 3rd of April 2018 we published the article inviting people to enroll for the tour and the response was huge! We had more than 20 people who signed up for this.
The biggest advantage of the Catalan circuit is that you can rent a single apartment and stay in it throughout the duration of all five events. If you are able to find a centrally located apartment all the tournaments (apart from Sitges which is an hour and a half away) would be within 30-45 minutes of travel. There were around six to seven children who decided to come without their parents. And there were also some who joined the tour along with their parents so that their logistical work would be reduced. At the same time there were also players in the age zone of 20-30 years who could manage many of the things on their own, but preferred to be the part of the tour because it was the first time for them! Ankit Dalal stayed in the apartment with those six kids who were below the age of 18.
How did Ankit manage the tour? How difficult was it? And what were the challenges? We hear it from the man himself!
Tete-a-tete with the man who managed the ChessBase India Power Tour
Q: How was the overall experience of the CBIP Tour?
Ankit Dalal (AD): This was first of its kind tour organised on a large scale in the world. ChessBase India Power concept is very exciting and the first tour from the same was a grand success in terms of participation, performance and organization of the trip. The best part of the trip was kid's performance. Taking into account all the challenges they faced and overcame, I would say it was simply phenomenal.
Here's the performance of people who travelled with the ChessBase India Power Tour to the Catalan circuit:
4359 Elo points were gained. None of the players actually lost any rating points!
Q: How many people were part of the ChessBase India Tour?
AD: There were around 20 players, who were a part of this circuit. I lived with six young kids between the age of 10 to 18 in an apartment but there were others who lived in different apartments and I would help, guide and manage. From a manager, even I became a player in some of the events as the kids motivated me to play!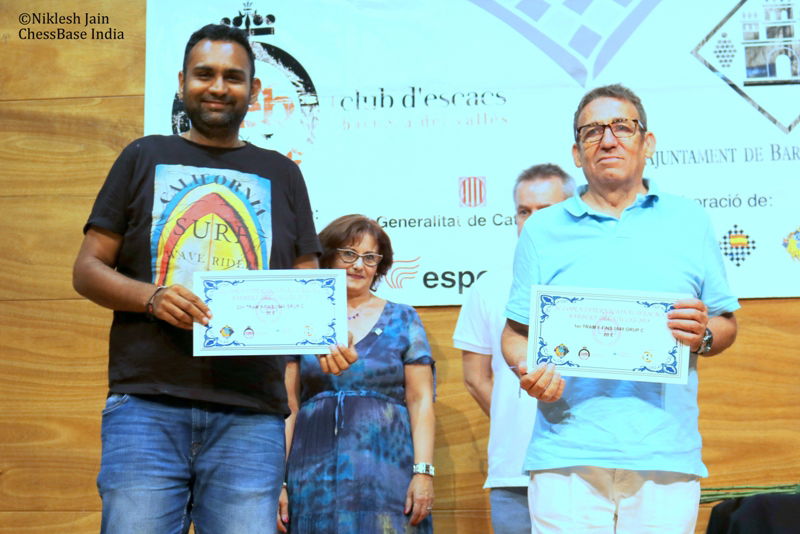 Q: What were the biggest challenges that you faced in relation to the tour?
AD: The tour was full of challenges and all kind of challenges right from getting visas done to managing kids, managing the damage done to the apartment, managing food for kids. Food was really an issue as the parents thought their children could manage with "ready to eat" food packets. But the youngsters didn't like the food packets at all. We at ChessBase India Power believe that kids should be given the best environment to perform and so I decided to cook! I didn't make any fancy dishes. It was simple food, perhaps not as tasty as their parents would prepare, but then getting Indian food on nearly a daily basis in Barcelona is nothing short of something special!
There are always language barriers when you travel in a foreign country and fitness and stamina issues will arise if you play five tournaments in a row. For me the toughest part was to see the Visas getting refused for some or the other reasons which shook the equilibrium of the group and few colleagues couldn't join the tour. I tried my best in every individual case, but when it comes to visa everything is not in our hands.
Q: What are the other benefit for the kids and their parents apart from the fact that they save money?
AD: The young generation is often pampered with the love and care of their parents. Parents travel with their kids and ensure that everything off the board is taken care off. While this is definitely useful, at times it can also be detrimental. Of course, you want your child to be capable on the board, but you would also like that he/she develops skills off the board as well. When the kids joined the ChessBase India Power tour they were exposed to situations which helped them build their overall character.
When the trip began I felt that the kids would feel home sick. Maybe tantrums would begin once we reached the one month mark. But it was completely different. All of them were so passionate about chess. None of them missed even a single round. They played their hearts out and they worked as hard as they could.
The journey taught all of the participants of the ChessBase India Power tour to be warriors. To instill self belief in them. As the trip progressed there came a time when all the kids were telling me directions, the metro numbers, how can they reach the venue, in how much time they can get the next train, when is the last metro, what is the price of sugar, which curd or milk has to be brought! These are all sorts of details they were aware of. I was told by their parents that they have never handled the gas. But in the apartment they made popcorns and maggis and lot of other stuff. I was surprised that most of them helped in chopping vegetables. In short, if we give the opportunity to kids and the right platform and instill self belief then you can be sure they would excel at everything they did!
Q: What were some of the memorable incidents from the trip?
AD: I realised that all of these youngsters are smart individuals when after landing I gave them an option - travel by taxi from airport to the apartment or travel by bus which was considerably cheaper but also dropped us two kilometres away from the apartment. I was pleasantly surprised when they said bus! They dragged their luggage for nearly two kilometres to save some money.
On the last day all of them cleaned the house on their own and made it look as clean as it was when we had entered the apartment. This was extremely important because the host leaves you with a good rating. I cannot really say the same about other apartments on this tour where many +18 year old kids were staying and they didn't care to clean before leaving.
When the trip ended everyone was travelling by different flights because many of them lived in different cities and many of them had different departure dates. The trip gave them the confidence that they could all travel alone. At the end of the trip when I asked them, "What did you learn from this tour?" Each one of them replied, "Sir now we can travel anywhere alone!" That's the self belief they got!
Another benefit is the foreign exposure part and the perk of exploring new country. We visited Camp Nou, (Barcelona football stadium), Barceloneta beach, beaches near Santa Sussana, Port Aventura Theme Park and Ferrari Land. So, apart from money, personal growth of each and every participant is what I could see! In this regard I would like to thank the parents because without their support it wouldn't really be possible.
Q: Don't you think 5 tournaments in a row was a bit too much?
AD: At first glance it looks like a lot but looking at the confidence and performance of the kids, I don't think so. Even in the last tournament they were not ready to miss any round. After playing 45 rounds they still wanted to play chess. So if properly planned it's an excellent period for the player to play and prepare for the future tournaments. Five events will also test you mentally and physically which will make you learn more about yourself and give you a massive database to work upon. The biggest advantage of the Catalan circuit is not only that you remain in the same time zone, but you also don't have change your apartment. This saves a lot of energy.
Q: We know that you were the manager of the trip, but what were the things you specifically did?
AD: I think the crucial part of my role was to see that the young talent who is away from parents are well taken care of and they don't face any administrative difficulty there. If there is a technical problem I helped them in every possible way. I donned many hats but the most important was Chess Psychology. I could help the players figure out the personality traits that are stopping them in the game. For example, one of the boys was always assuming that the position was better for him and was playing on his instinct. I told him to slow down and assess the position and give more importance to calculation. It was wonderful that he actually implemented this advice whenever he reached a winning position and his results became better. He gained nearly 400 Elo points from this trip!
Q: As a manager, what are your learnings from the trip?
AD: Learning is a process and not a destination. I have learnt so much out of this tour right from managing kids to giving them right sort of exposure. It also helped me to build a vision where we can give the best sort of atmosphere to players and bring administrative changes back in India to create tournaments like this. We, in India don't perform daily jobs on our own as we have people to do it for us, but when you play outside the country and are alone each one has to make sure that he/she performs their daily chores. The members of the apartment came from different places in India, different family backgrounds, different financial backgrounds. But when they were together they became one. They all helped each other and grew into better individuals. I myself have learnt a lot and I am sure that next year the team will be 100% better than this year!
Q: What are the future plans for a ChessBase India Power Trip?
AD: We are going to plan more circuits like this and we will give more exposure to upcoming players to play international tournaments. I would recommend all the parents who want their child to improve on and off the board to enroll for such trips. I can ensure that you will see a marked improvement in them when they come back home!
Little Om Kadam and his brave family!
ChessBase India identified the talent of Om Kadam when he became the national under-9 champion and also the Asian under-10 gold medalist. Coming from a humble background, affording a Catalan circuit was quite difficult for the young boy. We put up an article on the ChessBase India newspage and help flowed in. A strong Indian GM, who doesn't wish to be named, helped Om by contributing nearly Rs.50,000. A huge thanks to all the donors - Mayur Gondhalekar, parents of Shravani Patil, parents of Raahil Mullick, Abhinav Shetty and many others. Kajri Chokshi contributed Rs.25,000 to cover for the increasing expenses in Spain. And Mayur Gondhalekar has even pledged further support for Om for future events!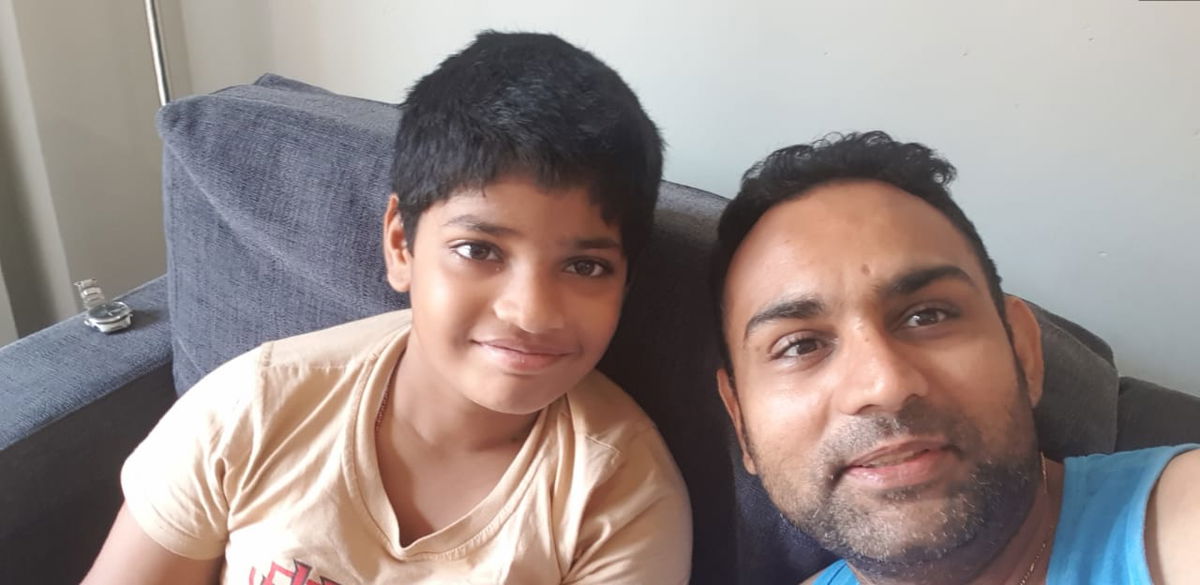 Om got the support, Ankit took care of him and Asia's first GM Eugene Torre said to Om, "You will be the youngest GM in the world! I am watching your journey!" All of this is great, but what stands out is the belief of Om's parents on his chess talent. It's not easy to send your 10-year-old son alone from India to Spain on a flight for the first time in his life. But Manish Kadam (Om's father) believed in the young boy's talent and took this as an important step in the development of Om as a chess player. Kudos to the young champ and his family.
What the ChessBase India Power Tour has achieved?
By IM Sagar Shah
I have been working tirelessly for over two years now trying to power chess in India. And I know for sure that the ChessBase India newspage, bringing in ChessBase softwares at affordable prices, getting in Quality Chess Books to our country, maintaining one of the most active Youtube Channels in the world of chess has definitely helped to boost Indian chess. But I have to say the ChessBase India Power trip has made an impact which is huge and the most tangible. A total of 4359 Elo points gained! Youngsters travelled alone and learned the art of how to survive in a foreign land! So many people have been wishing to travel to International tournaments for years now, but no one ever guided them in a correct way. With the ChessBase India Power Tour, everything from their visas, to tickets, to accommodation to entry fee, everything was taken care off!
I know everything was not perfect. There were incidents with visas, there were issues with accommodation and travel. There are definitely things which we can improve. But more importantly we made an attempt towards something ambitious and we tried our best to achieve it. Ankit (Dalal) worked day in and out to make this trip a success and I must congratulate him for making such a huge impact on Indian chess. It goes without saying that more trips will be planned and things can only get better from here!
All articles from the Catalan Circuit 2018
5+ tournaments in Spain. Make ChessBase India Power your personal tour guide!
Overwhelming response for the ChessBase India Power Catalan circuit group tour 2018
ChessBase India Power Group Tour makes a strong beginning in Montcada!
Barbera Del Valles 2018: Iniyan finishes clear second, CBIP groups gains 1355 Elo points!
Sant Marti Open 2018: Mitrabha Guha earns his maiden GM norm!
Vila de Sitges 2018: Anuj Shrivatri finishes joint third!
My experience of spending 50 days in Barcelona
---