K Rathnakaran wins the ChessBase India Bhopal Blitz
Thus far, you might have only heard of Online Blitz Tournaments organised by ChessBase India. But this time, at the conclusion of the Bhopal International Grandmaster Chess Tournament, on the 27th of December 2018, ChessBase India conducted an over the board Blitz Tournament with the support of the organising team of the GM event. The prizes here included software like ChessBase 15 and Fritz 16, along with books and ChessBase Premium accounts. Moreover, the participation of a whopping 191 players which made the tournament a grand success. Mr Kapil Sharma, the Tournament Director of the GM event and his team made the event truly world class while players like RR Laxman, K Rathnakaran and S Nitin brought in the required excitement.
On December 25, last year, while on my way to Bhopal, an idea struck: how about organising a one day blitz tournament in Bhopal! First of all, I discussed this with the team at ChessBase India and then spoke to Mr Kapil Saxena, the Tournament Director of the Bhopal International GM Tournament for his permission to organise the event. The blitz event was announced on the very next day. The intention was to make people aware of the change ChessBase India was bringing about in the country and how players could make the most of it and enhance their play. I was expecting a turnout of at least 50 participants for the Blitz, but to my surprise, 191 players had enrolled for the tournament in just one day!
The nailbiting ninth round
The tournament had become quite interesting after the first eight rounds. IM Rathnakaran, with a full point's lead over the field, only needed a draw in the finale to seal the first place in his name. In the final round, he was pitted against IM Nitin S while on the second board, GM RR Laxman was paired to play WIM Angela Franco of Columbia.

You can also buy yourself a copy of ChessBase 15 to enhance both your playing strength and preparation. If you would like to know more about the features of this latest version of ChessBase, do check out this article by IM Sagar Shah.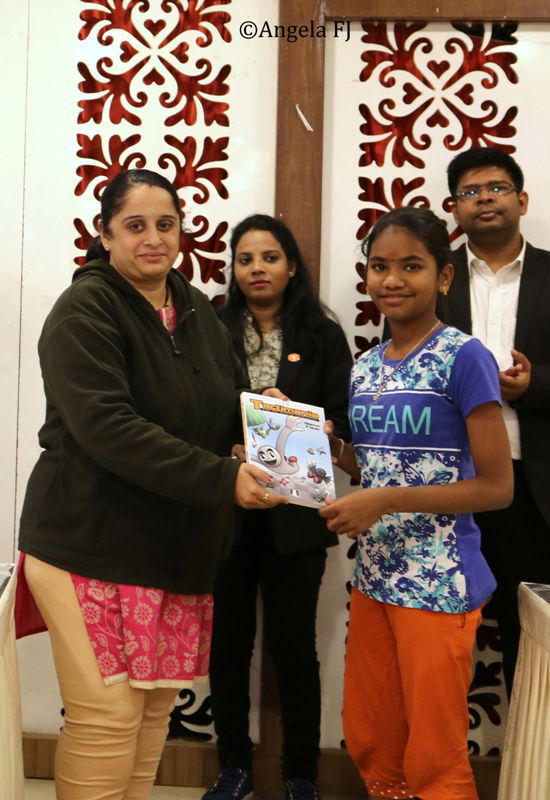 After this, prizes were given out to those nine players who had finished in some special lucky spots on the leaderboard. The winners were Kaushik Iyer (175th place), Chetan Pratap (155th place), Mandar Bakshi (133rd place), Chirag Mudraje (105th place), Bipin Raj S (75th place), Dhrupad Kashyap (62nd place), Nityata Jain (55th place), Rithvik Raja M (41st place) and Bhagyashree Patil (36th place).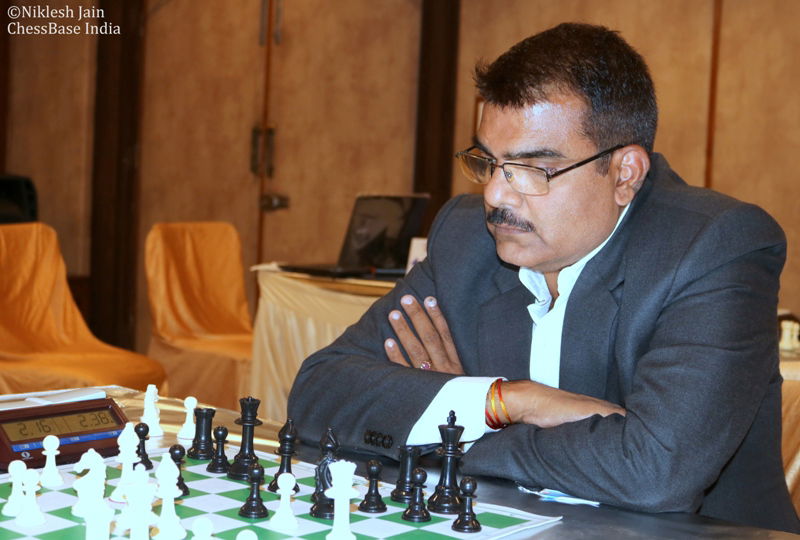 **Note to tournament organisers: If you would also like to conduct a ChessBase India Blitz tournament at your event, feel welcomed to get in touch with us on chessbaseindia@gmail.com
Final Standings (top 10)
| | | | | | | | | | |
| --- | --- | --- | --- | --- | --- | --- | --- | --- | --- |
| Rk. | SNo | | Name | FED | Rtg | Pts. | TB1 | TB2 | TB3 |
| 1 | 2 | IM | Rathnakaran K. | IND | 2412 | 8,0 | 0,0 | 53,5 | 58,5 |
| 2 | 1 | GM | Laxman R.R. | IND | 2482 | 8,0 | 0,0 | 50,5 | 54,5 |
| 3 | 4 | IM | Nitin S. | IND | 2358 | 8,0 | 0,0 | 44,0 | 48,0 |
| 4 | 20 | | Harshad S | IND | 1939 | 7,5 | 0,0 | 46,5 | 50,5 |
| 5 | 37 | | Pimpalkhare Vedant | IND | 1805 | 7,0 | 0,0 | 51,5 | 56,0 |
| 6 | 13 | | Alan Diviyaraj | IND | 2047 | 7,0 | 0,0 | 51,0 | 56,0 |
| 7 | 17 | | Rathneesh R | IND | 2017 | 7,0 | 0,0 | 50,0 | 54,0 |
| 8 | 7 | | Raahul V S | IND | 2149 | 7,0 | 0,0 | 49,0 | 52,0 |
| 9 | 35 | | Tarun V Kanth | IND | 1829 | 7,0 | 0,0 | 47,0 | 50,0 |
| 10 | 22 | | Mahindrakar Indrajeet | IND | 1931 | 7,0 | 0,0 | 46,5 | 50,0 |
Translation from Hindi by Aditya Pai

---