CRG Krishna wins Delhi Open ChessBase India Blitz 2020
The third edition of ChessBase India Blitz open took place on 14th January 2020 during 18th Delhi Open 2020. IM C R G Krishna scored an unbeaten 8.0/9, finished a half point ahead of the competition to win Delhi Open ChessBase India Blitz tournament. Three players finished at 7.5/9. IM Neelash Saha and FM Aaryan Varshney were placed second and third according to their tie-break score. Total 163 players from five countries across the world participated, making it the biggest ChessBase India blitz event. ChessBase 15 was given as the first prize, Fritz 17 as second and Komodo 13 as the third prize. ChessBase Premium account and various books were also given as prizes. Photo: Angela FJ
CRG Krishna becomes unbeaten champion
Starting out as the fourth seed, IM C R G Krishna (2320) scored an unbeaten 8.0/9 and finished a half point ahead of the competition to win Delhi Open ChessBase India Blitz 2020. Three players finished at 7.5/9, IM Neelash Saha (2043) secured the runner-up position according to the tie-break score and FM Aaryan Varshney (2189) was placed third. The tournament was conducted on 14th January 2020 at the conclusion of round 8 of 18th Delhi Open 2020.
C R G Krishna managed to turnaround a completely lost position and salvage a draw.
Neelash's biggest win of the tournament was in fifth round against the top seed of the event GM Farrukh Amonatov (TJK, 2607).
Aaryan defeated FM Manish Anto Cristiano F (1932) in the final round to finish third with a score of 7.5/9
14-year old Manish Kumar (1316) scored some good victories over strong players like Arjun Tiwari (2101) in round 7 and Raahul V S (2150) in round 8.
Ayush Sharma (1947) of Madhya Pradesh secured his fifth position by defeating FM Pranesh M in the final round.
Top seed GM Farrukh Amonatov wanted to win ChessBase 15 but the talented young players did not allow him to do that. He won ChessBase Premium Account 1-year subscription instead.
Amonatov's first big blow was in the fifth round when he lost to IM Neelash Saha. In the following round, he was completely winning but made a one-move checkmate blunder against 13-year old Aditya Bikram Paul.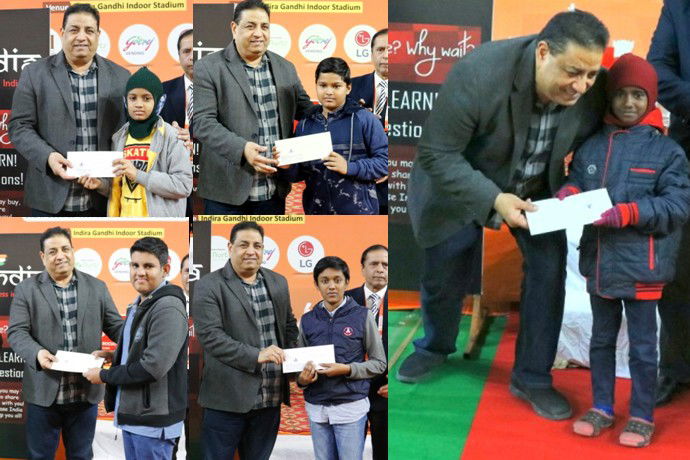 Technology and chess literature has proven to be quite an essential medium for chess players of all spheres to make progress. The way the game is rapidly developing, it will be difficult to make any substantial progress in their own game without any proper preparation. Keeping these things in mind, we organize ChessBase India Blitz event at different occasion where we distribute world class softwares and essential quality chess books as prize for the betterment of all players.
The ChessBase India Blitz tournament took place from 3 p.m. on 14th January 2020 at the conclusion of 18th Delhi GM Open round 8. Entries were taken from 13th to 14th January 12 p.m. Total 163 players participated from five countries across the world, making this the biggest ChessBase India blitz open in history. This was also the first ChessBase India blitz event where games were broadcasted live.
Photo Gallery
Video Gallery
Translated some parts from Hindi article
Final Standings
| | | | | | | | | | | | | |
| --- | --- | --- | --- | --- | --- | --- | --- | --- | --- | --- | --- | --- |
| Rk. | SNo | | | Name | FED | Rtg | Pts. | TB1 | TB2 | TB3 | TB4 | TB5 |
| 1 | 4 | | IM | Krishna C R G | IND | 2320 | 8,0 | 0,0 | 50,0 | 54,5 | 47,25 | 7 |
| 2 | 17 | | IM | Neelash Saha | IND | 2043 | 7,5 | 0,0 | 49,0 | 53,0 | 41,50 | 7 |
| 3 | 8 | | FM | Aaryan Varshney | IND | 2189 | 7,5 | 0,0 | 47,5 | 52,0 | 42,25 | 6 |
| 4 | 138 | | | Manish Kumar (2006) | IND | 1316 | 7,5 | 0,0 | 47,5 | 51,0 | 40,00 | 7 |
| 5 | 25 | | | Ayush Sharma | IND | 1947 | 7,0 | 0,0 | 49,5 | 53,5 | 39,00 | 7 |
| 6 | 74 | | | Garv Gaur | IND | 1673 | 7,0 | 0,0 | 49,0 | 51,5 | 38,50 | 6 |
| 7 | 1 | | GM | Amonatov Farrukh | TJK | 2607 | 7,0 | 0,0 | 48,5 | 53,0 | 40,00 | 7 |
| 8 | 6 | | | Sahoo Utkal Ranjan | IND | 2206 | 7,0 | 0,0 | 47,0 | 50,5 | 36,75 | 6 |
| 9 | 12 | | | Kaustuv Kundu | IND | 2120 | 7,0 | 0,0 | 47,0 | 49,5 | 37,00 | 6 |
| 10 | 49 | | | Sreekar J S S | IND | 1768 | 7,0 | 0,0 | 44,5 | 48,5 | 35,50 | 7 |
| 11 | 42 | | CM | Liyanage Ranindu Dilshan | SRI | 1798 | 7,0 | 0,0 | 41,5 | 44,0 | 33,50 | 7 |
| 12 | 139 | | | Priansh Das | IND | 1311 | 7,0 | 0,0 | 38,0 | 41,0 | 29,50 | 6 |
| 13 | 43 | | | Ilamparthi A R | IND | 1791 | 6,5 | 0,0 | 49,0 | 52,0 | 33,75 | 6 |
| 14 | 28 | | FM | Manish Anto Cristiano F | IND | 1932 | 6,5 | 0,0 | 48,0 | 52,0 | 35,75 | 6 |
| 15 | 77 | | | Aakash G | IND | 1656 | 6,5 | 0,0 | 44,5 | 46,0 | 28,50 | 6 |
| 16 | 18 | | AGM | Sa Kannan | IND | 2040 | 6,5 | 0,0 | 42,5 | 45,5 | 31,25 | 6 |
| 17 | 2 | | IM | Rathnakaran K. | IND | 2400 | 6,5 | 0,0 | 42,5 | 45,0 | 30,75 | 6 |
| 18 | 38 | | | Srikrishnan P | IND | 1810 | 6,5 | 0,0 | 42,0 | 44,5 | 29,75 | 6 |
| 19 | 76 | | FM | Pranesh M | IND | 1660 | 6,0 | 0,0 | 50,5 | 53,0 | 31,00 | 6 |
| 20 | 9 | | | Raahul V S | IND | 2150 | 6,0 | 0,0 | 47,5 | 51,0 | 30,50 | 6 |
---