New: ChessBase Magazine #202
ChessBase Magazine is the most comprehensive and most sophisticated chess magazine there is. World class players analyze their brilliancies and explain the ideas behind the moves to you, opening specialists present the latest trends in opening theory and offer exciting ideas for your repertoire. Master trainers in the fields of tactics, strategy, and the endgame show you the tricks and techniques a successful tournament player needs! Digital DVD with several hours of video to learn and train. Top GMs like Nepomniachtchi, Giri, Duda, Kasimdzhanov, Michal Krasenkow, Romain Edouard, Mihail Marin, Endgame expert Karsten Muller and many more. Photo: ChessBase
Highlights of this issue #202
An all-important full point
The candidates winner Ian Nepomniachtchi elaborates on his hard-fought endgame victory over Wang Hao
Jan Timman – the Dutch legend turns 70
Special featuring 25 games annotated by CBM authors + columns on strategy and endgame
Bogo-Indian: no respite for Black!
Lars Schandorff shows the poisonous 1.d4 Nf6 2.c4 e6 3.Nf3 Bb4+ 4.Bd2 Qe7 5.e3!?
Three times Anish Giri!
Among other things, the Dutchman annotates his impressive victory over Liren Ding
"Good news for French players!"
Rustam Kasimdzhanov repairs the Classical Variation (opening video)
Italian gambit à la Dubov
Christian Braun hits with the sharp 4.c3 Nf6 5.d4 cxd4 6.b4!?
Novelty by "lapsus manus"!
Mihail Marin shows his discovery in the Grünfeld with 5.Qb3 dxc4 6.Qxc4 0-0 7.e4 Bg4 8.Be3 Nfd7 9.Qb3 Nc6!?
Frighten your opponent – with the Halloween Gambit!
Robert Ris uncorks 1.e4 e5 2.Nf3 Nc6 3.Nc3 Nf6 4.Nxe5 Nxe5 5.d4
Reversed Sicilian: d2-d4 in one go!
Alexey Kuzmin presents White's plan after 1.c4 e5 2.g3 Nf6 3.Bg2 d5 4.cxd5 Nxd5 5.Nf3 Nc6 6.0–0 Nb6 7.b3
Technique vs. ticking clock
Jan Krzysztof Duda shows why his edge against Hikaru Nakamura at the NIC Classic was only enough for draw
Caro-Kann for fighters - recapturing like Mikhail Tal
All in one by Spyridon Kapnisis on 1.e4 c6 2.Nf3 d5 3.Nc3 Bg4 4.h3 Bxf3 5.gxf3!?
Pushes, sacs & special moves
Tactics with Oliver Reeh
Special: My favourite Timman game
CBM authors present their favourite game by the Dutch GM, who 30 years ago was a part of the absolute world elite and who lost out twice in the Candidates finals (1990 against Karpov and 1992 to Short). Contributions to this exclusive collection have come from, e.g. David Navara, Adhiban Baskaran, Yannick Pelletier, Krishnan Sasikiran and Imre Hera.
Candidates Tournament 2020/2021
Ian Nepomniachtchi, the winner of the Candidates Tournament and new challenger of Magnus Carlsen, comments on his game against Wang Hao. Further analyses by Anish Giri. Romain Edouard and Michal Krasenkow in their analyses focus on the most important moments and the most beautiful games.
"All in One"
Here you can find out everything you need to know about a specific opening line on the basis of just one deeply analysed game! Spyridon Kapnisis examines a rather provocative line in the Caro-Kann: 1.e4 c6 2.Nc3 d5 3.Nf3 Bg4 4.h3 Bxf3 5.gxf3!? And Igor Stohl informs about the current state of affairs in the Petroff, especially after 1.e4 e5 2.Nf3 Nf6 3.Nxe5 d6 4.Nf3 Nxe4 5.Nc3 Nxc3 6.dxc3 Be7 7.Be3 Nd7 8.Qd2 0- 0 9.0-0-0
Opening videos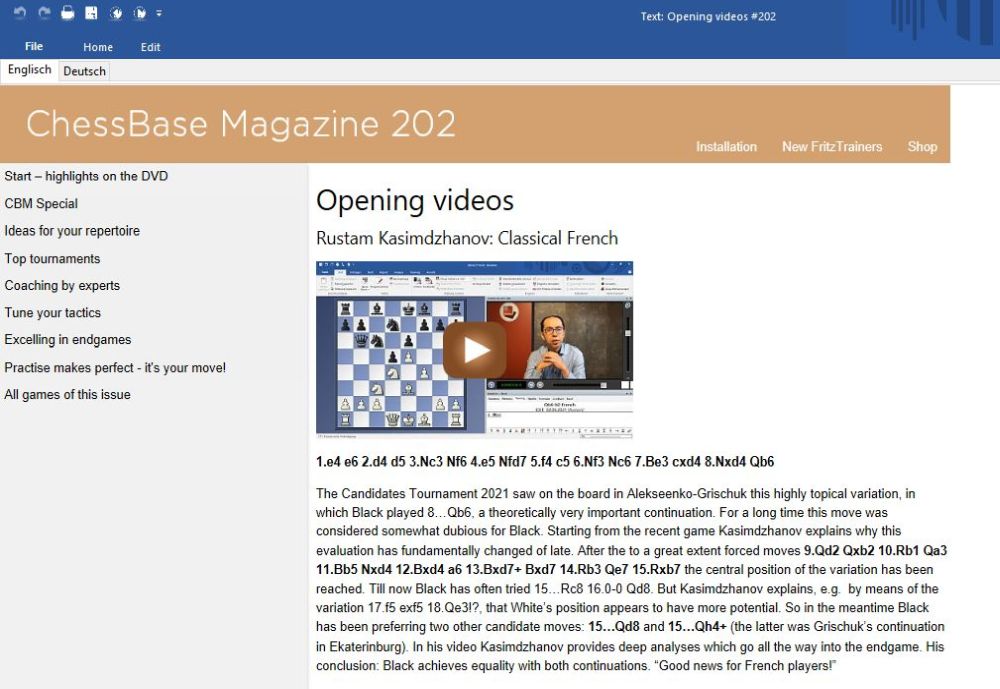 Rustam Kasimdzhanov uses the game Alekseenko-Grischuk from the Candidats Tournament to show the latest developments in the Classical French with 8...Qb6. Mihail Marin celebrates Jan Timman's analytical skills (1986 against Karpov) and highlights a "Fingerfehler" from 1960 with explosive power for current Grünfeld theory. A novelty on move three? Daniel King scrutinizes 3...Ne7 in the Albin Countergambit.
New ideas for your opening repertoire
With 11 opening articles, CBM #202 offers many exciting ideas and recommendations:
• Alexey Kuzmin: English 1.c4 e5 2.g3 Nf6 with 7.b3
• Sergey Grigoriants: Caro-Kann Advance Variation with 5.f4!
• Andrey Sumets: Sicilian Paulsen Variation with 6 ... Qb6
• Tanmay Srinath: French Tarrasch with 3 ... Be7
• Martin Lorenzini: Philidor Antoshin 6.g3 (II)
• Robert Ris: Four Knights Game (Halloween Gambit) 4.Nxe5
• Christian Braun: Italian Game 4.c3 Nf6 5.d4 exd4 6.b4 !?
• Petra Papp: Grünfeld 5.Bf4 0-0 6.e3 c5 7.dxc5 Ne4!
• Lars Schandorff: Bogo-Indian 4.Bd2 Qe7 5.e3
• Evgeny Postny: Nimzo-Indian 4.f3 d5 5.a3 Bxc3 + (II)
• Krisztian Szabo: King's Indian with 6 ... Bg4 7.Be3 Nfd7
Topical opening traps
Setting traps often pays off! Our expert Rainer Knaak presents nine current examples, three of which are also in video format. This time his contribution covers the Modern Defence, Queen's Indian, the Italian Game and several Sicilians!
"Move by Move"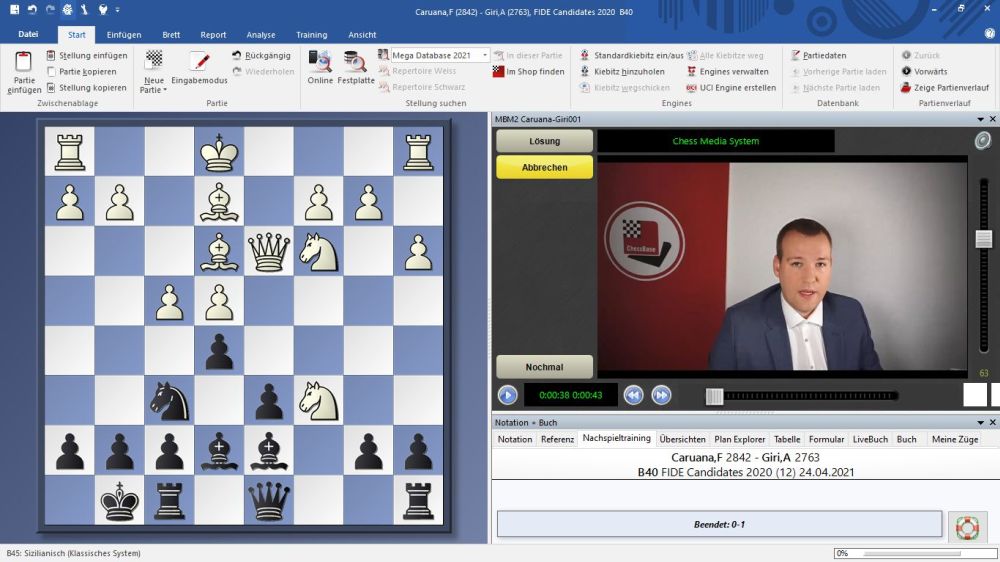 The game Fabiano Caruana vs. Anish Giri from the Candidates Tournament 2020/2021 was a positionally brilliant performance by the young Dutch player. Play through the game interactively in video format with Robert Ris and try to find for yourself the master's moves over the board!
Jan Timman – the depth of a hypomodernist
According to the "Special" of the issue, strategy expert Mihail Marin examines various aspects of Jan Timman's play - from "the struggle for important squares" to "mysterious moves". Including an introductory video with over half an hour of playing time!
"The Classic"
The previous federal German trainer demonstrates in Sämisch-Nimzowitsch (1923) the "Immortal Zugzwang Game" – something to delight not only fans of the Classic!
Tactics: "Advances, sacrifices and special moves"
Oliver Reeh's tactics article consists of 31 games packed full of training questions. Solve the three best combinations – "My favouties" – interactively in his FritzTrainer videos!
Excelling in endgames: From "Timman's Technique" to endgame highlights of the Candidates Tournament
In no less than four articles Karsten Müller again delivers a plethora of endgame analyses. In addition to the article on "Timman's Technique" the "Endgames from the Candidates Tournament" are a highlight of this issue!
---