New: ChessBase Magazine #207
The complete FIDE Grand Prix 2022 (Berlin I - Belgrade - Berlin II) with analyses by Esipenko, Giri, Oparin, Predke, Shankland, So, Vidit and Vitiugov. In addition, Rogozenco presents two selected games of the winners, Nakamura and Rapport, in the video - "Trend line put to the test": Rustam Kasimdzhanov shows new ideas in the English Four Knights Variation with 4.e4 Bc5!? (video) – "Magnetic square h7!": How to take apart Black's castling position, tactics training with Oliver Reeh – "Bent Larsen, the highly creative Dane": CBM authors analyse their favourite games - "All in one": Igor Stohl examines 1.d4 Nf6 2.c4 g6 3.h4!? – "Complete repertoire against ´the Alapin": Markus Ragger introduces the enterprising 1.e4 c5 2.c3 d5 3.exd5 Nf6!? (video) - "Bent Larsen - a universal player": Mihail Marin sheds light on the strategic skills of the great Dane (incl. video) and much more! Photo: ChessBase
Highlights of this issue #207
The home page of ChessBase Magazine #207 welcomes you with the highlights of the issue! Just click, replay the annotated games or watch the videos and enjoy!
FIDE Grand Prix 2022: Analyses by Andrey Esipenko, Anish Giri, Vidit Gujrathi, Grigoriy Oparin, Alexandr Predke, Sam Shankland, Wesley So and Nikita Vitiugov. Dorian Rogozenco presents two selected games of the winners, Hikaru Nakamura and Richard Rapport, in video format. Or jump straight into the training and play through the game Aronian-Keymer from the Grand Prix "Move by Move" with Robert Ris! A complete repertoire against the Sicilian Alapin Variation? Markus Ragger presents his recommendations in his half-hour opening video. Don't miss it: The "Special" on Bent Larsen with 19 commented games as well as analyses + video on the strategic skills of the great Dane!
Special: My favorite game by Bent Larsen
CBM authors analyse their favourite Bent Larsen games. An exclusive collection of 19 annotated games from 1956 to 1998 awaits you!
Top games and master analyses
FIDE Grand Prix 2022: The Grand Prix was held as a series of three tournaments from 3 February to 4 April, the first and third of which were held in Berlin, the second in Belgrade. As overall winners Nakamura and Rapport qualified for the Candidates Tournament 2022. In this issue Andrey Esipenko, Anish Giri, Vidit Gujrathi, Grigoriy Oparin, Alexandr Predke, Wesley So, Sam Shankland and Nikita Vitiugov comment on their best games. And Dorian Rogozenco shows two games by Nakamura and Rapport in video format.
Airthings Masters 2022: Anish Giri comments on his short wins against Hans Niemann and Ding Liren.
All in one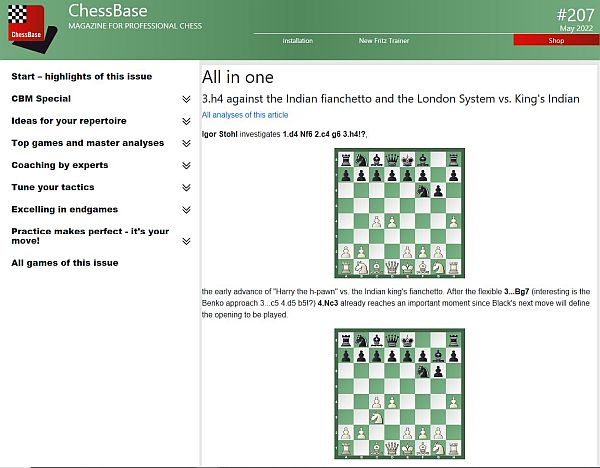 Everything you need to know about a specific line in one extensively annotated game - that is the concept of "All in one". Igor Stohl examines the early advance of the h-pawn against the Indian King's Fianchetto: 1.d4 Nf6 2.c4 g6 3.h4!? Bg7 4.Nc3. Tanmay Srinath tests the London System against King's Indian: 1.d4 Nf6 2.Bf4 g6 3.e3 Bg7 4.Nf3 0-0 5.Be2 d6 6.h3.
Opening videos
In the English Four Knights Game, the move 4.e4 is very popular. Rustam Kasimdzhanov examines the sometimes very sharp complications after 4...Bc5 and shows new ideas in his analysis, especially for Black. Markus Ragger presents a complete repertoire against the Alapin Variation with the side line 3...Nf6. And Mihail Marin shows an opening idea by Bent Larsen in the Sicilian Dragon Variation, which is still well playable today!
Rustam Kasimdzhanov: English Four Knights
1.c4 Nf6 2.Nc3 e5 3.Nf3 Nc6 4.e4 Bc5
Markus Ragger: Sicilian Alapin Variation
1.e4 c5 2.c3 d5 3.exd5 Nf6!?
Mihail Marin: Sicilian Dragon Variation
1.e4 c5 2.Nf3 d6 3.d4 cxd4 4.Nxd4 Nf6 5.Nc3 g6 6.Be3 Bg7 7.f3 Nc6 8.Qd2 0-0 9.Bc4 Qa5 10.0-0-0 Nxd4 11.Bxd4 Be6

New ideas for your opening repertoire
CBM #207 offers many new ideas and concepts for your next games with 11 opening articles:
Yago Santiago: Benko Gambit 3.d5 b5 4.cxb5 a6 5.e3
Spyridon Kapnisis: Modern Benoni Fianchetto Variation
Andrey Sumets: Caro-Kann Advance Variation 3…Bf5 4.h4 Qc7
Martin Lorenzini: Sicilian Alapin 6.Na3/8.Nb5
Petra Papp: Najdorf Polugaevsky Variation 7.f4 b5 8.e5
Tanmay Srinath: French Tarrasch 3…Be7 (Part II)
Krisztian Szabo: Philidor Reversed 1.e4 e5 2.Nf3 Nc6 3.g3
Robert Ris: Ruy Lopez 3…Bc5 (Part II) 4.c3
Lars Schandorff: Slav 4...dxc4 5.e4 b5 6.Be2 e6 7.a4!?
Alexey Kuzmin: Anti Gruenfeld 1.d4 Nf6 2.Nf3 g6 3.Nbd2
Sergei Grigoriants: Gruenfeld with 4.g3 and 7.Na3 c5
Topical opening traps
"Deceptive security and new insights" - Rainer Knaak takes a close look at 10 traps from current tournament practice three of which he also presents in video format.
Move by Move
Test your chess move by move with Robert Ris! Levon Aronian's strategic brilliancy against Vincent Keymer from the first FIDE Grand Prix is on the programme. Can you find the moves of the super grandmaster?

"Bent Larsen - a universal player"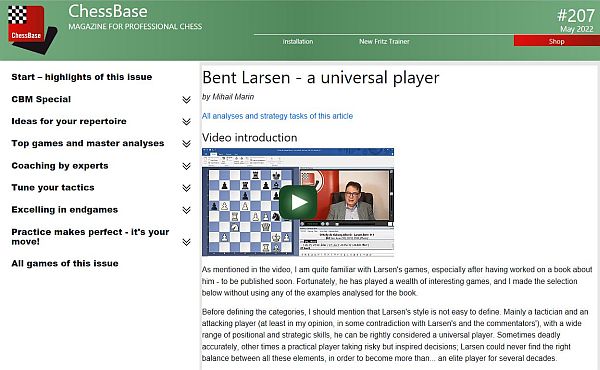 Mihail Marin sheds light on the strategic skills of the most important Danish grandmaster of all time. Incl. detailed video introduction (playing time: 34 minutes).
The Classic
Aron Nimzowitsch described his game with the black pieces against Paul Johner at the anniversary tournament of the Dresden Chess Club in 1926 as "one of his most beautiful blockading games". Enjoy Dorian Rogozenco's presentation!
Tactics: "Magnetic square h7"
In Oliver Reeh's tactics contribution with 34 games, everything is about the attraction of the square h7 on the attacking white pieces. Incl. interactive video training!
Excelling in endgames - "Endgame highlights by Bent Larsen" and much more
Karsten Mueller provides comprehensive training material for the highest demands: the most beautiful endgames by Bent Larsen as well as highlights from the first Berlin Grand Prix 2022. The endgame expert from Hamburg opens both contributions with a detailed video introduction. In addition, he provides further analyses in "Readers write"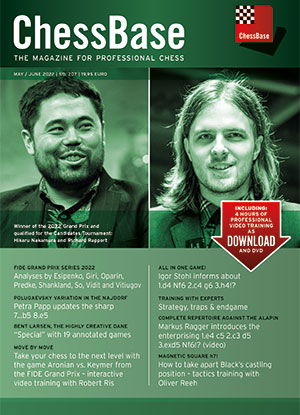 ---