New: ChessBase Magazine #200
ChessBase Magazine is the most comprehensive and most sophisticated chess magazine there is. World class players analyze their brilliancies and explain the ideas behind the moves to you, opening specialists present the latest trends in opening theory and offer exciting ideas for your repertoire. Master trainers in the fields of tactics, strategy, and the endgame show you the tricks and techniques a successful tournament player needs! Digital DVD with several hours of video to learn and train. Top GMs like Giri, So, Van Foreest, Grandelius, Harikrishna, Duda, Wojtaszek, Fedoseev, Daniel King, Simon Williams, Mihail Marin and many more. Photo: ChessBase
Highlights of this issue #200
Pearls from Wijk
Giri, Van Foreest, Grandelius, Harikrishna, Duda and Wojtaszek comment on highlights from Tata Steel 2021
The young Magnus Carlsen
CBM authors annotate their favourite game from the period before Carlsen became World Champion in 2013
Ditching the double fianchetto!
Patrick Zelbel's aggressive recipe 1.Nf3 Nf6 2.g3 g6 3.Bg2 Bg7 4.0–0 0–0 5.d4 d6 6.b3 e5!
The bishops' squeeze!
Spyridon Kapnisis hits the Sicilian Rauzer with 6.Bg5/7.Bb5!
White killer queen on h5
Dangerous living for Black - 33 x tactics
Carlsen - So 0-1!
Tournament winner Wesley So reviews a crucial final game of the Skilling Open
Endgame special rook and bishop vs. rook
Thorsten Cmiel explains all you need to know in practice
Italian à la Dubov
Daniel King shows a new recipe from the ever creative Russian (Video)
Play like the 15-year-old Magnus!
Along with Simon Williams go through the game Carlsen-Gronn "Move by Move"
Gambit à la Kasparov
Evgeny Postny presents the super sound 1.c4 c5 2.Nf3 Nf6 3.d4 cxd4 4.Nxd4 e5 5.Nb5 d5 6.cxd5 Bc5
Scotch, sharp, sac as Black!
Vladimir Fedoseev dissects his brilliancy against Maxim Matlakov from the Russian Super Finale
CBM Special: My favourite young Carlsen game
For our anniversary edition CBM 200, we invited our authors to annotate their favourite game by Magnus Carlsen played in the period prior to his becoming World Champion in 2013. Some of those are linked with personal memories - Mateus Bartel, Michal Krasenkow and Yannik Pelletier even picked encounters in which they faced the aspiring Norwegian themselves! It's fascinating to see how the future World Champion developed his skills, displaying seemingly unpretentious (but very deep!) opening treatment, superb positional understanding and of course his grinding abilities in the ending. Enjoy!
Top tournament: Tata Steel 2021
Anish Giri and Jorden van Foreest took the top positions with 8.5 out of 13. Both comment on their best games, as do Nils Grandelius, Harikrishna Pentala, Jan-Krzysztof Duda and Radoslaw Wojtaszek.
More top tournaments: Russian Superfinal 2020: Ian Nepomniachtchi won his second national championship title. Analyses by Vladimir Fedoseev, Nikita Vitiugov and Maxim Matlakov, as well as by the new champion Aleksandra Goryachkina and Polina Shuvalova.
Skilling Open 2020: The winner of the online tournament, Wesley So, comments on his win against Carlsen.
"All in One"
Lars Schandorff and Anish Giri dissect two current opening lines: Caro-Kann Advance Variation with 3...Bf5 4.h4 Qc7 and a repertoire against 1.Nf3 d5 2.b3 based on the move 2...Bf5.
Opening videos
Jan Werle uses a game by his compatriot Max Wamerdam to show new ideas in the Moscow Variation. With "Italian à la Dubov", Daniel King presents a topical opening recipe. And Mihail Marin examines a less known idea of the young Carlsen in the Sveshnikov Variation with 12.c4.
Jan Werle: Sicilian Moscow Variation
1.e4 c5 2.Nf3 d6 3.Bb5+ Bd7 4.Bxd7+ Nxd7 5.0-0 Ngf6 6.Qe2/6.Re1
Daniel King: Italian à la Dubov
1.e4 e5 2.Nf3 Nc6 3.Bc4 Bc5 4.c3 Nf6 5.d4 exd4 6.b4
Mihail Marin: Sveshnikov Variation
1.e4 c5 2.Nf3 e6 3.d4 cxd4 4.Nxd4 Nf6 5.Nc3 Nc6 6.Ndb5 d6 7.Bf4 e5 8.Bg5 a6 9.Na3 b5 10.Nd5 Be7 11.Bxf6 Bxf6 12.c4 b4 13.Nc2 a5 14.Be2 0-0 15.0-0 Bg5 16.Qd3 Bb7
New ideas for your repertoire
The new issue provides 11 opening articles with new ideas:
Evgeny Postny: English 2.Nf3 Nf6 3.d4 cxd4 4.Nxd4 e5
Patrick Zelbel: King's Indian Double Fianchetto 6.b3 e5!
Petra Papp: Alekhine Defence 4.c4 Nb6 5.exd6
Spyridon Kapnisis: Sicilian Richter-Rauzer with 7.Bb5
Yago Santiago: French 1.e4 e6 2.d4 d5 3.Nd2 Nc6
Tanmay Srinath: French Winawer Part IV – 13.Nxc3
Alexey Kuzmin: Vienna Game 3.Bc4 Nc6 4.d3 Na5 5.Bb3
Igor Stohl: Scotch with 8.h4
Adrien Demuth: Schliemann Defence Deferred 4...f5
Krisztian Szabo: Queen's Gambit Exchange Variation 6.Bf4
Sergey Grigoriants: Grünfeld with 10...Bg4
Opening traps
In the spirit of this anniversary issue the Top Ten traps are presented to you - from Rainer Knaak's personal point of view. This special selection contains of course above all old favourites two relatively new traps which a few years ago were only known to a few insiders. Three traps are also presented in in video.
"The Classic"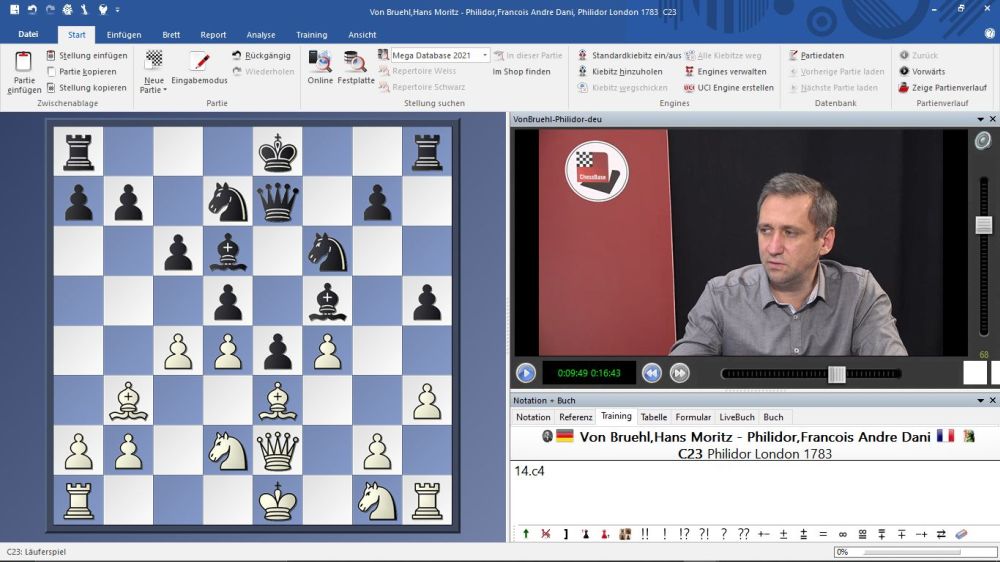 With Von Brühl - Philidor (London 1783), Dorian Rogozenco chose an "absolutely impressive" game from the 18th century for the anniversary issue of CBMagazine. The German national coach was particularly impressed by Philidor's prophylactic approach, which was unusual for the time. His play shows again and again that prevention of the opponent's activity has top priority - which, however, did not always allow him to find the objectively best continuation in the game. Moreover, Rogozenco points out that the strategic principle of consistently playing against one weakness is explored in great style, forcing victory in the endgame.
"Carlsen's strategy"
Mihail Marin traces the world champion's extraordinary strategical understanding on the basis of various aspects such as surprising piece trajectories, pawn breaks followed by invasion et al.
Including several training tasks and an introductory video!
"Move by Move"
Simon Williams has chosen a game by the young Magnus Carlsen for his interactive video, fitting the main topic of this issue. In the game Carlsen-Gronn from the Norwegian Championship 2005, the rising star was only 15 years old. In this game Carlsen showed his tactical side and consistently punished his opponent for his careless play in the opening – the game was over with a mate in move 24. Show that you can play like Magnus Carlsen by putting his moves on the board!
Tactics: "Killer queen on h5"
Oliver Reeh's tactics contribution contains 33 games, peppered with lots of training tasks. Including three interactive videos!
Endgame highlights from Tata Steel 2021, Skilling Open and much more!
This issue offers four endgame articles, first and foremost "The young Magnus Carlsen as a reflector in the endgame" by expert Karsten Müller. Moreover, you are welcome to enjoy the endgame highlights from recent top tournaments. And Thorsten Cmiel explains all you need to know in the endgame Rook+Bishop vs. Rook!
---