Sivakasi Chess Club celebrates 50th year - Triple Tournament Treat for the Chess Lovers
Sivakasi Chess Club, a strong outfit from the southern part of Tamil Nadu celebrates its 50th year of inception by organising three strong tournaments in the month of July. Sivakasi, well known for the fireworks, match works and printing industries, has a flurry of chess activities regularly. The itinerary for the month of July is a rapid rating tournament with a prize money of ₹150000 on 1st and 2nd July, a unique state level Chess Doubles tournament on 2nd July and a FIDE rated open tournament for a prize money of ₹10 lacs from 21st to 25th July. The tournaments are organized under the name of NPSS Rathina Nadar – Dr. N Mahalingam tournaments. Photos: IA R Anantharam
A look back at Sivakasi Chess Club over the years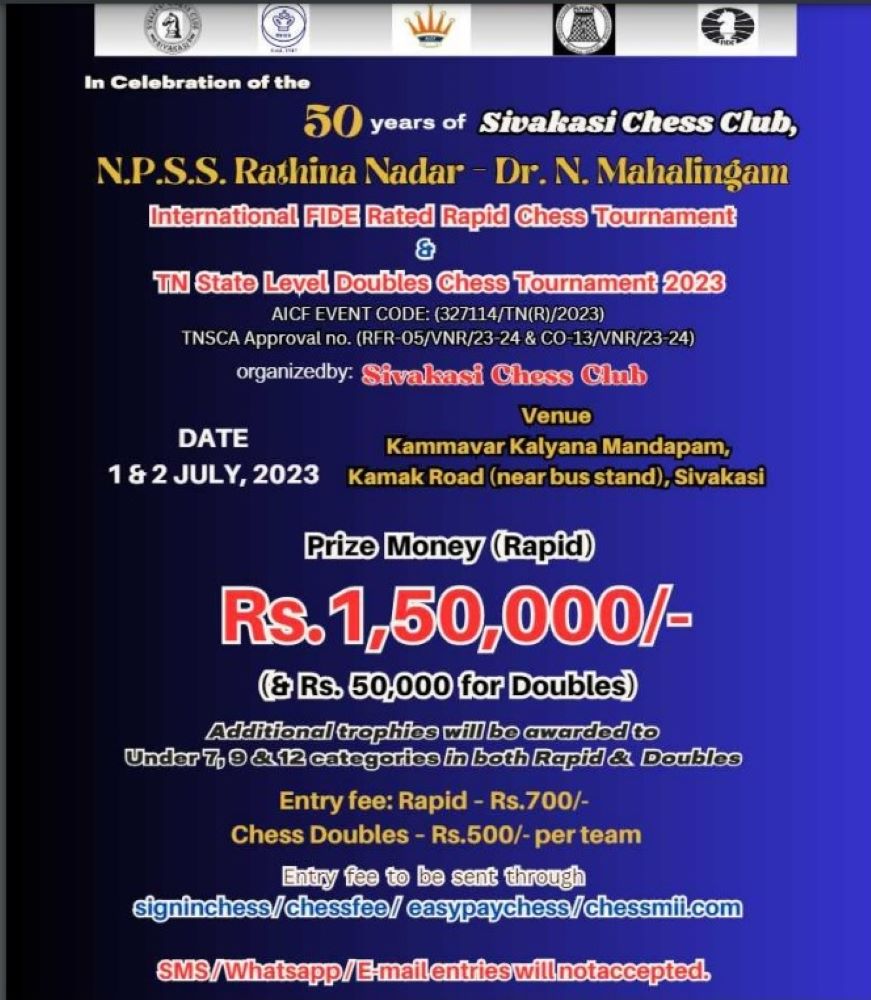 More details can be obtained from 94431 55852 & sivakasichessclub1@gmail.com
Sivakasi Chess Club was founded in 1973 by NPSS Rathina Nadar, a strong and ardent chess player and chess lover. A former municipal chairman and a freedom fighter, Rathina Nadar, as the president of Sivakasi Chess Club organized the Asian Junior Chess Championship at Sivakasi, single handedly in 1979. It was also the first official international chess championship in India. Players were taken on a procession through the streets of Sivakasi, seated on elephants!
Can you identify the then 13-year-old (GM) Dibyendu Barua and 1979 National junior champion M Ramesh sitting together? Nine-times National champion IM Manuel Aaron is sitting at the left.
The way in which the state junior chess championship was organised by Sivakasi Chess Club in 1978, with free boarding and lodging and a lot of mementos to players, prompted the then TNSCA secretary and nine times national champion IM Manuel Aaron to allot the Asian Junior to Sivakasi Chess Club in 1979.
Dr. N Mahalingam, a former president of All India Chess Federation, had a strong relation with Sivakasi Chess Club. He had attended several functions organized by the club, including the inauguration of the Asian Junior. Vishy Anand obtained his final GM-norm at Coimbatore in the tournament organized by Dr. N Mahalingam. He helped many chess players monetarily and was instrumental in the central government recognising chess for recruitment in government organisations.
IA R Anantharam was the organizing secretary of the Asian Junior and also the secretary of Sivakasi Chess Club.
The club conducted an All India Technical Conference for the arbiters in 1980, together with a state championship. Though the sudden demise of Rathina Nadar in 1981 left the club in shock, it continued its activities by organising all India tournaments under his name. 14-year-old Vishy Anand, twice national champion (1976 & 79), IM Raja Ravishekar and former national champion, IM Parameswaran TN are some of the prominent winners of the tournament.
All India Chess Federation instituted the NPSS Rathina Nadar trophy, a beautiful silver one, donated by Sivakasi Chess Club in 1982. It was won by GM Abhijit Kunte thrice. When he requested Sivakasi Chess Club to keep the trophy himself, the request was accepted and SCC replaced it with a new silver replica.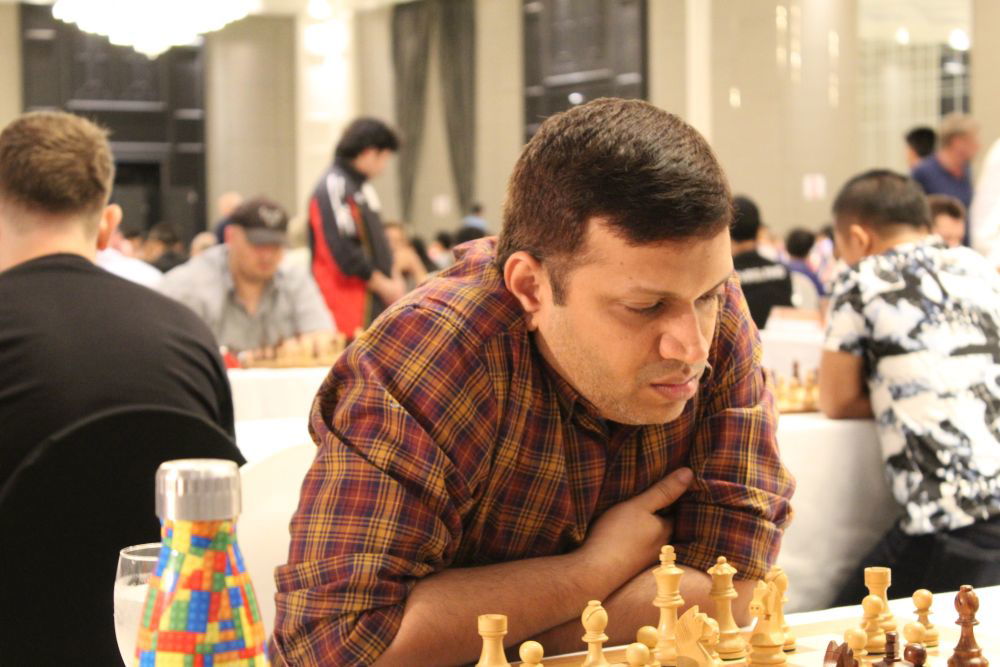 After Anand won the world junior championship in 1987, he played a simul against several players at Rajapalayam, near Sivakasi. Sivakasi Chess Club played a prominent role in the event, organized by Ramco group of companies.
Sivakasi Chess Club has organized four national championships in the past. The National Sub junior 1996 was won by GM Magesh Chandran.
In the National Junior 1999, GM Surya Sekhar Ganguly and GM Sundararajan Kidambi had similar scores in all tie-breaks. Ganguly won the Armageddon and the title.
Dr. N Mahalingam former president All India Chess Federation handed over the NPSSR trophy to Ganguly.
GM Deep Sengupta and WGM Soumya Swaminathan were the champions in the National Junior championship organized by Sivakasi Chess Club. The unprecedented rain during the tournament did not deter the players and they had a long journey through different routes to reach Sivakasi, as the train route was damaged heavily.
GM Raja Rithvik was the outright winner of the National sub junior championship, jointly organized by Sivakasi Chess Club and Namakkal Chess Foundation in 2019 ahead of GM Pranav V, GM Pranesh M and many current International Masters.
Former FIDE Vice President D V Sundar and current Asian Chess Federation Deputy President Bharat Singh Chauhan are watching him in action.
Sivakasi Chess Club has organized more than 25 state championships, several rating tournaments in which many prominent players like GM Praggnanandhaa, national champion in all three formats GM Aravindh Chithambaram, GM R B Ramesh, GM Deepan Chakkravarthy, GM Laxman R R and many other GMs and IMs have played.
Apart from the tournaments, Sivakasi Chess Club has produced several players of high quality. K Marimuthu, a partially blind player from Sivakasi Chess Club has represented India in several tournaments like Olympiad for visually challenged in Greece 2021, World Junior for visually challenged in Paris and then in Italy in 2022.
R Visalatchi of Sivakasi Chess Club represented India in the Asian Youth championship in Philippines 2011, by finishing runner-up in the National under 17 championship for girls.
P Maheswaran of Sivakasi Chess Club won the state junior title, A Chithra Selvi has won the under-14 state title, A Yogesh Kumar and P Vishnu Viswanathan the under-14 state rapid titles. Many players have represented Tamil Nadu state in the nationals and their universities in the inter university tournaments. S R Rajan, son of NPSSR is a former state number 2.
It has conducted many national and state level arbiter seminars and coaching camps by GM Rodrigo Vasquez of Chile and IMs like V Saravanan, P Mithrakanth and P Shyam Nikhil.
When international master P Shyam Nikhil (although he is not from Sivakasi) was studying in the school, Sivakasi Chess Club recognized his talent and sponsored him to many tournaments or helped him in getting a sponsor. The club organized a state level Basque chess (two players playing simultaneously with white and black on two different boards, with the same opponent), maybe only one such kind in India.
R Vijayann, a former secretary of Sivakasi Chess Club was very innovative and highly quality conscious. He was instrumental in organizing a chess festival in 2009 having eight different variants of chess taking place simultaneously. A player may choose any five events of his choice and play according to the schedule prepared by the club. The events were Fun chess, Chess Doubles, Chess 960, Gift chess, Blindfold chess, Lose to win, Problem solving contest and chess quiz. The Fun chess drew a lot of attention and applause from the players.
Sivakasi Chess Club is a fore runner in organizing different types of chess tournaments. Chess 960 state championship, as well as state level tournament and state level Chess Doubles are regular features in the Sivakasi Chess Club calendar besides Basque chess.
Chess Doubles has attracted many players in Sivakasi and Rajapalayam. IM P Shyam Nikhil partnered with IM-elect M Kunal to win the first separate Doubles tournament in 2011. The players have to stand and play here.
Apart from organizing tournaments and seminars, Sivakasi Chess Club has lent a helping hand to poor and deserving children of the club in getting free school and college education (including free hostel and mess). More than fifteen students, especially of the engineering colleges have been benefitted from this project. All those who have finished their colleges have also got good jobs through campus placement. The club has also sponsored some students' studies.
The secretary of Sivakasi Chess Club Prof. R Anantharam, a renowned International Arbiter has served as a Councilor of FIDE Arbiters' Commission and at present he is a member of the same Commission. He has also served as a member of the Qualification Commission and Pairing Commission of the FIDE. Besides, he has served as chief arbiter for six world chess championships and more than 360 Asian, national & state championships and international tournaments.
The chairman of the tournament committee for the 50th year of Sivakasi Chess Club tournaments Dr. M Manickam is the son of the illustrious father Dr. M Mahalingam, former president of All India Chess Federation. As the president of Tamil Nadu State Chess Association, Dr. Manickam evinces keen interest to promote chess in the state. He is already the sponsor of the Chennai Open, a regular grandmaster event and also has plans to organize a series of IM norm tournaments in the immediate future.
P Stephen Balasamy P, General Secretary TNSCA is also the secretary of the tournament committee and has great interest towards the development of the game in the state.
About the Author
Prof. Rathinam Anantharam is an A-grade international arbiter. Member of FIDE Arbiters' Commission, Chairman of Titles Commission in All India Chess Federation, Vice President of Tamil Nadu State Chess Association, Chief Arbiter for six world championships, many Asian, International and National Championships.
The article was edited by Shahid Ahmed
---