Sabarish triumphs at Rotary 100 years Celebration open
by Shahid Ahmed - 04/10/2019
R K Sabarish of Tiruchirappali scored 6.5/7 and finished a half point ahead of pack of ten players to win Rotary International 100 years Celebration Rating tournament. Tiruvarur District Chess Association organized this tournament with an entry fee of only ₹250. The tournament witnessed a total participation of 279 players from various districts across the state of Tamil Nadu. Top seed T Shyam Sundar who is also an International Arbiter himself, scored 6.5/7 to secure the second runner-up position. The organizers provided free lunch to all players and parents. To encourage under-8 and under-10 players, all of them were given a prize each. We bring you a pictorial report of this tournament. Photo: IA Palaniappan Kasi
Third seeded R K Sabarish is the unbeaten champion
Rotary International 100 years Celebration Rating tournament witnessed 279 players from various districts across the state of Tamil Nadu. Third seeded R K Sabarish of Tiruchirappalli scored an unbeaten 6.5/7 to finish a half point ahead of the pack of ten players to clinch the championship.
Since the total number of participants was over 275, as many as ten players finished at 6.0/7. Out of them Manikanda Prabhu secured the runner-up place due to a better tie-break score.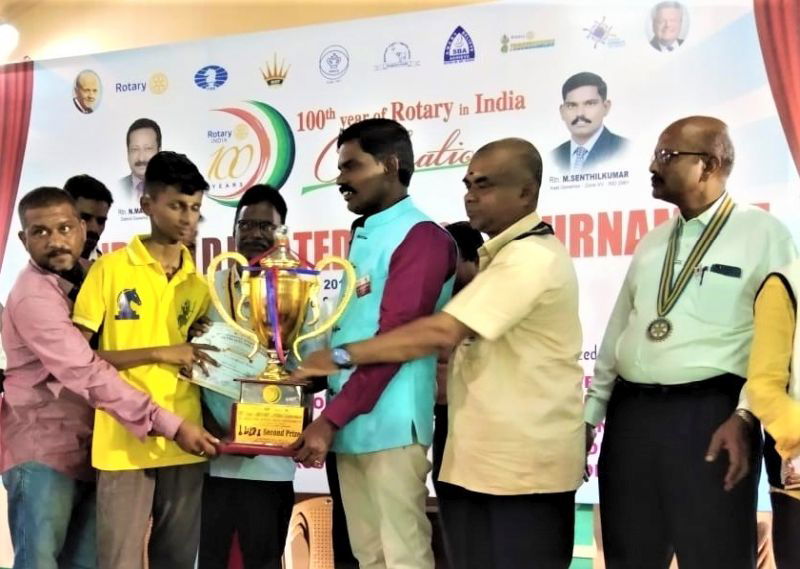 In the Prize Distribution function on 27th September 2019, Mr. P Ramesh, President Rotary Club of Mannrgudi Midtown presided over the function; Rotary Club of Mannargudi Secretary Mr. V. Sankar welcomed the gathering, Mr. M Senthilkumar Assistant Governor gave the prizes to the prize Winners in the presence of Mr. D Jayakumar, Zonal Secretary and coordinator, Presidents of Rotary Clubs Mr. G Karthikeyan, Mr. S Rajmohan, Mr. D Palanivel and Mr. N Santha Kumar, President Tiruvarur District Chess Association, Mr. P Palaniappan IA, Chief Arbiter of this event and all the Tiruvarur District and Mannargudi Taluk Members. Mr. RK Balaguna Sekharan, Secretary, Tiruvarur District Chess Association and Jt. Secretary, TNSCA gave the vote of thanks.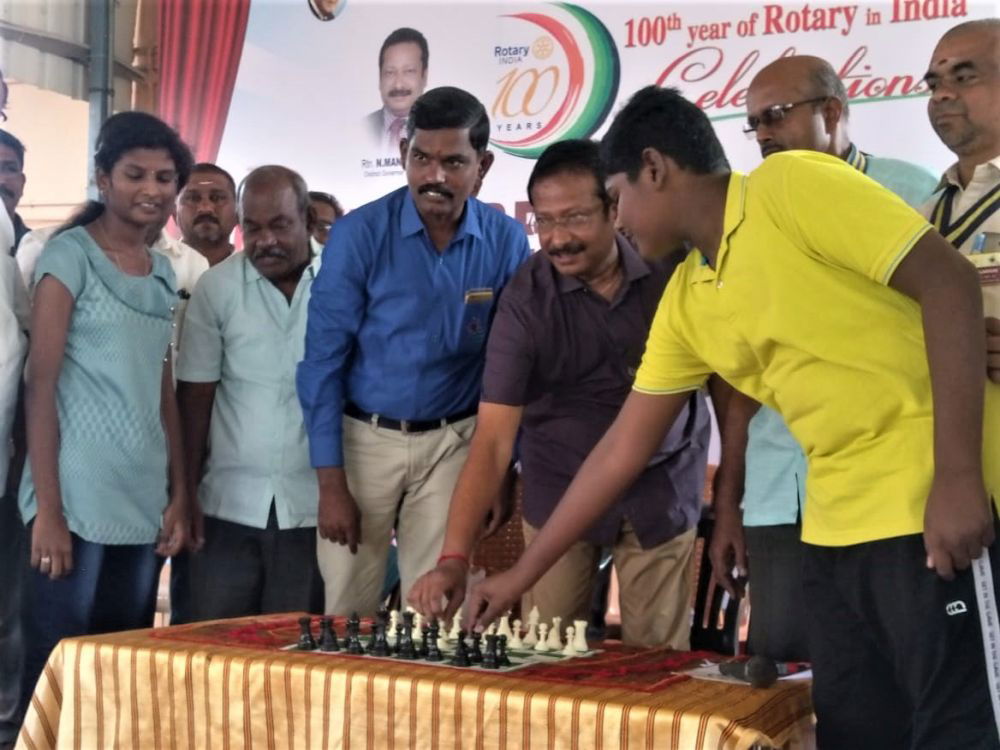 Rtn. Major Donar Er N Manimaran, District Governor of RI District 2981 inaugurated the tournament by making the first move with Jayadev R Balan and Kamali, SGFI Gold Medallist players of Tiruvarur District; in the presence of President, Secretary & members of Rotary Club of Mannargudi, Rotary club of Maddukur, Rotary club of Mannai Green city, Rotary club of Adirampattinam, Rotary club of Mannargudi Mid-Town, Tiruvarur District Chess Association and Mannargudi Taluk Chess Association.
One of the specialty of the tournament was entry fee was only ₹250. The organizers provided lunch to all players and parents for all days. They also gave prizes to all under-8 and under-10 participants to encourage them.
Final Standings
| | | | | | | | | | | | | | |
| --- | --- | --- | --- | --- | --- | --- | --- | --- | --- | --- | --- | --- | --- |
| Rk. | SNo | | Name | Typ | sex | Rtg | Club/City | Pts. | TB1 | TB2 | TB3 | TB4 | TB5 |
| 1 | 3 | | Sabarish R K | | | 1529 | TRY | 6,5 | 0,0 | 33,5 | 30,5 | 30,00 | 6 |
| 2 | 5 | | Manikanda Prabhu B V | U15 | | 1522 | TNV | 6,0 | 0,0 | 35,5 | 31,5 | 29,75 | 5 |
| 3 | 1 | | Shyam Sundar T. | | | 1683 | TNJ | 6,0 | 0,0 | 35,0 | 32,5 | 29,75 | 5 |
| 4 | 15 | | Dhinesh Kannan | U15 | | 1336 | PDU | 6,0 | 0,0 | 33,5 | 30,5 | 27,75 | 5 |
| 5 | 2 | | Srithar T | | | 1583 | PDU | 6,0 | 0,0 | 33,5 | 30,0 | 27,00 | 6 |
| 6 | 20 | | Kaviyarasan T | | | 1258 | THE | 6,0 | 0,0 | 32,0 | 28,5 | 26,25 | 5 |
| 7 | 34 | | Nishanth Prabhakaran | U15 | | 1146 | PDU | 6,0 | 0,0 | 32,0 | 28,5 | 26,00 | 6 |
| 8 | 21 | | Karthick Bala G | U15 | | 1241 | CUD | 6,0 | 0,0 | 31,0 | 29,0 | 25,00 | 6 |
| 9 | 8 | | Annapurni S | | w | 1453 | TNJ | 6,0 | 0,0 | 30,5 | 28,5 | 25,25 | 5 |
| 10 | 33 | | Priyanjana V | F12 | w | 1154 | ARY | 6,0 | 0,0 | 29,5 | 26,5 | 24,00 | 6 |
| 11 | 17 | | Mridubashini S S | F12 | w | 1281 | TRY | 6,0 | 0,0 | 29,0 | 27,0 | 24,00 | 6 |
| 12 | 12 | | Raghavendra Venkatasubramani | U15 | | 1366 | TRY | 5,5 | 0,0 | 37,0 | 33,0 | 27,50 | 5 |
| 13 | 14 | | Srihari Satheeswaran | U12 | | 1348 | TRY | 5,5 | 0,0 | 33,0 | 30,0 | 23,50 | 5 |
| 14 | 9 | | Arjun Kumar S | U15 | | 1427 | TVRR | 5,5 | 0,0 | 33,0 | 30,0 | 22,50 | 5 |
| 15 | 13 | | Kamali B | | w | 1349 | TVRR | 5,5 | 0,0 | 31,5 | 28,5 | 23,75 | 4 |
| 16 | 10 | | Irulappan G | | | 1426 | TVRR | 5,5 | 0,0 | 31,5 | 28,0 | 21,25 | 5 |
| 17 | 25 | | Sivasri S | F15 | w | 1182 | MDU | 5,5 | 0,0 | 31,0 | 28,0 | 22,00 | 5 |
| 18 | 48 | | Ussain R | | | 1099 | PDU | 5,5 | 0,0 | 30,5 | 27,5 | 19,75 | 5 |
| 19 | 259 | | Swetha J | F15 | w | 0 | TRY | 5,5 | 0,0 | 29,0 | 28,0 | 21,25 | 5 |
| 20 | 22 | | Harsha Y | F12 | w | 1223 | TRY | 5,5 | 0,0 | 28,5 | 27,5 | 20,25 | 5 |
---