Adhiban, Sethuraman, Gukesh, Laxman and Nandhidhaa receive Outstanding Sportsperson award by Tamil Nadu government
by Shahid Ahmed - 11/02/2021
It is safe to say that we all like when our hard work and efforts are appreciated by a public acknowledgement. The sense of pride and happiness satiate all the tireless time and work one has put to overcome all odds. GMs Adhiban, Sethuraman, Gukesh, Laxman and WGM Nandhidhaa have won countless prizes and accolades. On Monday 8th February when Tamil Nadu government awarded them the prestigious Chief Minster's Outstanding Sports Persons award, it was such a fantastic moment for them, their family and the entire chess fraternity.
Five players acknowledged by Tamil Nadu Government
On Monday 8th February, five of India's top players from Tamil Nadu were invited to Tamil Nadu Secretariat to be feted by the Chief Minister's State Sports Award in Outstanding Sportspersons category. We reached out to everyone to get their thoughts on winning such a prestigious award.
India no.4 GM Adhiban B shared, "Yeah it was a great feeling! Glad to be honoured with such an award!!"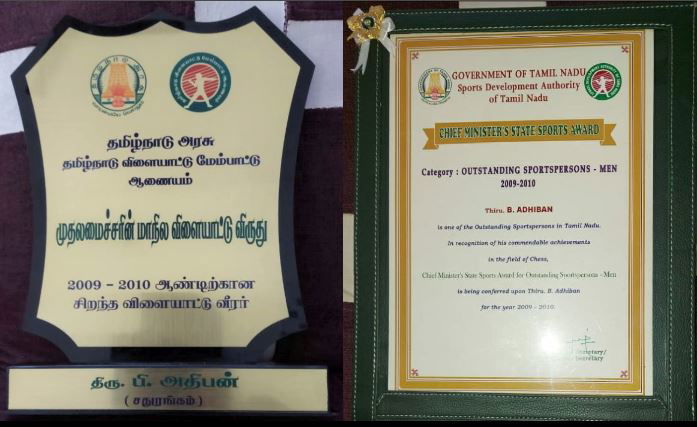 India no.6 GM Sethuraman S P tweeted, "Thanks to the honourable Chief Minister of TamilNadu Shri Edappadi K Palaniswami for bestowing me the Outstanding sportsperson award (Chess)."
India's youngest GM D Gukesh shared, "Thanks. Happy and feels good when our efforts are getting recognised which motivates me and encourages to move to next level by putting more hardwork now."
GM Laxman R R representing Integral Coach Factory of Indian Railways exclaimed, "I feel elated and glorious to receive the award from the respected and honourable Chief Minister Of Tamil Nadu."
WGM P V Nandhidhaa shared, "I feel very happy to receive this honour from the state government. It is the need of the hour to get such positive vibes during these tiring covid pandemic when every sportsperson is facing so many challenges. I feel very motivated to perform better in upcoming tournaments."
---