Rotachess Rapid Rating Open 2023 R1-4: Haridev stuns Karthik
A total of 22 players are in the lead with a score of 4/4 at Rotachess Rapid Rating Open 2023. The six GMs who have won all four of their games are - top seed of the event, Sethuraman S P, Karthikeyan Murali, Deep Sengupta, Venkatesh M R, Bharath Subramaniyam H and Arjun Kalyan. Birthday boy Arjun won all four of his games on his 21st birthday. Haridev S scored the biggest win of the day. He defeated the reigning National Senior champion, GM Karthik Venkataraman in the third round. IM Dhulipalla Bala Chandra Prasad had an exciting, topsy-turvy game against Badri Narayan S. Both had their fair share of chances. Peter Anand A missed his big opportunity to draw against GM Karthikeyan. Total Prize fund ₹550000 is up for grabs with the first prize being ₹75000. The tournament is organized by T Nagar Chess Academy, presented by YMCA Madras in association with Rotary Club of Madras Industrial City. Round 5 starts tomorrow at 9:30 a.m. IST. Photos: Shahid Ahmed
22 players are at 4/4
During the opening ceremony, it was mentioned that YMCA Madras wants to make it an annual event where each edition will be bigger than the previous one in terms of prize fund and everything else. Well, the inaugural edition can already be claimed as a success when stalwarts like GM Sethuraman S P, GM Karthikeyan Murali and GM Deep Sengupta are taking part. It certainly elevated the tournament to another level. That's not all, this is the biggest and strongest Rapid Rating Open of 2023 in India as 8 GMs and 11 IMs are taking part in it. Naturally first four rounds produced lots of exciting games.
Round 3: Haridev stuns Karthik, Bala Chandra escapes against
Haridev S (1589) scored a huge victory over the reigning National Senior Open champion, GM Karthik Venkataraman (2386).
Bala Chandra - Badri Narayan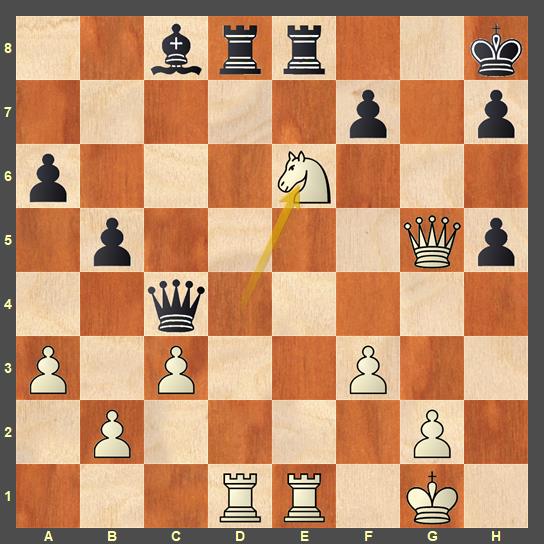 10.Re5 is what IM Dhulipalla Bala Chandra Prasad (2420) needed to play to capitalize on his advantage. Instead, he went for 10.Ne6?? which turned things completely inverse Qxe6! 11.Rxe6 Rxd1+ 12.Kh2 Rxe6 and the game surprisingly ended in a draw after another 66 moves which could have gone either player's way.
Round 4: Peter Anand misses a draw against Karthikeyan Murali
Peter Anand A (1906) had a great opportunity to draw the knight endgame against GM Karthikeyan Murali (2523). However, he missed it.
Karthikeyan - Peter
White has an advanced king, better placed knight. If anyone can push for a win here, that is White only. Where should the king move - d6 or e5? 17.Kd6 was played which allowed Black to get back in the game 17...Nxg2. Soon all kingside pawns were cleaned by each side and the game arrived at a drawn endgame.
At a first glance, it seems like taking the knight is a bad game. In fact, the reality is just the opposite. Black should have taken the knight and resultant pawn ending is a draw as Black can always get an opposition to prevent the white king's entry. 37...Nc5?? was played in the game and tables once again turned in White's favor. 38.Nxb6 and White went on to win the game.
Rotarian Emily Sujirtha Titus, President of the Rotary Club of Madras Industrial City, Rotarian P P Gopinath, Chairman of the tournament, Rotarian P P K Saravanaprakash, Secretary of Rotachess tournament, Ravikumar David, Vice President, YMCA Madras, Rotarian Kumar Asirvatham, Chairman, YMCA Royapettah Bracnh, P Asir Pandin, General Secretary and CEO, YMCA Madras, P Stephen Balasamy, Secretary, Tamil Nadu Chess Association, K Ganesan, Secretary of Chennai District Chess Association, Chief Guest, Rotarian immediate past district Governor J Sridhar, A L Kasi, Founder of T Nagar Chess Academy, and Srinivasa Rangan, Partner and Head Coach of T Nagar Chess Academy, were present at the inauguration ceremony.
Six GMs and seven IMs are currently at 4/4.
For more Inauguration Ceremony, Round 1, 2, 3 and 4 photos, please click at the respective links.
The two-day Rapid Rating Open observes the total participation of 528 players including 8 GMs, 11 IMs and a WGM from various parts of India and two from USA. The tournament is organized by T Nagar Chess Academy at YMCA Royapettah in Chennai, Tamil Nadu on 17th and 18th June 2023, presented by YMCA Madras in association with Rotary Club of Madras Industrial City. The two-day nine-round Swiss league Rapid Rating tournament has a time control of 15 minutes + 15 seconds increment.
Round 4 results
Standings after Round 4
| | | | | | | | | | | | | |
| --- | --- | --- | --- | --- | --- | --- | --- | --- | --- | --- | --- | --- |
| Rk. | SNo | | Name | Typ | RtgI | Club/City | Pts. | TB1 | TB2 | TB3 | TB4 | TB5 |
| 1 | 10 | IM | Srihari L R | | 2337 | Chengalpattu | 4 | 9 | 11 | 11,00 | 0 | 4 |
| | 11 | IM | Rathanvel V S | | 2315 | Coimbatore | 4 | 9 | 11 | 11,00 | 0 | 4 |
| | 12 | IM | Ilamparthi A R | U14 | 2301 | Chengalpattu | 4 | 9 | 11 | 11,00 | 0 | 4 |
| | 28 | | Sai Vishwesh.C | | 2066 | Chennai | 4 | 9 | 11 | 11,00 | 0 | 4 |
| | 56 | | Mithun Anand V | | 1754 | Thoothukudi | 4 | 9 | 11 | 11,00 | 0 | 4 |
| 6 | 6 | GM | Venkatesh M.R. | | 2414 | Chennai | 4 | 9 | 10 | 10,00 | 0 | 4 |
| | 7 | GM | Bharath Subramaniyam H | | 2389 | Tamil Nadu | 4 | 9 | 10 | 10,00 | 0 | 4 |
| | 24 | FM | Karthik Rajaa | | 2129 | Chennai | 4 | 9 | 10 | 10,00 | 0 | 4 |
| 9 | 8 | GM | Arjun Kalyan | | 2387 | Chennai | 4 | 8,5 | 10,5 | 11,00 | 0 | 4 |
| 10 | 21 | IM | Saravana Krishnan P. | | 2175 | KVB | 4 | 8,5 | 10,5 | 10,50 | 0 | 4 |
| | 25 | FM | Ram Aravind L N | | 2109 | Tamil Nadu | 4 | 8,5 | 10,5 | 10,50 | 0 | 4 |
| | 31 | | Rohit S | | 1998 | Chennai | 4 | 8,5 | 10,5 | 10,50 | 0 | 4 |
| | 35 | | Siddharth Sabharishankar | | 1945 | Chennai | 4 | 8,5 | 10,5 | 10,50 | 0 | 4 |
| 14 | 20 | FM | Ashwath R. | | 2176 | Chennai | 4 | 8,5 | 10 | 10,00 | 0 | 4 |
| 15 | 23 | IM | Sai Agni Jeevitesh J | | 2135 | Telangana | 4 | 8 | 10 | 10,00 | 0 | 4 |
| 16 | 18 | | Srihari L | | 2189 | Puducherry | 4 | 8 | 9,5 | 9,50 | 0 | 4 |
| | 26 | IM | Praveen Kumar C | | 2099 | Chennai | 4 | 8 | 9,5 | 9,50 | 0 | 4 |
| 18 | 1 | GM | Sethuraman S.P. | | 2533 | Chennai | 4 | 8 | 9 | 9,00 | 0 | 4 |
| 19 | 14 | IM | Ravi Teja S. | | 2293 | Andhra Pradesh | 4 | 7,5 | 9,5 | 9,50 | 0 | 4 |
| 20 | 2 | GM | Karthikeyan Murali | | 2523 | Tamil Nadu | 4 | 7 | 9 | 9,00 | 0 | 4 |
Round 5 pairings
Links
T Nagar Chess Academy: Official site and fb page
---