Nitin and Rathanvel win D A V Krida Kendram Rapid and Blitz Rating Open 2022
by Shahid Ahmed - 13/11/2022
IM Nitin S and FM Harsh Suresh scored an unbeaten 8.5/9 at D A V Krida Kendram Rapid Rating Open 2022. However, the former won the tournament due to better tie-breaks and the latter settled with second place. Harsh also finished third in the Blitz Rating Open, scoring 7/8. IM Ajay Krishna S was adjudged third out of the four players who finished at 8/9. IM Rathanvel V S edged past GM Laxman R R on tie-breaks to win the Blitz Rating event. Both scored 7.5/8 each and remained undefeated. The total prize fund of the tournament was ₹300000, ₹200000 for Rapid and ₹100000 for Blitz comprising 195 and 144 prizes respectively. The top three prizes in Rapid were ₹30000, ₹18000 and ₹15000, in Blitz it was ₹18000, ₹14000 and ₹11000 each. Photo: Vinoth Kumar/D A V Krida Kendram
Nitin and Rathanvel's first Rapid and Blitz Rating Open triumph of 2022
IM Nitin S has won three Blitz Rating Open tournaments in 2022. He made a podium finish each in a GM Open and a Rapid Rating Open tournaments. However, this is his first Rapid Rating Open tournament of the year. IM Rathanvel V S had a third place finish at 38th Andorra Open Blitz Rating tournament in July. Thus, this is also his first Blitz event triumph of the year. A low entry of ₹750 for Rapid and ₹500 for Blitz, encouraged a huge number of participation.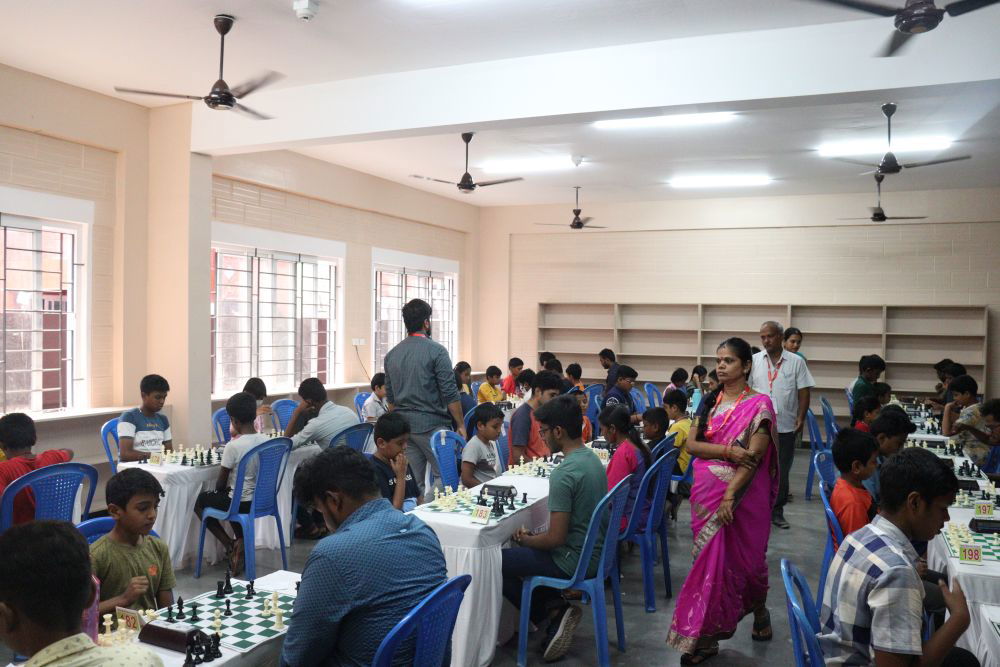 A special thanks to Vinoth Kumar for sharing the photos.
A total of 703 players in Rapid and 409 players including a GM, 6 IMs and a WIM took part in the Blitz from various parts of the country. The two-day nine-round Swiss league Rapid Rating and eight-round Blitz Rating Open tournaments were organized by D A V Krida Kendram, Sports Academy of D A V Group of Schools at D A V Group of School, Pallikaranai in Chennai, Tamil Nadu on 15th and 16th October 2022. The time control for the Rapid tournament was 15 minutes + 5 seconds increment and for Blitz it was 3 minutes + 2 seconds increment.
Final standings in Rapid
| | | | | | | | | | | | | | |
| --- | --- | --- | --- | --- | --- | --- | --- | --- | --- | --- | --- | --- | --- |
| Rk. | SNo | | Name | Typ | sex | Rtg | Club/City | Pts. | TB1 | TB2 | TB3 | TB4 | TB5 |
| 1 | 3 | IM | Nitin S. | | | 2307 | TN | 8,5 | 55 | 58,5 | 54,75 | 0 | 8 |
| 2 | 11 | FM | Harsh Suresh | | | 2180 | TN | 8,5 | 50,5 | 54,5 | 47,25 | 0 | 8 |
| 3 | 4 | IM | Ajay Krishna S | | | 2283 | TN | 8 | 53 | 57 | 49,50 | 0 | 8 |
| 4 | 15 | | Sai Vishwesh.C | | | 2119 | TN | 8 | 52 | 56 | 48,50 | 0 | 8 |
| 5 | 17 | FM | Senthil Maran K | | | 2109 | TN | 8 | 52 | 55,5 | 48,50 | 0 | 8 |
| 6 | 12 | CM | Rajarishi Karthi | | | 2139 | TN | 8 | 50,5 | 53,5 | 45,75 | 0 | 7 |
| 7 | 2 | IM | Harikrishnan.A.Ra | | | 2309 | TN | 7,5 | 56,5 | 59 | 44,25 | 0 | 7 |
| 8 | 19 | AGM | Vignesh B | | | 1950 | TN | 7,5 | 55,5 | 60 | 48,25 | 0 | 7 |
| 9 | 5 | GM | Laxman R.R. | | | 2278 | ICF | 7,5 | 52,5 | 56,5 | 42,25 | 0 | 6 |
| 10 | 6 | FM | Aarav Dengla | U14 | | 2257 | MAH | 7,5 | 52 | 57 | 45,75 | 0 | 7 |
| 11 | 30 | | Suganthan S | | | 1800 | TN | 7,5 | 52 | 54,5 | 44,00 | 0 | 7 |
| 12 | 31 | | Mithun Anand V | | | 1768 | TN | 7,5 | 50,5 | 54 | 43,75 | 0 | 7 |
| 13 | 21 | | Karthick Narayanan S | | | 1921 | TN | 7,5 | 50 | 54 | 44,75 | 0 | 7 |
| 14 | 20 | | Arnav Maheshwari | | | 1946 | DAV | 7,5 | 50 | 53 | 43,25 | 0 | 6 |
| 15 | 13 | IM | Ravi Thandalam Shanmugam | | | 2137 | TN | 7,5 | 49,5 | 53,5 | 43,75 | 0 | 7 |
| 16 | 24 | | Hemanth Raam | | | 1887 | TN | 7,5 | 49 | 53 | 42,25 | 0 | 7 |
| 17 | 76 | | Mahish S A | U12 | | 1356 | TN | 7,5 | 48 | 52,5 | 41,25 | 0 | 7 |
| 18 | 27 | | Peter Anand A | | | 1837 | PON | 7 | 55 | 60,5 | 46,00 | 0 | 6 |
| 19 | 14 | FM | Mohamed Anees M | | | 2137 | TN | 7 | 53,5 | 56,5 | 42,00 | 0 | 7 |
| 20 | 18 | | Aswath S | U14 | | 2086 | TN | 7 | 52,5 | 56,5 | 41,00 | 0 | 7 |
Final standings in Blitz
| | | | | | | | | | | | | | |
| --- | --- | --- | --- | --- | --- | --- | --- | --- | --- | --- | --- | --- | --- |
| Rk. | SNo | | Name | Typ | sex | Rtg | Club/City | Pts. | TB1 | TB2 | TB3 | TB4 | TB5 |
| 1 | 1 | IM | Rathanvel V S | | | 2429 | TN | 7,5 | 44,5 | 48,5 | 45,00 | 0 | 7 |
| 2 | 3 | GM | Laxman R.R. | | | 2375 | ICF | 7,5 | 42,5 | 45 | 41,75 | 0 | 7 |
| 3 | 13 | FM | Harsh Suresh | | | 2180 | TN | 7 | 42 | 46 | 38,25 | 0 | 6 |
| 4 | 10 | FM | Karthik Rajaa | | | 2202 | TN | 7 | 41,5 | 45,5 | 37,75 | 0 | 6 |
| 5 | 8 | FM | Aarav Dengla | U14 | | 2257 | MAH | 7 | 40,5 | 44,5 | 37,00 | 0 | 7 |
| 6 | 18 | FM | Ram Aravind L N | | | 2118 | TN | 7 | 39,5 | 43 | 36,00 | 0 | 7 |
| 7 | 53 | | Pranav K P | U14 | | 1589 | TN | 7 | 37,5 | 40 | 31,00 | 0 | 7 |
| 8 | 60 | | Ajjesh J R | U14 | | 1479 | TN | 7 | 37 | 39 | 33,00 | 0 | 7 |
| 9 | 14 | | Sai Vishwesh.C | | | 2149 | TN | 7 | 34,5 | 35 | 31,00 | 0 | 7 |
| 10 | 2 | IM | Nitin S. | | | 2390 | TN | 6,5 | 44 | 49 | 38,00 | 0 | 6 |
| 11 | 4 | IM | Ajay Karthikeyan | | | 2341 | TN | 6,5 | 41 | 45 | 34,75 | 0 | 6 |
| 12 | 12 | IM | Praveen Kumar C | | | 2193 | TN | 6,5 | 41 | 43,5 | 31,75 | 0 | 6 |
| 13 | 11 | CM | Rajarishi Karthi | | | 2196 | TN | 6,5 | 39,5 | 41,5 | 32,75 | 0 | 6 |
| 14 | 19 | FM | Senthil Maran K | | | 2109 | TN | 6,5 | 39 | 43 | 33,75 | 0 | 6 |
| 15 | 38 | | Ayyappan P Santhana Prabu | | | 1732 | TN | 6,5 | 38 | 40 | 30,25 | 0 | 6 |
| 16 | 34 | | Suganthan S | | | 1800 | TN | 6,5 | 37,5 | 41,5 | 32,25 | 0 | 6 |
| 17 | 16 | FM | Mohamed Anees M | | | 2137 | TN | 6,5 | 36,5 | 39,5 | 30,25 | 0 | 6 |
| 18 | 6 | | Kunal M. | | | 2288 | TN | 6,5 | 36 | 40 | 32,00 | 0 | 6 |
| 19 | 40 | | Dharani Kumar M S | | | 1708 | TN | 6,5 | 35 | 37,5 | 27,75 | 0 | 6 |
| 20 | 23 | | Arnav Maheshwari | | | 1946 | DAV | 6 | 40,5 | 44,5 | 30,50 | 0 | 6 |
---