Sethuraman S P wins Rotachess Rapid Rating Open 2023
Top seed of the tournament, GM Sethuraman S P scored 8/9 to win Rotachess Rapid Rating Open 2023. Despite losing the penultimate round game against GM Bharath Subramaniyam H, he bounced back by winning the final round game against IM Ravi Teja S. Four more players, GM Bharath Subramaniyam H, GM Karthikeyan Murali, GM Arjun Kalyan and IM Bala Chandra Prasad Dhulipalla also scored 8/9 each. They were placed second to fifth according to tie-breaks. Bharath, Karthikeyan and Bala remained undefeated. The total prize fund of the tournament was ₹550000. The top three prizes were ₹75000, ₹50000 and ₹35000 along with a trophy each. The tournament was organized by T Nagar Chess Academy, presented by YMCA Madras in association with Rotary Club of Madras Industrial City. All photos in this article are by Shahid Ahmed
Top five score 8/9
The second day started with only decisive games in the top 15 boards. The sixth round also had a similar situation - only two draws out of top ten boards. This round also witnessed the longest game of the tournament between WGM Rakshitta Ravi and San Hariharan which went for nearly two hours. Arbiter intervened and declared it a draw, after no progress was made in a rook and knight vs rook endgame. The defender did not claim a 50-move draw either, hence the rare draw by arbiter intervention. Rotary clubs are known for their philanthropic gestures. Apart from having a huge waiting area for the parenst and accompanying persons, this tournament had the following facility free for them - dental treatment, cardiac screening and eye check-up, on a first-come first-serve basis.
Round 8: Bharath topples Sethuraman
Just when it seemed like the top seed GM Sethuraman S P (2533) will have a cakewalk towards the first place finish, GM Bharath Subramaniyam H (2389) had something in his mind. IM Bala Chandra Prasad (2420) played his best game of the event when he beat GM Deep Sengupta (2439).
Bharath - Sethuraman
In a post-tournament interview, GM Bharath described the game to be a dry one, until his opponent GM Sethuraman started to move his king in the opposite direction 28...Kf4?? This gave White a decisive advantage 29.Kxc5 Ke3 30.Nh3 g4 31.fxg4 Nxg4 32.g3 computer suggests a4 to be better as White can afford to drop the h2-pawn to gain some valuable time. 32...hxg3 33.hxg3 e5 34.b4 Kf3 35.a4 Nf6 36.Ng5+ Kg4 37.Kd6 and here Black had a computer-like draw which was not easy to find in time pressure.
Find out what was Black's final chance to salvage a half point in the above diagram. The game continued 37...e4?? 38.Nxe4+- Nxe4 39.Kc6 and White went on to win the game.
Karthikeyan - Sai Agni
GM Karthikeyan Murali (2523) played a nice move 1.Nc6 against IM Sai Agni Jeevitesh J (2135). However, he mentioned in the interview that it actually is not a good move if Black goes 1...bxc6 2.dxc6+ Nxb3 3.Rxd8+ Kf7 4.axb3 fxg5 and now Black gets two minor pieces for a rook. It would have been a better choice for Black instead of the game continuation 1...Nxb3 2.Nxe7+ Kf7 3.axb3 fxg5 4.Nxc8 Raxc8. Soon the position liquidated into a rook endgame which Karthikeyan went on to win. The rook endgame is the reason behind this being Karthikeyan's favorite game of the event.
Round 9: Bala Chandra and Bharath draw, Sethuraman wins
IM Bala Chandra Prasad Dhulipalla (2420) drew his final round game against GM Bharath Subramaniyam H (2389). GM Sethuraman S P (2533), GM Karthikeyan Murali (2523) and GM Arjun Kalyan (2387) won their respective games against IM Ravi Teja S (2293), Aakash G (1980) and IM Rathanvel V S (2315). Thus, five players ended up having the same score 8/9.
Sethuraman - Ravi
IM Ravi Teja S already had an inferior position. 3...g6? only made things easier for his opponent, GM Sethuraman S P (2533). 4.Bf3 a6 5.axb5 cxb5 6.Bxd5 exd5 7.exf6 Rae8 8.Nxf5 gxf5 9.Qg5 and Black resigned as the dark square weakness has become overwhelming. This win ensured Sethuraman's triumph of the tournament.
Prize distribution ceremony photos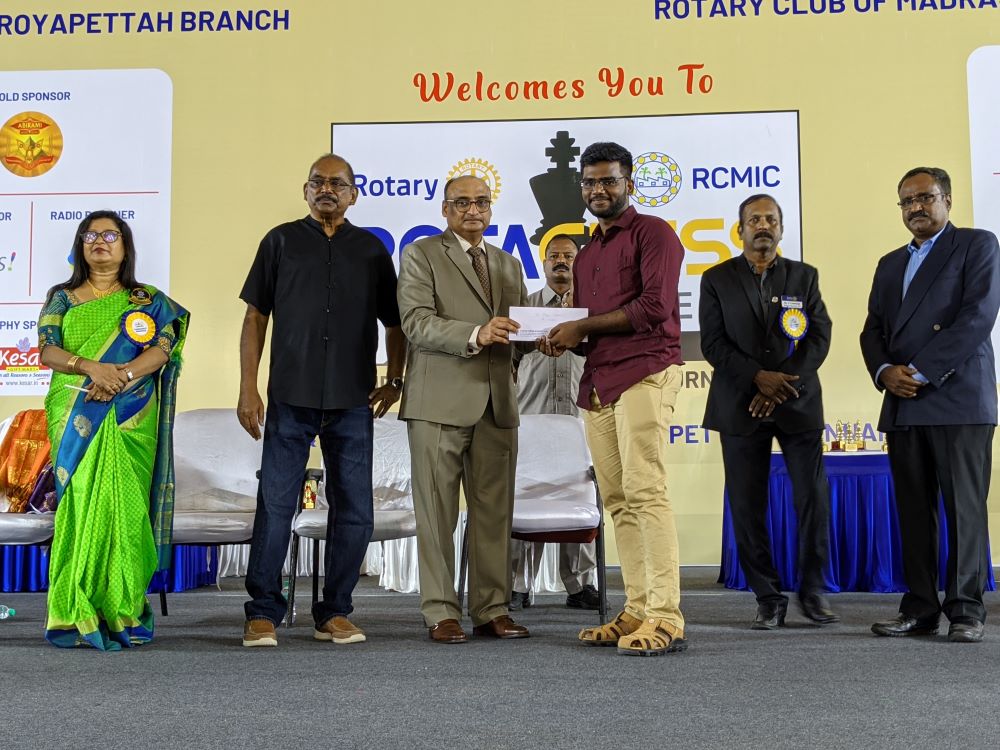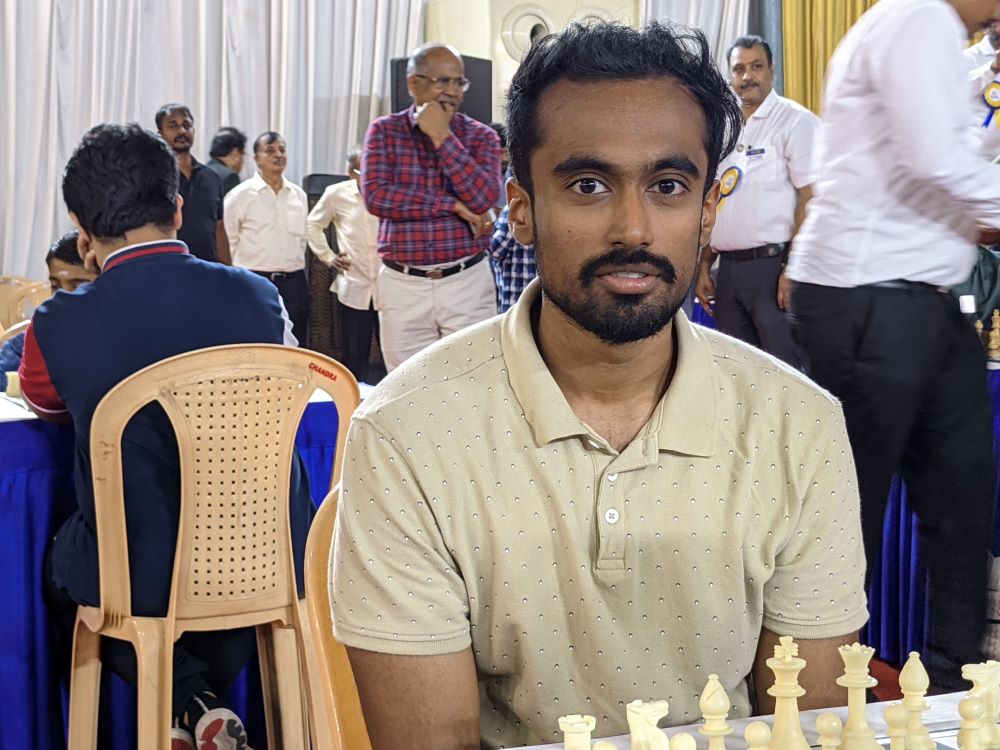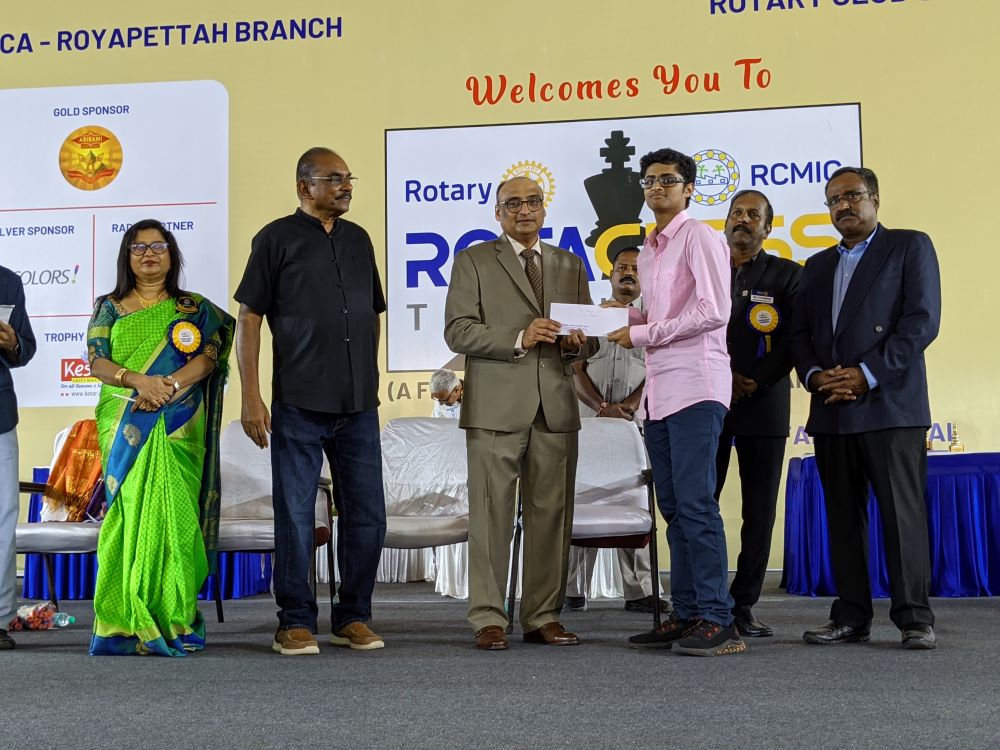 The guests present at the closing ceremony were - Tournament Chairman : Rtn. R Gopinath, Tournament Secretary: Rtn. K Saravana Prakash, Club President: Rtn Emily Sujirtha Titus, Club Secretary: Rtn. V S Srinivasan, YMCA Chairman Royappetah branch: Kumar Asirvatham, Guest of Honour: Past District Governor: Rtn. Abirami Ramanathan, Guest of Honour: Rtn. Vinod Sarogi, District Governor Nominee, Chief Guest: Justice Sunder Mohan, Madras High Court, and Chennai District Chess Association Secretary: K Ganesan.
Photo Gallery
For more Prize distribution ceremony photos, please click here and here. More game videos will be published, stay tuned.
The two-day Rapid Rating Open observed the total participation of 528 players including 8 GMs, 11 IMs and a WGM from various parts of India and two from USA. The tournament was organized by T Nagar Chess Academy at YMCA Royapettah in Chennai, Tamil Nadu on 17th and 18th June 2023, presented by YMCA Madras in association with Rotary Club of Madras Industrial City. The time control was 15 minutes + 15 seconds increment.
Round 9 results
Standings after Round 9
| | | | | | | | | | | | | |
| --- | --- | --- | --- | --- | --- | --- | --- | --- | --- | --- | --- | --- |
| Rk. | SNo | | Name | Typ | RtgI | Club/City | Pts. | TB1 | TB2 | TB3 | TB4 | TB5 |
| 1 | 1 | GM | Sethuraman S.P. | | 2533 | Tamil Nadu | 8 | 56 | 60 | 52,00 | 0 | 8 |
| 2 | 7 | GM | Bharath Subramaniyam H | | 2389 | Tamil Nadu | 8 | 54 | 58,5 | 50,50 | 0 | 7 |
| 3 | 2 | GM | Karthikeyan Murali | | 2523 | Tamil Nadu | 8 | 53,5 | 58,5 | 51,00 | 0 | 7 |
| 4 | 8 | GM | Arjun Kalyan | | 2387 | Tamil Nadu | 8 | 53,5 | 57,5 | 50,00 | 0 | 8 |
| 5 | 5 | IM | Dhulipalla Bala Chandra Prasad | | 2420 | Andhra Pradesh | 8 | 51 | 54 | 46,75 | 0 | 7 |
| 6 | 3 | GM | Visakh N R | | 2466 | Tamil Nadu | 7,5 | 53 | 58 | 47,50 | 0 | 6 |
| 7 | 9 | GM | Karthik Venkataraman | | 2386 | Andhra Pradesh | 7,5 | 50,5 | 55 | 44,75 | 0 | 7 |
| 8 | 16 | IM | Avinash Ramesh | | 2255 | Tamil Nadu | 7,5 | 50,5 | 55 | 44,00 | 0 | 6 |
| 9 | 20 | FM | Ashwath R. | | 2176 | Tamil Nadu | 7,5 | 50 | 54 | 42,25 | 0 | 7 |
| 10 | 19 | FM | Harshad S | | 2180 | Tamil Nadu | 7,5 | 48,5 | 53 | 43,75 | 0 | 7 |
| 11 | 15 | IM | Hari Madhavan N B | | 2275 | Tamil Nadu | 7,5 | 47,5 | 51,5 | 38,75 | 0 | 7 |
| 12 | 11 | IM | Rathanvel V S | | 2315 | Tamil Nadu | 7 | 55,5 | 60 | 44,50 | 0 | 6 |
| 13 | 10 | IM | Srihari L R | | 2337 | Tamil Nadu | 7 | 53 | 57 | 42,00 | 0 | 6 |
| 14 | 14 | IM | Ravi Teja S. | | 2293 | Andhra Pradesh | 7 | 53 | 56,5 | 40,50 | 0 | 7 |
| 15 | 4 | GM | Sengupta Deep | | 2439 | PSPB | 7 | 52,5 | 57,5 | 42,50 | 0 | 6 |
| 16 | 12 | IM | Ilamparthi A R | U14 | 2301 | Tamil Nadu | 7 | 52 | 57,5 | 43,50 | 0 | 6 |
| 17 | 31 | | Rohit S | | 1998 | Tamil Nadu | 7 | 50 | 54,5 | 38,50 | 0 | 7 |
| 18 | 24 | FM | Karthik Rajaa | | 2129 | Tamil Nadu | 7 | 50 | 54 | 38,25 | 0 | 6 |
| 19 | 18 | | Srihari L | | 2189 | Puducherry | 7 | 49,5 | 54 | 40,50 | 0 | 7 |
| 20 | 43 | | Sham R | | 1860 | Kanchipuram | 7 | 49 | 52,5 | 37,50 | 0 | 7 |
| 21 | 51 | | Harini S. | | 1799 | Tamil Nadu | 7 | 48,5 | 51,5 | 37,75 | 0 | 6 |
| 22 | 25 | FM | Ram Aravind L N | | 2109 | Tamil Nadu | 7 | 48 | 52,5 | 39,00 | 0 | 7 |
| 23 | 21 | IM | Saravana Krishnan P. | | 2175 | KVB | 7 | 48 | 52 | 37,50 | 0 | 7 |
| 24 | 38 | | Sarveshwaran V | | 1904 | Tamil Nadu | 7 | 48 | 52 | 36,50 | 0 | 7 |
| 25 | 17 | FM | Ritviz Parab | | 2237 | Goa | 7 | 47,5 | 52 | 39,00 | 0 | 7 |
| 26 | 23 | IM | Sai Agni Jeevitesh J | | 2135 | Telangana | 7 | 47,5 | 51,5 | 36,00 | 0 | 7 |
| 27 | 33 | | Aakash G | U14 | 1980 | Tamil Nadu | 7 | 47 | 51 | 37,50 | 0 | 7 |
| 28 | 28 | | Sai Vishwesh.C | | 2066 | Tamil Nadu | 7 | 46 | 50 | 38,00 | 0 | 7 |
| 29 | 34 | | Arnav Maheshwari | | 1953 | Tamil Nadu | 7 | 46 | 50 | 36,25 | 0 | 6 |
| 30 | 41 | CM | Daakshin Arun | U14 | 1877 | Tamil Nadu | 7 | 44 | 48 | 35,50 | 0 | 6 |
Links
T Nagar Chess Academy: Official site and fb page
---