The super couple of chess Niklesh and Angela will head ChessBase India's Group Tour to Sharjah and Dubai
The Sharjah and Dubai Masters 2019 is coming up. Two strong tournaments with some of the strongest grandmasters in the world playing at the UAE. ChessBase India in accordance with its motto of "Powering chess in India" is going to UAE with a Group Tour. The manager of the group tour would be Niklesh Jain. This is the second ChessBase India Power Group Tour. The first one to Barcelona, Spain was very successful with all the players cumulatively gaining 4359 Elo points! This time we are going to Sharjah from the 21st to 30th of March and to Dubai from the 1st to 10th of April 2019. The idea of the Group Tour is to give exposure to the youngsters so that they can travel to tournaments without their parents and guardians, thereby making them more capable individuals. Not to forget, it is extremely cost effective!
FI Niklesh Jain will be the Group Tour Manager
At the Batumi Olympiad in front of thousands of chess players Niklesh Jain played a surprise move! He proposed his future wife Angela. This was shot on a video and it went completely viral!
Niklesh and Angela are one of the most beautiful couples in the world of chess. Angela is from Colombia and speaks Spanish, while Niklesh is one of the best Hindi chess writers in our country. When they met each other, they didn't even know the language of the other person. And yet they fell in love. It's the game of chess that brought them together! A victory for our beautiful sport.
After marriage, the duo have settled in Niklesh's hometown Katni in Madhya Pradesh. Niklesh spends his day promoting chess in India by running ChessBase India Hindi, churning out articles and videos day after day. Angela, on the other hand, is working hard towards achieving her WGM title. She is already a WIM and has an Elo of 2141 and has represented Colombian national team on multiple occasions. The duo would be heading the ChessBase India Group Tour to Sharjah and Dubai from 21st March to 11th of April 2019. While Angela will be actively playing and trying to get her WGM norms in both the events, Niklesh will be the tour manager, making sure that all the logistics are in place for the members of the ChessBase India Group Tour so that they can play their games well.
What is a Group Tour?
ChessBase India Power has been successfully helping chess players all over India to plan their trips in different parts of the world. With the group tour we go a step ahead! We are going to have a representative (Niklesh) who will be your guide at the Sharjah and Dubai tournaments. First of all ChessBase India Power will take care of your accommodation, flight tickets, visa and insurance like it always does. If you are a part of the ChessBase India Power tour then Niklesh Jain will guide you with:
1. Food options,
2. Airport transfers
3. Finding the best way for internal travel
4. Entry for the tournaments
5. Sight seeing, in case you would like to
6. Not to forget, Niklesh is a pretty strong player and, if time permits, can help you with the preparation for your games!
Niklesh would be doing everything that a guardian does! In this way, parents who usually have to travel with their kids will be saved from spending their 20 days in UAE away from their work. Also it is cost effective because the cost of parent's travel, stay and food is saved. The kids also get to travel independently which makes them more responsible.
You are in safe hands!
Niklesh Jain is a FIDE Instructor and was the head coach of SYNA International school for 11 years. He has travelled to innumerable countries all across the world, playing chess tournaments, covering them and was also the manager of Indian squads when they went to World Schools in 2017 as well as Aeroflot Open in 2018.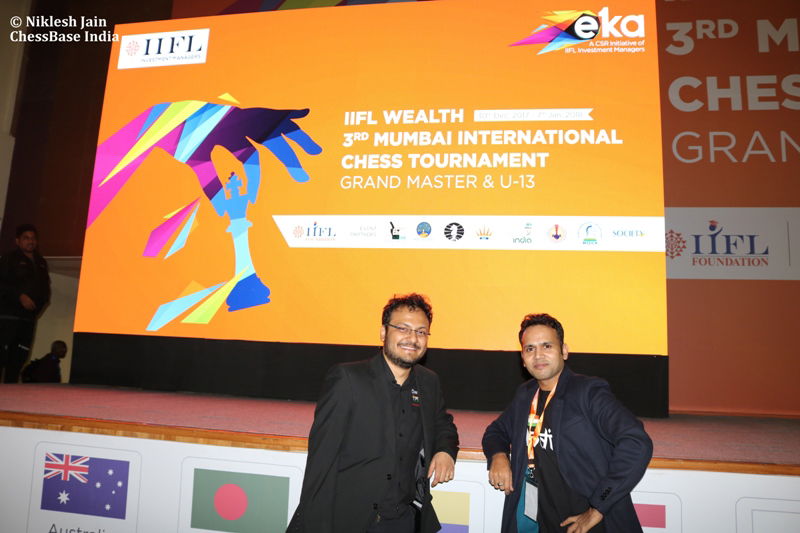 Sharjah Masters
The Sharjah Masters will be held from the 21st to 31st of March 2019 and this will be followed by the Dubai GM Open 2019 from 1st to 10th of April 2019.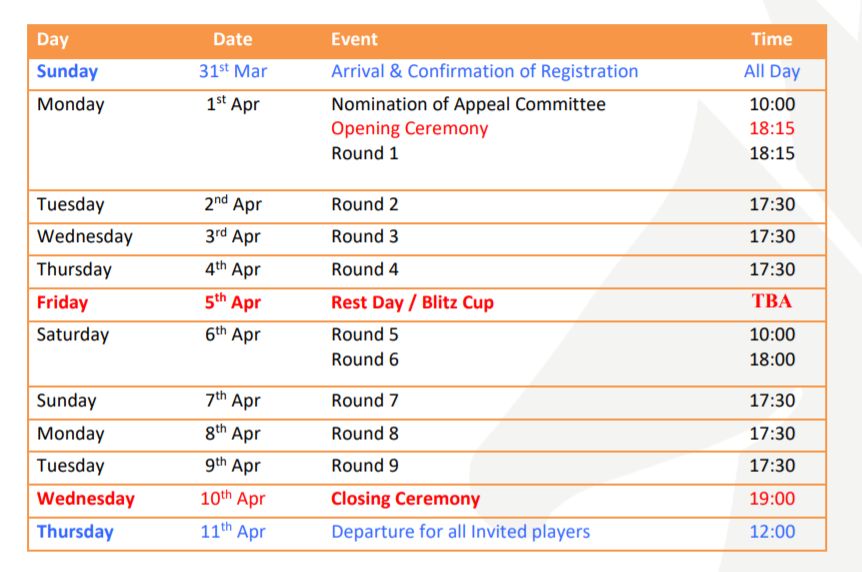 Top 20 seeds at Sharjah Masters
The players list of Dubai Open 2019 is yet to be published.
Cost of the Group Tour
Total Cost: Rs. 1, 15,000 for the player
Accompanying person Rs 1,05,000
Inclusions:-
* Flights
* Airport Transfers
* Sharjah Entry fee
* Hotel Apartment stay
* Insurance
* Visa fees
* Transfers from the venue to the hotel everday

Exclusions:-
* Food
* Dubai Entry Fee
* Any consumables or Domestic Flights
* Sight Seeings
Note:- Air fares are dynamic so package rate may change at the time of issuance at the moment base rate is considered 20,000 if lesser we will refund the balance amount.
Members of the Group Tour: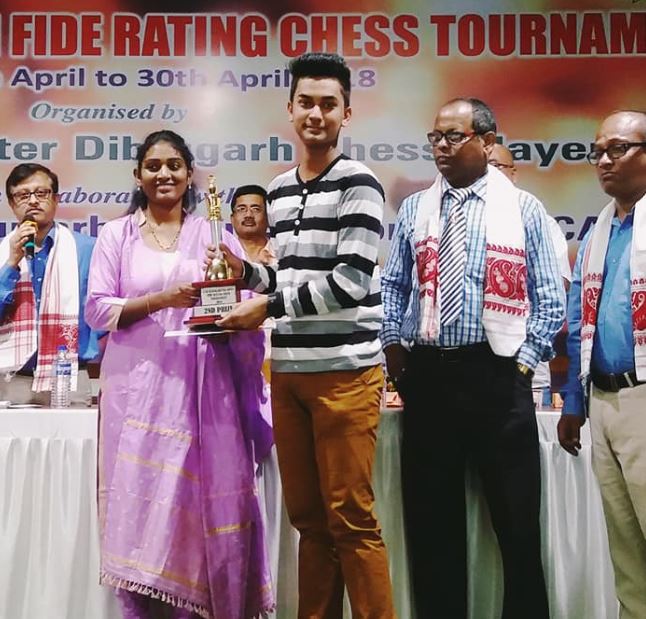 These five talents will be travelling with Niklesh and Angela for both the events in Sharjah and Dubai. We will accept 3 more entries. However, you will have to reach us immediately on 5th of March, so that we can begin with the process of planning your trip.
Contact:
Hotline:
Primary numbers: 09106908500/ 07878860008 (10 a.m to 8 p.m.)
Secondary number: 07304087464
Email: chessbaseindiapower@gmail.com
Related links:
More information about Sharjah and Dubai Open 2019
Group Tour to Barcelona in 2018
Gaining 4359 Elo points in Spain
Sharjah circular in ChessBase India calendar
Dubai circular in ChessBase India calendar
---