23rd Dubai Open 2023 R5-6: Aravindh Chitambaram still in sole lead
Aravindh Chithambaram drew his fifth and sixth round games to maintain his sole lead 5/6. He had great winning chances against both GM Yangyi Yu (CHN) and GM M Amin Tabatabei (IRI) in fifth and sixth rounds respectively. However, he missed seizing his chances and the game ended in a draw. Six players including GM Arjun Erigaisi, are trailing by a half point at 4.5/6; B Adhiban, Abhijeet Gupta and Karthikeyan Murali are at 4/6 each. After two consecutive draws, Arjun defeated GM Nikolas Theodorou (GRE) by delivering a checkmate. IM Anuj Shrivatri defeated two GMs in consecutive rounds to move to 3.5/6. Round 7 starts today at 5 p.m. local time, 6:30 p.m. IST. Photos: Aditya Sur Roy
Anuj Shrivatri beats two GMs in-a-row
IM Anuj Shrivatri got the better of GM Raja Rithvik R and GM Mikheil Mchedlishvili (GEO) in round 5 and 6 respectively to take his score to 3.5/6.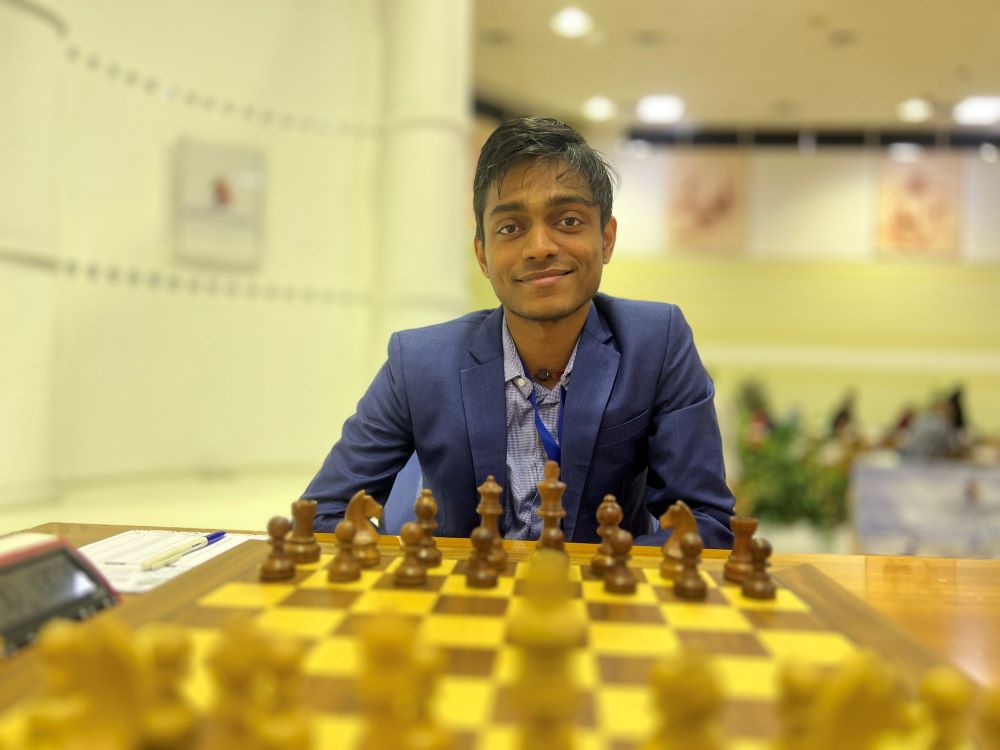 Aravindh - Yangyi, Round 5
32.Qxc5 attacked both knight and bishop. The only way to save them was 32...Bd7 33.Ne5 Nb5 34.Nxb5 Bxb5 35.Qd5 Bd7 and the position remains balanced. 32...Nb5? 33.Qxf5 Qe3+ 34.Kh2 Qxc3 and now White needed to go 35.d7 to win the game. Instead, the game continued 35.Qd5 Nxd6 36.Qxd6 Qxb3 37.Ne5 Qe6 38.Qd8+ Kh7 39.Nd7 and it was a draw as Black can start a barrage of checks.
Tabatabaei - Aravindh, Round 6
22.Bf5 does more good for Black than White. Black should have taken the bishop Bxf5 23.Qxd5 g4 24.Qxf5 gxf3 25.gxf3 Qh4+ 26.Rh2 Qd4 27.Rxh6 Bf6 and Black is out of danger. Instead, 22...Nf8 lost the opportunity 23.Bxe6 Nxe6 and the game eventually ended in a draw.
Theorodorou - Arjun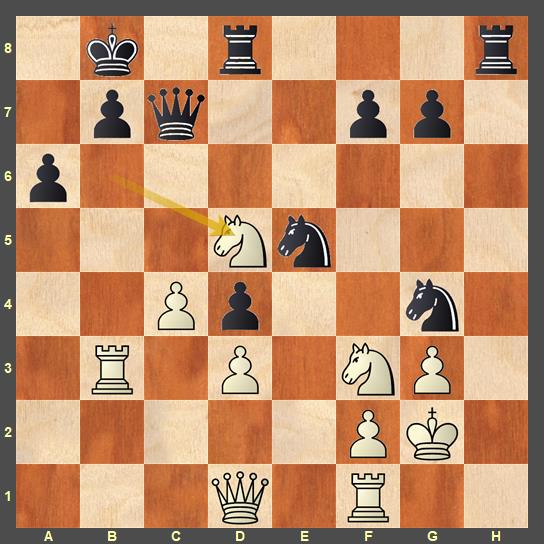 GM Nikolas Theodorou (GRE, 2591) made a big mistake when he played 24.Nd5?? Rxd5! -+ 25.cxd5 Qd7 threatening Ne3+, Qh3+ 26.Qe2 Nxf3 27.Qxf3 Ne5 28.Rg1 Qh3#
Mchedlishvili - Anuj
It is difficult to make progress for either side, unless one of them makes a mistake. 51.Nd3? landed GM Mikheil Mchedlishvili (GEO, 2553) in a pickle. His opponent, IM Anuj Shrivatri (2404) immediately seized his opportunity 51...Qc4 52.Rb7+ Kh6 53.Nf4 Ne4 54.Rb1 Nxf2 55.Qb4 Qxb4 56.Rxb4 Nh3+ 57.Nxh3 gxh3 the resultant rook endgame is winning for Black. Anuj had no trouble converting it into a win.
For more Round 5 and Round 6 photos, please click at the respective links.
A total of 81 players including 47 GMs, 19 IMs, a WGM and 3 WIMs are taking part in the Category A (>2200) from 31 countries across the world. The tournament is being organized by Dubai Chess & Culture Club from 27th May to 4th June 2023 at Dubai Chess & Culture Club, UAE. The nine-round Swiss league tournament has a time control of 90 minutes + 30 seconds increment from move no.1.
Replay Round 5-6 games
Round 6 results
Standings after Round 6
| | | | | | | | | | | | | |
| --- | --- | --- | --- | --- | --- | --- | --- | --- | --- | --- | --- | --- |
| Rk. | SNo | | | Name | FED | Rtg | Pts. | TB1 | TB2 | TB3 | K | rtg+/- |
| 1 | 9 | | GM | Aravindh, Chithambaram Vr. | IND | 2633 | 5 | 2625 | 0 | 19 | 10 | 16,9 |
| 2 | 5 | | GM | Tabatabaei, M. Amin | IRI | 2677 | 4,5 | 2620 | 0 | 18,5 | 10 | 8,4 |
| 3 | 1 | | GM | Yu, Yangyi | CHN | 2729 | 4,5 | 2614 | 0 | 20,5 | 10 | 4,3 |
| 4 | 7 | | GM | Sindarov, Javokhir | UZB | 2661 | 4,5 | 2610 | 0 | 18 | 10 | 8,9 |
| 5 | 3 | | GM | Erigaisi, Arjun | IND | 2701 | 4,5 | 2588 | 0 | 15,5 | 10 | 4,5 |
| 6 | 6 | | GM | Matlakov, Maxim | RUS | 2662 | 4,5 | 2578 | 0 | 19 | 10 | 6,7 |
| 7 | 11 | | GM | Sargsyan, Shant | ARM | 2630 | 4,5 | 2542 | 0 | 16,5 | 10 | 6,1 |
| 8 | 15 | | GM | Kovalev, Vladislav | FID | 2612 | 4 | 2621 | 0 | 19,5 | 10 | 8,1 |
| 9 | 14 | | GM | Indjic, Aleksandar | SRB | 2618 | 4 | 2613 | 0 | 19 | 10 | 4,6 |
| 10 | 2 | | GM | Niemann, Hans Moke | USA | 2708 | 4 | 2586 | 0 | 20 | 10 | -1,1 |
| 11 | 24 | | GM | Adhiban, B. | IND | 2589 | 4 | 2583 | 0 | 18,5 | 10 | 3,3 |
| 12 | 75 | | | Xue, Haowen | CHN | 2335 | 4 | 2563 | 0 | 16 | 20 | 52,6 |
| 13 | 25 | | GM | Asadli, Vugar | AZE | 2584 | 4 | 2561 | 0 | 17,5 | 10 | 5,6 |
| 14 | 21 | | GM | Bernadskiy, Vitaliy | UKR | 2592 | 4 | 2560 | 0 | 17,5 | 10 | 4,6 |
| 15 | 17 | | GM | Murzin, Volodar | FID | 2604 | 4 | 2546 | 0 | 17,5 | 10 | 3,5 |
Round 7 pairings
Links
Dubai Chess: fb page, twitter, instagram and youtube
---