Aravindh Chithambaram wins 23rd Dubai Open 2023 for the second consecutive year, Arjun Erigaisi third
Arjun Erigaisi drew his final round game against Aravindh Chithambaram. The 44th Chess Olympiad Gold medalist, Javokhir Sindarov (UZB) also drew his game against M Amin Tabatabaei (IRI). Thus, the four leaders ended up finishing with the same score 6.5/9. Aravindh won 23rd Dubai Open 2023 on tie-breaks, Sindarov second and Arjun was placed third. This is the second consecutive year Aravindh has won the Dubai Open. He remained undefeated on both occasion. This performance of his brought him closer to 2650 Elo rating. India currently has nine players in the World top 100 in live ratings. Aravindh earned a beautiful trophy and USD 12000, Arjun won $6000. 13-year-old Jaiveer Mahendru scored 7.5/9 to finish second in Category B (1600-2199). He received $1800. Photos: Aditya Sur Roy
Anuj Shrivatri makes a strong finish, Jaiveer Mahendru second in Category B
Arjun Erigaisi finished third on tie-breaks. He still hasn't secured his place in the upcoming FIDE World Cup 2023. With just over a month left the qualifying path becoming narrower, Arjun rushed to Almaty, Kazakhstan to play Asian Continental 2023 from the second round. GM M Amin Tabatabaei (IRI) and GM Tsegmed Batchuluun (MGL) also did the same.
Do check out an innovative photoshoot of Aravindh after he became the champion for the second consecutive year.

Anuj - Adhiban
GM B Adhiban (2589) played in his usual bold style. 13...f5? only weakened his king. His opponent, IM Anuj Shrivatri (2404) launched an attack on his vulnerable king 14.exf5 exf5 15.Nd5 Kh7 16.c3 Ne7 17.Bh4 Bf6 18.Nxf6+ Nxf6 19.Bd3 Ng6 20.Qc2 White eventually went on to win the game. Black later got an opportunity to get back in the game. However, it was not easy to find.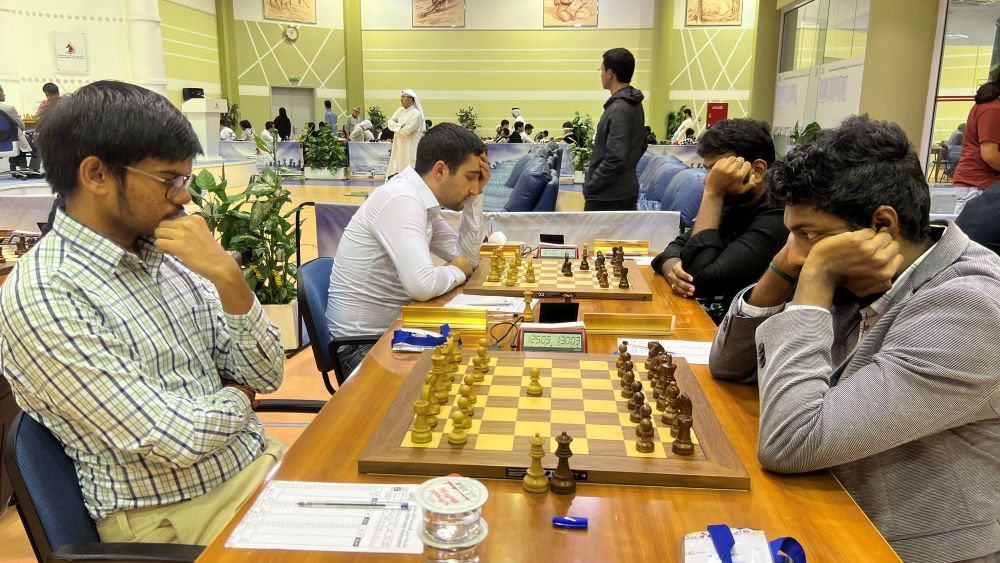 For more Round 9 photos, please click here.
A total of 81 players including 47 GMs, 19 IMs, a WGM and 3 WIMs are took part in the Category A (>2200) from 31 countries across the world. Category B (1600-2199) witnessed the participation of 83 players from 23 countries. The tournament was organized by Dubai Chess & Culture Club from 27th May to 4th June 2023 at Dubai Chess & Culture Club, UAE. The nine-round Swiss league tournament had a time control of 90 minutes + 30 seconds increment from move no.1.
Replay Category A Round 9 games
Replay Category B Round 1-9 games
Round 9 results
Final standings in Category A (>2200)
| | | | | | | | | | | | | |
| --- | --- | --- | --- | --- | --- | --- | --- | --- | --- | --- | --- | --- |
| Rk. | SNo | | | Name | FED | Rtg | Pts. | TB1 | TB2 | TB3 | K | rtg+/- |
| 1 | 9 | | GM | Aravindh, Chithambaram Vr. | IND | 2633 | 6,5 | 2640 | 0 | 47,5 | 10 | 18,2 |
| 2 | 7 | | GM | Sindarov, Javokhir | UZB | 2661 | 6,5 | 2624 | 0 | 44,5 | 10 | 13,2 |
| 3 | 3 | | GM | Erigaisi, Arjun | IND | 2701 | 6,5 | 2623 | 0 | 40 | 10 | 8,7 |
| 4 | 6 | | GM | Matlakov, Maxim | RUS | 2662 | 6,5 | 2599 | 0 | 42,5 | 10 | 10,5 |
| 5 | 1 | | GM | Yu, Yangyi | CHN | 2729 | 6 | 2626 | 0 | 44,5 | 10 | 0,8 |
| 6 | 5 | | GM | Tabatabaei, M. Amin | IRI | 2677 | 6 | 2623 | 0 | 43,5 | 10 | 6,3 |
| 7 | 51 | | IM | Ohanyan, Emin | ARM | 2444 | 6 | 2597 | 0 | 37 | 10 | 29,2 |
| 8 | 75 | | | Xue, Haowen | CHN | 2335 | 6 | 2596 | 0 | 39 | 20 | 84,4 |
| 9 | 29 | | GM | Mishra, Abhimanyu | USA | 2550 | 6 | 2592 | 0 | 43 | 10 | 17 |
| 10 | 17 | | GM | Murzin, Volodar | FID | 2604 | 6 | 2588 | 0 | 41,5 | 10 | 10,6 |
Final standings in Category B (1600-2199)
| | | | | | | | | | | | | | |
| --- | --- | --- | --- | --- | --- | --- | --- | --- | --- | --- | --- | --- | --- |
| Rk. | SNo | | | Name | FED | Rtg | Pts. | TB1 | TB2 | TB3 | TB4 | K | rtg+/- |
| 1 | 8 | | FM | Gavrilov, Maxim | RUS | 2157 | 7,5 | 2035 | 0 | 48 | 40,5 | 20 | 28,8 |
| 2 | 56 | | | Jaiveer, Mahendru | IND | 1716 | 7,5 | 2034 | 0 | 44 | 37,5 | 40 | 240 |
| 3 | 17 | | | Arellano, Bryle | PHI | 2042 | 7,5 | 1932 | 0 | 46,5 | 39 | 20 | 34,4 |
| 4 | 67 | | | Arakelyan, Manvel | ARM | 1657 | 6,5 | 2058 | 0 | 47 | 39,5 | 40 | 224,8 |
| 5 | 13 | | | Kocak, Ediz | GER | 2115 | 6,5 | 2046 | 0 | 50,5 | 43 | 20 | 19,2 |
| 6 | 46 | | | Cayaba, John Vincent | PHI | 1819 | 6,5 | 2039 | 0 | 40,5 | 34 | 40 | 143,6 |
| 7 | 21 | | | Abuazizah, Raji | PLE | 2015 | 6,5 | 2000 | 0 | 43 | 36,5 | 40 | 62,8 |
| 8 | 10 | | FM | George Micheal, Kevin | EGY | 2149 | 6,5 | 1942 | 0 | 48 | 40,5 | 40 | -15,6 |
| 9 | 2 | | WFM | Zherebtsova, Alexandra | FID | 2197 | 6,5 | 1939 | 0 | 46 | 38,5 | 20 | -23 |
| 10 | 42 | | | Ahmad, Al Romaithi | UAE | 1845 | 6 | 1990 | 0 | 44 | 36,5 | 20 | 48,8 |
Links
Dubai Chess: fb page, twitter, instagram and youtube
---