Aravindh or Arjun - Who will win 23rd Dubai Open 2023?
Arjun Erigaisi defeated the China no.2 and World no.19 Yangyi Yu in the penultimate round of 23rd Dubai Open 2023. The India no.5 did what the position required him to do in the endgame and managed to outsmart his opponent to join the leaders. Aravindh Chithambaram missed his fourth consecutive opportunity to win and ended up splitting the point with Abhijeet Gupta. He is still in the championship race. Arjun and Aravindh will face each other in the final round. 44th Chess Olympiad Gold medalist, Javokhir Sindarov (UZB) and Maxim Matlakov are the remaining two leaders at 6/8 each. They will collide each other in the final round. Round 9 starts today at 10 a.m. local time, 11:30 a.m. IST. Photos: Aditya Sur Roy
Arjun Erigaisi beats China no.2, World no.19
Yangyi - Arjun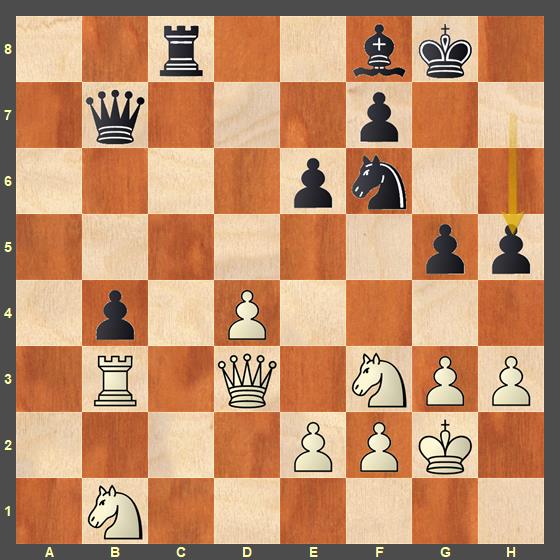 GM Arjun Erigaisi (2701) was facing GM Yangyi Yu (CHN, 2729) in a rated game for the very first time. He did as per the position's demand. 24...Rc8 25.Qd3 g5 26.h3 h5 27.d5 g4 28.hxg4 hxg4 29.Ne5 Nxd5. Soon the queens got traded and Black arrived at a rook and bishop vs rook and knight endgame which was winning for him.
Abhijeet - Aravindh: 0.5-0.5
The last time GM Abhijeet Gupta (2630) faced GM Aravindh Chithambaram (2633) at the very same event was a little over a decade ago. That game ended in a draw which is their sole draw in rated games. Since then, they only had decisive games. Abhijeet prevailed in their last encounter at Commonwealth 2019. Aravindh got a good opportunity to avenge that loss.
The above diagram is advantageous for Black, although he has a queen and bishop against his opponent's queen and knight. 43...Qd4 and then Bd8 is recommended here. The game continued 43...Bd8 44.Ke2 Qd7 Black's opportunity was lost and the game ended in a draw. So what is the key difference between playing Qd4 first instead of Bd8 ? After 43...Qd4, White is unable to go 44.Ke2 due to Qe3+ forcing the king to go back. Without Ke2 supporting the knight, White is unable to get Qe4 which means Black can transfer the bishop to the crucial a7-g1 diagonal without any difficulty.
Eduardo - Karthik
GM Karthik Venkataraman (2528) had never defeated GM Eduardo Iturrizaga Bonelli (2637) until yesterday. White went wrong early in the middlegame 13.Ne2? d4! 14.Qb1 Bg4 15.Rcd1 Ng5 16.Nxg5 Bxe2 17.Ne4 dxe3 18.dxe3 Bxd1 and it was over.
For more Round 8 photos, please click here.
A total of 81 players including 47 GMs, 19 IMs, a WGM and 3 WIMs are taking part in the Category A (>2200) from 31 countries across the world. The tournament is being organized by Dubai Chess & Culture Club from 27th May to 4th June 2023 at Dubai Chess & Culture Club, UAE. The nine-round Swiss league tournament has a time control of 90 minutes + 30 seconds increment from move no.1.
Replay Round 8 games
Round 8 results
Standings after Round 8
| | | | | | | | | | | | | |
| --- | --- | --- | --- | --- | --- | --- | --- | --- | --- | --- | --- | --- |
| Rk. | SNo | | | Name | FED | Rtg | Pts. | TB1 | TB2 | TB3 | K | rtg+/- |
| 1 | 9 | | GM | Aravindh, Chithambaram Vr. | IND | 2633 | 6 | 2631 | 0 | 37,5 | 10 | 17,3 |
| 2 | 3 | | GM | Erigaisi, Arjun | IND | 2701 | 6 | 2621 | 0 | 30,5 | 10 | 9,6 |
| 3 | 7 | | GM | Sindarov, Javokhir | UZB | 2661 | 6 | 2618 | 0 | 33 | 10 | 13,2 |
| 4 | 6 | | GM | Matlakov, Maxim | RUS | 2662 | 6 | 2590 | 0 | 33 | 10 | 10,5 |
| 5 | 5 | | GM | Tabatabaei, M. Amin | IRI | 2677 | 5,5 | 2633 | 0 | 34 | 10 | 8 |
| 6 | 1 | | GM | Yu, Yangyi | CHN | 2729 | 5,5 | 2628 | 0 | 35,5 | 10 | 2,5 |
| 7 | 75 | | | Xue, Haowen | CHN | 2335 | 5,5 | 2591 | 0 | 30,5 | 20 | 77,4 |
| 8 | 29 | | GM | Mishra, Abhimanyu | USA | 2550 | 5,5 | 2579 | 0 | 32 | 10 | 15,3 |
| 9 | 11 | | GM | Sargsyan, Shant | ARM | 2630 | 5,5 | 2576 | 0 | 31,5 | 10 | 7 |
| 10 | 34 | | GM | Karthik, Venkataraman | IND | 2528 | 5,5 | 2562 | 0 | 31 | 10 | 15,5 |
| 11 | 12 | | GM | Chigaev, Maksim | FID | 2628 | 5,5 | 2559 | 0 | 32,5 | 10 | 5,2 |
| 12 | 10 | | GM | Gupta, Abhijeet | IND | 2630 | 5,5 | 2553 | 0 | 33,5 | 10 | 4,9 |
| 13 | 16 | | GM | Vakhidov, Jakhongir | UZB | 2607 | 5,5 | 2505 | 0 | 30,5 | 10 | 2,8 |
| 14 | 33 | | GM | Lalit, Babu M R | IND | 2529 | 5,5 | 2492 | 0 | 30,5 | 10 | 6,6 |
| 15 | 51 | | IM | Ohanyan, Emin | ARM | 2444 | 5 | 2598 | 0 | 28,5 | 10 | 22,2 |
Round 9 pairings
Links
Dubai Chess: fb page, twitter, instagram and youtube
---