23rd Dubai Open 2023 R1-2: Aravindh, Abhijeet and Adhiban at 2/2
Aravindh Chithambaram, B Adhiban and Abhijeet Gupta are the only three Indians among the 13 players at 2/2. The 23rd Dubai Open 2023 Category A (>2200) has a total of 81 players, 47 of them are GMs. That definitely speaks volumes about the strength of the tournament. Aravindh prevailed over Karthik Venkataraman in a battle of the reigning National champions. It seemed like Karthik should be able to hold a draw when he blundered in the final moments of the endgame. Abhimanyu Mishra (USA) attempted to provide a futile resistance in a rook and opposite color bishop endgame which seemed Abhijeet's win to be a matter of eventuality. Adhiban defeated WIM Tijana Mandura (SRB) comfortably. Round 3 starts today at 5 p.m. local time, 6:30 p.m. IST. Photos: Aditya Sur Roy
A strong start
When a tournament has a strong lineup, there are bound to be tough battles from the very beginning of the event. The total prize fund of the tournament is US$ 52000. Category A has a total prize fund of $39500. The top three prizes are $12000 + trophy, $8000 and $6000.
Arjun - Rithvik, Round 1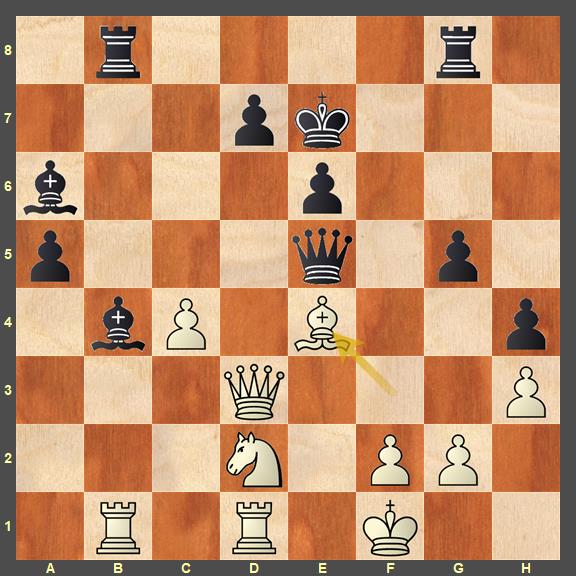 GM Raja Rithvik R's (2476) bold approach almost work against GM Arjun Erigaisi (2701) as he got himself a good position. 27...Qd6 would have forced the exchange of queens to keep the c4-pawn from getting captured. The key difference between a direct 27...Bxd2 and after Qd6 is, Bxd2 right now does not force a trade of another rook or queen, however, 27...Qd6 does. 27...Bxd2 28.Qxd2 now Black neither has Rxb1 nor Qd6. White turned things around and went on to win the game.
Karthik - Aravindh, Round 2
The back and forth game between the reigning National champion, GM Karthik Venkataraman (2528) and the current three-time National Rapid and Blitz champion, GM Aravindh Chithambaram (2633) reached a critical moment in the above position. White needs to move his king. Where should the king go - away or closer to the g3-pawn? If you are searching for the correct answer, it is away. 74.Kd4?? met with Nf4-+ and unfortunately White pieces do not have enough breathing space to avoid the exchange.
Photo Gallery
For more Round 1 and Round 2 photos, please click here.
A total of 81 players including 47 GMs, 19 IMs, a WGM and 3 WIMs are taking part in the Category A (>2200) from 31 countries across the world. The tournament is being organized by Dubai Chess & Culture Club from 27th May to 4th June 2023 at Dubai Chess & Culture Club, UAE. The nine-round Swiss league tournament has a time control of 90 minutes + 30 seconds increment from move no.1.
Replay Round 1-2 games
Round 2 results
Standings after Round 2
| | | | | | | | | | | | | |
| --- | --- | --- | --- | --- | --- | --- | --- | --- | --- | --- | --- | --- |
| Rk. | SNo | | | Name | FED | Rtg | Pts. | TB1 | TB2 | TB3 | K | rtg+/- |
| 1 | 25 | | GM | Asadli, Vugar | AZE | 2584 | 2 | 2708 | 0 | 1 | 10 | 8,9 |
| 2 | 6 | | GM | Matlakov, Maxim | RUS | 2662 | 2 | 2577 | 0 | 1 | 10 | 6,3 |
| 3 | 5 | | GM | Tabatabaei, M. Amin | IRI | 2677 | 2 | 2550 | 0 | 1 | 10 | 5,6 |
| | 10 | | GM | Gupta, Abhijeet | IND | 2630 | 2 | 2550 | 0 | 1 | 10 | 6,1 |
| 5 | 12 | | GM | Chigaev, Maksim | FID | 2628 | 2 | 2545 | 0 | 1 | 10 | 6,1 |
| 6 | 7 | | GM | Sindarov, Javokhir | UZB | 2661 | 2 | 2529 | 0 | 1 | 10 | 5,6 |
| 7 | 9 | | GM | Aravindh, Chithambaram Vr. | IND | 2633 | 2 | 2528 | 0 | 1 | 10 | 6,1 |
| 8 | 14 | | GM | Indjic, Aleksandar | SRB | 2618 | 2 | 2507 | 0 | 1 | 10 | 3,5 |
| 9 | 15 | | GM | Kovalev, Vladislav | FID | 2612 | 2 | 2506 | 0 | 1 | 10 | 6 |
| 10 | 19 | | GM | Sanal, Vahap | TUR | 2600 | 2 | 2408 | 0 | 1 | 10 | 4,9 |
Round 3 pairings
Links
Dubai Chess: fb page, twitter, instagram and youtube
---