22nd Dubai Open 2022 R3: Vignesh holds Predke to a draw, Arjun Erigaisi now World no.20
GM Arjun Erigaisi had already become India no.2 in Round 2 of 22nd Dubai Open 2022. A win against India's 70th GM Raja Rithvik R made him now World no.20. IM Vignesh N R held the top seed of the tournament, GM Alexandr Predke to a draw. Eight players including three Indians - GM Arjun Erigaisi, GM Praggnanandhaa and GM Sahaj Grover are at 3/3. FM Suyog Wagh and FM Kashish Manoj Jain had good chances against GM Aram Hakobyan (ARM) and GM Mahammad Muradli (AZE). GM Iniyan P's tough form continues as he lost to IM Viani Antonio Dcunha. FM Ayush Sharma defeated GM Thej Kumar. Round 4 starts today at 5 p.m. local time, 6:30 p.m. IST. Photo: Rupali Mullick
Viani and Ayush beat GMs
28th Abu Dhabi Open 2022 winner, Prasanna S, Shaik Sumer Arsh and WIM Priyanka K defeated IM Basheer Al Qudaimi (YEM), IM Fahad Rahman (BAN) and IM Ishaq Saeed (UAE) respectively. IM Rathanvel V S, IM Srihari L R, FM Tanmay Chopra, FM Sharan Rao, IM Manish Anto Cristiano F, Abhyudaya Rajpurohit and Raghav Srivasthav V drew with GM Liviu-Dieter Nisipeanu (GER), GM Sethuraman S P, GM Aydin Suleymanli (AZE), GM Sandipan Chanda, Argentina no.1, GM Sandro Mareco, GM Laxman R R and IM Sammed Shete.
Rithvik - Arjun Erigaisi: 0-1
India's 70th GM Raja Rithvik R (2491) made an incorrect decision which destroyed his pawn structure on the kingside against GM Arjun Erigaisi (2689).
15.Ne2 is a fundamental positional mistake. It unnecessarily allows Black to destroy White's kingside pawn structure 15...Nxf3+ 16.gxf3 Bxe3 17.fxe3 Nh5 18.Qd2 f5 Black's moves flow naturally. 19.f4 fxe4 20.dxe4 Qe8 21.Ng3 Nxg3 22.hxg3 Qg6 23.Qd5+?
White had to go for a passive defense 23.Qg2 exf4 24.exf4 Ra3 25.Rf3 Rfa8 26.Rbf1 and hope to survive it. 23.Qd5+ Kh8 24.Rf3 Qg4 25.Rbf1 h5 White does not have a good answer to Black's relentless attack.

Aram Hakobyan - Suyog: 1-0
FM Suyog Wagh (2315) had a great opportunity to upstage GM Aram Hakobyan (ARM, 2612).
19...Raf8 was played 20.hxg6 and the moment was gone. 19...Bxg3! is what Black needed to play. Of course, it is not easy to calculate the entire variation and figure out that it is Black who comes out on top in all plausible replies.
Kashish - Muradli: 0-1
Arguably the most incredible game of the round was between FM Kashish Manoj Jain (2315) and GM Mahammad Muradli (2552).
A quick glance at the above position reveals that White is completely winning. Why? Because he has a queen for his opponent's knight. Yes, White king is more exposed and there is no immediate win as Black's king is surprisingly well defended by the knight, bishop and rook, although both bishop and rook are virtually trapped. The biggest thorn White's camp is, the knight at e5. The only way to get rid of it is by capturing it with a rook. Well, the win is easier said than done, because Black eventually turned things around and won the game.52...Kh7 53.Q8a7 Qc3 54.Qb3 Qc8 55.Re1 is one of the winning ways for White.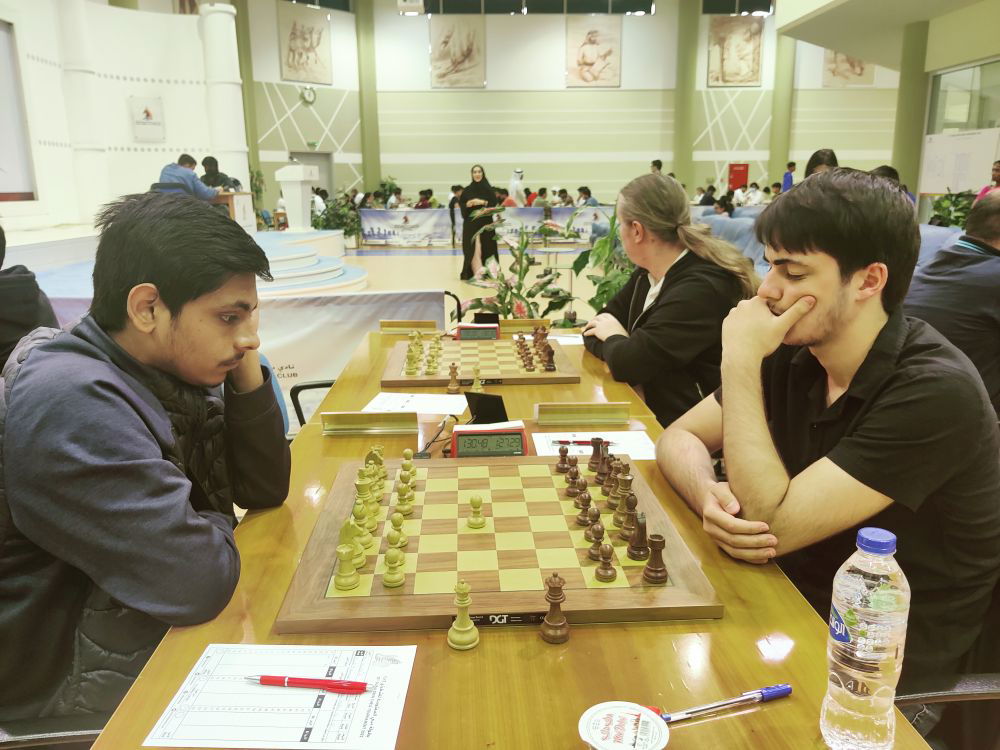 Iniyan - Viani: 0-1
GM Iniyan P (2556) has had a shaky start. He managed to survive the first two games. However, his luck ran out in the third round against IM Viani Antonio Dcunha (2327).
White should have played 50.Ra7 first before moving his king. Find out the key difference and why 50.Kg7 leads to a loss.
Ayush - Thej Kumar: 1-0
The game between FM Ayush Sharma (2158) and GM Thej Kumar (2430) was a game of second chances. First Ayush had an opportunity in a rook and knight endgame.
37...Rd2 is a mistake. First Black needed to trade the pawns 37...hxg4+ 38.hxg4 and then Rd2 would have been fine. As now, White can gain the h5-pawn in no particular order 38.Kxe3 Rxa2 39.gxh5 would have put Black in trouble. White opted for 39.Nd4 Rh2 and Black managed to stay in the game for some time.
While both sides are threatening to promote the queen and it seems impossible for Black to prevent e8Q, he can still very much save the game. Find out how. The game continued 64...Ng6?? 65.Rh8+ Nxh8 66.e8Q+ and White won the game in few more moves.
For more Round 3 photos, please click here.
A total of 163 players including 29 GMs, 29 IMs, 2 WGMs and 3 WIMs are taking part from 34 countries across the world including India. The tournament is being organized by Dubai Chess & Culture Club from 27th August to 4th September 2022 at Dubai Chess & Culture Club, UAE. The nine-round Swiss league tournament has a time control of 90 minutes + 30 seconds increment from move no.1.
Replay Round 3 games
Round 3 results
Round 4 pairings
Links
---