Invincible Iniyan clinches 8th Noisiel Open 2023, Vignesh N R second
GM Iniyan scored an unbeaten 7/9 to win 8th Noisiel Open 2023. He finished a half point ahead of the competition. For the second consecutive year, GM Vignesh N R secured second place. Vignesh along with three more players scored 6.5/9 each. They are - FM Alexandre Oye-Stromberg (NOR), GM Karthik Venkataraman and IM Filip Pancevski (MKD). They were placed third to fifth respectively. The total prize fund of the tournament was €7400. Top three prizes in Open A (>1900) were €1500 and trophy, €1000 and €700 each. Iniyan has not lost a single game he played in Noisiel in three editions for a combined total of 27 games. Check out his best game from the event annotated by the champion himself. Photo: IO Narayanin Oupindrin
Iniyan repeats history
By IO Narayanin Oupindrin
GM Iniyan P won Open A for the second time. He also won the 6th Open in August 2021. This victory was not that easy, he had to fight in the last two games in inferior positions. Iniyan has never lost a game at Noisiel in the three editions he has participated in 27 games. GM Vignesh N.R placed second in the best tie followed by FM Alexander Oye-Stromberg (NOR), GM Karthik Venkataraman and IM Filip Pancevski (MKD) with 6.5 points each. Vignesh has become India's 80th GM. His older brother Visakh N R is also GM. We also congratulate FM Alexander Oye-Stromberg for making his first IM-norm. IM Toni Lazov (MKD) was ranked sixth with 6 points. WGM Priyanka Nutakki received the female award.
Oye-Stromberg - Iniyan, Round 5
19.gxf4 Qg6+ 20.Kh1 exf4 21.Qc1 Ne4 and White's position falls apart. Check out Iniyan's annotations to find more about his thoughts about the game.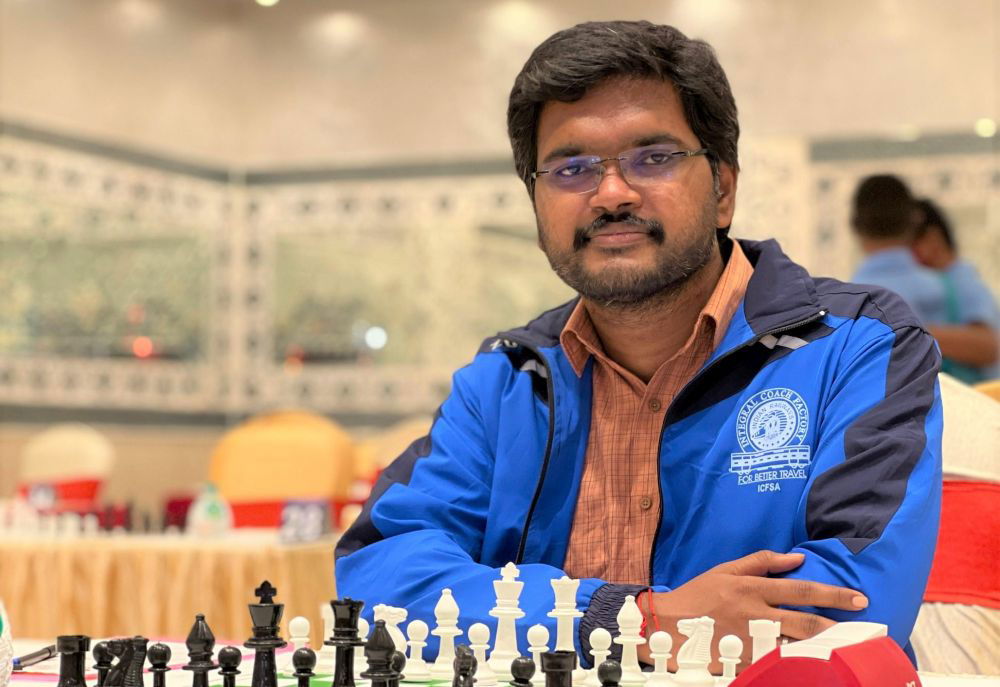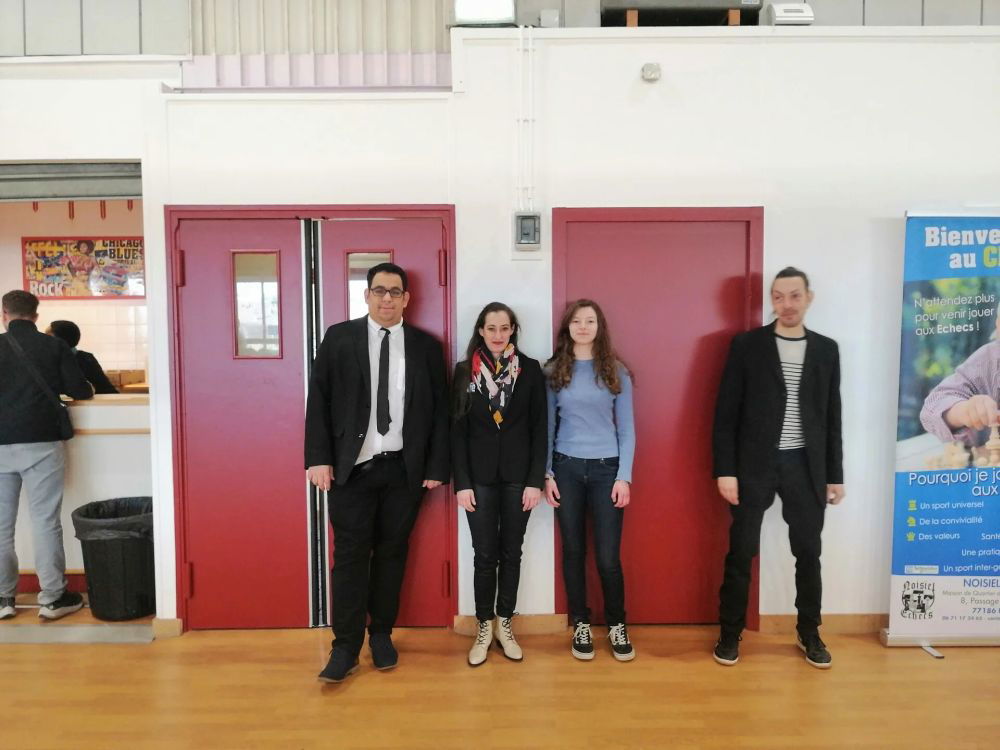 190 players from 20 countries took part in this 8th Noisiel International Chess Open which took place in Ferme du Buisson Multi-purpose hall from 18th to 23rd Feb 2023.
Vincent Ebly, Senator of Seine et Marne and also departmental councilor distributed the prizes with the mayor of Noisiel, Mr. Mathieu Viskovic and Deputy Mayor, Mr. Alain Fontaine in the presence of Narayanin Oupindrin, organizer and President of Noisiel chess club and chief arbiter Jocelyn Azzegag.
The Organization of this edition has been possible only with the support of several sponsors. The town hall of Noisiel provides Ferme du Buisson mutipurpose hall at free of cost. Several town hall services (Technical Service, Sport Service, Animation Service and Communication Service) helped us for the success of our Open. The Seine et Marne department is the main sponsor followed by private companies Eiffage and the bank 'Crédit Agricole de la Brie' as well as the authority of Ile de France region. It is good to point out that the town of Noisiel and the Department of Seine et Marne help us financially or in whatever way they can for all our tournaments.
The organizer insisted that many of the volunteers helped before, during and after the tournament. He never felt alone. He thanked each and everyone of them. The arbiter's team chaired by Jocelyn Azzegag (FIDE arbiter) and assisted by Lucie Argenté (FIDE arbiter) did an excellent work. This team completed by Vincent Leitienne (National arbiter) and Emelyne Mouillart (young referee) did a remarkable job. Thanks also to Jocelyn Azzegag for broadcasting the first 10 tables live on Lichess.
Open B- Prizes of €1850
72 players from 8 countries took part in the Open B and the host team's player Clement Nguyen won all the nine rounds to have a 100% score. This player is expected to reach a career best rating of above 2000 in the march ratings list.
Open C-Prizes of €1050
65 players mostly from Paris region clubs participated and Alexandre Stathopulos from Arpajon chess won the event with 7.5 points.
The 9th Noisiel international open tournament will be most probably organized from 10th to 16th Feb 2024. This will be a special event, being the same year the Olympic games will be organized in Paris.
On the eve of the tournament, the Noisiel town published a profile on IO Narayanin Oupindrin, the organization of Noisiel Open tournaments and also about the Noisiel chess club. You can read it here.
Final standings in Open A
Pl
Nom
Elo
Cat.
Fede
Ligue
Club
Pts
Tr.
Cu.
Perf
1
g
INIYAN P
2514 F
SenM
IDF
Echiquier de Franconville
7
43
38½
2569
2
m
VIGNESH N R
2490 F
SenM
6½
42
35½
2511
3
f
OYE-STROMBERG Alexander
2272 F
CadM
6½
41½
33
2505
4
g
KARTHIK VENKATARAMAN
2515 F
SenM
6½
40
34
2509
5
m
PANCEVSKI Filip
2452 F
SenM
6½
37½
30
2437
6
m
LAZOV Toni
2348 F
SenM
6
40½
30
2405
7
m
SHYAAMNIKHIL P
2487 F
SenM
5½
43
33
2431
8
BONTE Andrei-Mihai
2335 F
SenM
IDF
Club d'Echecs de l'Arpajonnais
5½
40½
30
2394
9
f
MACON Arthur
2327 F
SenM
IDF
Clichy-Echecs-92
5½
38½
31½
2326
10
f
RUDOLF Michal
2325 F
SenM
5½
38
31
2352
11
f
MOUHAMAD Joachim
2244 F
SenM
IDF
Barreau de Paris Echecs
5½
38
27
2285
12
m
NIKOLOVSKI Nikola
2347 F
SenM
5½
37½
27½
2274
13
f
NIERMANN Tristan
2305 F
SenM
5½
36½
27½
2297
14
gf
PRIYANKA NUTAKKI
2302 F
SenF
5½
36
25
2272
15
m
NGUYEN Piotr
2419 F
SenM
5½
35
27½
2299
Links
---