22nd Dubai Open 2022 R4: Praggnanandhaa and Rinat Jumabayev are the coleaders
Praggnanandhaa continues his superb form from FTX Crypto Cup 2022. The 17-year-old defeated Aram Hakobyan (ARM) in the fourth round to share the lead with Kazakhstan no.1 Rinat Jumabayev at 22nd Dubai Open 2022. They will obviously face each other in the fifth round. The highest rated Indian player in the field, Arjun Erigaisi made a good escape against Serbia no.1 Aleksandar Indjic. Raunak Sadhwani was the other one who averted a loss against IM Aditya Samant. FM Ayush Sharma continues his great run as he defeated his second consecutive GM of the tournament, Arjun Kalyan. Round 5 starts today at 5 p.m. local time, 6:30 p.m. IST. Photo: Rupali Mullick
Ayush on a GM hunt spree
Apart from Ayush, Ritviz Parab, Vaibhav Jayant Raut, WIM Priyanka K and Rohit S defeated IM Benjamin Haldorsen (NOR), WIM Meruert Kamalidenova (KAZ), IM S Rohith Krishnan and IM Ishaq Saeed (UAE).
Indjic - Arjun Erigaisi: 0.5-0.5
GM Arjun Erigaisi (2689) overpushed in the endgame against Serbia no.1 GM Aleksandar Indjic (2613).
Black made an attempt to block things 38...c5. It created an opportunity for White. He obviously took the pawn 39.bxc6 Rc7 40.Nf5+ Kh7 and now 41.c5 Rxc6 42.Ne7 Rxc5 43.Rxc5 bxc5 44.Nc6 Nd7 45.Nxa5 Nb6 46.Nc4 Nxa4 47.Ke3 Nc3 48.Nxe5 would have certainly made things incredibly difficult for Black to defend. Fortunately, White played 41.Rb3 which allowed Black to escape with a draw.
Praggnanandhaa - Aram Hakobyan: 1-0
The Sicilian Dragodorf by GM Aram Hakobyan (ARM, 2612) did not work out against GM Praggnanandhaa (2661).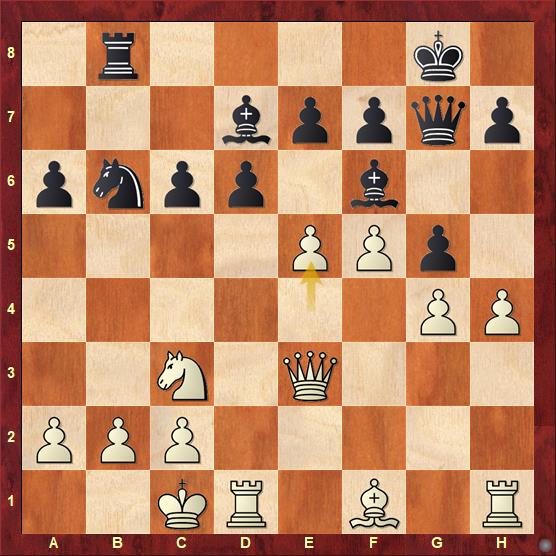 Black has sacrificed an exchange to preserve his Dragon bishop. 20.e5! is such a fantastic move. Black is virtually forced to play Bxe5 as 20...dxe5 leads to 21.Ne4 and Black's Dragon bishop has no breathing space, let alone breathe any fire. 21.Qxg5 to force the exchange of queens Nd5 22.Qxg7+ Kxg7 23.Nxd5 Bxb2+ 24.Kd2 cxd5 25.Bxa6 Ra8? 26.Rb1+- and Black does not have enough left to put up a resistance.
Raunak - Aditya Samant: 0.5-0.5
IM Aditya Samant (2430) was completely winning against GM Raunak Sadhwani (2622). He missed a brilliant combination.
Black was completely dominating the position for the past 15 moves. 32.Rc1 created the winning opportunity for Black. Can you find the winning combination in the above position? After a few missed opportunities by Black, White managed to escape with a draw.
IM Viani Antonio Dcunha - GM Aravindh Chithambaram: 0.5-0.5
Arjun Kalyan - Ayush: 0-1
GM Arjun Kalyan's (2513) attack backfired against FM Ayush Sharma (2158).
Although it may seem like the black king is in peril, the reality is far from it. White does not have sufficient pieces to realize the attack. Thus, 29.c5 created a target for Black instead of attempting to weaken Black's king. 29...Rc6 30.b4 Re8 31.Rg2 dxc5 32.bxc5 Kf7 33.Rc2 Rxc5 34.Rxc5 Qxc5+ 35.Qxc5 Bxc5 now Black is completely winning. 29.Kb1/Kd1/Ra3 would have been a better choice for White to wait a bit.
For more Round 4 photos, please click here.
A total of 163 players including 29 GMs, 29 IMs, 2 WGMs and 3 WIMs are taking part from 34 countries across the world including India. The tournament is being organized by Dubai Chess & Culture Club from 27th August to 4th September 2022 at Dubai Chess & Culture Club, UAE. The nine-round Swiss league tournament has a time control of 90 minutes + 30 seconds increment from move no.1.
Replay Round 4 games
Round 4 results
Round 5 pairings
Links
---