22nd Dubai Open 2022 R8: Aravindh Chithambaram ends Arjun Erigaisi's unbeaten run on his birthday
In a battle of the reigning National champions, Aravindh Chithambaram defeated Arjun Erigaisi to emerge sole leader 7/8 at 22nd Dubai Open 2022. He will face Praggnanandhaa in Round 9. Aravindh must win the last round to become a clear champion, while a draw would leave his fate in Predke's hands. If Praggnanandhaa wins, he would have to hope for Predke to draw or lose, as his tie-break score is inferior to the top seed. Seven Indians out of eleven players are at 6/8. IM Arghyadip Das and IM Sammed Jaykumar Shete scored impressive victories over Kazakhstan no.1 GM Rinat Jumabayev and GM Sahaj Grover respectively. Round 9 starts today at 10 a.m. local time, 11:30 a.m. IST. Photo: Rupali Mullick
Aravindh or Praggnanandhaa - Who will win Dubai Open 2022?
GM Aravindh Chithambaram is India's first National Triple Crown champion. So anyone who has followed Aravindh's career trajectory knows that Aravindh has the ability to beat anyone on any given day and win tournaments too. Thus, him ending GM Arjun Erigaisi's 29-game unbeaten streak on his 19th birthday does not surprise anyone. He is currently the reigning National Rapid and Blitz champion. He should have been in the Olympiad team, however, the predefined selection criteria made it difficult for him to meet the eligibility requirements.
Arjun Erigaisi - Aravindh: 0-1
The last time GM Arjun Erigaisi beat GM Aravindh Chithambaram was in a Classical tournament was in March 2018. Arjun won first three of their encounters, after that Aravindh never lost a game against Arjun. They had only one draw, last year in a Rapid game. This year, the National champions did not face each other in a rating tournament. The online encounter was won by Aravindh. That statistic remained unchanged yesterday.
White decided to exchange his queen for a rook and bishop which is not a bad decision. 17.dxe6 Rxd1 18.Raxd1 Rd8 19.Bc5 Re8 20.c3 Rxe6 Black showed confidence in his position and decided to get rid of the e6-pawn before it becomes a menace. 21.Bd5 Qc8 22.Bxc4 Kh8 23.Bxa7 Re8 24.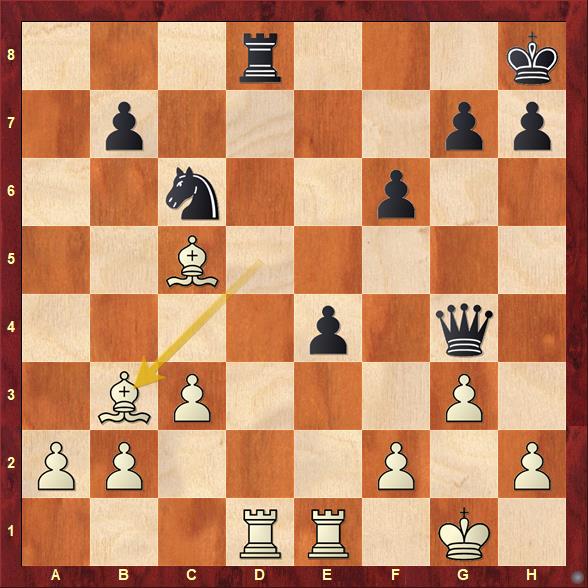 White made a questionable decision to offer an exchange of rooks. 27.Bb3 Rxd1 28.Rxd1 h6 taking care of his back-rank. 29.Be3 Ne5 Black is ready to bounce his knight on the weakened squares of the kingside. 30.Rd8+ Kh7 31.Bf4 Nd3 32.Be3 Ne5 33.Bf4 Nf3+ 34.Kg2 Ne1+ 35.Kf1 Nd3 and Black had no trouble converting his advantage into a full point.
Sandipan - Vladimir
Rook and opposite color bishop endgame generally ends in a draw. This game was also heading towards one. However, 47...Rd4 turned out to be a blunder. Can you find out the winning continuation for White?
Arghyadip - Rinat: 1-0
Kazakhstan no.1 GM Rinat Jumabayev's woes continue. He suffered his third consecutive loss of the event. It was against IM Arghyadip Das in the penultimate round. Arghyadip possesses GM-strength and he has been a whisker away from the GM-title, has all the norms and more, just need to fulfill the rating requirement.
In these type of positions, 28...a4 is the natural move to ensure the c5-knight cannot be disturbed. However, Black played 28...Rc8. Thus allowing 29.b4 axb4 30.axb4 Na6 31.Ba4 Nab8 32.h5 Bh7 33.Nxe5 Rcd8.
Here 34.Nxf7! would have been a nice way to finish. White took a more pragmatic approach 34.Nc4 Qa6 35.b5 Qa8 36.b6 Bg5 37.Ra2 Na6 38.Nd6 Nf6 39.Nxe8 Nxe8 40.Bxe8 Rxe8 41.Rxa6 and Black resigned.
Sammed - Sahaj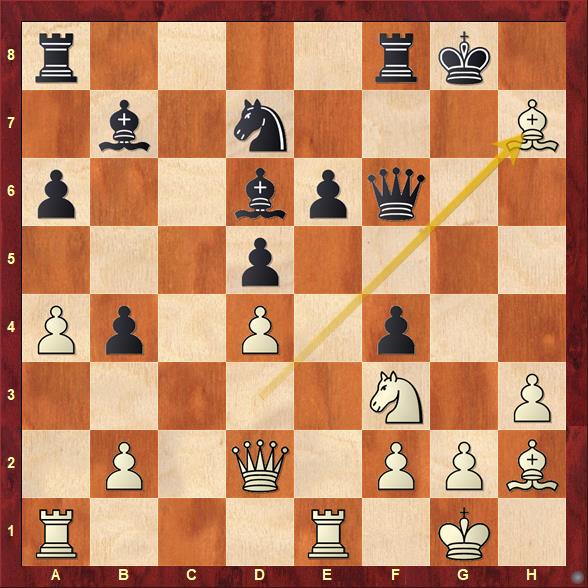 21.Bxh7+ is a nice tactical shot. Black cannot take it due to the threat of Rxe6. 21...Kh8 22.Bc2 Rf7 23.Qe2 Re8 24.Ne5 Bxe5 25.Qh5+ Kg7 26.dxe5 Qh6 27.Qg4+ Kf8 28.h4 Qg7 29.Qxg7+ Kxg7 30.h5 and White went on to win the endgame.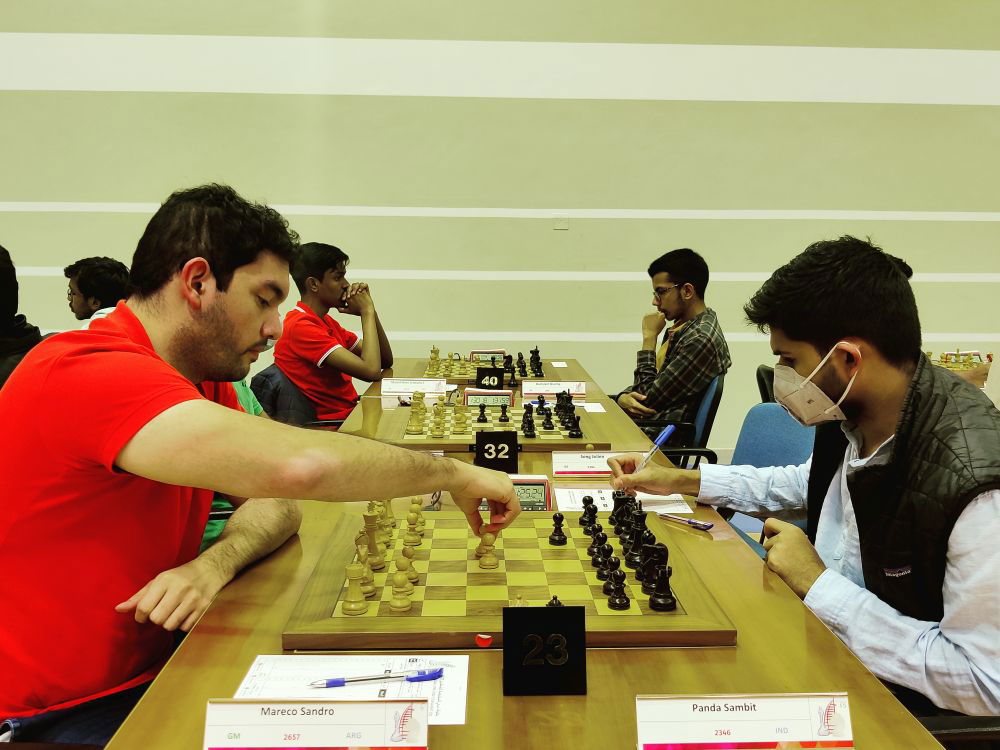 For more Round 8 photos, please click here.
A total of 163 players including 29 GMs, 29 IMs, 2 WGMs and 3 WIMs are taking part from 34 countries across the world including India. The tournament is being organized by Dubai Chess & Culture Club from 27th August to 4th September 2022 at Dubai Chess & Culture Club, UAE. The nine-round Swiss league tournament has a time control of 90 minutes + 30 seconds increment from move no.1.
Replay Round 8 games
Round 8 results
Round 9 pairings
Links
---